Daily Joke: Monks Speak to Each Other Only Once a Year
A convent had a rule which superseded all the monks. The law stated that everyone in the convent kept mute at all times, but once every year, there was an exception to this law. 
The exception was that one out of all the monks gets the opportunity to speak in front of everyone. In the first year, Brother Matthew was chosen by the superior. Matthew was happy he got picked. He would finally practice his vocals.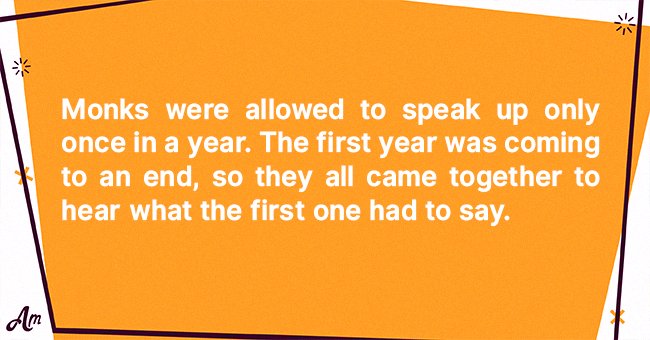 He stood up and quietly walked to the front of the crowded but silent hall. He cleared his throat and stared at the audience for a while before saying, "Hot this year, wasn't it?" Matthew tried to think of any words, but nothing came.
He eventually gave up and went back to his seat. Activities went as usual in the monastery. The monks did their daily religious practice, and before anyone knew it, the year was over in no time.
The following year, it was  Brother Simon's turn. Hundreds of monks gathered in the usual prayer hall for the speech occasion. Simon quietly moved to the altar before looking at the solemn members.
He adjusted the long dress that covered him from neck to toe before he shouted, "Cold this year, wasn't it?" His fellow monks just silently nodded heads. 
Brother Simon stepped down from the altar and walked back to his seat, and after a brief prayer, everyone stepped out of the hall and went about their businesses.
After that year's vocal event, things also went on as usual in the convent. Every monk gathered in the hall when it was time for prayers, eat bland food, kept mute at all times, and remained as far away from sin as possible.
In the year that came, when it was time for the yearly vocal exercise, all the monks resumed at the usual hall. They all sat waiting for the superior to make a choice. 
This time, it was Brother Luke's turn. Unlike other monks who were either anxious or didn't know what to say, Luke looked rather angry. He moved quickly to the front of the congregation and said with utmost menace:
"Would you two just stop arguing all the bloody time!!!"
If you enjoyed this joke, you might find this one even more hilarious. It is about a young monk who helped a monastery discover a drastic mistake in their manuscript. This led to another hilarious discovery in the end.
Source: Reddit.com