Martin Lawrence's Ex-wife Pat Smith Sets Hearts Racing in Black Skimpy Top & Cowboy Hat in New Photo
Martin Lawrence's first wife, Pat Smith, is an ageless beauty who knows how to look her best whether at home or on the red carpets. She recently blessed her Instagram followers with an admirable snap leaving many stunned.
Martin Lawrence is a skilled comedian and actor who has been involved with different women in his lifetime. One of the first lovers who became a wife is Pat Smith, an entrepreneur, reality TV star among other successful titles.
Online and offline, Pat is not as famous as her ex-husband, but the CEO has loyal fans that crave her content and reach out to her via her online platforms.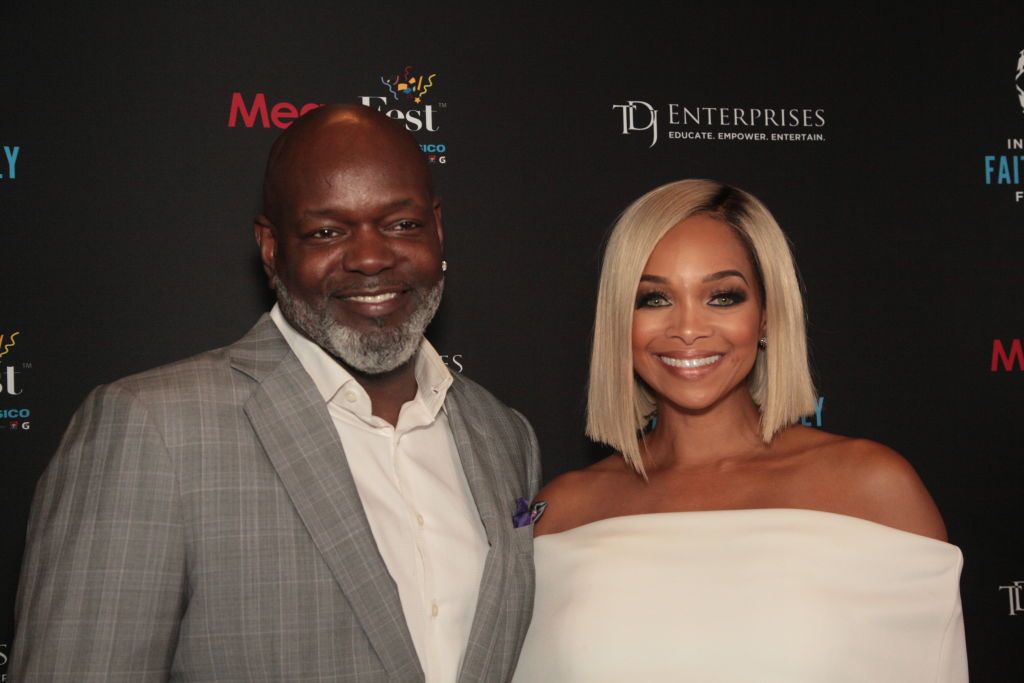 A few hours to the weekend, Lawrence's former wife shared a scintillating snap that sent hearts racing. In the photo, she rocked a thin sleeve skimpy black top that gave an avenue for her cleavage to be seen.
Pat matched the outfit with a nude-colored cowboy hat that crowned her long blonde knotless braids parted to the side. She added two layers of gold necklace and spiced up her look using mild makeup, artificial lashes, and eye contact lens.
Behind the entrepreneur was a refined and mature indoor arrangement of white chairs and flowers and a centerpiece. She allowed the picture to do most of the talking and added a few phrases to the caption that read:
"Don't settle...create more!!!"
WHO IS PAT SMITH?
Pat Smith is indeed a woman known for creating more in terms of her career. She has many titles such as a spokesperson, a businesswoman who founded "Pat Smith Enterprises," "Treasure You," and a Christian minister. 
Martin was her first husband, and after their divorce, she found love again in the arms of her pro football Hall of Famer, Emmitt Smith. The pair were together for twenty years before they ended things.
Last year, they released a joint statement explaining the recent development concerning their union. The former couple talked about an amicable split and revealed that they would continue to be friends and co-parent—they share three kids.
Fans were surprised because the announcement came shortly after the pair celebrated two decades of being together. Ultimately, fans wished them well and supported the estranged couple with prayers and heartfelt comments.
MORE INTERESTING DETAILS ABOUT PAT
A few years before Pat's second divorce, she stated that she and her husband were going through tough times. According to an interview, she confessed that she had taken the back seat in her career for most of their marriage by being a homemaker and caregiver in her home front.
This made her envious of her husband's success. Finally, Emmitt was out there while his wife had to assume a position in the background, giving up on her aspirations.
However, the Hall of Famer was impressed with his home; all he wanted was a normalcy to balance his life, especially with the kids who did not ask to be born by famous parents.
MARTIN LAWRENCE'S ROMANCE 
Martin Lawrence and Pat Smith were married for only two years, and they share a daughter named Jasmine Page Lawrence. So far, they have never had any problem co-parenting their daughter. They both also have unique relationships with her.
After his first marriage failed, the actor got hooked on another beautiful woman named Shamicka Gibbs. The former couple was married for a few years and have two daughters named Iyana and Amara.
Martin might have been unlucky twice in terms of having a woman to spend forever with, but he did not give up on finding love. Instead, he moved on with his girlfriend named Roberta Moradfar, whom he got engaged to in 2017.
LAWRENCE'S IMPRESSIVE FATHERHOOD SKILLS
The "Bad Boy for Life" actor is a good father in real life. Despite the fallout with his two ex-wives, he plays his fatherly roles brilliantly. 
The Lawrence sisters get to spend time with their dad in the house and also attend red carpet events with him. They also have a loving relationship with their dad, and over the years, have learned the valuable lessons taught by the actor.
The three are equally talented young women. His eldest daughter Jasmine is a straight-A student, famous on Instagram, and is interested in acting.
As for Iyana, she lives a more private life, is a writer, and focuses on school. The last of the bunch, Amara, is a gifted singer who loves to break the rules around the house.