Keyshia Ka'oir & Gucci Mane's Son Ice Dons Gucci from Head to Toe & Rocks Huge Diamond Necklace
Keyshia Ka'oir and Gucci Mane have shared their luxurious lifestyle with their seven-month-old son. Check out the photos of Ice Davis, decked out like a Gucci model.
Keyshia Ka'oir is an actress, best known for starring on "Overtown" and "The Spot." Since 2017, she has been married to rapper Gucci Mane, an influential figure in the hip hop subgenre of trap music.
Recently, Ka'oir and Mane posted a series of photographs of their bundle of joy on his own Instagram account. The caption for the adorable post reads: "I'm 7months & 22lbs I'm a big boy [sic]."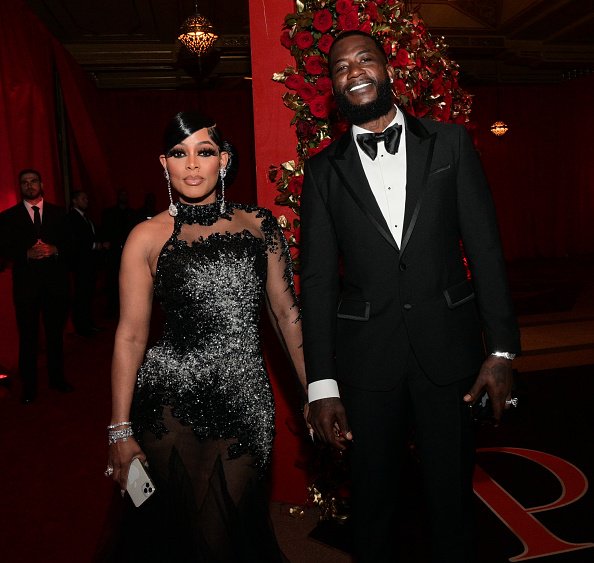 A PERFECT BABY
In one of the snapshots, baby Ice Davis is seen sitting on what appears to be a couch and looking very charming. His eyes were focused on the camera as he bit his finger. The baby appeared to be in good spirits.
Ice wore a white T-shirt and white cap while posing for the camera. The baby completed his look with red shorts and red shoes. His huge diamond necklace and earrings added a stylish touch to his outfit.
Ice's followers responded positively to the post. As soon as they saw it, they flocked to the comments section to let their praises for him be known. According to one person, Ice is perfect in every possible way.
ICE ISN'T THEIR ONLY CHILD
Ka'oir and Mane welcomed their first child together in December 2020. The couple took to social media to announce the birth of Ice. Less than one week before Ice's birth, Mane shared his sonogram.
Mane, who has released 17 studio albums to date, is already a doting dad to Keitheon Davis, the son he shares with his ex Sheena Evans. Ka'oir, on the other hand, has two daughters and a son from a past relationship.
According to Ka'oir, their relationship hasn't always been smooth.
Ka'oir and Mane exchanged their wedding vows in an extravagant ceremony held in Miami in October 2017. Costs for the event totaled $1.7 million. Among their guests were Sean "Diddy" Combs and Big Sean.
A few days after their wedding, Ka'oir spoke about the couple's children during an appearance on "The Breakfast Club." The reason she refused to post photographs of them on social media was explained.
"It's a situation where I'm proud to be a mother, but I need it to be private," Ka'oir said. "I don't need the kids in the limelight. I don't want them on social media. I need them to go to school and just be children."
"ICE DADDY"
This past April, Mane and Ka'oir decided to reveal Ice's appearance to promote the new music that was inspired by the child. Ice appeared on the cover of Mane's most recent album, "Ice Daddy."
The precious child wears Gucci and diamond necklaces on the cover, one of which has his name engraved on it. On Father's Day, Mane released "Ice Daddy," which served as a fitting tribute to his son.
STYLISH COUPLE
Mane and Ka'oir have proven to be one of the best-dressed couples in the industry more than once. The diamonds they wore, exotic cars they drove, and their admiration of luxurious items increased fans' adoration.
On her way to the 2021 NBA finals, Ka'oir posted a photo of herself wearing a black catsuit, a $2,500 Bottega Veneta corset, and coordinating booties. In April, Mane wowed in his Gucci collection. 
Earlier this year, Ka'oir revealed on her Instagram Story that her husband had gifted her one million dollars following the birth of their son. Ka'oir also gave him a chain, bracelet, and pendant reportedly worth $2.5 million.
Mane and Ka'oir first met on the set of a music video in 2010. According to Ka'oir, their relationship hasn't always been smooth. The couple has endured drama to get to where they are today as a power couple.