Paris Hilton's Mother Had a Rift with Her Sister Kyle Richards' — Other Facts about Her
Kathy Hilton, the mother of American socialite Paris Hilton, is well known for her stint on RHOBH. The Hilton empire matriarch once had a public fallout with her sister Kyle Richards that lasted a while.
With her success as a TV star, fashion designer, mother to 5 grown children, and a family name known worldwide, it is safe to say Kathy Hilton has it all. However, there is always family drama to look out for, even amongst successful people.
Kathy had a public disagreement with her sister and fellow RHOBH star Kyle Richards, and fans watched their rift play out on RHOBH. Reports on the drama showed that the sisters had some family issues to iron out.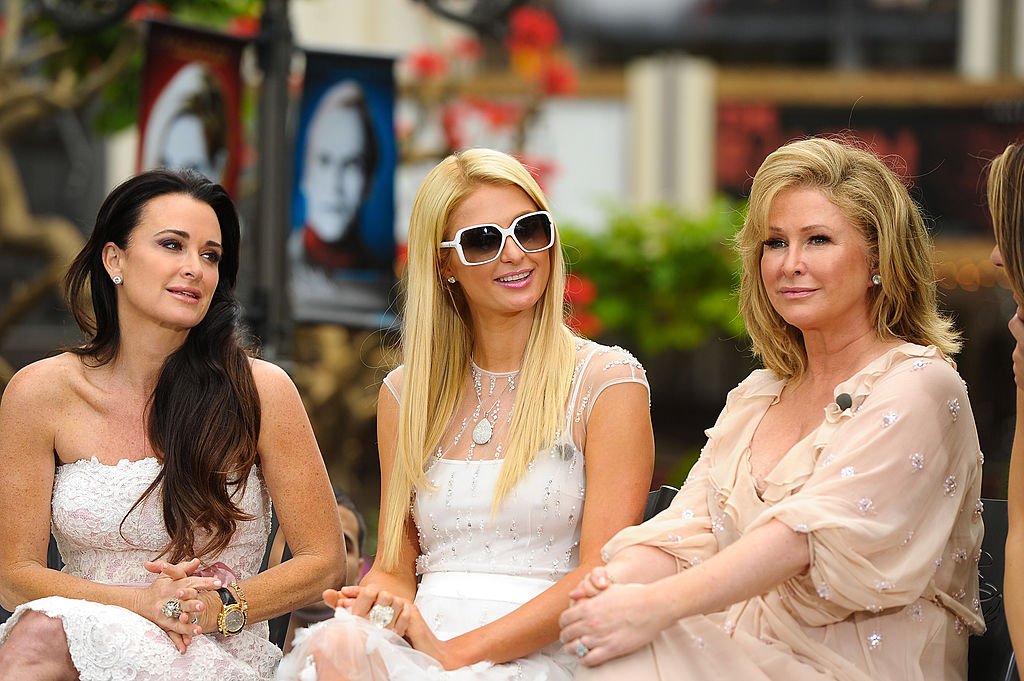 KATHY AND KYLE'S RIFT
It all began after Kyle relayed to Kathy that she would love to star in "American Woman." Kathy frowned on this because the show was loosely based on the personal life of their mother in the 1970s. 
The rift also included their sister, Kim, who also stars on RHOBH. During the 2018 reunion of the show, Kyle made it known that she and Kathy did not speak to each other for six months.
Kathy's legacy as a Hilton has seen her champion many philanthropic causes that are children-based.
In an interview with People, Kyle had mentioned that she hoped when Kathy would get to see "American Woman" for herself and discover that she had not put out any other person's life on the show.
She indicated this because her sister felt like it was too personal. Kyle added that she was inspired to do "American Woman" because of their single mom's lifestyle in the 70s.
Ultimately the sisters mended their rift, and Kim even shared evidence on her social media page. She posted a snapshot of the famous sisters during her 54th birthday.
KATHY SPEAKS ON HER LEGACY AS A HILTON
Kathy was born a Richards, but after becoming part of the famous Hiltons, the 60-year-old has defined her path. She met her husband, Richard "Rick" Hilton, when she was fifteen. 
By the time she was 19, they had tied the knot and were on their way to long-term companionship and parenthood. Kathy and Richard have five children, Paris, Nicky, Conrad, Barron II, and Baran Nicholas.
Forty-two years into their union, and the couple still live in awe of each other. Kathy's legacy as a Hilton has seen her champion many philanthropic causes that are children-based in the areas of health.
Kathy's fundraising initiatives have been channeled towards organizations like Make A Wish, Starlight Children Foundation, Race to Erase MS, UNICEF, and others.
The TV personality is also quite keen on fashion, and regarding this, she created The Kathy Hilton Collection. Back in 2012, she launched her fall collection at her Beverly Hills mansion.
During her speech, Kathy pointed out that the fashion franchise aimed to make dresses that look and feel like a million bucks but would not cause customers to break the bank.
KATHY'S HUSBAND
Richard is part of the great Hilton clan, and just like the Hiltons before him, Richard has made a name for himself. The American businessman is the co-owner of Hilton & Hyland.
Richard specializes in real estate brokerage, and the company is based in Beverly Hills. He is the grandson of Conrad Hilton, who founded Hilton Hotels. As of May 2021, Richard's net worth summed at $350million.
KATHY'S REAL HOUSEWIVES STINT
For a long time, Kyle and Kim were showrunners on "RHOBH. However, as of last year, Kathy was invited to become one of the housewives. The star did not find it difficult to blend in because of her childhood experiences on TV.
This is not the first Kathy had been called on to join the Bravo TV franchise. In older times, the star declined, noting that it was not her forte. After taking up the offer, Kathy shared that it was her way to bond better with her once-estranged sister.
As a staple on the show, Kathy did not indulge in most of the drama. She rather displayed her expertise in how to resolve conflicts. Kathy sidestepped most of the issues that developed through season 11 while showing enigmatic wisdom.