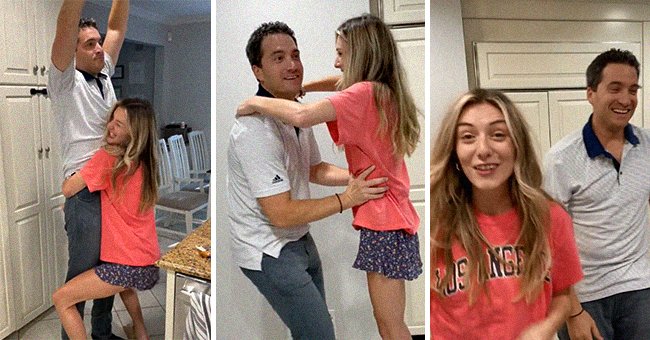 tiktok.com/raypo3
Dad Comes Home before Nanny Leaves and Here's What Happened
The internet became enraged, suspicious, and underhandedly disgusted all at once. They made some dark accusations towards a seemingly innocent fun moment between a father and his family's nanny.
A video was shared to TikTok by Rachel of her husband Andrew playfully enacting a famous dance scene from "Dirty Dancing" with their 23-year-old nanny Lizzie Norton. The dancing, all three claim, was in good fun.
However, a plethora of individuals online did not agree with this. Some claimed that there was chemistry between Andrew and the babysitter, even going as far as to put forward grooming allegations.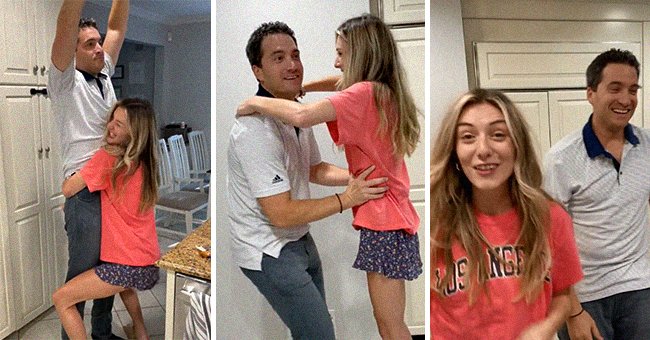 Andrew playfully enacting a famous dance scene "from Dirty Dancing" with 23-year-old nanny Lizzie Norton. │Source: tiktok.com/raypo3
In the video, the mother is recording the two, while Norton repeatedly attempts to jump up into the father's arms, just as in the movie. This made some viewers suspicious, whereas Rachel replied in the comment section:
"We're flattered by the interest guys. Most of you are out of your minds but we're flattered. 😘 "
One part of the clip may have specifically made some uncomfortable when the mother humorously utters that Andrew had accidentally touched the nanny's breasts. The three were all laughing heartily throughout the whole clip.

An individual commenting on a TikTok post post by Rachel. │Source: tiktok.com/raypo3
The comment section went wild, with most individuals commenting on how inappropriate the incident appeared to them. One user remarked:
"Naw, they too close sis."
Many creative and innovative stories also surrounded the clip, some saying that the three probably had an 'arrangement.' A significant amount of viewers, however, thought others were reading too much into it and looking for drama.

An individual commenting on a TikTok post post by Rachel. │Source: tiktok.com/raypo3
Rachel reportedly spoke after the fact in follow-up videos. She denied any whispers of grooming and ideas that her husband and Norton were having an affair.
The mother stated that their nanny and Andrew did spend considerable time together during the pandemic. However, Rachel said, this is no longer the case since his return to his job.
She asserted that he is genuinely joyful when he gets to see Norton because, she claims, the au pair is almost like their younger sister. The mother contended that they treat her as such, giving her direction when needed.
Whatever one's opinions may be on whether Andrew was inappropriate with Norton, most can agree that nannies and babysitters bring light into children's lives. This was precisely the case with one mother, Nicki Maher.
Maher had been mesmerized by her babysitter Delaney Wilson's voice for a while and decided to record her secretly. She was left in tears by the beautiful sound of her performing "Part of Your World" from "The Little Mermaid."
Wilson was playing with Maher's daughter while singing in the clip – the two lost in their little fantasy world. In a less publicly controversial way compared to Norton, babysitter Wilson has also made an online impact.
Please fill in your e-mail so we can share with you our top stories!