Olympian Allyson Felix Bites 'Gold Medal' Look-Alike Daughter Camryn Made for Her at School in Heartwarming Photo
Allyson Felix, recently made history at the Tokyo 2020 Olympics when she received her 11th Olympic medal. However, back at home, she received the most beautiful gift from her look-alike daughter.
America's most decorated track and field athlete in Olympic history, Allyson Michelle Felix is an outstanding athlete and mother. She has continued to reach, break and set records and recently became the most decorated American track and field athlete at the Olympics.
Felix, however, received her most treasured gift, a gold medal her daughter Camryn made for her at school. The proud mother recently posted a picture of her biting the gold medal Camryn made for her on Instagram.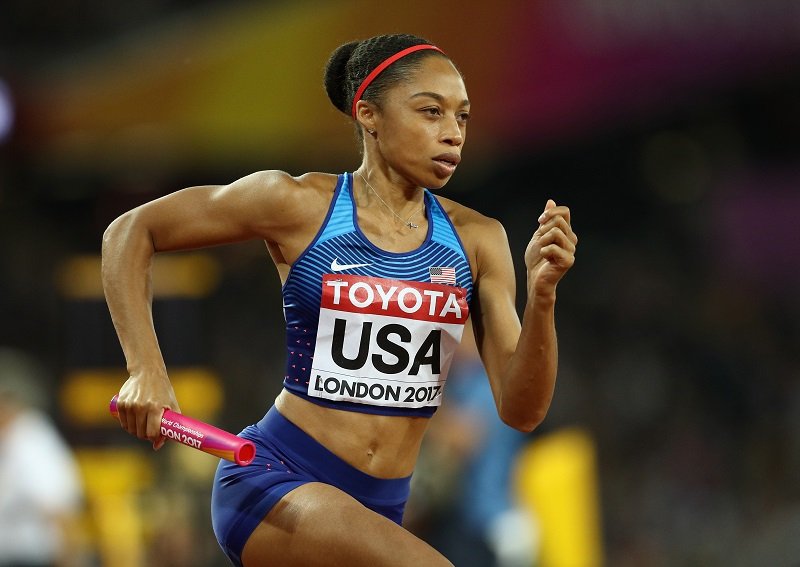 In the post, which she captioned: "Mommy biting her gold medal that Cammy made for her at school today!" the athlete was visibly excited as she held her daughter up in her arms.
Felix, who wore a blue and yellow tracksuit, had her Olympics necklace on as well as her bracelets and ring on her fourth finger as she smiled at the camera.
Camryn, dressed in a pink and blue colored dress, was just as happy as her mom as she bit the gold medal and smiled. The picture, which was taken in the well-spaced backyard, showed off some of Cammy's toys and beautiful flowers.
Felix received a hero's welcome from her 2-year-old daughter at the family's home in California.
Felix adores her daughter, and after her record-breaking historic moment at the Tokyo Olympics stadium, the athlete told reporters how Camryn gave her the courage to keep racing. The 35-year-old mother talked about how she had to go through challenges in her fight to return to the biggest stage.
Even though the athlete had an emergency cesarean section just 32 weeks after getting pregnant due to life-threatening preeclampsia, she overcame all hurdles to achieve her record-breaking success.
At 35, she became the oldest U.S woman ever to win a track and field gold medal; she also broke the record held by Carl Lewis since 1996 as the U.S most decorated track athlete with 11 medals.
Felix received a hero's welcome from her 2-year-old daughter at the family's home in California when she returned home from the Olympics.
Camryn, who could not travel for the Olympics due to COVID-19 restrictions, welcomed her star mother with the words: "I missed you."
Medals and records matter to Felix, but in the heartwarming photo which she posted on her Instagram page, what matters most to her is her daughter's admiration and medal.