Daily Joke: Three Millionaires Demonstrate Their Innovative Ways of Communication
Three wealthy friends, confirmed to be on the former Millionaires' list, try to outsmart themselves by demonstrating innovative technologies and ways of communication during an outing.
These buddies had the weekend to relax, with not many engagements, so they drove to their golf club to share some bonding time.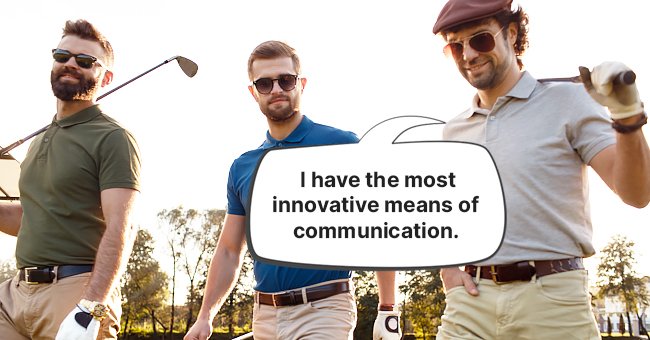 During their game, a phone rang, and the first man pulled out an earpiece from his pocket to take the call. When it ended, he apologized for the interruption but bragged about how fancy his phone was.
Thirty minutes later, another person's phone let out a noticeable ringtone. This time, it was the second man who had to take a call. He moved to one side and started to gesture, talking to the air.
After the call, his puzzled friends asked what he was doing. The man smiled and explained that his technology was revolutionary, and it provided an incredible mode of communication because his phone had been installed into his ears.
After a brief moment, man number 3 gets a ringing sound and he dashes into the woods. His buddies followed but could not keep up with his pace. They later began to search for him, which took a few minutes.
Finally, when they found him, the man had his pants down and was squatting behind a tree. His friends were astonished and asked him the reason for his behavior. Finally, the half-naked man looked up and exclaimed:
"Give me a minute would you, I'm waiting for a fax!"
ANOTHER FAX MACHINE JOKE
A medical expert found out that another doctor had moved his office into town. So he became worried that his rival may kick him out of business.
This fear came true, as his regular visitors failed to book further appointments, and some asked him via fax to send their medical files to the new doctor.
Four months later, and things grew from bad to worse. His scheduled appointments experienced a decline of about 37%. 
The man thought about pouring out his rage on the other doctor who was stealing his clients. So he called the office, but, unfortunately, he was put on hold, and even the on-hold message from the answering machine taunted him. It said:
"Thank you for your patients."
If you found these jokes funny, you might like this one about two rich friends who met for coffee at their exclusive members-only gentleman's club.