NFL Star Tom Brady and Gisele Bundchen's Eldest Child Turned 14 – Meet Their Kids
Tom Brady is one proud father who has nothing but praise for his son Jack. The football quarterback, also a doting dad to two other kids, meet Brady's children.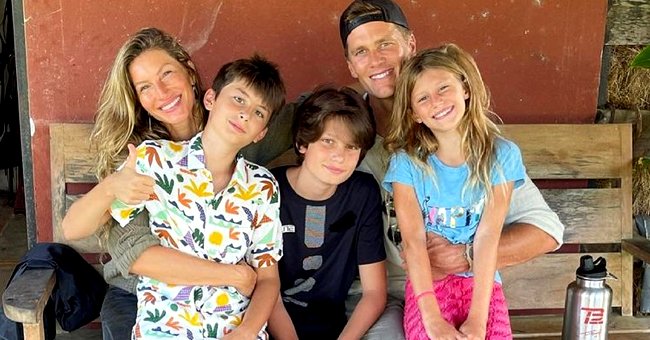 Superbowl winner Tom Brady took to Instagram and penned a heart-warming birthday tribute to his oldest son John "Jack" Edward as he turned 14 on Sunday, August 22, writing:
"Happy 14th birthday, Jack! I am so proud of the young man you are. You always try your best, you put others first, and you bring so much joy to our lives."
The Tampa Bay Buccaneers player posted a snapshot of his child on a golf course and reminisced about their father and son time together spent there.
"This picture brings back some special memories, and I can't wait to kick your butt on the golf course again soon," he wrote alongside laughing emojis, adding, "We love you so much!!!"
His wife, model Gisele Bundchen also shared a sweet tribute to her stepson on Instagram in honor of his special day alongside a family portrait and captioned the post:
"Happy birthday Jack! We are all so lucky to have you in our lives. Thank you for being the best big brother in the world. We love you so much!"
Jack is Brady's child from his previous relationship with his ex-girlfriend, Bridget Moynahan. The pair welcomed the youngster in August 2007.
Interestingly, by the time Brady and Bundchen started dating, Moynahan revealed she was pregnant with Jack. Since then, Bundchen has taken the stride in stepping in as a loving stepmom and even refers to the teenager; as her "bonus child."
Though it was not easy for her to come to terms with the news, the 41-year-old wrote in her 2018 book that she wanted to "especially" support her then-boyfriend.
Aside from Jack, she and Brady are doting parents to two other kids, their son Benjamin, 11, and daughter Vivian who is eight years old.
The couple wed in February 2009 and quickly started a family when the Brazilian native gave birth to Benjamin months later. Born Benjamin Rein Brady, the lovebirds welcomed their first child together on December 8, 2009.
The little one is considered a jokester and is usually featured on his parents' social media sharing funny moments. In May 2020, Bunchen uploaded a comical clip of her son dancing in the background of one of their TikToks and captioned it, "Benny always knows best!"
Brady and the businesswoman welcomed their daughter Vivian Lake Brady on December 5, 2012, who happens to be the spitting image of her mom.
In November 2019, Bundchen shared side-by-side images of the mother and daughter duo at the same age to show their apparent resemblance. Their little girl also accompanies them to big events and features on their social media profiles.
Even though Brady is a loving family man and finds time to spend with his loved ones, he still feels it is insufficient. Last month he dropped a bombshell and revealed he is considering retiring in two years from playing football.
In an interview on Sirius XM Town Hall, the former New England Patriots star revealed his family has "sacrificed" a lot for his career and that the retirement will make up for the lost time.
"Things change as you get older, and there's a lot of different responsibilities I have in my life. My wife and my family are certainly important, and they have made many sacrifices over a long period to watch me play. So, I owe it to them too," he said.