NHL Jimmy Hayes Will Never See His 2 Young sons Grow as He Untimely Passed at 31
31-year-old NHL star Jimmy Hayes sadly passed away unexpectedly a few hours after his son's second birthday party. His death has been described as shocking and painful by his loved ones.
It was a black Monday for the family of former NHL star Jimmy Hayes who unexpectedly passed away a few hours after he had celebrated his son's second birthday, leaving his family in shock.
The day before his death was a cheerful and fun-filled day for Hayes and his family. The late 31-year-old and his wife Kristen shared photos and videos from their Sunday celebration of their son, Beau.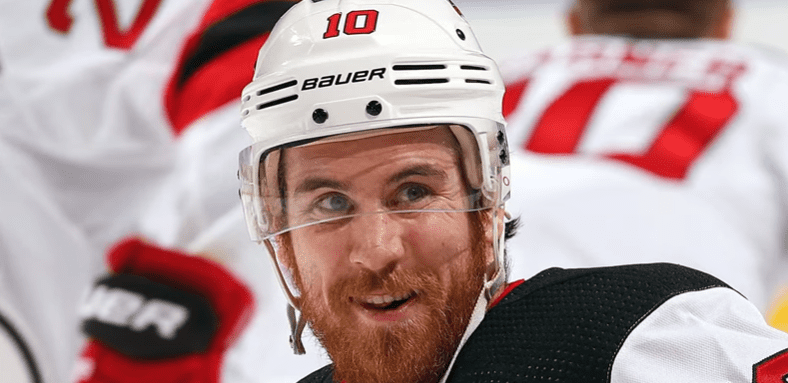 Pictures from the family event showed a vibrant Hayes enjoying his toddler's big day. One of the clips shared that an excited Hayes was seen jumping on a trampoline with the 2-year-old Beau. 
On Monday morning, the former hockey player was pronounced dead in his Boston home. His cause of death remains unknown, but his family and close friends have been thrown into grief and mourning.
His death comes a few months after he welcomed another baby with his wife, Kristen. The late father of two took to his Instagram in May to announce the birth of his new child. He wrote on the post,
" Mac "Daddy" Hayes has arrived 8.4lbs and 20in 5/5/21."
The 31-year-old was a devoted husband to his wife, and some of his last posts on social media included him wishing Kristen a happy Mother's Day. Close friends of the former NHL star know how much he loves his family.
They tied the knot in the presence of their friends and family.
Before his death, Hayes' career kicked off during his playing days for Boston College. Before his seven seasons in the NHL, Hayes spent two years playing on his hometown team, the Boston Bruins.
His old hometown team has released a statement following his shocking death. The team affirmed its support to Hayes' family, Kristen, Beau, and Mac, as they go through these dark times.
Hayes was a second-round draft pick of the Toronto Maple Leafs in 2008. His long-term career took him to teams like the Chicago Blackhawks, Florida Panthers, and the New Jersey Devils.
He played as a right-winger and had 109 points in 334 games in the seven seasons. His former team, Boston College Hockey, and other hockey fans have reacted to his death, paying tribute to his legacy.
While his old buddies have recounted good old memories with him, his wife Kristen bears the pain of his death the most. The duo got married in 2018 and shared two children.
The former couple met through mutual friends, and after a brief dating period, they tied the knot in the presence of their friends and family. Hayes' fans will be sending all the love needed to his family, wishing them support and comfort.