Niecy Nash Celebrates 1st Anniversary with Wife Jessica Betts While Wearing Sheer Pink Dress with Low Neckline
American actress Niecy Nash and her wife Jessica Betts are counting down to celebrate their first anniversary as a couple. Niecy is looking forward to it, as recent posts on her Instagram page showed. 
Actress and comedian Niecy Nash is known for playing Desna Simms on the TNT crime comedy-drama series "Claws," among other notable roles in other popular television series. 
Niecy has been married three times in her lifetime and is a proud mom of three children. Her first marriage was to ordained minister Don Nash, with whom she shares all her kids.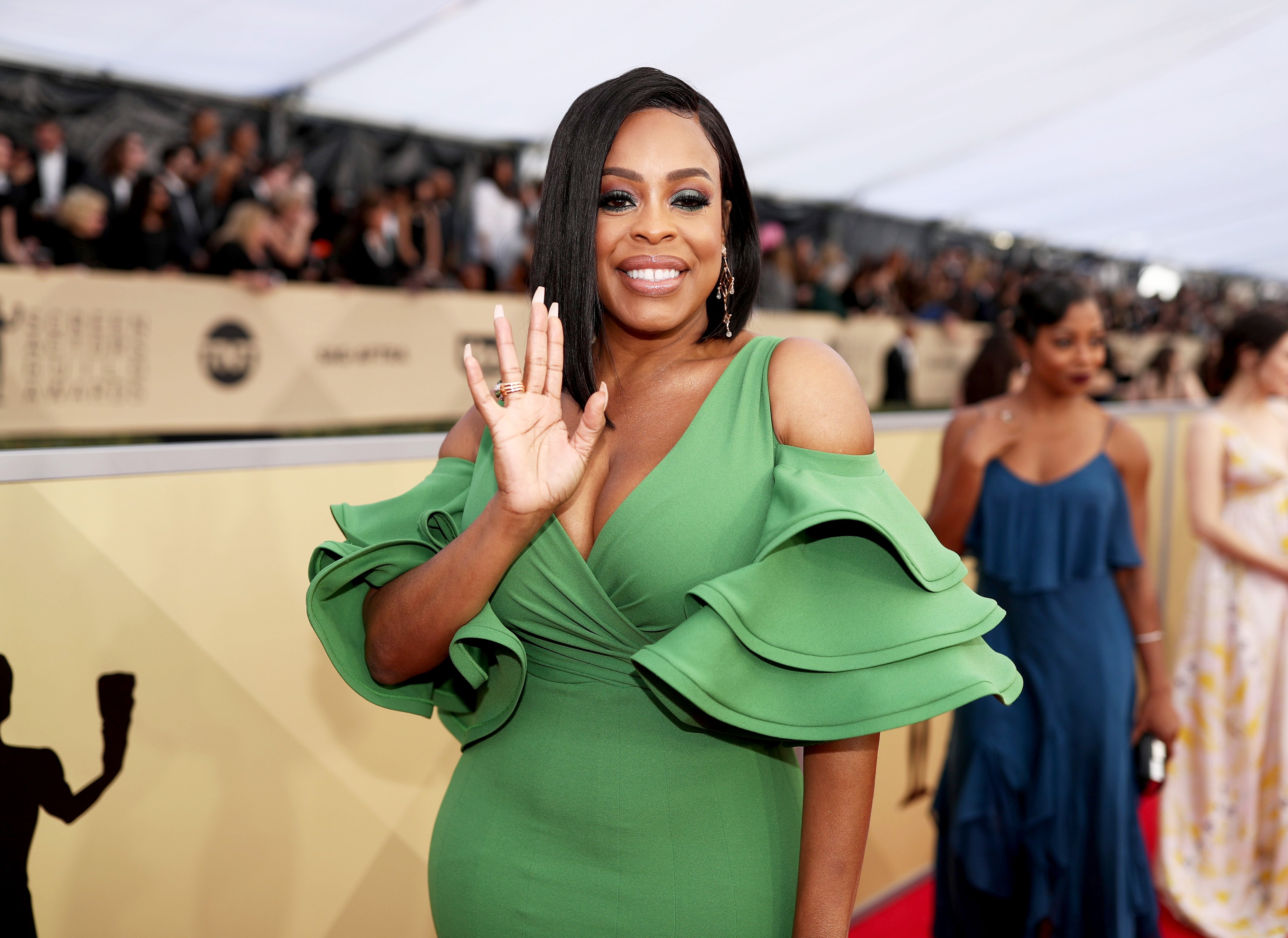 After Niecy and Don divorced in 2007, she tied the knot with Jay Tucker in 2011. However, they divorced in 2020. Months after her divorce settlement, Niecy tied the knot with singer Jessica Betts on August 29, 2020, after publicly coming out. 
Niecy and Betts, who have worked with numerous artists on tour, are looking forward to celebrating their first wedding anniversary. It looks like it will be a celebration to behold if Niecy's recent posts are anything to go by.
Niecy shared multiple pictures in several posts she made on her Instagram page. In one post, she shared a side-by-side photo showing her and Betts on their wedding day and captioned it: 
"A year ago this time we were in FITTINGS because WE FIT ❤️💍 #AnniversaryLoading #BestKeptSecret #BETTSofBothWorlds."
Over the weekend, the couple stepped their anniversary celebrations a notch higher with a backyard gathering with their close friends. Niecy shared pictures from the celebration in another Instagram post. 
The first photo in the post showed her and Betts exchanging a kiss. Betts wore a black T-shirt with white prints, which she paired with black jogger pants. Meanwhile, Niecy looked gorgeous in a sheer pink dress with a plunging neckline. 
Niecy also opened up about how her kids reacted when she married Betts.
The second picture was of Betts posing with two costume-wearing female dancers. Another snapshot showed Niecy helping her wife wear her cross-chain, with Betts about to put a ring on Niecy's finger in another image. 
Niecy shared a beautiful picture wherein she flaunted her beautiful ring. Another snapshot showed her dancing with her friend and actress Kellee Stewart, who looked stunning in a blue two-piece floral dress. 
One picture showed a delicious-looking floral cake, while another snap was of Niecy and Betts posing with model Christian Dante and actor Colman Domingo.
Niecy ended her picture gallery with a video of her Betts sharing a kiss and dancing before making a peace sign to the camera. In the post's caption, she wrote: 
"About Last Night‼️ The Betts we're officially established 8/29/20 HOWEVER, we started celebrating early![sic]"
On Monday, Niecy shared a picture showing her dancing with the female dancers. In the post's caption, she wrote, "Ok ladies, let's get in formation! Heading into my week like….." 
Niecy and Betts have a beautiful love story. During an appearance on "The Ellen DeGeneres Show," the actress, who calls Betts her "Hersband," revealed they were friends before becoming romantically involved. 
During an appearance on "Red Table Talk," Niecy also opened up about how her kids reacted when she married Betts. She said her daughters, Dia and Donielle, and her son, Dominic, were surprised by the marriage. 
However, Niecy explained her kids already knew and liked Betts as a person before her relationship with the latter turned into love. 
As they head into their first wedding anniversary, there is no doubt Niecy and Betts are so much in love with each other. The couple rang in Pride Month earlier in the year as Niecy shared a photo from their wedding. 
In the post's caption, she wished everyone a Happy Pride Month and added that they feel the love and send it right back. Best wishes to the beautiful couple as they mark a year together.