Niecy Nash Looks Youthful In a Trendy White Suit With Red Borders & Matching Gucci Sneakers
Niecy Nash was a true fashionista in a recent Instagram post where she poured her hourglass figure into a head-to-toe designer ensemble while hanging outdoors with her wife, Jessica Betts. 
Carol "Niecy" Nash has been on cloud nine ever since she said "I do" to singer-songwriter Jessica Betts last year. The "When They See Us" star radiates pure joy whenever pictured with her wife. 
The lovebirds are inseparable and often feature on each other's Instagram pages. Not only are they an inspiring couple, but they are also super fashionable despite having a different sense of style.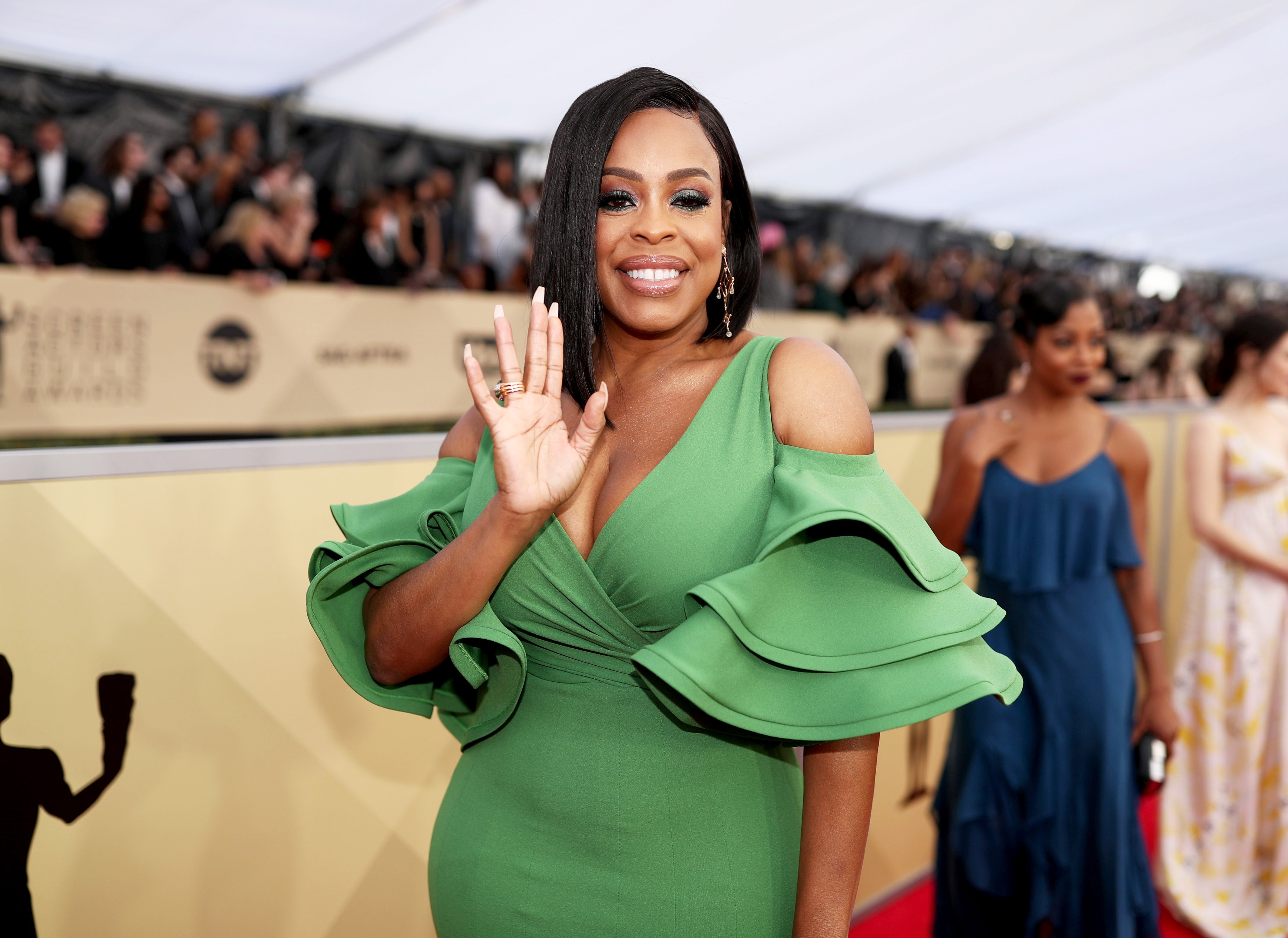 Nash recently shared three photos of a day spent with Betts while showing off a few designer pieces from their undoubtedly stacked wardrobes. The Instagram post was captioned:
"SUITED & BOOTED‼️🥰@tomford x @gucci while I'm 👀 at Bae in @versace x @alexandermcqueen."
DRESSED TO IMPRESS
The first snap showed the ever-youthful Nash posing by some stairs while donning a business-chic ensemble that featured a white suit with bright red borders worn with a white top that accentuated her ample cleavage.
The "Claws" star paired her outfit with white Gucci sneakers and an array of jewelry, including a necklace, bangle, several rings, and hooped earrings. She completed her flawless look with a middle-part hairstyle and bold red lipstick.
The second post in the carousel featured Nash's wife, Betts, looking solemn while rocking an all-black outfit including a black top, sweater, and a knit hat which was lightly placed on her head. 
Not to be outdone by her wife, Betts was also adorned by some shimmer and shine as she rocked her huge wedding ring, a silver watch, and a silver necklace with a cross pendant.
The final photo in the carousel captured the loving couple smiling together, garnering the approval of fans who took to the comments section to express their sentiments. "Every time I see y'all I get so giddy," wrote one fan.
[Nash and ] Betts have separate bathrooms, which allows some mystery into the relationship.
LOVE IN A PANDEMIC
Luckily for fans, Nash and Betts don't plan on stopping the romance anytime soon. Nash recently told Page Six she had major plans to travel and "make love all around the world" with her wife once the world opens up again.
The "Clean House" star's romance and subsequent marriage to Betts took place amid the pandemic, which meant they couldn't have the wedding of their dreams. Instead, they made the most of it and held their wedding ceremony in a backyard.
KEEPING LOVE ALIVE
Evidently, Nash and Betts have a way of turning any situation into a joyous one. Like any marriage, their union needs work, too, and they have figured the secret to staying married.
The "Reno 911!" star admitted to Essence that she and Betts have separate bathrooms, which allows some mystery into the relationship. She also revealed that the couple keeps things exciting by constantly inviting each other on dates.