Elle Magazine: Behind the scenes of Kendall Jenner's 818 Tequila Launch Party
The supermodel announced the launch of her Tequila brand earlier this year and named it after her San Fernando Valley area code. Here's how it all came about for the California native.
In a recent exclusive interview with Elle, Kendall Jenner revealed her love for the liquor and what inspired her to come up with her brand during a look behind the scenes of her launch party:
"I've been a huge tequila lover for several years now. After trying different types, I wanted to make one meant for enjoying with family and friends."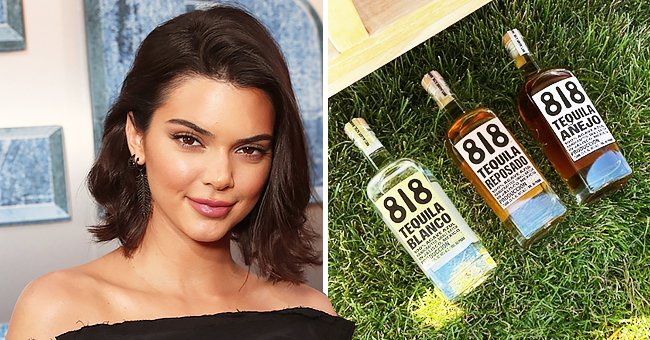 The 25-year-old enlisted someone with experience in the business, David Yan Gonzalez, as 818's director of tequila operations and shared she is excited about her new venture which has been historically male-dominated.
Jenner added that she wants to inspire other women "to become founders or work in the same field, which needs more female representation."
Her party took place in New York and featured an outdoor setup with wooded décor, including a tequila stand, flowers matching the themed look, and a few seats.
A flag was pictured flying in the air with the words "Tequila would taste good right now" written on it, including "818 Tequila Blanco," on the other side. 
One photo showed the reality star inside the establishment behind the bar filling up lined up glasses with the liquor donning a simple tank top paired with jeans and a beige facemask.
In one picture, Jenner was seated, smiling while holding a beige cap signing an autograph while the next displayed her serving tequila shots, and the other showed her taking a selfie with a fan.
Those who came to celebrate the brand's launch rollout included fashion model Karlie Kloss, actor Luka Sabbat, and Jenner's boyfriend, Devin Booker.
Before the launch, Booker and Jenner were recently spotted disembarking from their private plane in Italy on Thursday, August 19, for their vacation. In photos obtained by the Daily Mail, the two could be seen rocking comfy sweatsuits, Jenner in beige and the Booker, 24, in black while exiting the aircraft.
An insider exclusively told Life & Style that the lovebirds are "making the most of their summer" while sharing how they spend their quality time together:
"They like to hang out at home together – wherever they are – watch movies and eat lots of food."
Jenner and the NBA star first sparked romance rumors in April 2020 and made their relationship public in February. In June, the Vogue cover girl and the Phoenix Suns guard celebrated their first dating anniversary.