Gymnast Simone Biles Showcases Killer Abs & Navel Piercing in Two-Piece Aquamarine Swimsuit in Beach Snaps
American gymnast Simone Biles put her chiseled abs on display in a recent picture she shared on her Instagram Story that showed her looking incredibly sexy. 
Simone Biles is an incredibly gifted gymnast and is considered one of the greatest talents ever to have competed in the sport. She has proved her abilities beyond doubt with her amazing displays and recorded National and World Championship wins, including Olympic medals. 
Besides her gymnastic skills, Biles is also famous for her impressive and fit figure, which she is proud of and enjoys flaunting with every given opportunity.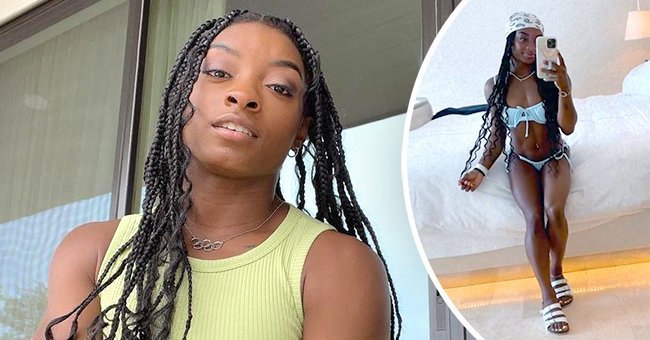 In a recent post on her Instagram Story, the beautiful athlete shared another photo of herself with her fans. The snapshot, a mirror selfie, showed her sitting on an almost perfectly laid bed. 
She wore a two-piece aquamarine swimsuit and showed off her chiseled abs and sexy figure as she sat on the bed. She tied a white patterned bandana over her lengthy curls and wore a white bracelet on one hand and a bangle on the other hand. 
The beautiful diva wore a white necklace and white sandals and smiled as she posed for the snap. The picture was taken during one of Biles' beach getaways. 
During the weekend, she shared more pictures on her Instagram feeds from her time at the beach, showing as she dazzled in her aquamarine swimsuit. The photos showed her sitting on a hanging raffia egg chair. The 24-year-old looked excited and laughed while posing for the snaps. 
Since coming back home from the Games, she has returned to the gym and is preparing for the Athleta Presents Gold Over America Tour.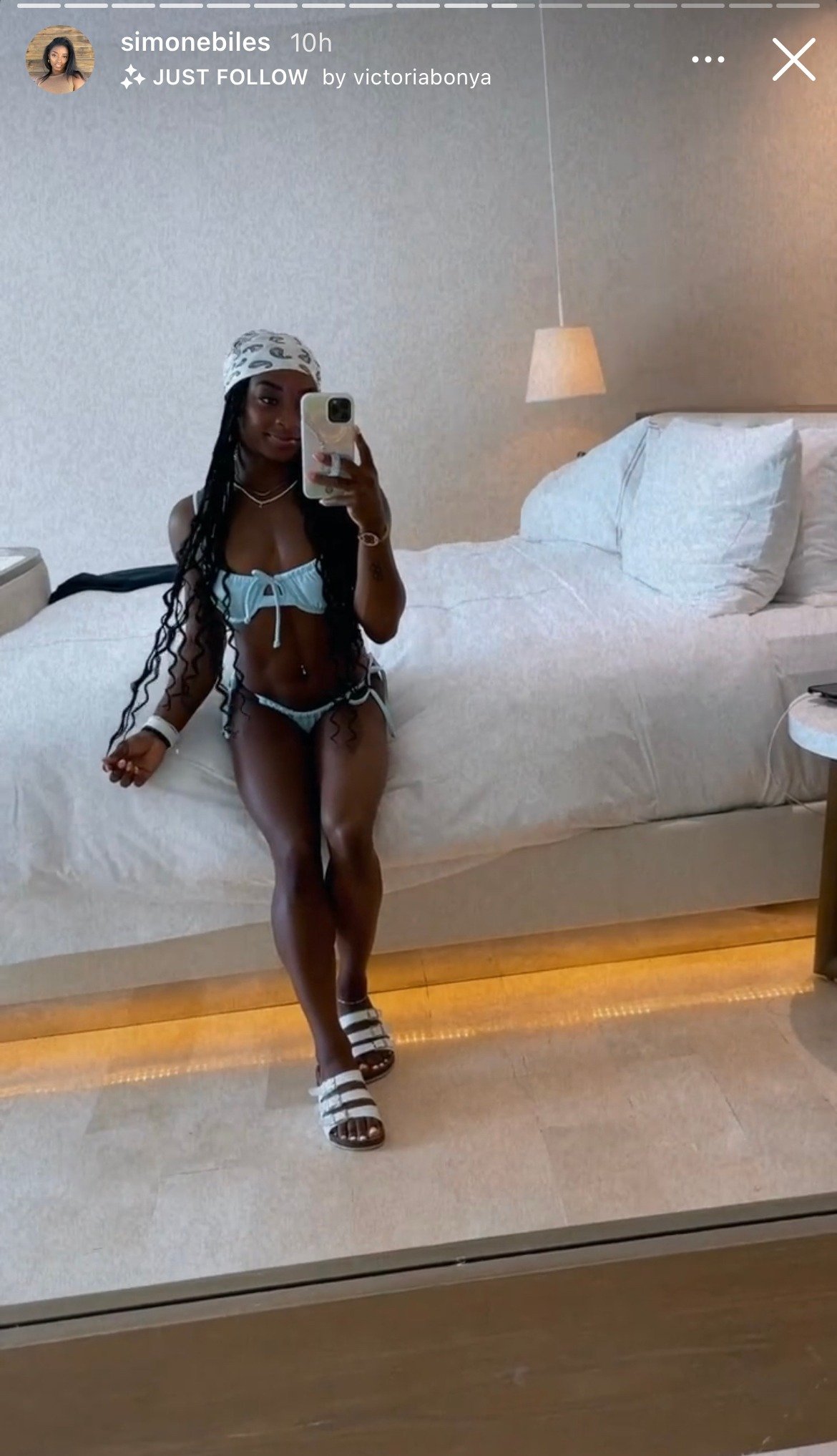 In the post's caption, Biles declared she is only available for fun by writing, "beaching until further notice." Her boyfriend and NFL star Jonathan Owens commented on the post with two fire emojis to appreciate his lover's beauty. 
Biles recently returned from the Tokyo Olympic Games. She won a bronze medal in balance beam and another silver medal but withdrew from most of her other events citing concerns over her mental health. 
After withdrawing from most of her events, Biles revealed she had "twisties," a condition athletes may experience, which makes them lose understanding of their air awareness, increasing the risk of injuries upon landing. 
Since coming back home from the Games, she has returned to the gym and is preparing for the Athleta Presents Gold Over America Tour. She told People she has recovered from her twisties and feels like herself again. 
Besides returning to the gym, Biles has also been sharing sexy snaps of herself on Instagram and revealed her washboard abs while posing in a tie-dye swimsuit in a photo she shared earlier in the month. 
She also reunited with Owens and has been spending so much time with him. Fresh after her return to America, she headed to the Houston Texans practice facility to watch the NFL star, a safety for the team, at practice. 
It is good to see Biles back to her best once again and enjoying her relationship with Owens. Fans will now be looking forward to seeing her perform when the Gold Over America Tour begins.