LeBron James' Mother Gloria Stuns as She Flaunts Legs in White Mini Dress & Matching Knee-High Boots
LeBron James' mom, Gloria James recently let the world witness her youthfulness as she looked scintillating while flaunting her legs in a white mini dress and matching knee-high boots.
Gloria, 53, is not only the mother of one of the country's most remarkable basketball players, entrepreneur, and philanthropist, LeBron James, she is also a woman with her own identity.
Although the 53-year-old has made tremendous contributions to her son's life and is involved in his businesses, she loves to showcase her admirable lifestyle filled with family love, projects, getaways, and ageless beauty.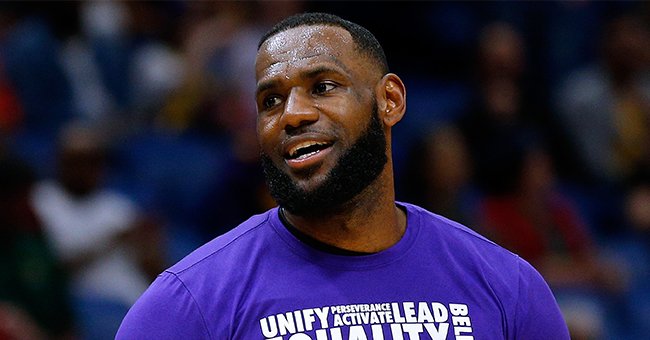 Gloria's recent snap confirmed that she must be on an elixir portion! The lady looked youthful, stunning in a crisp white mini jumper shirt dress, with side slits that flaunted a bit of her curvy body, and trimmed long legs rocking a pale white cowboy-like themed knee-high boots.
The 53-year-old added a brown wide brim fedora hat to crown her curly wig and accessorized the look with earrings, and finger rings complimenting her coffee-colored manicured nails.
As if the 100 shades of cuteness were not enough, LeBron's mom maintained a killer pose with a gorgeous smile while overlooking the outdoor through the lens of a framed window in Sonne Studios.
The picture said more than a thousand words, so Gloria opted to add a message giving credit to her dream team, who were responsible for putting the puzzle together. The image cupped more than eight thousand likes, and fans agreed that her appearance was impressive. 
WHO IS GLORIA JAMES?
Gloria is the woman who raised her son at a young age as a single parent. The duo lived in Akron, and Gloria struggled to make ends meet while teaching her son the intricacies of success.
She describes herself as a humble person, who is always ready to comfort people, and embrace them during their difficulties, not minding their age or status. During an interview, Gloria explained how she walked through life as a teenage parent. She said:
"A lot of faith in our God above. And just a lot of pleasure in knowing I planned on raising a good human being."
HER INFLUENCE ON LEBRON'S LIFE
The Lakers champion glorifies his mother's influence in his life. He maintains that she is responsible for his achievements on the basketball court and off it.
Besides urging him to strive for greatness, Gloria advised her son to create his "I Promise" school in their native town of Akron to help at-risk kids attain greatness through funding and education.
THEIR ADORABLE BOND
These two are very close even though LeBron is a father of three kids and has a beautiful home with his gorgeous wife, Savannah.
Last year, when the NBA star cupped another nod from the championship after his fourth Finals MVP, he excitedly rang his mom to express the good news while crediting her for his success.
Gloria reciprocated the love and ascribed his victories to God, which her son agreed to. He also talked about making her proud before ending the conversation with a declaration of his love for her.
Again, when LeBron could not see his mother for three months following the quarantine, he complained about missing her, admitting that it was the first time he stayed that long without her presence.
This closeness has not been known to cause any discord in LeBron's marriage. Gloria is mostly present for her son and is
helping
her daughter-in-law raise their three kids, Bronny, Bryce, and Zhuri.