Dee Dee Davis AKA Baby Girl of 'the Bernie Mac Show' Adores Blue-Eyed Daughter Celebrating Her 4 Month B-Day
American actress Dee Dee Davis of "The Bernie Mac Show" fame cannot get over her adorable newborn daughter and gave fans a glimpse of her face in a new video she shared on Instagram. 
From November 14, 2001, to April 14, 2006, "The Bernie Mac Show" held viewers spellbound with its rich content filled with humor and beautiful stories. 
The show featured now-deceased actor Bernie Mac and his on-screen wife, Wanda, portrayed by actress Kellita Smith. Bernie Mac and Wanda were forced to raise his sister's three kids: Jordan, Vanessa, and Bryana.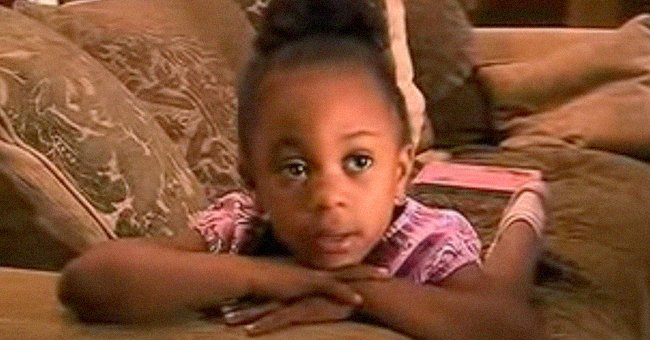 Camille Winbush portrayed Vanessa, the oldest of the three kids, while Jeremy Suarez played her younger brother, Jordan. Dee Dee Davis portrayed Vanessa and Jordan's little sister, Bryana, also known as "Baby Girl." 
Bryana was her uncle's favorite and constantly attacked and beat up her older brother Jordan. Fifteen years after "The Bernie Mac Show" ended, the three siblings and the rest of the cast have enjoyed varying degrees of success in their careers and personal lives. 
Davis is now a mother of two after welcoming her second child with her partner. Hence, she is no longer the little girl fans knew on "The Bernie Mac Show." 
She became a mother for the first time in 2017 when she and her former boyfriend Smokey Lee Jackson welcomed their son named Logan Lee Jackson. 
On February 6, Davis announced she was expecting her second child. She shared a picture showing her and her son, Logan, posing with her present boyfriend, who goes by the user name, kev_o_5, on Instagram. 
Davis and her "The Bernie Mac Show" co-stars Winbush, Suarez, and Smith reunited for a reunion interview.
Davis kept her fans updated on her pregnancy and shared a photo showing her at the hospital on the day of her baby's birth. On April 22, she gave birth to her daughter, Leia Roberts. 
Davis introduced her fans to Leia by sharing a picture of the cute baby's legs on her Instagram Story after giving birth to her. In addition, she revealed Leia weighed five pounds and 10 ounces at birth. 
On May 14, she shared the first full picture of baby Leia in an Instagram post. The snapshot showed the cute baby in a pink tutu skirt and matching floral headband. Davis captioned the post: 
"Introducing for the first time Princess Leia 👑💕." 
Davis has continued to share pictures of her cute daughter since introducing her to the world. Recently, Leia turned four months old, and her proud mom celebrated the occasion by sharing pictures of her on her Instagram Story. 
She shared a snapshot that showed the precious Leia posing with an oval purple card with "4 months" written on it. The adorable baby wore a multicolored polka dot headband and a white top and looked delighted to be a month older.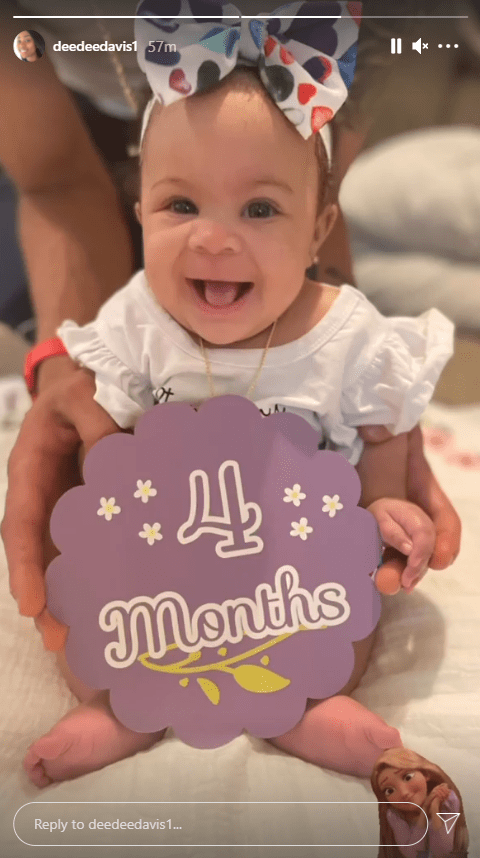 Davis could not get over her daughter's cuteness and captioned the picture by writing, "I CAN'T TAKE IT." A second photo showed baby Leia all smiles while posing with the oval card. 
The snapshot showed the cute baby's resemblance to her mom and proved that Davis' kids had stolen her face as they closely resemble her when she was young.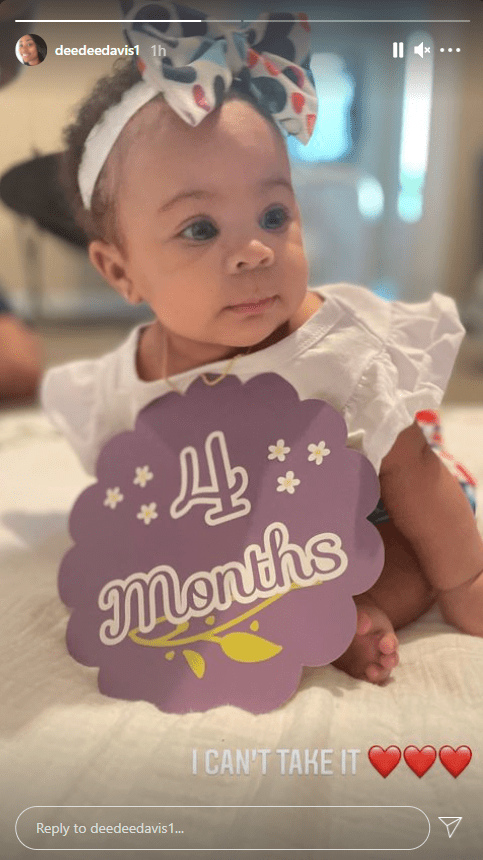 On Wednesday, Davis shared a video showing Leia. In the video, the proud mom covered her daughter's eyes with her hand before removing it to unveil her beautiful face while Bruno Mars' "Talking to the Moon" played in the background. 
The video showed Leia's lovely blue eyes, which her mom raved about with multiple hashtags in the post's caption. It read:  "#talkingtothemoon #moonchild #222 #blueeyes #babygirl #babyfever #eyeschallenge."
In 2018, Davis and her "The Bernie Mac Show" co-stars Winbush, Suarez, and Smith reunited for a reunion interview. If they should reunite anytime soon, things will look so much different than they did back then, with Davis now a mother of two beautiful children.