LeBron James' Mother & Wife Rock Matching White Silk Suits & High Heels in Shoot Shared on Her 35th Birthday
LeBron James' wife, Savannah Brinson, recently clocked 35 and was serenaded with kind words by loved ones. She also got a particular Instagram post from her mother-in-law, Gloria James. Let's take a look at the content of Gloria's post.
LeBron James remains one of the greatest basketball players of all time and has inspired many with his charisma on the basketball court. The icon not only has the support of fans, but he also enjoys encouragement from his doting family members.
LeBron is a proud family man and is currently married to his beautiful wife, Savannah Brinson. The NBA star's wife recently celebrated her 35th birthday and received tons of congratulatory messages from family members and friends.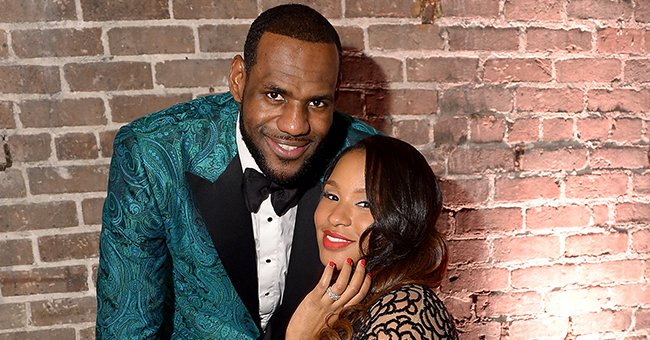 HAPPY BIRTHDAY, BRINSON!
Her mother-in-law, Gloria James, took to Instagram to wish the raving beauty a happy birthday, with many pictures and a lovely message. Some slides featured the duo looking chic in elegant outfits and posing together.
In one of the snapshots, Gloria was clad in a beautiful white silk suit and matching pants. She rocked black short bob hair and accentuated her ageless appearance with subtle makeup.
The doting mom accessorized the outfit with a gold necklace and a matching pair of shoes. Gloria posed side-by-side with her daughter-in-law, who wore a white silk outfit with a pink robe.
Brinson held a small white bag, donned black wavy hair, and finished with a simple yet classic necklace. The lovely pair smiled heartily for the camera, showing off their white teeth.
In the caption, Gloria called Brinson beautiful and wished her a special happy birthday. A few minutes after the post was shared, fans trooped to the comments section with good wishes and lovely descriptions of the celebrant. She wrote:
"Wishing my beautiful daughter-in-law, @mrs_savannahrj, a very special Happy Birthday! 💕"
Brinson's birthday comes a few days before her eighth marriage anniversary on September 14, 2021. The proud mom and her legendary husband walked down the aisle in 2013, but their relationship dates back to when they were teenagers.
Gloria eventually let LeBron live with his football coach at a point until she was financially stable.
LEBRON ON FATHERHOOD
Before tying the knot, Brinson and LeBron were already doting parents to two children— LeBron "Bronny" James Jr, born in October 2004, and Bryce Maximus, born in 2007.
They welcomed their third child, Zhuri, one year after their wedding. Over the years, the NBA champion has spoken candidly about his thoughts on fatherhood.
He is proud of his kids and constantly speaks positively about them during interviews. During a chat with Access Hollywood, the icon explained how much his kids meant to him. He made it known that his children were the greatest things in his life.
According to LeBron, whenever Zhuri smiled, it always made him happy, irrespective of whatever he was doing. LeBron also often shares Bronny's basketball successes with his social media fans and followers.
LEBRON AND GLORIA'S EMOTIONAL RELATIONSHIP
LeBron shares a great relationship with his kids, as he never got to experience fatherly love while growing up. The legend was raised by a single mother, and to this day, he regards Gloria as his champion.
In a letter to Today.com, the proud dad narrated how Gloria struggled to raise him. Gloria had LeBron when she was just 16, and without any support from her baby daddy, they barely survived.
Things got worse for LeBron and his mom when Gloria lost her mother, their only financial support system. Gloria eventually let LeBron live with his football coach at a point until she was financially stable.
The basketball player later moved back into his mom's house during his high school days. LeBron says he is devoted to his mother because she has always been committed to him.
Gloria has always stood by her son throughout his NBA career, and nothing has come between the relationship they share. She continues to show her love not only to LeBron but to his entire family.