Eddie Murphy's 2-Year-Old Granddaughter Melts Her Grandma Nikki's Heart Walking in Her Daddy's Huge Shoes
Eddie Murphy's toddler granddaughter is already stealing hearts like her famous grandpa in the entertainment industry. The young blood looks adorable as she walks in her daddy's huge shoes, making grandma Nikki gush over her.
Award-winning actor and producer Eddie Murphy have always been in the business of making people laugh. His comedic character and ability to bring to life any role he plays is also impressive.
It appears that his genes are super strong as his 2-year-old grandchild, Evie, got many hooked on her sweetness and cute looks by playing around, even her grandmother, Nicole Murphy.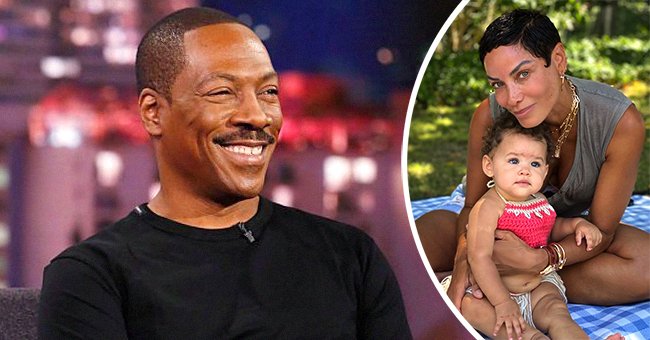 In newly updated photos from Nicole, the young lady posed and walked around the house in her daddy's black oversized footwear.
It was all shades of cute as the toddler rocked lovely dungarees on a tan-top and showed off her charming face and curly hair. Evie's grandmother gushed on the tot with heart emojis added to a caption that read:
"This little cutie is walking in her daddy's shoes #prettylittlething…#daddysgirl."
WHO IS NICOLE MURPHY?
Nicole is the former wife of actor and comedian Eddie Murphy. The pair met in 1988, exchanged their vows in 1993, and filed for divorce twelve years later, after the birth of five kids.
After filing the divorce, the mother of five requested custody and spousal support, expressing that their kids' welfare comes first.
Apart from being an ex-wife to a movie icon, she is also a busy bee with many thriving businesses to her name. She was a former model, who now has a fitness and clothing line, a jewelry brand, and hopes to create a skincare brand.
Nicole is very passionate and proud about her appearance and has managed to maintain an ageless look. At 52, she works out four times every week and is particular about her closet choices, enhancing her beauty.
Amid the padded resume, the former model has time for her family, including her kids and grandkid. From time to time, she shares details about her family, gushing on and celebrating them during milestones.
Last year, when Evie, her and Eddie's only grandchild, turned one, she shared a sweet photo of the little princess and wrote:
"I can't believe you are 1 year old today. Happy Birthday my beautiful perfect angel #Shesperfect."
Fans were pleased with the post, and they commented on the likeness between the celebrant and her grandmother. One person quipped:
"You've got some STRONG GENES! WoW!"
THE MURPHYS
As his ex-wife, Eddie is a doting parent and grandparent, and despite his busy schedule, he makes family bonding time an important affair. In addition, the entertainer has revealed that he loves being a father.
The actor is a father of ten and a grandfather of one, Evie. He shares his ten kids with four different women. Still, the clan has a binding glue formed out of love and affection for one another.
Eddie first became a dad in 1989, after welcoming his first child, Eric, with his ex-lover Paulette McNeely. He has a son, Christian with Tamara Hood, a daughter, Angel with Mel B, five kids with Nicole, and two others with his girlfriend, Paige Butcher.