Phylicia Rashad's Ex-husband Ahmad Hugs His Much Younger 5th Wife Flaunting Ombre & Pink Top on Her B-Day
Ahmad Rashad recently took to his Instagram page to celebrate his much younger wife, Ana Luz, as she marked a new milestone. The photo posted showed the deep love the pair have for each other.
Phylicia Rashad's ex-husband, Ahmad Rashad, is basking in marital bliss with his fifth wife, Ana Luz. Recently, the latter celebrated her birthday, and Ahmad marked the occasion with a lovely post.
Taking to Instagram a few hours ago, the sportscaster updated his fans with a lovely photo of him and Luz. In the snapshot, Ahmad looked dapper in a tight pink T-shirt that accentuated his biceps. He looked all romantic as he hugged his beautiful wife from behind.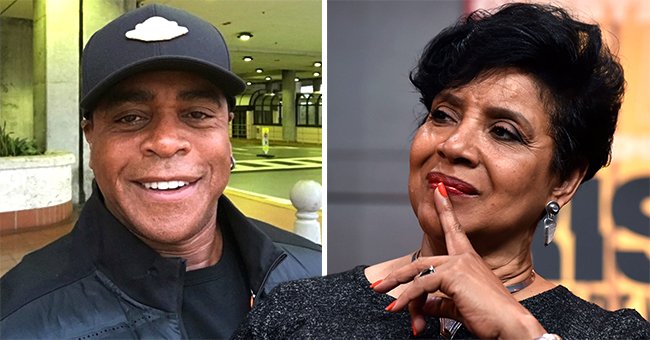 On the other hand, Luz was dressed in a spaghetti strap ombre top and rocked her hair in a ponytail style. She looked very excited as she dished out a heavy smile, revealing her dental structure. Luz did not wear any makeup, but that did not stop her from looking gorgeous.
The cute couple accessorized their looks with an array of accessories, including matching bracelets, wristwatches, and gold necklaces. Captioning the post, Ahmad wrote:
"Happy birthday darling!!❤❤❤."
Since the post was shared, with over five hundred likes and almost twenty comments, many swooned over the celebrant and dropped fantastic birthday wishes for Luz.
Ahmad and Luz walked down the aisle in April 2016 in Palm Beach County, and afterward, proceeded to the Palm Beach Gardens for a banquet led by one of Luz's family members. The former football player was married four times before tying the knot with Luz.
His relationship with Luz has been questioned several times due to their age difference.
Ahmad's first marriage was to Deidre Waters in 1969, which came to a halt a few years later. In 1976, he tied the knot with his second wife, Matilda Johnson. The pair's marriage only lasted for some years, and they called it quit in 1979.
The icon found love for the third time in the arms of Phylicia Rashad, and they got married in 1985. Shortly after their marriage, they welcomed a daughter, Condola Phylea Rashad, in December 1986.
According to a report, Condola was born in the evening hours in an unidentified hospital in New York. Ahmad and Phylicia's marriage lasted for almost two decades before they divorced in 2001.
Six years later, he married Sale Johnson, but the duo split in 2013. Ahmad tied the knot for the fifth time and has remained happy, but his relationship with Luz has been questioned several times due to their age difference.
The former is older than his wife by over 30 years but still appears to be age-defying. His ageless looks have left fans puzzled, with many pondering on the secret behind it.
Mike D. Sykes and basketball Twitter once revealed that they were clueless Ahmad had clocked the big 70. According to them, the star looked like a man in his forties.
Despite Ahmad's surprising age, his marriage with Luz has never been affected. They have respect for each other, and fans of the couple are optimistic that their marriage would last a lifetime.