Target Workers Could Not Enter Workplace Because Someone 'Superglued' Store Doors
A highly unimpressed number of Target workers were left out in the cold when someone decided to glue the store's doors shut tight.  No one knew who would do such a thing, but some online detectives had an interesting theory.
Target retail employee and TikToker MJ 🦋 or @mikaelaaa_j took to the social media platform to share a clip of her and her co-workers struggling to get into the chain store. 
Out of all the reasons that they were locked out, the strangest incident had occurred with an unknown individual having glued the door shut for a mysterious and still seemingly unknown reason.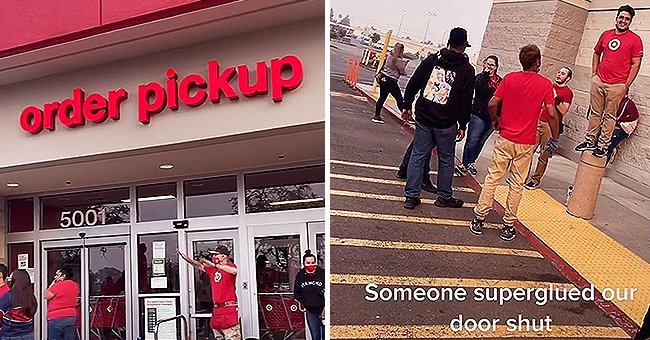 The workers in the clip could be seen standing and looking bored outside the store, all wearing their relevant uniforms. Luckily, and according to the TikTok user, they eventually managed to get the door open, expressing in their overlay text: 
"Locksmith finally showed up 20 minutes before the store opened." 
In her description, MJ 🦋 stated that this was simply a typical day in the life of someone who works in retail. The clip has since gone viral, accumulating around 877,000 likes and just under 5,000 comments. 

Many laughingly accused the retail store Walmart as the glue bandit. One jokingly theorized that the competitive nature between the two companies was slowly becoming worse. 
One claimed that when the time came to pay... the company would likely make excuses not to do so. 
This escalation of the conflict was, many humorously agreed, due to a previous incident where a Target employee stole a Walmart shopping cart in jest. An individual comically suggested that Target should give back the cart. 

A significant number of TikTok viewers were more serious, inquiring whether the workers were paid for their time spent standing outside. @mikaelaaa_j responded in the comment section:
"We got paid for our scheduled shifts y'all... we're good."
This remark received a lot of attention, specifically around 42,000 likes. All in all, it appeared that the retail store, its workers, and the commenters ended up in good spirits. 
Target wasn't the only big company to be met with online skepticism. When a fast-food restaurant company offered a $2,400 bonus for new workers, commenters said it was a trap. 
A woman posted a clip of a sign from Dairy Queen offering this, with many warning her to stay clear. One netizen alleged that they likely had to work there for a year before accessing it. 
One claimed that when the time came to pay the employee, the company would likely make excuses not to do so. It seems that corporations do not need to create more trust with their consumers but rather with their current or potential workers.