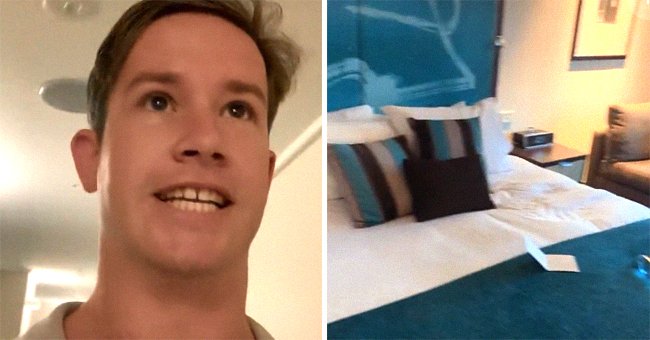 tiktok.com/tommymodeactivated
Guest Shares Weird Request He Made to Hotel Staff in 2019 Which They Fulfilled

Tommy wasn't sure what to expect when he asked hotel staff to do something extremely abnormal for him. Surprisingly, they fulfilled his wishes in the most pleasing way possible.
TikToker Tommy decided to take on a small social experiment that he shared on the social media site. Taking to his email, @tommymodeactivated asked staff at a hotel to provide him with the strangest request.
Although he called for an unorthodox game which may usually be met with an unwelcoming response, the TikTok user received a perfectly professional email back. The accommodation establishment penned that they would do their very best to fulfill his deep desire regarding apples.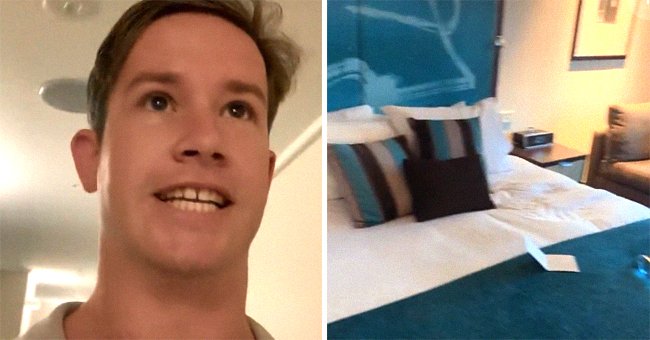 TikToker Tommy [left]; A hotel bed with a card and bottle of water on top of it [left]. │Source: tiktok.com/tommymodeactivated
In his original email, Tommy inquired whether the hotel workers would be willing to hide an apple in his room as searching for the fruit, the TikToker claimed, relieves his stress. He didn't mind what kind of apple it was. @tommymodeactivated wrote, sharing:
"I did have a 'Papple' recently that I didn't quite care for - I believe it was a pear/apple hybrid."
Not knowing what to expect, the TikToker arrived at the hotel where the reception lady laughed, mentioning that he was the "apple boy." She then informed Tommy that they had hidden five of these fruits in his room.

Individual commenting on a TikTok post by Tommy. │Source: tiktok.com/tommymodeactivated
Upon entering, the hotel guest found the staff had genuinely gone out of their way with a card on his bed informing the TikTok user of his upcoming treasure hunt. The card partly read:
"Dear Thomas, home is where apples are hidden...Let me know how many apples you find."
Tommy immediately began searching for apples. The TikToker found the first one in a microwave, the second under bed pillows, the third in a refrigerator, and the fourth in a drawer.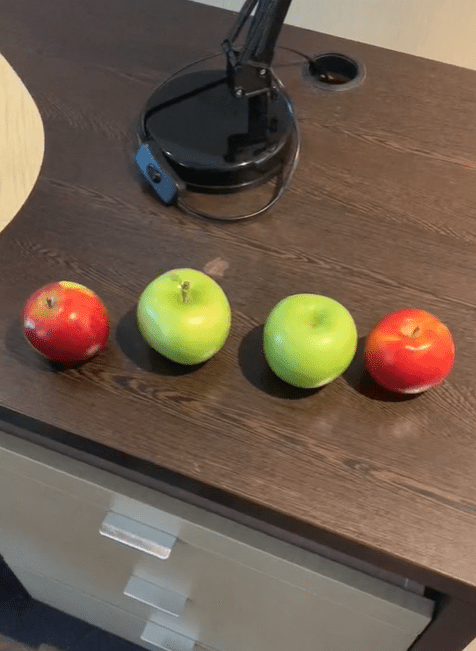 Four apples on top of a cupboard. │Source: tiktok.com/tommymodeactivated
@tommymodeactivated was unable to find the fifth hidden fruit but discovered it the next day in a kettle in a drawer. Many commenters laughed about where he looked for the apples, such as in the toilet.
She claimed some guests have a habit of using [the coffee machine] as a toilet.
Several were impressed with the customer service. One individual expressed that they once worked in the industry, and she and her colleagues would enjoy taking part in these types of requests.
CONFIDENTIAL NO MORE
While Tommy gave viewers a good look into his stay at the hotel, there are darks secrets to be found behind the scenes. Angela Riihiluoma, a former industry employee, chose to expose these.
Taking to TikTok, she warned viewers about two things people should never use in rooms for a very disgusting reason. The TikTok user warned everyone not to use the glasses in the bathroom as they do not get cleaned properly.
Riihiluoma also encouraged her fellow TikTokers to refrain from using the coffee machine, as she claimed some guests have a habit of using it as a toilet. One can only hope that Tommy knew these tips before entering his room.
Please fill in your e-mail so we can share with you our top stories!