Getty Images
Michael Jordan & Juanita Vanoy's Married Daughter Wows Fans Flaunting Massive Braids in Plunging Dalmatian Print Top

Legendary basketball star Michael Jordan's oldest daughter Jasmine Jordan delighted many of her fans after sharing a picture on Instagram that showed her flaunting her big black braids and beautiful face.
American basketball history will not be complete without mentioning Michael Jordan, who is one of the greatest players ever to play the game.
Michael not only had a successful playing career, but he has also built on that legacy and is one of the wealthiest sportsmen in the world today, thanks to his Jordan brand, endorsement deals, and other business ventures.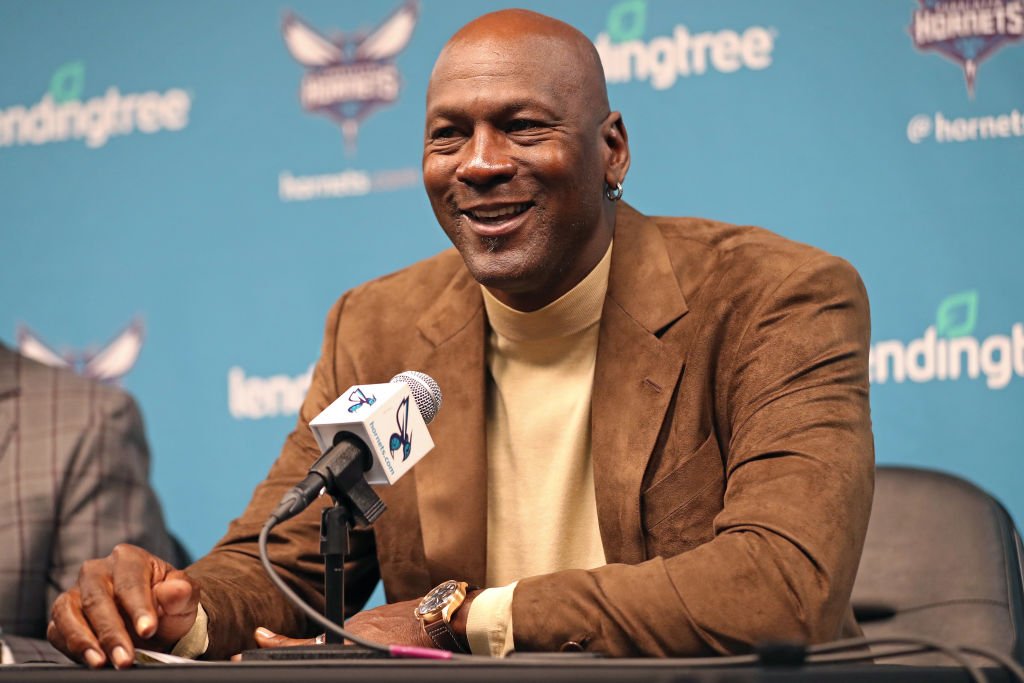 Michael Jordan held a media press conference ahead of the NBA All-Star Weekend Spectrum Center in Charlotte, North Carolina on February 12, 2019. | Photo: Getty Images
Michael is not only successful as a sportsman and businessman but is also a proud father of five children he shares with two different women.
The basketball legend shares his oldest children, sons Jeffrey and Marcus, and daughter Jasmine Jordan, with his first wife, Juanita Vanoy.
Michael and Vanoy married in September 1989 and remained a couple for 17 years before divorcing in 2006, with the divorce being one of the most expensive in history. Vanoy reportedly received a $168 million settlement.
In 2011, at Christmas, Michael proposed to Cuban-American model Yvette Prieto. They tied the knot on April 27, 2013 and welcomed identical twin daughters Victoria and Ysabel in February 2014.
Being the iconic player he was, many would have hoped that one of Michael's sons would follow in his footsteps to become a great basketballer. However, that has not really happened.
Jasmine works with the Jordan brand athletes who ply their trade for her father's NBA team, the Charlotte Hornets.
Instead, it is his daughter Jasmine who has ventured into the business side of the sport and helped her dad run his Jordan brand.
Jasmine is an alumnus of Syracuse University, where she studied sports management. Unlike her older brothers, she never played basketball but has become one of the sport's most influential people off the court.
Jasmine works with the Jordan brand athletes that ply their trade for her father's NBA team, the Charlotte Hornets. She ensures the players have all they need for the season and is also in charge of scheduling, photoshoots, media coverage, and much more.
Besides helping to manage her dad's brand, Jasmine is also a fashion influencer. In August 2021, it was announced that she and four other Syracuse University alumni would be honored during the school's Coming Back Together for the year.
The university lauded Jasmine for her accomplishments as a sports marketing professional at Nike Jordan. It revealed she recently led an initiative to shape the future of basketball in the WNBA. Jasmine received the Young Alumni Award for Excellence in Fashion.
Jasmine became a mother for the first time in 2019 when she welcomed a son with Rakeem Christmas.
On Tuesday, Jasmine showcased her style with a picture she shared on her Instagram page. In the snap, she flaunted her massive braids while clad in a dalmatian print top with a deep neckline.
Jasmine's beautiful skin shone in the picture, and she had light makeup on. She smiled sweetly as she posed for the selfie and accessorized her look with a gold necklace and gorgeous choker.
In the post's caption, Jasmine wrote, "Just Face It 🤎." Many of her fans commented on her post and gushed over her beauty. One of her fans described her as a flawless beauty and added that she is pretty.
Another fan said Jasmine is beautiful, while a third person described her as gorgeous. One fan joked that Jasmine's menu for the night was serving face while another said she is a gorgeous sister.
Jasmine became a mother for the first time in 2019 when she welcomed a son with Rakeem Christmas, who she was engaged to at the time. Christmas and Jasmine met at Syracuse University, where he was a basketball star.
Jasmine explained that being Michael's daughter comes with many assumptions from people.
The arrival of Jasmine and Christmas's son made Michael a grandfather for the first time, and it took the famous basketballer a while to get used to that title.
In a chat with Essence, Jasmine revealed her dad had to warm up to being called a grandpa and initially wanted his grandson to call him Mike or Michael.
However, Jasmine refused and told her dad to accept the grandpa title. Thankfully, she got her wish once Michael saw his grandson for the first time.
Jasmine and Christmas were engaged for a long time and had plans to marry last year but they pushed those plans back. Earlier this year, she hosted a spectacular bridal shower with many of her friends and loved ones in attendance.
The couple seems to have wed since then, and away from the public eye, as Jasmine's alma mater described her as a married woman and ascribed to her the last name, Christmas, in her bio for its Coming Back Together.
Jasmine shares a close bond with her dad but did not know how big of a star he was when she was growing up. She even had to Google Michael to understand why people were so enamored by him.
Michael and Vanoy ensured their kids grew up normal. Hence, Jasmine did not know her dad was so famous until her teenage years.
Now, she understands what it is to be a Jordan and is living up to the family name. In a chat with InStyle, the mother of one said time has helped her grow comfortable with being herself and being her father's daughter.
Jasmine explained that being Michael's daughter comes with many assumptions from people and that there were negatives and positives involved.
However, she eventually realized that she knew herself while people with their assumptions did not. Hence, she enjoys debunking some of those assumptions by letting them get to know her so they can appreciate her for who she is and not just label her as her father's daughter.
Please fill in your e-mail so we can share with you our top stories!