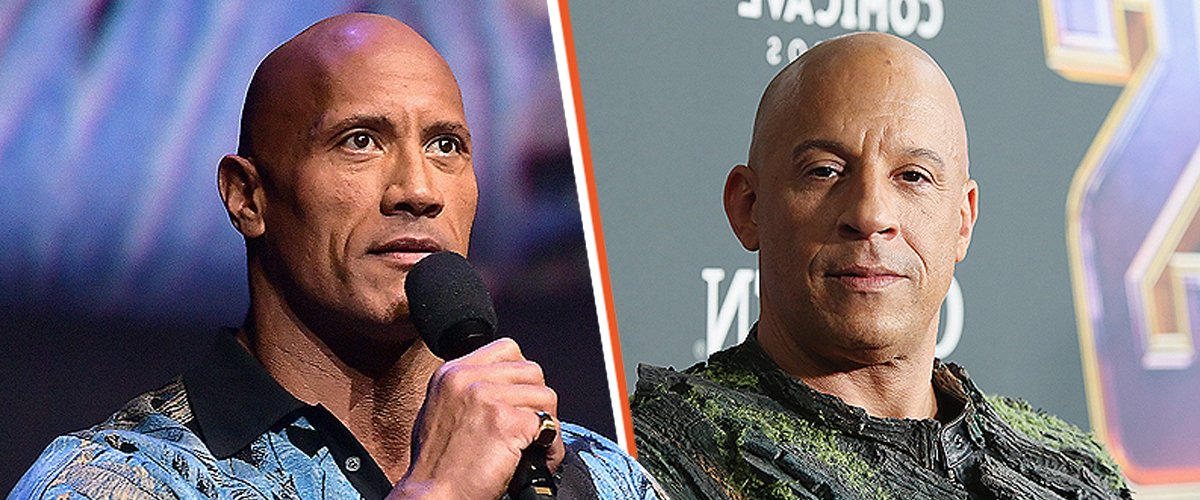 Getty Images
Dwayne Johnson Opens up about the Conflict with Vin Diesel over 'Fast and Furious'

Vin Diesel and Dwayne "The Rock" Johnson started as friends, but things got complicated over the years. Johnson recently addressed the conflict and why he believes they are "philosophically" different.
The first four installments of the "Fast and Furious" films made it one of Hollywood's most profitable and fun franchises, and Vin Diesel has most of the credit.
When Dwayne "The Rock" Johnson joined the cast in 2011's "Fast Five" and returned for the sixth and seventh movies, the saga's popularity and Johnson's career skyrocketed. However, Johnson and Diesel's relationship is currently fractured. Here's what Johnson said about their feud.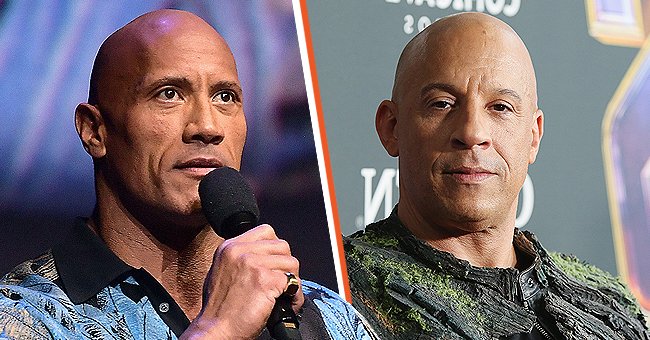 Dwayne "The Rock" Johnson in Las Vegas in April 2019 and Vin Diesel in Los Angeles in April 2019 | Photo: Getty Images
GOING PUBLIC
In August 2016, a week before the end of production of "The Fate of the Furious" (the eighth entry of the franchise), Johnson stirred the pot with a since-deleted Instagram post.
After sending love and crediting his female co-stars for being "amazing," he called some of his male co-stars "Candy [expletive]," referring to their backside. He added:
"When you watch this movie next April and it seems like I'm not acting in some of these scenes and my blood is legit boiling—you're right."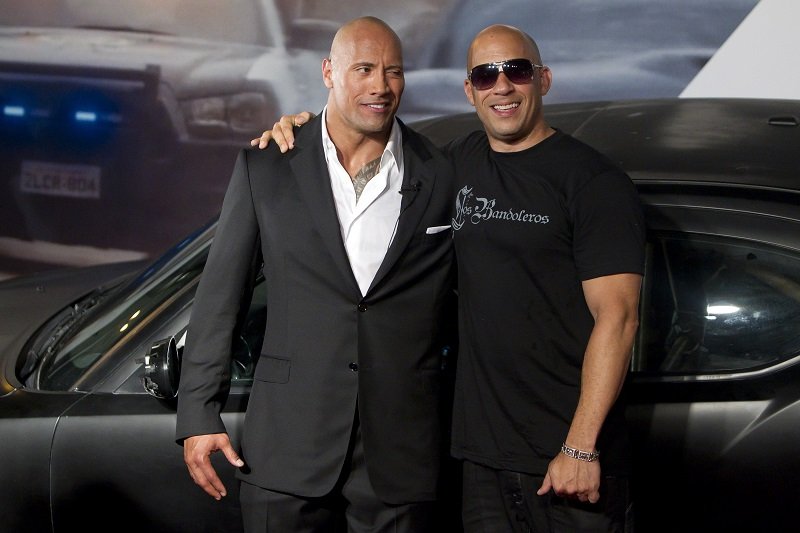 Dwayne Johnson and Vin Diesel on April 15, 2011 in Rio de Janeiro, Brazil | Photo: Getty Images
Fans immediately figured that Johnson was talking about Diesel, especially because the former wrestler posted another Instagram post thanking some of his castmates and didn't mention Diesel.
Michelle Rodriguez, who has also appeared in most of the "Fast and Furious" films, once downplayed the conflict by saying that Diesel and Johnson were friends, and even friends had disagreements.
Johnson then implied that their feud could be considered free publicity as people's interest in the film "shot through the roof" after his Instagram post.
Despite their issues, both actors attended the film's premiere in April 2017. Diesel, who had previously admitted he protected the franchise, claimed they still loved each other. On the other hand, Johnson said their feud was due to their different "philosophies." More about this later.
[Johnson] and Diesel had a meeting that was not as peaceful as initially reported.
JOHNSON'S THOUGHTS ON THE FEUD
It is essential to point out that Diesel and Johnson didn't appear together in any scene. As the "Jumanji" star revealed in a recent interview with Vanity Fair, the split scenes were a condition for him to return to the saga.
Johnson, who appeared on the cover of the Vanity Fair's November issue, pointed out that it was the best thing to do for everybody involved in the movie to avoid drama.
He also talked about his infamous Instagram post and admitted that nothing specific happened on set to provoke his reaction. It was the combination of the "same old [expletive]" and a bad day.
It's not like he regretted what he wrote, though. He meant everything he said. Apart from that, every crew member eventually contacted him to thank him or send him a note.
Johnson confessed he probably shouldn't have shared it on social media as that's not who he is. On a typical day, he would have taken care of that situation away from the public as they didn't need to know, but it was not his "best day."
About "Candy [expletive]," one of Johnson's trademark insults during his wrestling days and how he described Diesel in his Instagram post (he never named his co-star, though), Johnson said:
"The best way that I can describe a candy [expletive] is: Life is so much easier, I have found, when you are not full of [expletive]. And a candy [expletive] is completely full of [it]."
PEACE MEETING
Shortly after Johnson's Instagram post, he and Diesel had a meeting that was not as peaceful as initially reported. Both actors had a conversation in a trailer to clear things up and decided to end their problems there.
Out of that meeting, the 17 time WWE champion realized he and Diesel were "philosophically" different as each has a distinct way to approach moviemaking.
In Johnson's case, he would look at everybody involved in the project with respect and humility and as "equal partners" as everyone works just as hard as he does.
He also emphasized the importance of being straight, looking people in the eye, and doing what he promised he would. Diesel has also addressed their problems more diplomatically.
Forty-six percent of Americans have shown enthusiasm for Johnson's presidential ambitions.
In a 2021 interview with Men's Health, Diesel confessed he showed Johnson "tough love" to get the best performance out of him and even admitted to being proud of it.
He added that he would do anything possible to get outstanding presentations from actors in anything he produces. Johnson revealed that when he read what Diesel said, he laughed.
The former wrestler said that although he didn't come from the theater world (like Diesel), he would give his best in each project and take care of whatever he felt needed to be handled.
EXPANDING HIS LEGACY
If being one of the most famous actors and wrestlers in the world wasn't difficult enough, Johnson has also shown interest in other areas of life, including politics.
Vanity Fair reported that forty-six percent of Americans had shown enthusiasm for Johnson's presidential ambitions. He confessed that he had researched it, and "indicators are all very positive" in 2024 and 2028.
Johnson recognized his "decent" leadership qualities and admitted he deeply cared about America and the people, but he also said he didn't know anything about politics.
He added that the fact that so many Americans would support him was "humbling," but his outstanding qualities were not enough to automatically make him a great presidential candidate. Johnson may not run for president soon, but he's still making history.
In October 2021, he made his rap debut on Tech N9ne's single "Face Off." Their collaboration was nothing short of iconic as the most successful independent rapper, and the greatest A-list Hollywood actor joined forces.
Johnson confessed that he didn't envision a music career as he never had the ambition to be a hip-hop artist or rapper. Instead, he saw the opportunity to create a song that motivated him to push and fight for more. Way to go!
Please fill in your e-mail so we can share with you our top stories!