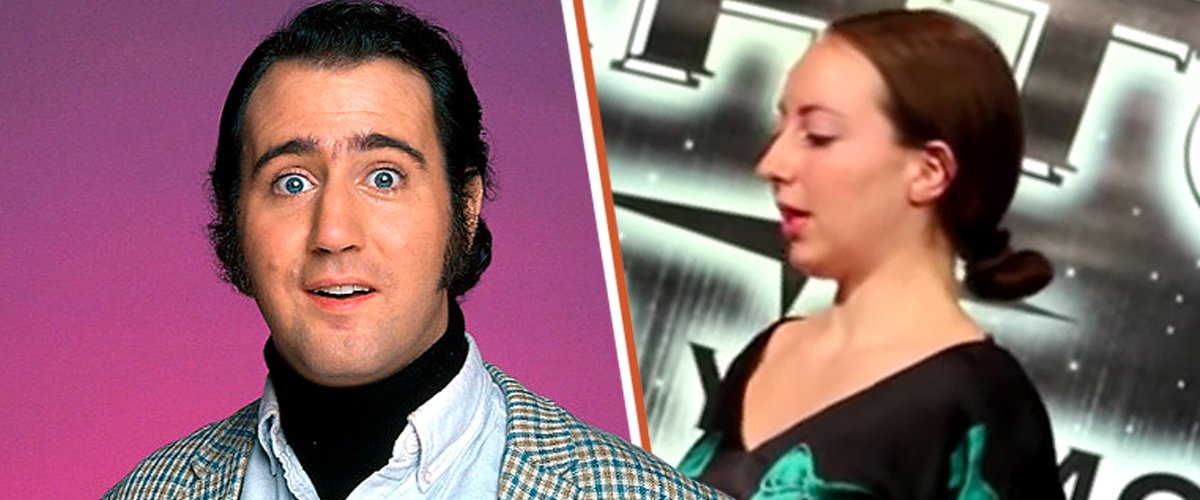 Getty Images
Andy Kaufman's Self-Proclaimed Daughter Once Announced That His Passing Was Fake
Andy Kaufman passed away in the late 80s. However, many who knew him believed he might have planned his death and could be out in the world, living his life.
"Taxi" actor Andy Kaufman won audiences over with his hilarious comedy routines, impersonations of different celebrities, and imitations accents, most famously his "foreign man" character.
However, at the young age of 35, Kaufman was diagnosed and later died from a rare form of lung cancer. According to Bob Zmuda, a close friend of the star, his illness came as a surprise as he was a health fanatic who didn't smoke or drink and was a vegetarian.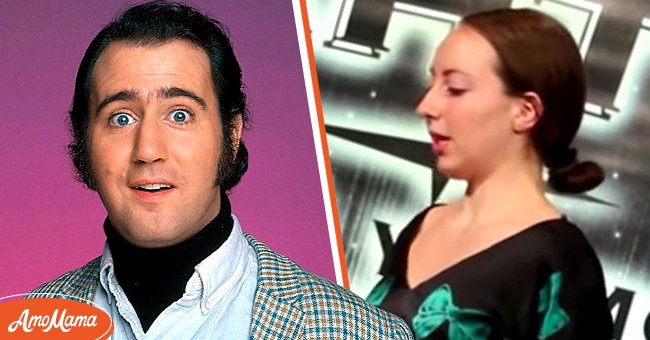 LEFT: Andy Kaufman pictured for season one of "Taxi." RIGHT: Kaufman's alleged daughter on stage at the Andy Kaufman Awards in 2013. | Photo: Getty Images
So when the comedian developed a slight cough, he went straight to a hospital to get it checked out. The doctor ordered a biopsy, and soon he was diagnosed and told he had four months to live.
Kaufman previously told people several times he wanted to fake his death, and it would involve cancer. So when he lost a considerable amount of weight and was bald, people thought it was a part of some elaborate death routine for his comedy shows.
The rumors and speculation that Kaufman was out in the world living a double life were sparked again when his brother Michael Kaufman revealed that he had met Kaufman's daughter during an award show.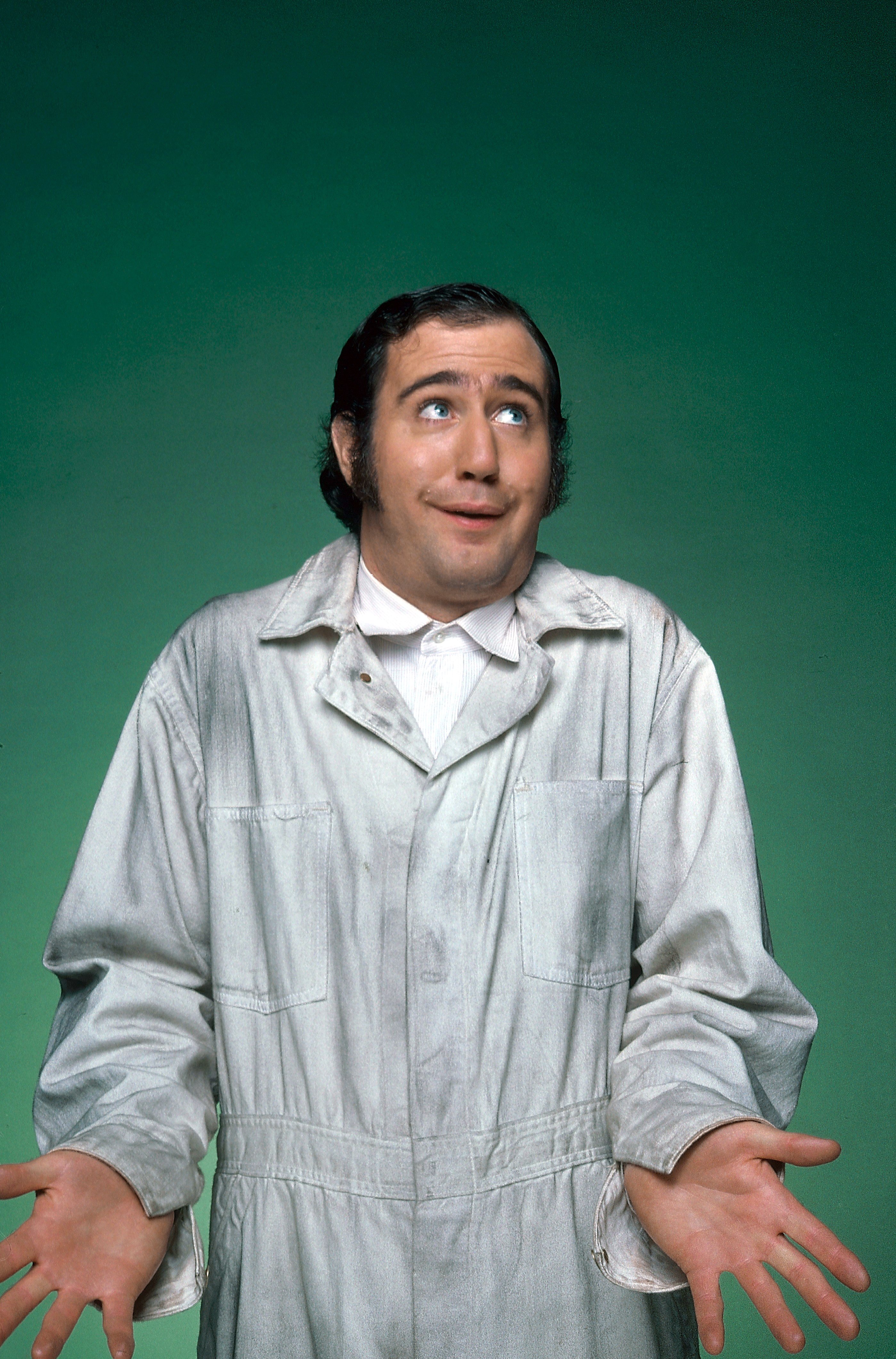 Andy Kaufman pictured as in character in Taxi, 1978. | Photo: Getty Images
KAUFMAN'S ALLEGED DOUBLE LIFE
In 2013 the Hollywood Reporter reported a detailed account of Michael introducing a woman who claimed to be the late Andy's daughter at the Andy Kaufman Awards held annually at the Gotham Comedy Club.
A lifelong friend of the comedian, Al Parinello, relayed the details of what Michael, who he described as "account-like" and not prone to believe in hoaxes, said about his late brother during the award show to the outlet.
At the awards ceremony, Michael explained how years prior, he had discovered an essay in which Andy detailed plans to fake his death, and months before the award ceremony, he met Kaufman's daughter and got her to agree to attend the ceremony.
Michael told the audience he followed instructions in the essay to meet Kaufman at a specific restaurant on New Year's Eve in 1999. However, when he arrived at the restaurant, an unknown man handed him a letter, not Kaufman.
"It was too much pressure to be Andy Kaufman. I just wanted to be Andy," Michael read from the letter. He explained that Kaufman felt his illness was a way for him to change quickly and thoroughly.
The letter said the comedian fell in love with a woman and had welcomed a daughter and a son together. Michael then revealed that the daughter, now 24, had contacted him several months before, a month after his father passed.
She knew specific things from their childhood, such as a special handshake the brothers had and that Kaufman used to make fun of him for being "too nice of a guy." So Michael felt she could be telling the truth.
This alleged daughter then graced the stage in a black dress. Parinello said no one knew her first name, but she went by "McCoy," a name Kaufman would use to check himself into hospitals at the time.
Later, TMZ shared a video from the event, which showed the woman addressing the crowd. She stated that her alleged father was alive and left show business to be a stay-at-home dad.
At the time, the manager of the comedy club Ed Cavanagh said that during the introduction, Michael looked moved by Kaufman's alleged daughter's words, as he said:
"You could see by the look on [Michael's] face that it had an emotional impact on him."
However, Cavanagh was unsure whether the woman's story was true and stated that he did not know whether someone was scamming Michael or whether it was real.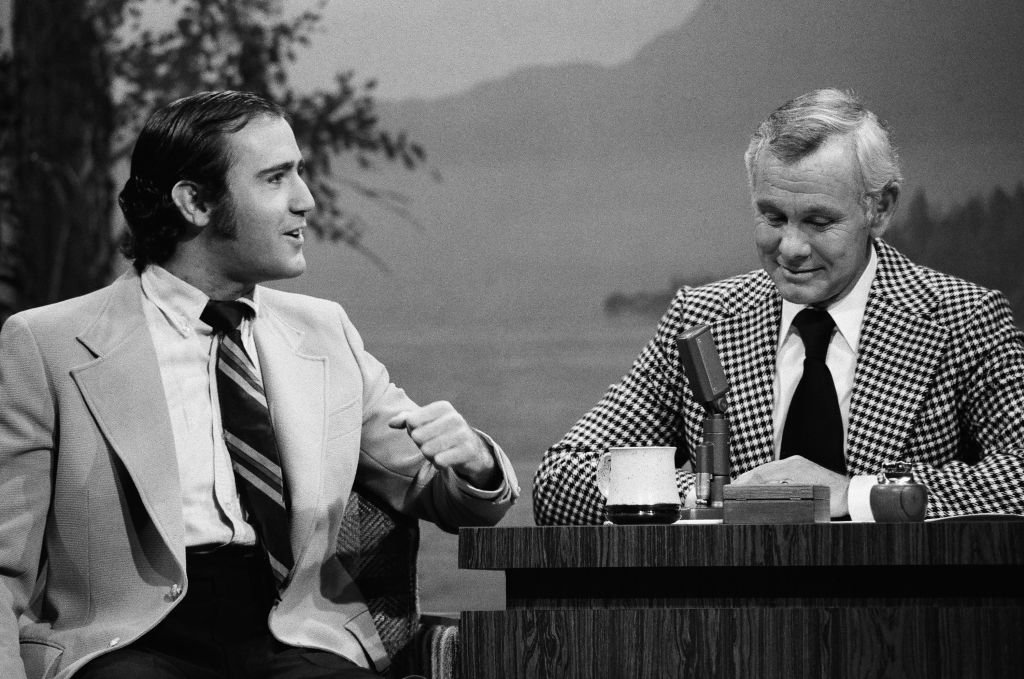 Andy Kaufman during an interview on "The Tonight Show Starring Johnny Carson," 1977. | Photo: Getty Images
Comparatively, Parinello, who knew Kaufman as an undergrad at Grahm Junior College, was convinced of the story's veracity despite attending Kaufman's funeral and seeing his body.
At the time, the outlet contacted Michael, and he stated the woman who claimed to be Kaufman's daughter was impossible to reach. He then excused himself to attend a dinner date with his wife.
THE TRUTH COMES OUT
However, a few days later, Kaufman told the Hollywood Reporter he was as skeptical as anybody else would be. He then told CNN that he believed he was a victim of a hoax as he said,
"Now that it's Thursday, not Monday anymore, I believe I am part of a hoax."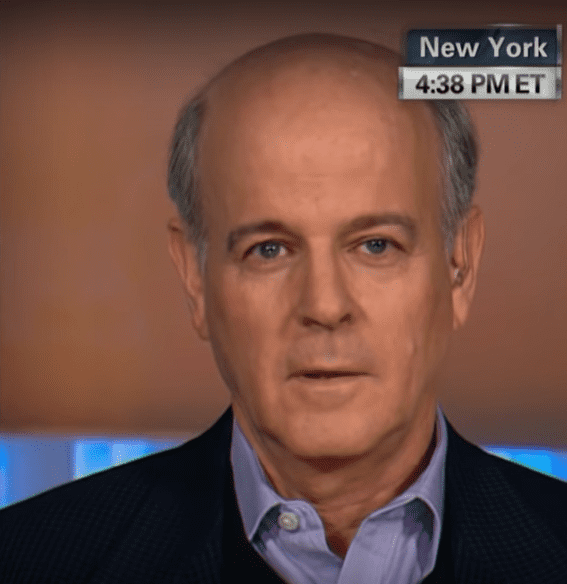 Andy Kaufman's brother Michael Kaufman pictured on CNN in 2013. | Photo: Getty Images
He told CNN's "The Lead with Jake Tapper" that he believed the young woman was not working independently. He also reiterated that he was not involved in the hoax. However, others believe he was involved in the fraud.
According to The Smoking Gun, the alleged daughter was a woman named Alexandra Tatarsky, whose father was a psychologist. Furthermore, the outlet reported that Michael met her at a Manhattan gallery and recruited her to play the part of Kaufman's daughter.
To further put to rest the rumors that he was alive following the alleged daughter's announcement, the Los Angeles County Coroner re-released his death certificate and stated, "Andy Kaufman is dead."
George Shapiro, Kaufman's manager, who was by his side at Cedar-Sinai medical center on the day he passed away, told CNN that although he was alive in everybody's hearts, he did not think his body was around.
Likewise, Kaufman's girlfriend at the time of his death Lynne Margulies came forward and told TMZ she had watched him pass away with her own eyes, and if they had switched the body, she would have known.
She told the outlet that she believed the 24-year old woman was "pulling an Andy" and that his brother was most likely in on the gag too, to continue Kaufman's legacy and his ongoing fake-his-own-death routine.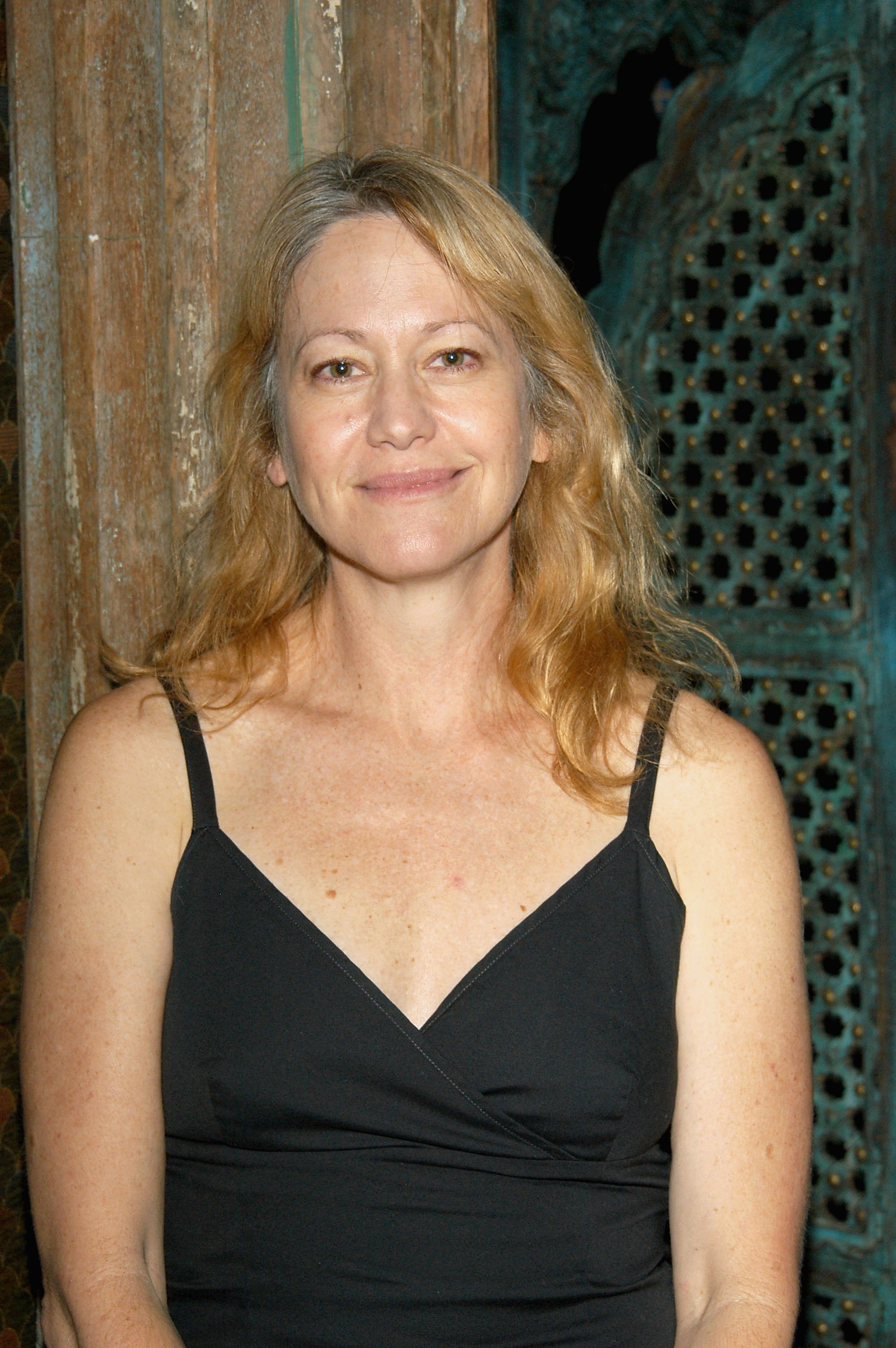 Lynne Margulies posed at "Andy Kaufman: Dead or Alive?" celebration in 2004, Hollywood, California. | Photo: Getty Images
Furthermore, Margulies insisted that Kaufman had only one daughter. He gave up a child he was 17 years old, who was in her 40s at the time and had children of her own. Margulies had met her, and so had Kaufman's father.
Stanley, the comedian's father, met Kaufman's daughter over 20 years ago. When Stanley was ill with cancer, the two became very close, and she became his confidant. He described her as the most incredible gift Kaufman had left him.
HIS LEGACY
Besides the rumors of him being alive, Kaufman's legacy also lives on in Bob Zmuda's movie, "Man on the Moon" (1999), which is a biography about Kaufman and stars Jim Carrey as a book Zmuda wrote about him.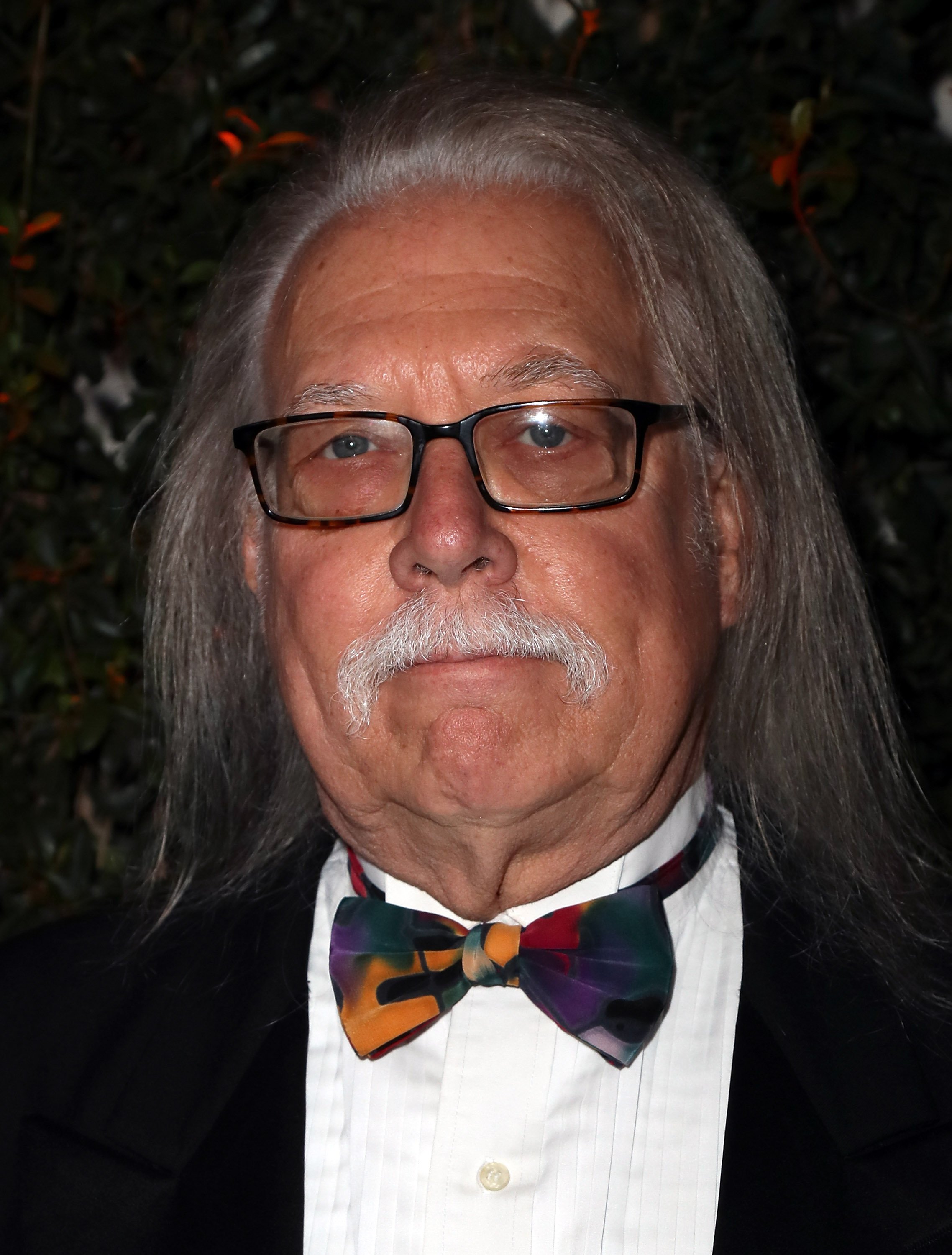 Bob Zmuda at the Farm Sanctuary's 30th Anniversary Gala, 2016, Beverly Hills, California. | Photo: Getty Images
Zmuda wrote the book and created the movie as he had promised Kaufman on his deathbed that he would produce both to share his story with the world and continue his legacy.
In the book "Andy Kaufman: The Truth Finally," Zmuda further hinted that Kaufman's death was faked, while Margulies suggested the comedian was bisexual and had died from AIDS and not lung cancer.
A year later, Michael shared his opinions about the book, which the family did not authorize. He referred to it as a novel as he felt it was not an accurate biography of his brother.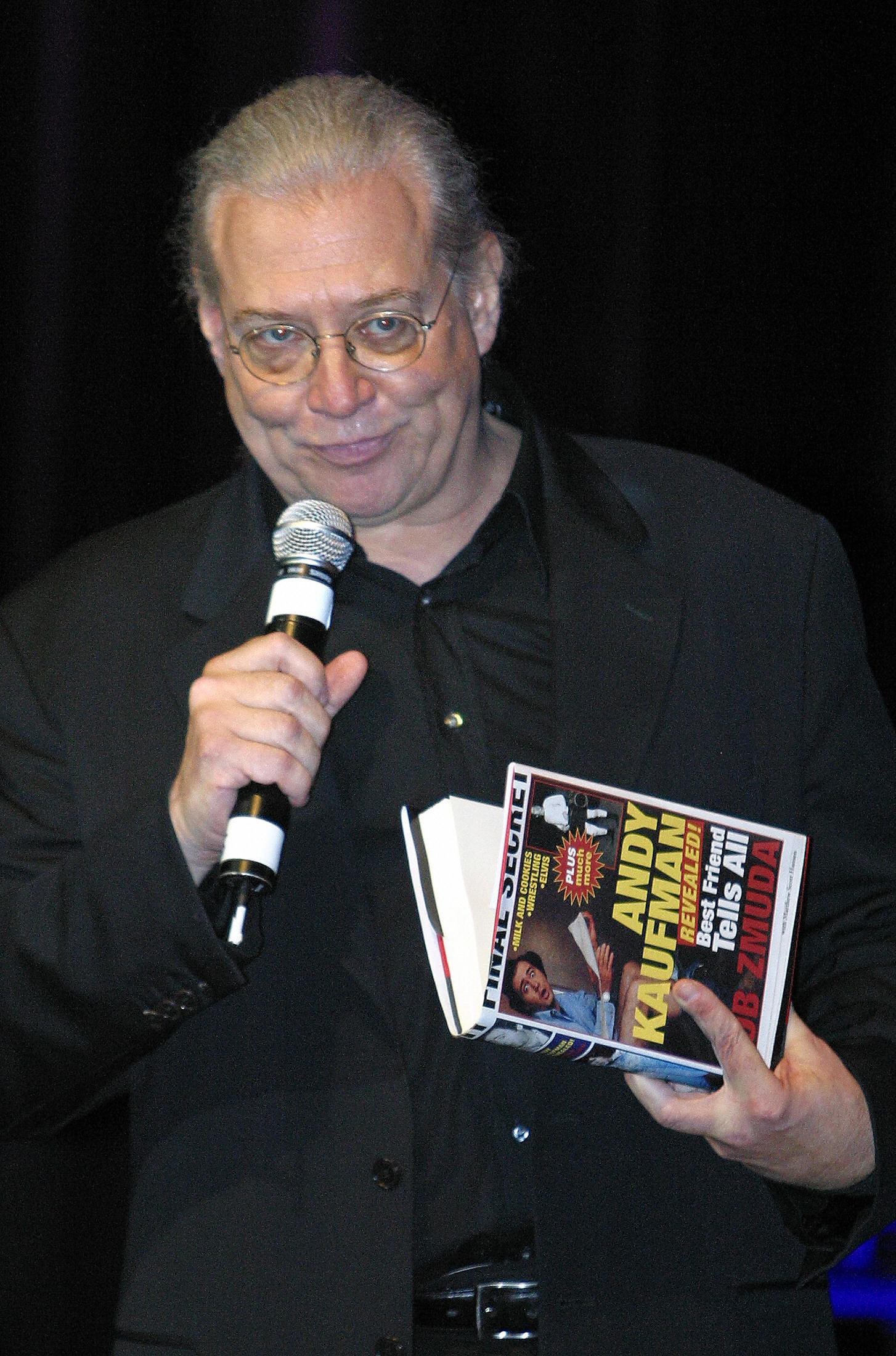 Zmuda holding is book at a event to celebrate the 20th anniversary of Kaufman's death, 2004, Los Angeles, California. | Photo: Getty Images
Furthermore, he stated that Margulies relationship with Kaufman was short. He felt disappointed that Zmuda, who knew the state of their relationship, had sided with Kaufman's girlfriend and not the family.
Despite the so-called hard facts of Kaufman's death, Michael and many others still have a glimmer of hope that somewhere out their Kaufman is living out his life in peace.
The beloved comedian was most known as his character on "Taxi," Latka Gravas, a foreign man who struggled with English and had Mulitple Personality Disorder.
Please fill in your e-mail so we can share with you our top stories!
The information in this article is not intended or implied to be a substitute for professional medical advice, diagnosis or treatment. All content, including text, and images contained on news.AmoMama.com, or available through news.AmoMama.com is for general information purposes only. news.AmoMama.com does not take responsibility for any action taken as a result of reading this article. Before undertaking any course of treatment please consult with your healthcare provider.