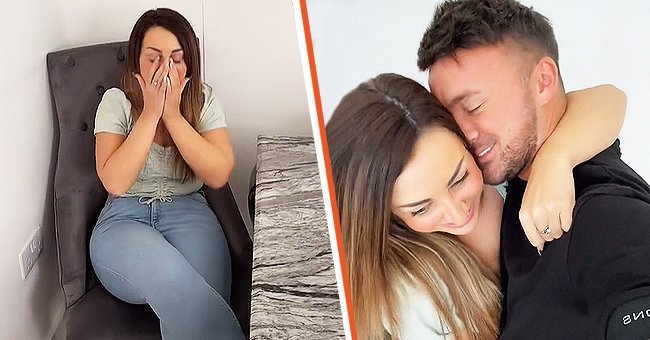 tiktok.com/@shaun.nyland
Man Pays off Ex-partner's Mortgage to Thank Her for Being a Good Mother to Their Child
Shaun Nyland surprised his ex-partner of seven years by paying off her entire mortgage as a birthday gift. He claims that she has given him the best gift anyone could ever ask for -- their son.
Sometimes, no matter how hard two people try, a relationship must end for the better. The best outcome would be for the ex-lovers to remain civil or friends, especially if they already have a child.
This happened when Shaun Nyland and his ex-partner, Cat Keenan, decided that they were better off as friends than as lovers.
Before they called it quits, the former couple did not give up on their relationship without a fight. As parents, they wanted to make it work for their child, so they lived together in different rooms and tried to mend their relationship.
When all efforts were exhausted to no avail, they decided to co-parent and remain good friends. Despite their differences, both Shaun and Cat still deeply care for each other.
So when Shaun was able to reach financial stability, he surprised Cat in the most unexpected way. Taking to TikTok with a video of his birthday gift to her, Shaun had over 4.3 million viewers smiling from ear-to-ear.
"It's your birthday today. I want you to have the best birthday ever," he told Cat. "I know we're not together anymore, and I've been so proud of you. You're the best mom ever, so I did something -- I rang up the bank, I paid off the entire mortgage. This house now belongs to you."
Since breaking up, Shaun worked hard to physically and mentally be the best for his son.
Initially, Cat did not believe Shaun, but when she received an email confirming that the mortgage was paid, she burst into tears.
It seems that the two are very comfortable and in a good place. In a follow-up video, Shaun explained why he made such a grand gesture. He shared:
"I realized that she had given me the best gift any man could ask for by bringing my boy Leo into this world."
He added that the gift wasn't only for Cat but for Leo as well. Since breaking up, Shaun worked hard to physically and mentally be the best for his son.
Shaun's post was quickly flooded with comments from viewers who praised him for being a good man to his ex and his child. One comment read:
"Now that is a true gent respecting your baby mother and keeping a roof over your baby's head."
Staying friends after ending a relationship can sometimes be difficult, but when there is a reason two people must remain in contact, sometimes it works out.

Screenshot of comments on a viral TikTok post. | Source: TikTok/@sshaun.nyalnd
Actress Kate Hudson can attest to this, once claiming co-parenting with her ex-husband, Matt Bellamy, has brought them closer together. Hopefully, other couples faced with the same situation end with the same story as well.
Please fill in your e-mail so we can share with you our top stories!