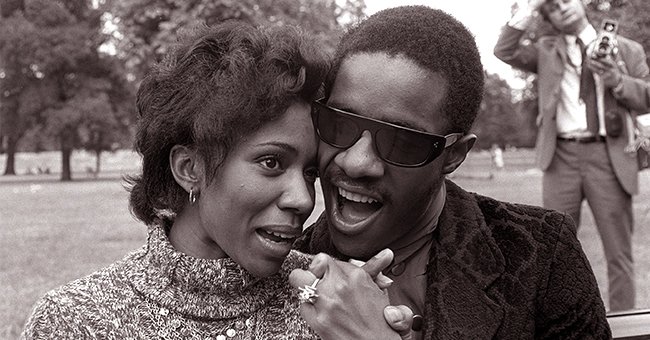 Getty Images
Stevie Wonder Was Drinking & Late to His 1st Ever Wedding — the Marriage Didn't Last Long

Legendary American singer-songwriter Stevie Wonder is famous for his numerous hit songs. He has also been married three times and his first marriage, albeit short-lived, has a remarkable story to it.
American singer-songwriter Stevie Wonder has enjoyed a stellar musical career that has spanned six decades and is one of the most successful musicians in history.
He has also been married three times in his lifetime. His first marriage to Syreeta Wright lasted only two years. However, they remained good friends until her death. Find out about their short-lived marriage and the rest of the iconic singer's marriages.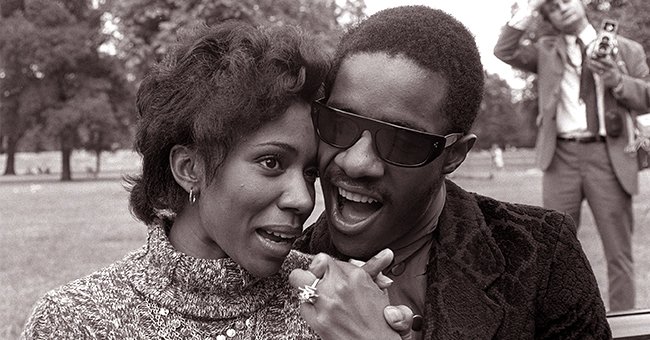 Stevie Wonder and his former wife Syreeta Wright. | Photo: Getty Images
WONDER'S BIRTH AND EARLY LIFE
Stevie Wonder was born Stevland Hardaway Judkins in Saginaw, Michigan, on May 13, 1950. He was born six weeks before his due date.
His premature birth combined with the oxygen-rich condition in the hospital incubator caused retinopathy of prematurity. Hence, he became blind at birth.
At four, Wonder's parents divorced, and he moved with his mom to Detroit, Michigan. There, he sang in a choir at the Whitestone Baptist Church.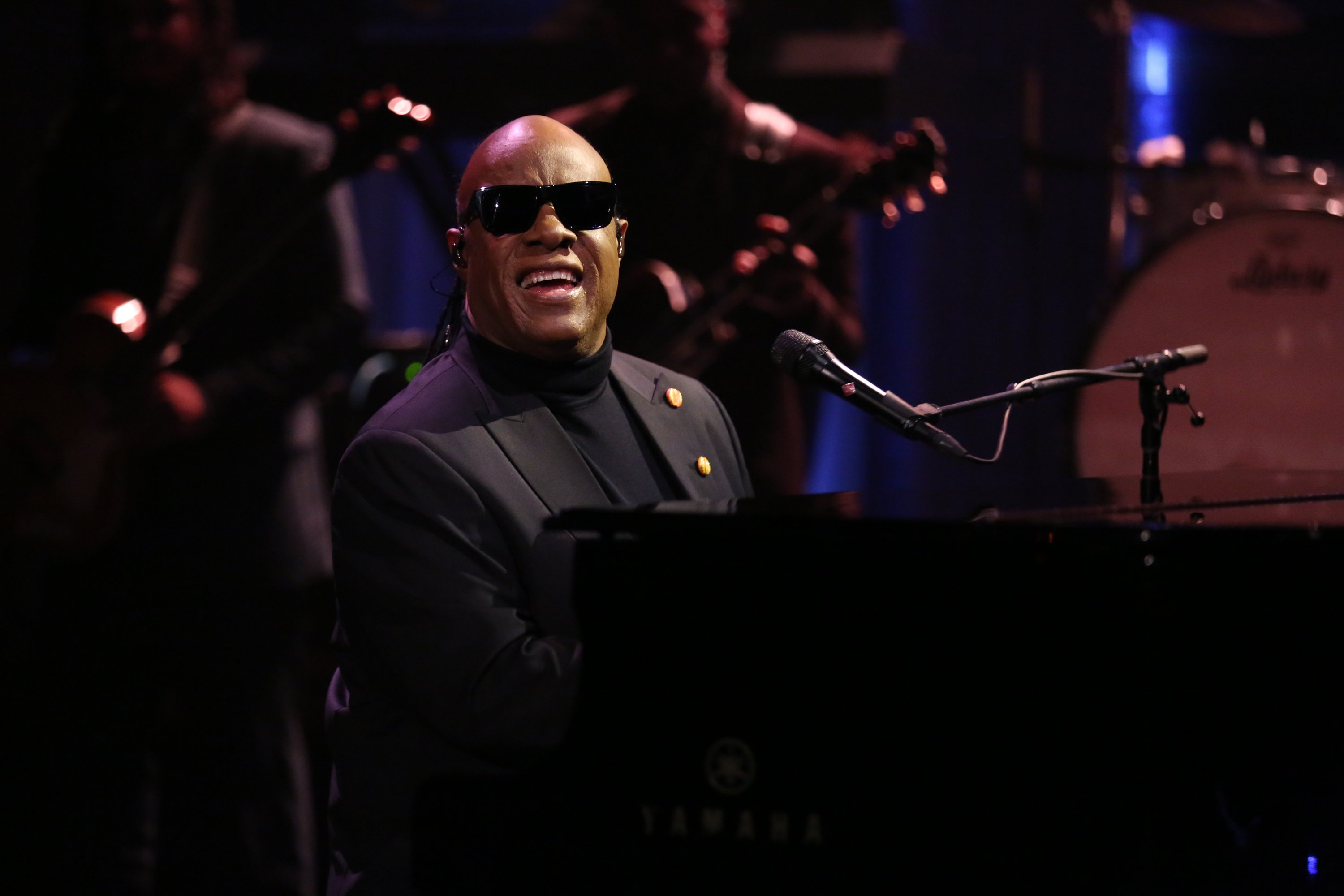 Stevie Wonder performs with The Roots on "The Tonight Show Starring Jimmy Fallon" on January 11, 2017. | Photos Getty Images
Wonder started playing musical instruments at a young age. He and a friend formed a strong singing partnership and called themselves Stevie and John. They performed in the streets and sometimes at parties and dances.
Wonder attended Fitzgerald Elementary School as a child and later enrolled in Michigan School for the Blind in 1962.
WONDER'S CAREER
At 11, Wonder impressed The Miracles' Ronnie White after singing his own composition, "Lonely Boy," to him. White introduced him to Motown CEO Berry Gordy, who signed him to the record label's Tamla label.
Wonder made his recording debut at 12 and wowed everyone with the soulful quality of his voice and harmonica playing. He also demonstrated his prowess with the piano, organ, and drums.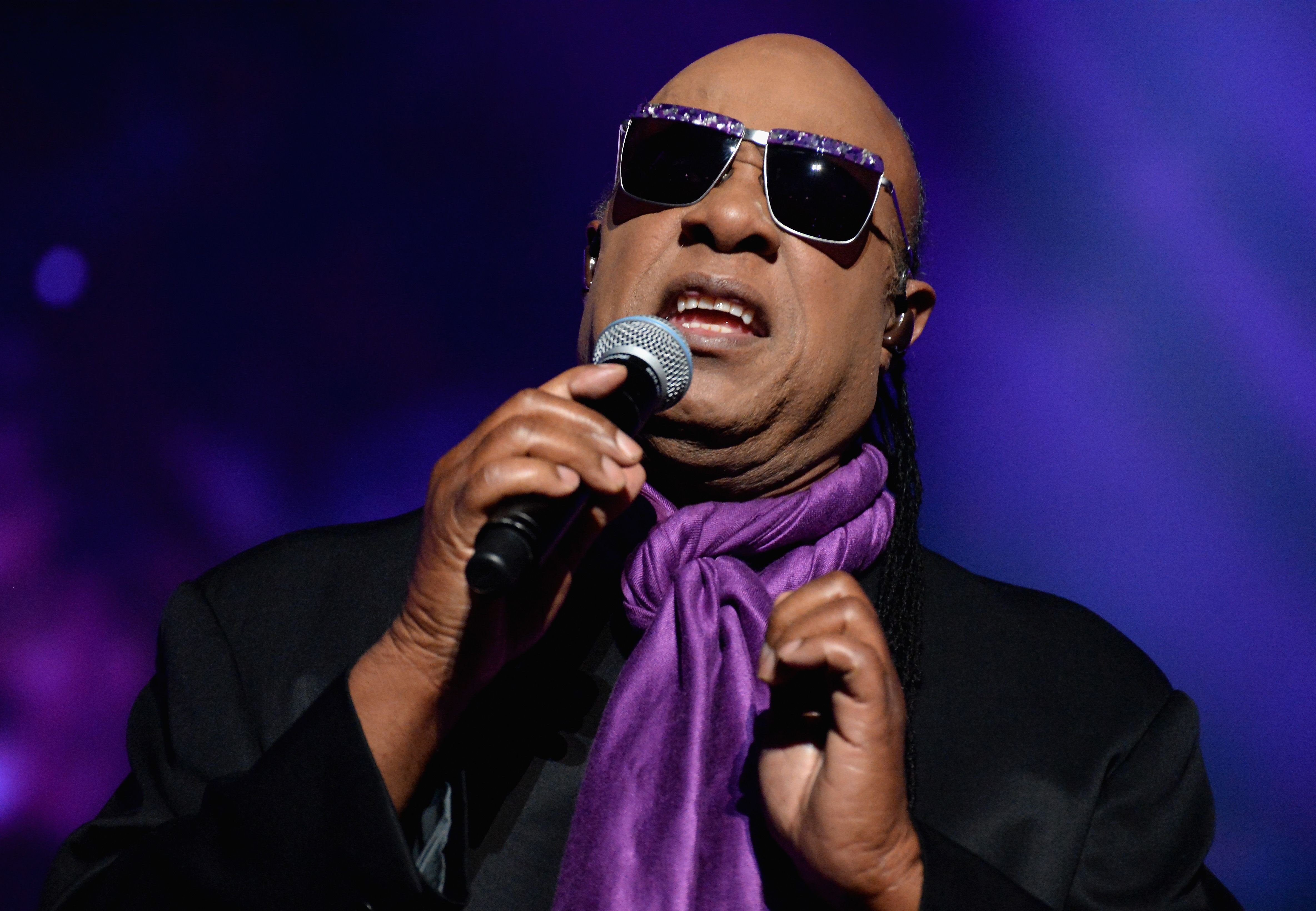 Stevie Wonder performs onstage during the 2016 Billboard Music Awards at T-Mobile Arena in Las Vegas, Nevada on May 22, 2016. | Photo: Getty Images
In 1964, he emerged as an unusually compelling performer and composer and rivaled Motown's skilled composers. He also became a global superstar following the release of "Uptight (Everything's Alright)," which he wrote.
The next five years after that saw Wonder make several hit songs, including "I Was Made to Love Her," "For Once in My Life," and many more.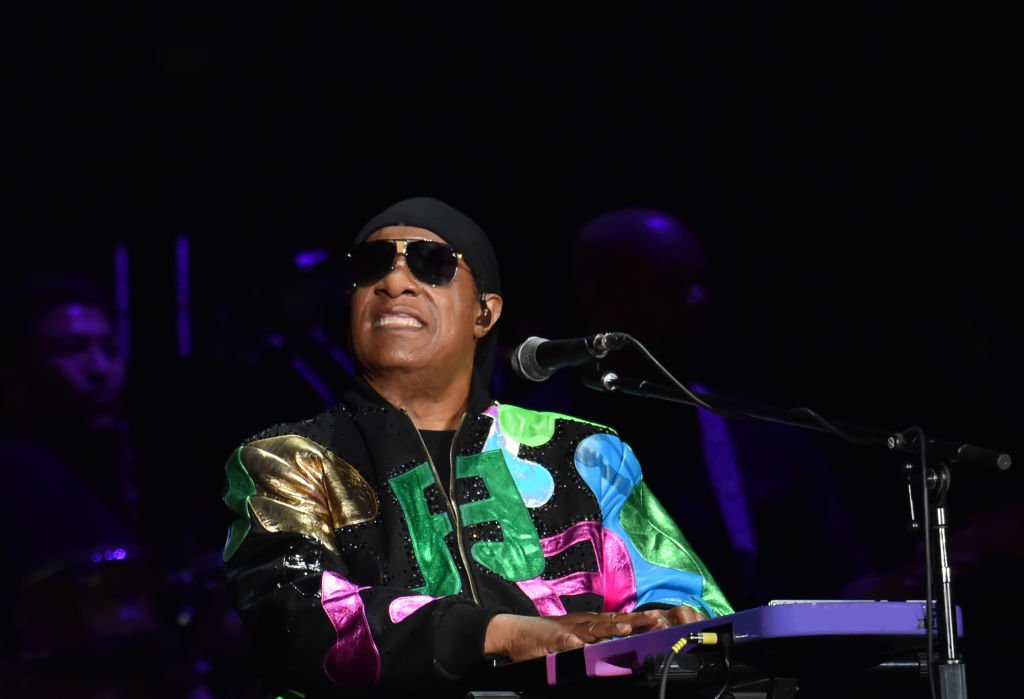 Stevie Wonder performs on Day 2 of Barclaycard Presents British Summer Time Hyde Park at Hyde Park on July 6, 2019. | Photo: Getty Images
He continued with his strong musical performances and released successful albums year after year. He also won several Grammy Awards, among other honors and recognitions.
With his expert knowledge of music, he is often regarded as the pioneer and inspiration to rock musicians. Wonder showed in many ways that he was and still is a master of music.
The legendary musician also has a son named Kwame and a daughter named Sophia with an unidentified woman.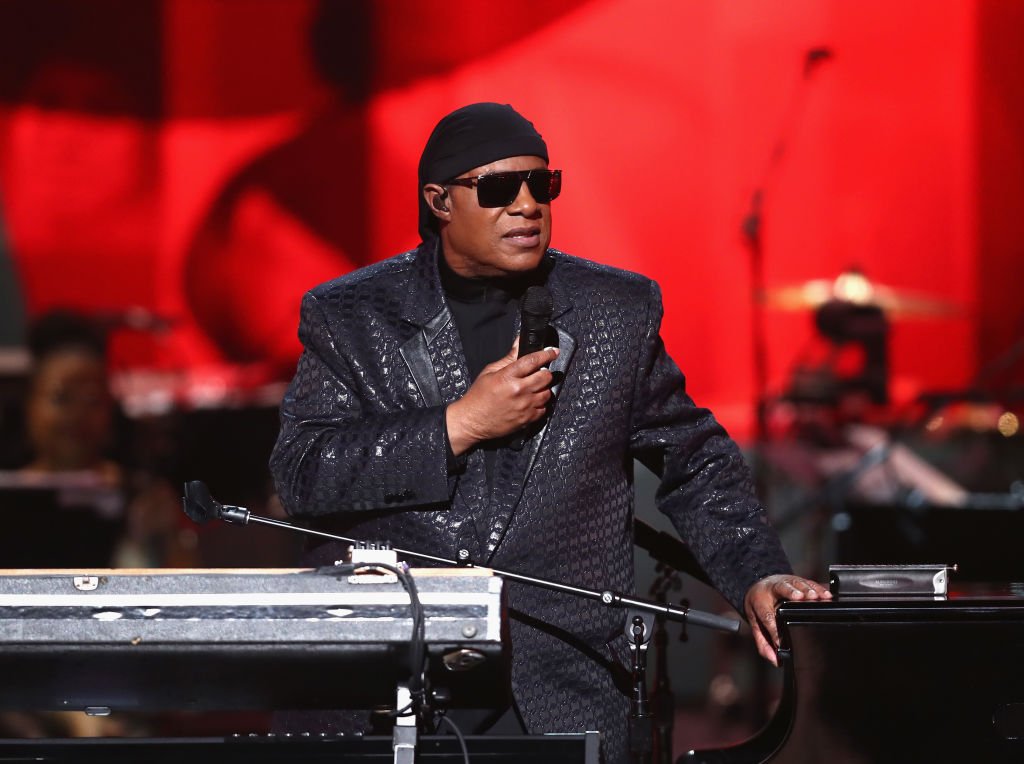 Stevie Wonder performs onstage during Motown 60: A GRAMMY Celebration at Microsoft Theater on February 12, 2019. | Photo: Getty Images
WONDER'S MARRIAGES
Wonder tied the knot for the first time in 1970 to a singer and songwriter and his frequent collaborator at Motown, Syreeta Wright. He was 20 when he tied the knot with Wright, who was also young. The marriage barely lasted as the couple amicably divorced in 1972.
Wonder spoke about his marriage to Wright in a 1980 interview with Ebony. He admitted that they were both young and did not believe that was the problem with their marriage.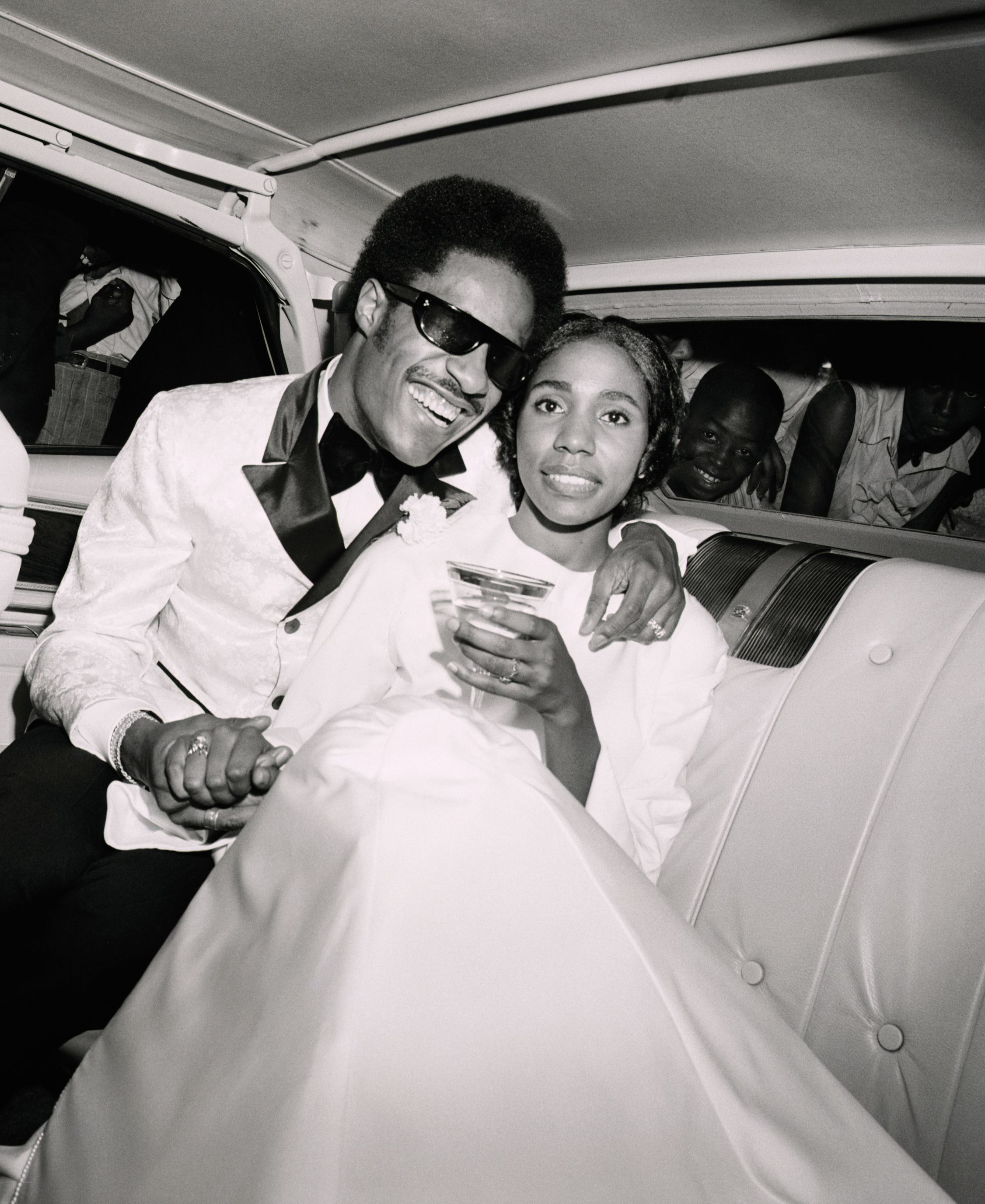 Stevie Wonder and Syreeta Wright following their wedding ceremony at the Detroit Bernette Baptist Church in 1970. | Photo: Getty Images
He confessed that the problem with the marriage was that they made it bigger than it was by putting boundaries on each other. Wonder also said he was too demanding on a certain level.
The iconic singer explained that he was too demanding by saying that sometimes when people do not feel good about themselves, they limit others.
During the interview, Wonder told the story of what transpired the night before his wedding to Wright. He revealed he was late for the wedding.
According to him, he was late because he was not sure if he wanted to go through with the wedding. He was with his cousin, John Harris, who got married a year and a half earlier.
Wonder told Harris about his fears and asked that they should go and get some wine. Then, they started drinking. While drinking, Harris told him he had to get married and that marriage would be good for him.
Wonder admitted that his marriage to Wright was good and that they still had a good relationship even after divorce. He said when a relationship changes, it does not mean one cannot be friends and remain close to each other.
Wright and Wonder's friendship and their professional relationship continued after their divorce. Soon after their divorce, she collaborated with him on her first solo album.
Wright spoke about their divorce and collaboration in 1981. She said she was glad they did the album, adding that their divorce was painful at the time, but they remained very close. She concluded:
"It's just that we found we made music better than marriage."
Wright died in 2004 after a long struggle with cancer. She was 58. Besides being Wonder's first wife, she was best known for her duet with Billy Preston on "With You I'm Born Again."
Wonder married for the second time in 2001 to fashion designer Kai Millard. They separated in October 2009, with Wonder filing for divorce in 2012. In 2017, he married Tomeeka Bracy and they've been together since then.
WONDER'S CHILDREN
Wonder did not have any children from his marriage to Wright. After divorcing her, he had a relationship with his then-secretary, Yolanda Simmons. Simmons gave birth to the singer's first child and daughter, Aisha Morris, on February 2, 1975.
Aisha inspired her father's hit single "Isn't She Lovely." Wonder saw her as the one thing he needed in his life and music for a long time. She is now a singer and has toured with Wonder. Simmons also has a son named Keita with Wonder that was born in 1977.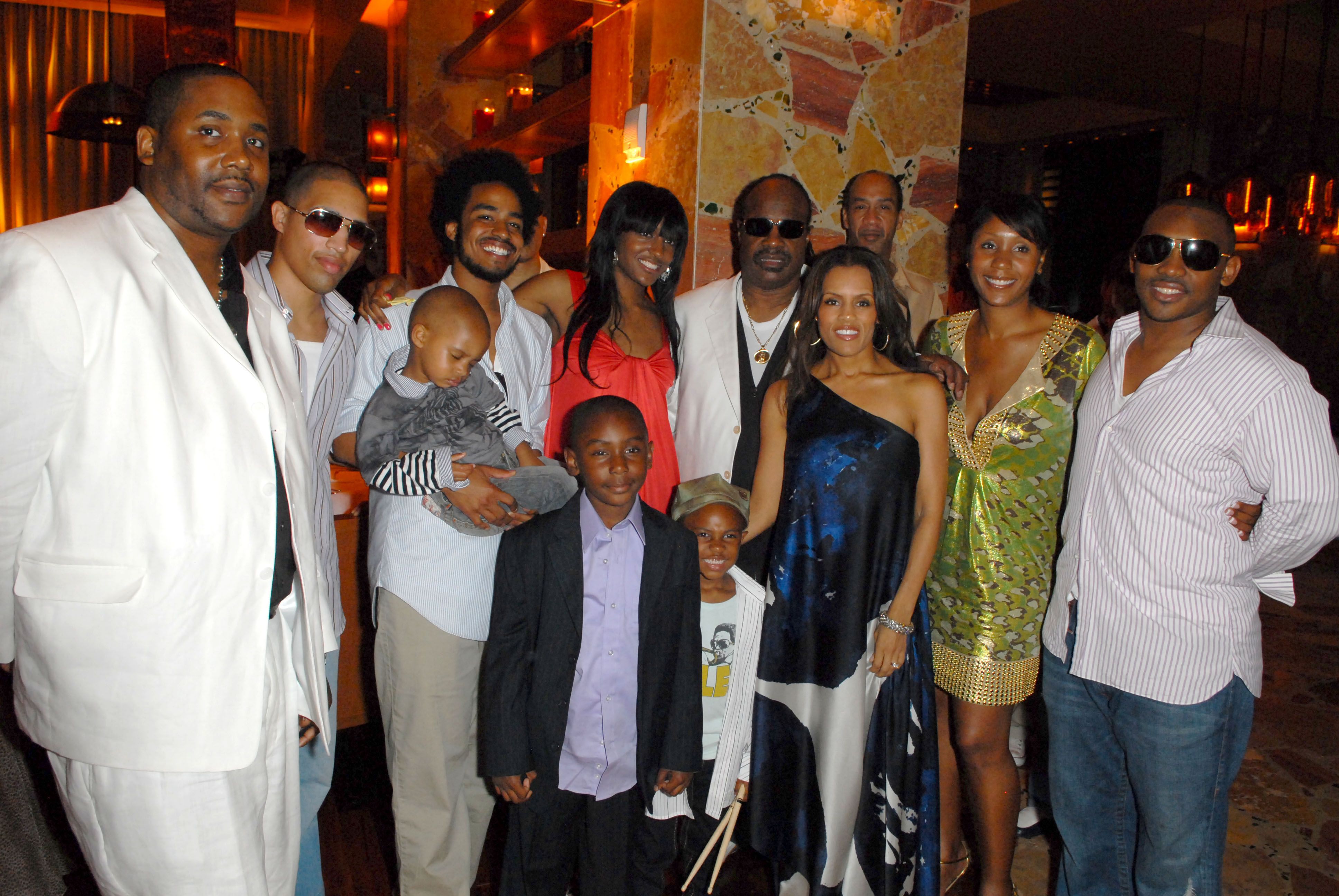 Stevie Wonder and his family attend Sol Kerzner's 57th birthday celebration at The Cove Atlantis Resort on Paradise Island. | Photo: Getty Images
Wonder also shares another son named Mumtaz Morris with Melody McCulley. The legendary musician also has a son named Kwame and a daughter named Sophia with an unidentified woman.
He shares two sons Kailand and Mandla, with his second wife, Millard. Mandla was born on Wonder's 55th birthday. Following Wonder and Millard's divorce settlement in 2015, he was ordered to pay $22,000 per month in child support.
Two years after filing for divorce from Millard, Wonder welcomed a daughter named Nia with his present wife, Bracy. Nia is Millard and Wonder's second child.
Please fill in your e-mail so we can share with you our top stories!