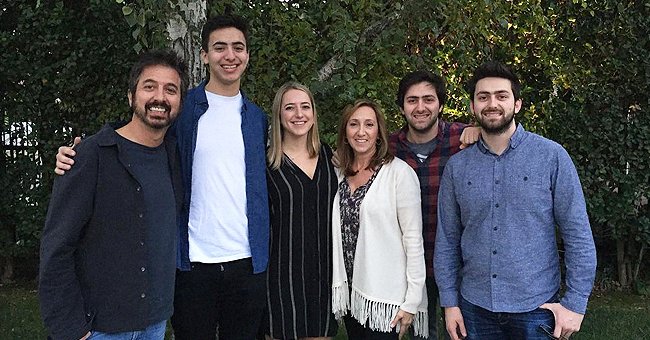 instagram.com/allyromano
'Everybody Loves Raymond's Ray Romano's Wife Is Mom to His 4 Kids Including Twins - Meet Her
American stand-up comedian Raymond Romano is a proud father of four children he shares with his lovely wife Anna Romano, to whom he has been married since 1987. Meet Anna and know more about their marriage.
Raymond Romano is an American stand-up comedian, actor, and screenwriter. He is most known for his role on the CBS sitcom "Everybody Loves Raymond."
Raymond is a family man as he is a proud father of four adorable children. He shares his four kids with Anna Romano (Nee Scarpulla), whom he has been married to since 1987. Find out more about Anna and her life with Raymond and their children.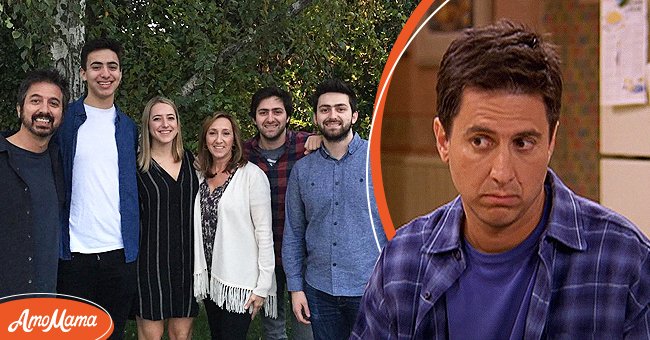 Raymond Romano with his wife and kids. [Left] | Raymond Romano in a movie scene. [Right] | Photo: Getty Images
ROMANO'S CAREER AT A GLANCE
Raymond was not always sure he would be a stand-up comedian while growing up. While he was a student at Hillcrest High, he performed in a comedy troupe at church.
After his high school graduation in 1975, he showed up at local comedy clubs while working jobs pumping gas and studying accounting at Queens College, Flushing, New York.
Raymond's early career began after he competed in the Johnnie Walker Comedy Search in 1989. After that, he appeared in several comedy shows, including the "Late Show with David Letterman."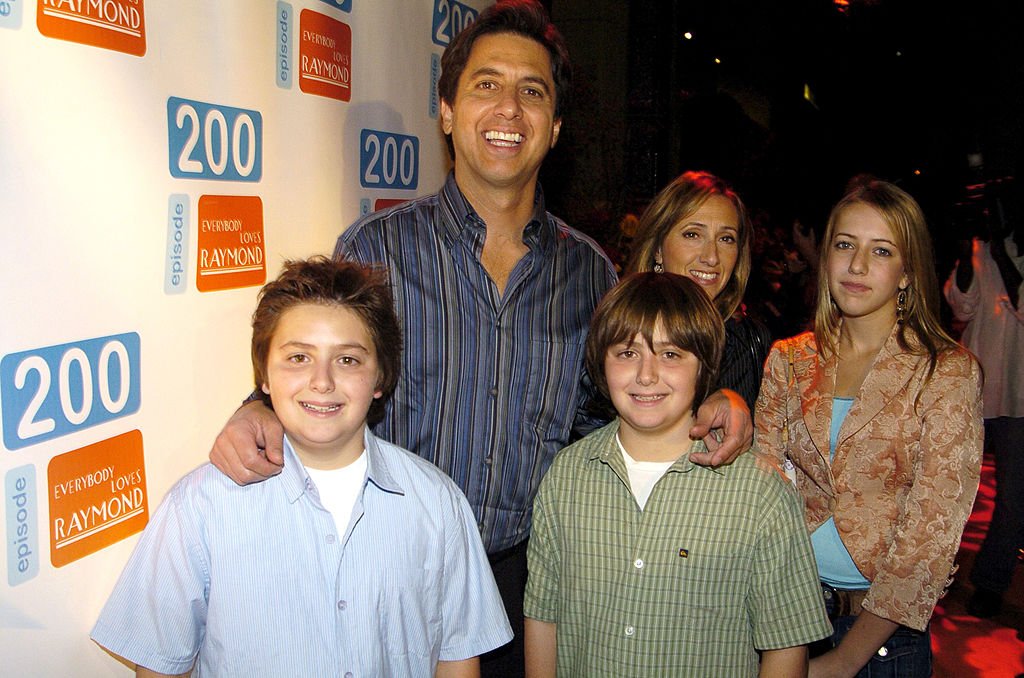 Ray Romano with his kids and wife at "Everybody Loves Raymond" Celebrates 200th Episode on October 14, 2004. | Photo: Getty Images
Through that show, he formed strong ties with CBS and soon became the star of his own show "Everybody Loves Raymond." The show featured a cast and format that suited his brand of comedy.
Thanks to his work on the show, he earned six Primetime Emmy Award nominations for Outstanding Lead Actor in a Comedy Series. He won the award in 2002.
In 2003 and 2005, he shared two Emmy Awards as an executive producer after his show won the award for Outstanding Comedy Series in those years.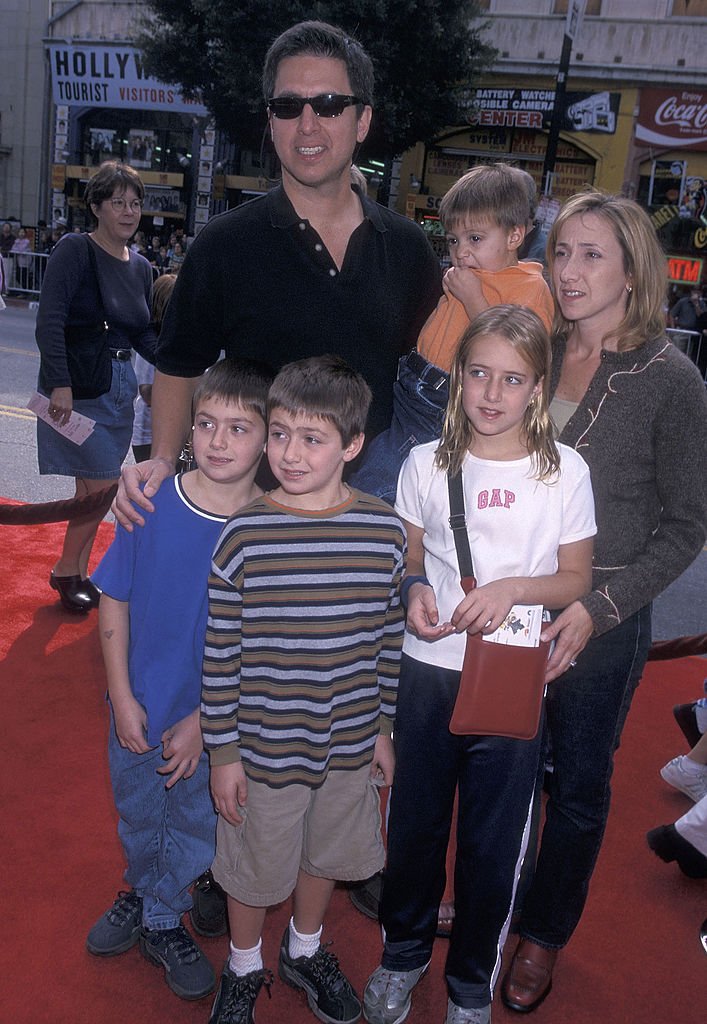 Ray Romano with his kids and wife at the "The Rugrats in Paris" Hollywood Premiere on November 5, 2000. | Photo: Getty Images
In 2004, he became the highest-paid television actor in history for his role as Raymond on "Everybody Loves Raymond." In that year, he earned $50 million for the show's eighth season.
Besides "Everybody Loves Raymond," Raymond has appeared in many television shows. He is also known for voicing the woolly mammoth Manfred (Manny) in "Ice Age" and its sequels.
He and "Everybody Loves Raymond" writer Mike Royce co-created the TNT show "Men of a Certain Age" in 2008. The show co-starred Scott Bakula and Andre Braugher.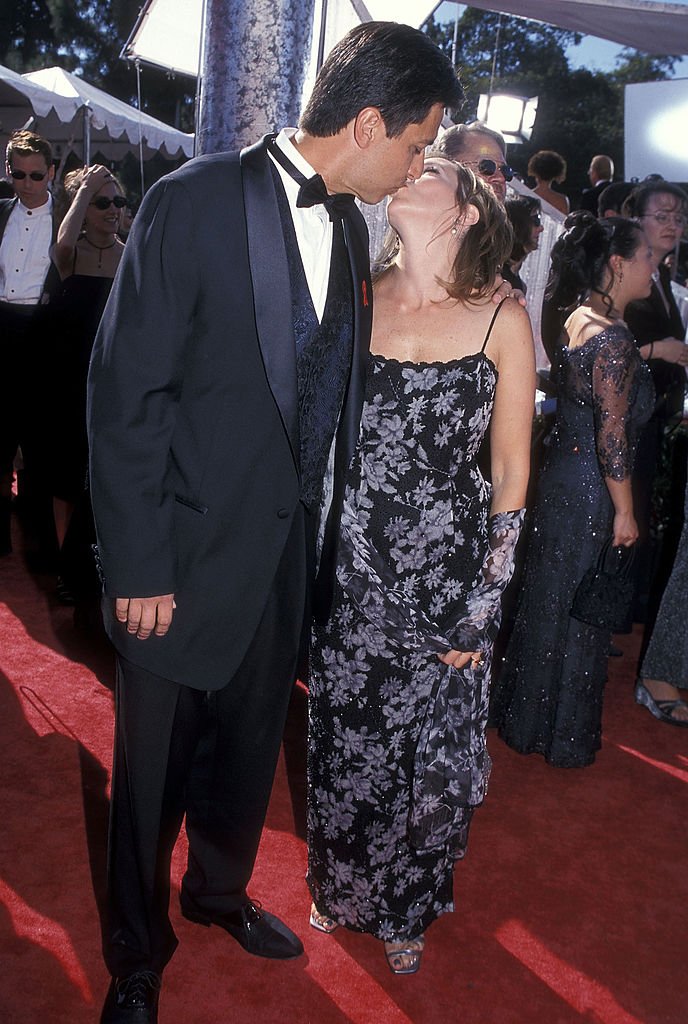 Actor Ray Romano and wife Anna attend the 51st Annual Primetime Emmy Awards on September 12, 1999. | Photo: Getty Images
Raymond also stars in the Epix comedy series "Get Shorty" and appeared in the Netflix comedy movie "Paddleton" in 2019. He also played mob lawyer Bill Bufalino in "The Irishman."
Anna said she underwent four rounds of chemotherapy after being diagnosed with invasive breast cancer in 2010.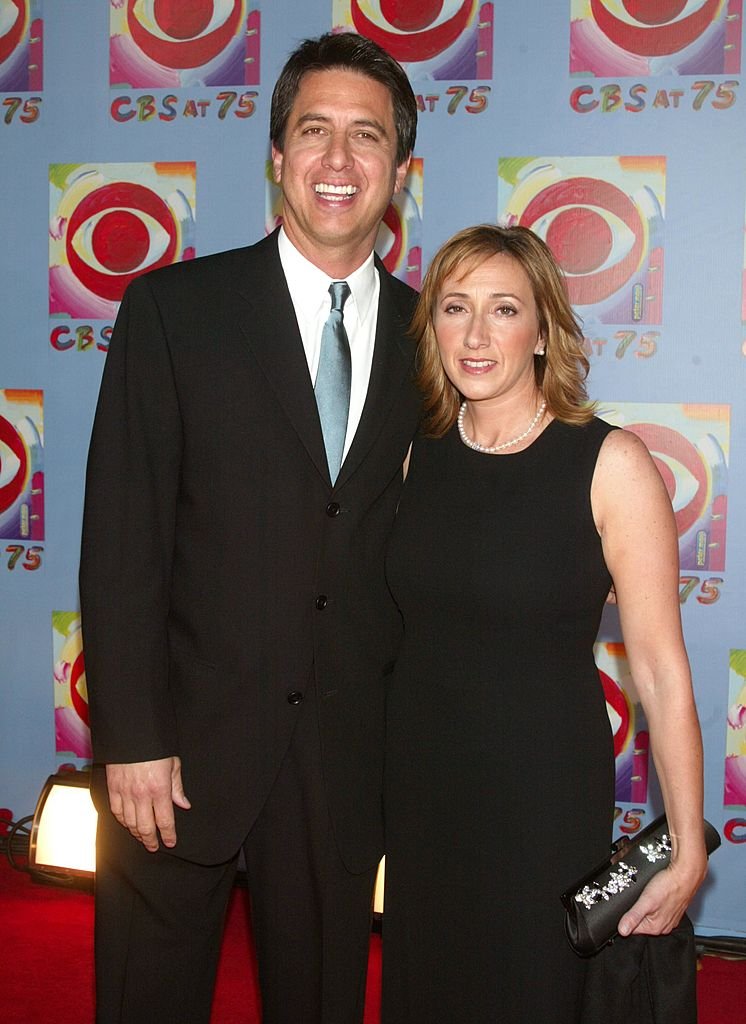 Ray Romano and wife Anna Scarpulla during CBS at 75 at Hammerstein Ballroom in New York City on November 2, 2003. | Photo: Getty Images
RAYMOND'S WIFE
Raymond met his wife, Anna, while living with his parents and working as a teller at a bank in Queens in 1983. She was also a teller at the bank. At the bank, Raymond became the unofficial bank satirist and kept the job funny and fun.
Raymond was evidently into Anna but waited until he was no longer working at the bank to ask her out. He waited that long because he did not want things to get awkward if she rejected him.
Anna agreed to date him, and they began their relationship. In a chat with Graham Bensinger, Raymond said Anna took a gamble on him as he lived with his parents and came to his bank job on his bicycle.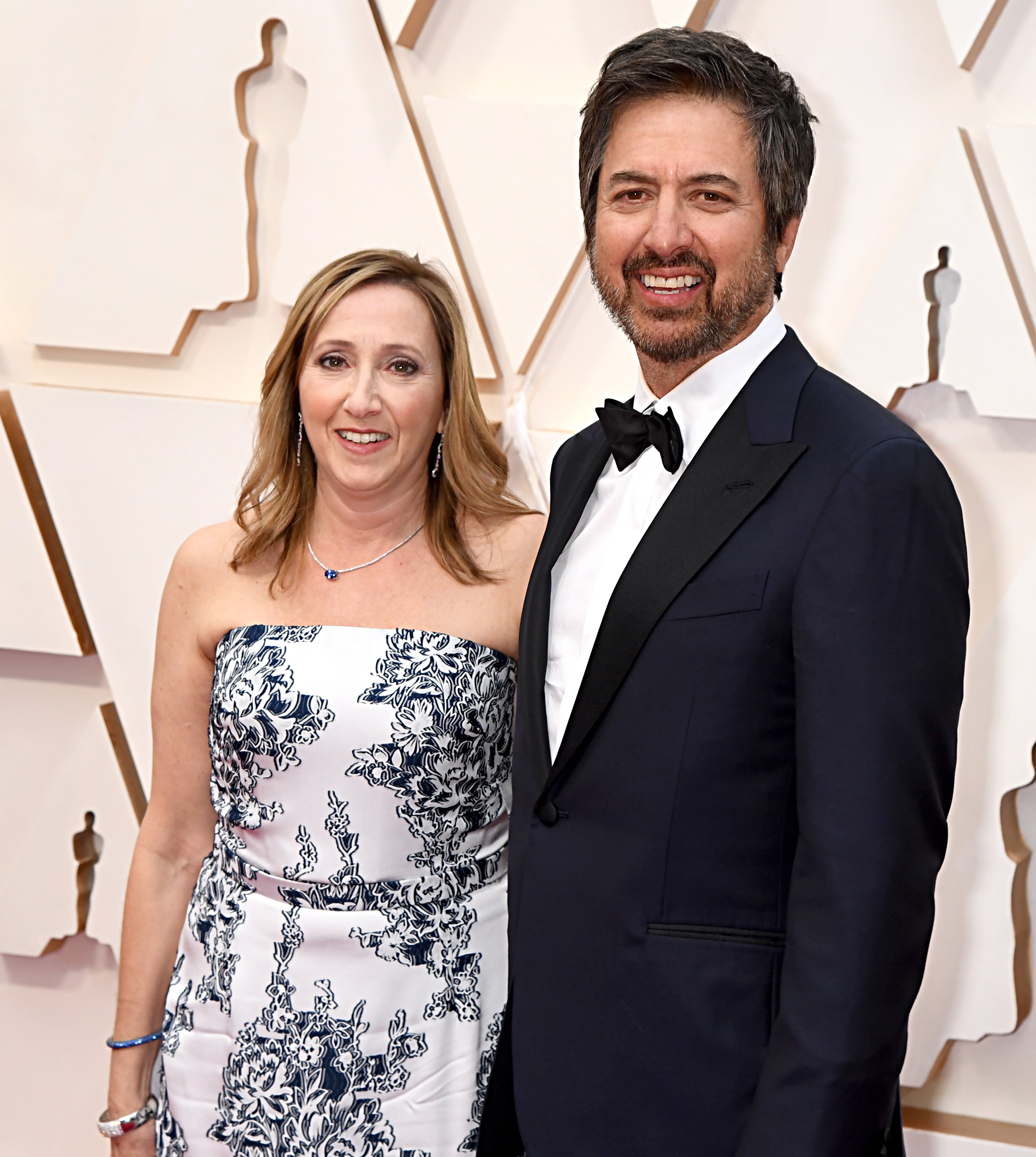 Ray Romano and Anna Romano attend the 92nd Annual Academy Awards at Hollywood and Highland on February 09, 2020. | Photo: Getty Images
In 1987, they tied the knot and have been together since then. It was after marrying Anna that Raymond decided to become a full-time stand-up comedian.
Despite being married to a comedian, Anna has learned to deal with her husband's jokes. She has also learned how to deal with Hollywood's glitz and glamor.
Raymond once said his wife does not care about Hollywood's glitz and glamor. He said her perspective on her career has been a key element in the success of their relationship and keeping him grounded.
According to Raymond, Anna does not need attention and understands how he feels about her even though it is hard for him to express that outwardly. He described her as the hero in their relationship.
Although Anna is not bothered about fame, she is also interested in the entertainment business as she has previously worked in front of and behind the camera.
For instance, she starred in an episode of "Patricia Heaton Parties" and voiced over a character in the video game "Yo-Kai Watch 3." Anna also starred in the short film "Quand s'approfondit l'hiver."
Besides those roles, she also worked as a cinematographer on another short film and on an episode of a television show titled "Class."
RAYMOND AND ANNA'S KIDS
Raymond is a loving and involved dad to his four children with Anna. The couple welcomed their eldest child and daughter, Alexandra, in 1990.
Three years after Alexandra's birth, Anna fell pregnant again. Raymond was hoping for a boy this time around. However, after going for a sonogram, his wife called him and said they were having twins.
Anna further told her husband they were having twin girls. Raymond tried to sound happy with the news despite his hope to have a boy. Finally, Anna told him they were having twin boys. It was then the comedian knew he loved his wife.
Anna and Raymond welcomed their twin sons, Gregory and Matthew, in 1993. They completed their family in 1998, when their son, Joseph, was born.
Family is the most important thing in Raymond's life. He showed this on his show by paying tribute to his brood. For example, his TV daughter, Ally, was named after his daughter, Alexandra. Also, his character had twins, one of which was named Gregory.
RAYMOND AND ANNA'S BEAUTIFUL MARRIAGE
Raymond and Anna have a long-lasting marriage, but they have also experienced several challenges along the way. For example, Anna survived a cancer battle with support from her loving husband.
In a chat with People, Raymond opened up on his wife's battle with the dreaded disease. He revealed she battled with stage one breast cancer.
The comedian said he and Anna were sharing their experience to help people. Anna said she underwent four rounds of chemotherapy after being diagnosed with invasive breast cancer in 2010.
She said losing her hair during that time was tough, and she found it hard to prioritize herself as she was a mom to four kids. Thankfully, Anna made a full recovery and, together with Raymond, was focused on giving back.
During an appearance on "Late Show With David Letterman" in 2012, Raymond joked that his relationship with Anna might come to an end because he could not seem to stop getting on her nerves. However, he admitted that their marriage is one with staying power.
During a 2013 appearance on "The Ellen Show," Raymond shared that his marriage with Anna works because she is not fazed about fame.
He went ahead to share a hilarious experience he had with her at home after waking up in the morning and trying to be romantic towards her.
Anna is super proud to be Raymond's wife and the mother of his kids. In November 2016, her daughter shared a family photo on Instagram. In the caption, she said she was very thankful for her pack of "weirdos."
Raymond, Anna, and their four kids may be a pack of weirdos, but they are a happy family and a good example that Hollywood marriages work and can stand the test of time.
Please fill in your e-mail so we can share with you our top stories!