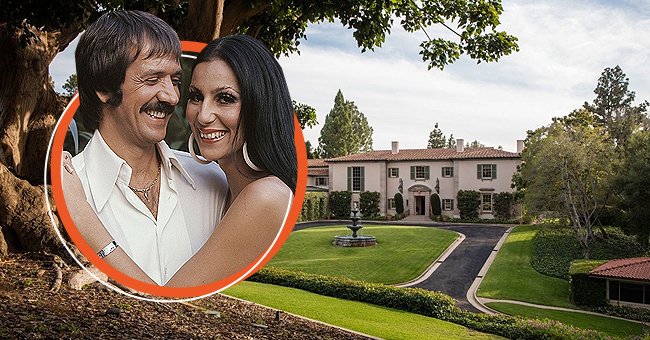 twitter.com/homesandgardens Getty Images
Inside Cher & Sonny Bonno's $88m Home in Bel Air with Scandal History & Olimpic-Size Pool
Cher and Sonny Bono were one of America's most talked-about couples. They were not only in the news for their admirable romance; their house choice kept many people talking. Let's take a look at the two mansions the pair purchased.
Cher is best known as an American singer, actress, and television personality. Although she is currently 75 years old, she is still recognized as one of the best entertainers. But what was her life away from the spotlight like?
Cher enjoyed a fantastic career, but the same cannot be said about her personal life, especially her marriages. She has been married and divorced twice, and she is a doting mother to two children, who she shares with her former husbands.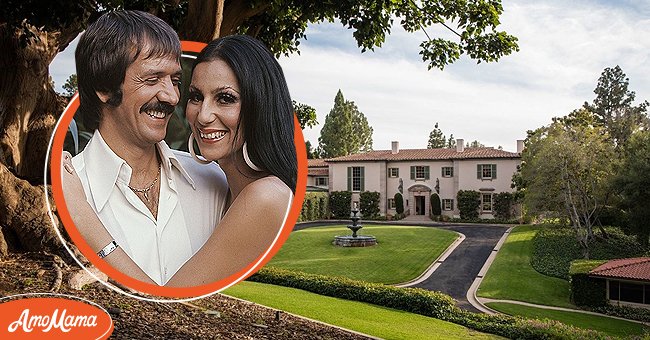 Sonny and Cher pose for a portrait at home in Beverly Hills, California circa 1970 [Left] | A picture of Sonny and Cher's house. [Right]. | Photo: Getty Images
INSIDE BONO AND CHER'S RELATIONSHIP
The actress's first marriage was to the late singer, actor, and politician Sonny Bono and is perhaps one of her highest profiles to date. The couple had many interesting times together, but unfortunately, their happily ever after never happened.
Cher and Bono walked down the aisle in the mid-1960s after several years of a steamy romance. The late politician met his former wife when she was only sixteen years old.
At the time, Bono was 27 years old and separated from his first wife, Donna Rankin. However, he was still legally married. Though Bono and Cher's relationship was simply platonic at first, the duo soon got involved after living together for a while.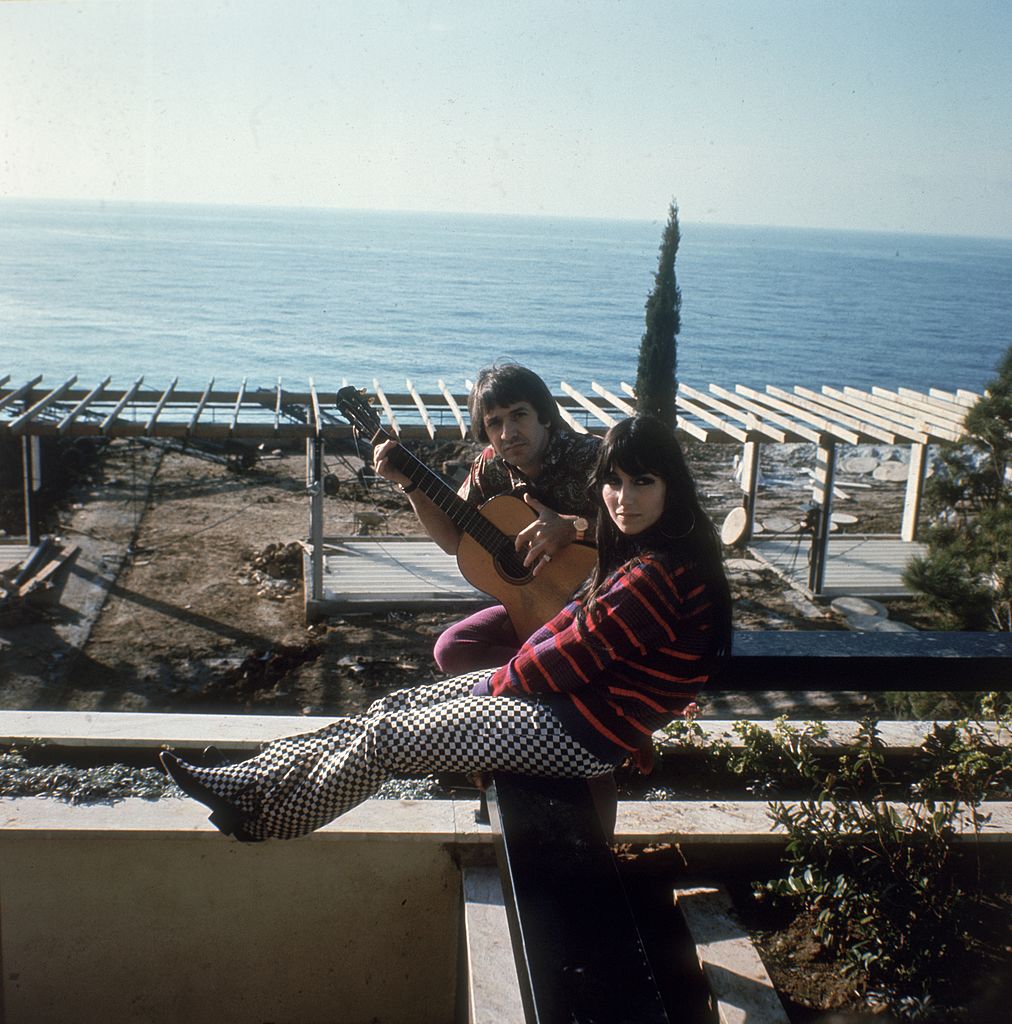 Photo of Sonny and Cher at their home in California, circa 1966. | Photo: Getty Images
Cher, who was abandoned by her dad, Johnny Sarkisian, attracted the actor because he had a striking resemblance with her father. Not only did she find love, but Cher also found protection in Bono. To her, he was the father with which she never got to have a relationship.
The lovebirds became the typical Hollywood power couple, collaborating and singing on multiple songs, including the 1965 hit "I Got You Babe" and "The Beat Goes On," released two years later.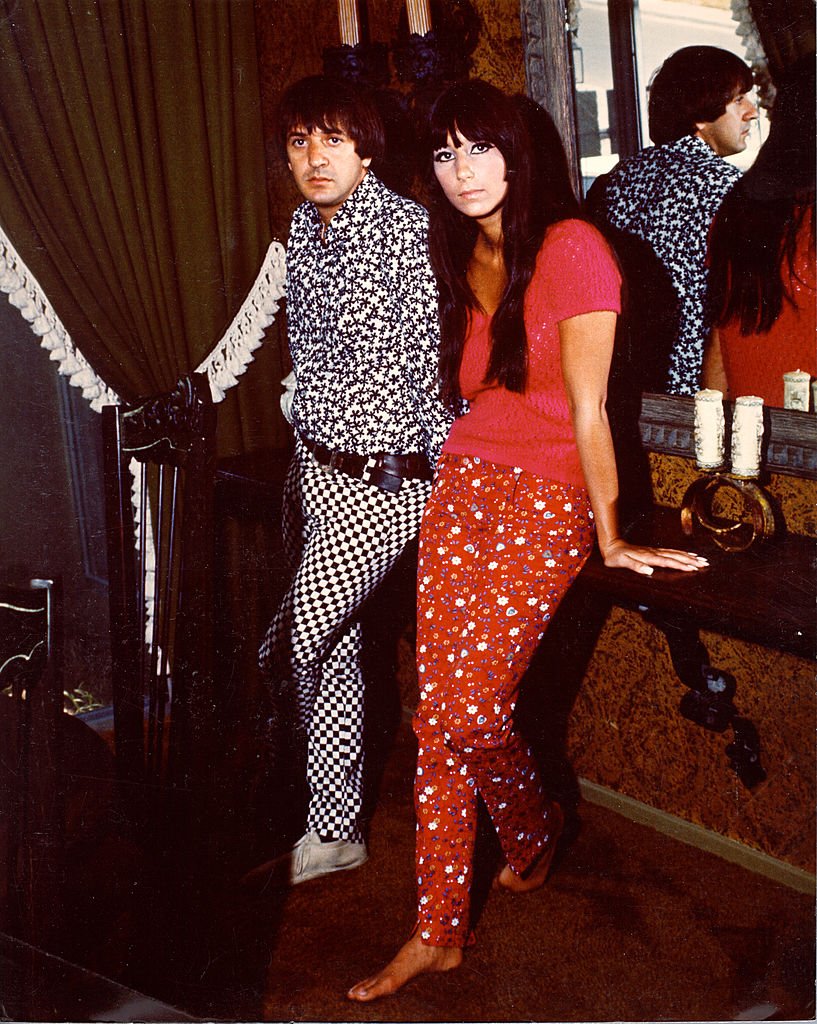 Sonny Bono and Cher pose for a portrait session at home in April 1966 in Los Angeles, California. | Photo: Getty Images
As Cher and Bono's fame grew, so did their love for each other. In 1964, they had a faux marriage ceremony, but it was not until later they officially tied the knot. Apart from having a sweet love story, the former couple was famous for buying mansions in California.
Although Cher and Bono had purchased their dream house, their love story was short-lived.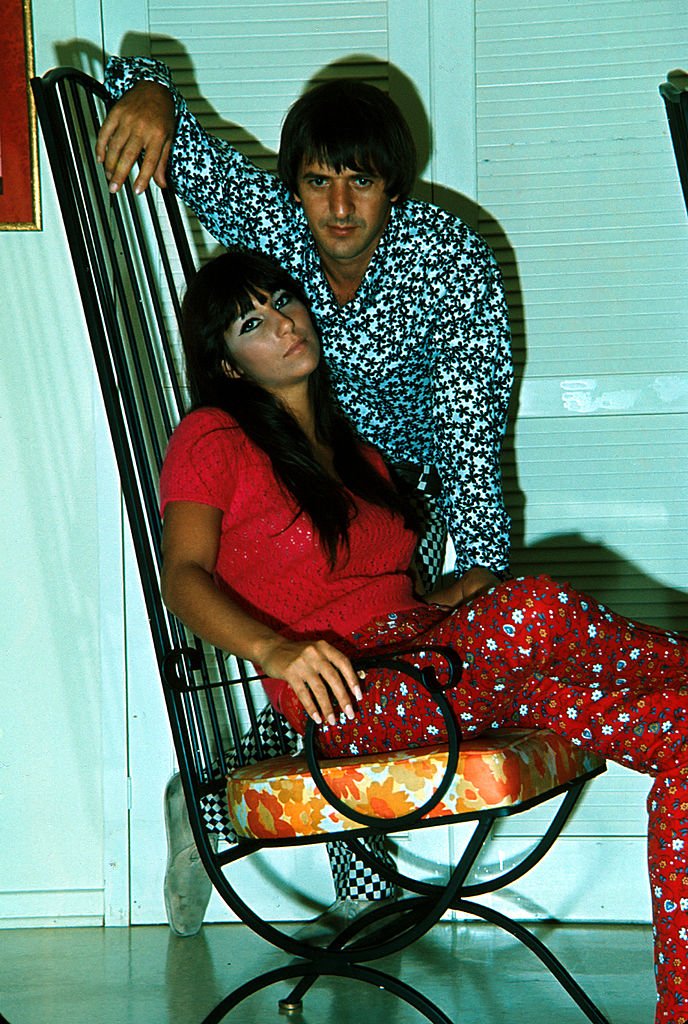 Sonny Bono and Cher pose for a portrait session at home in August 1966 in Los Angeles, California. | Photo: Getty Images
THE COUPLE'S BEL AIR HOME
Their first apartment was located at 364 St. Cloud Road, Bel Air, California, and was sold by Tony Curtis. During an interview, Cher recalled how she and Bono knew about the mansion and purchased it in 1967.
Upon their arrival at the location, Cher was stunned by the gorgeous edifice. Luckily for the couple, Curtis had moved out six months prior and was willing to sell for $250,000.
The luxury home, which was built in the 1930s, had six bedrooms, high ceilings, billiard rooms, a wood-paneled library, a banquet-sized dining room as well as a great swimming pool. After seeing the fine 1930s home, Cher and Bono did not need much convincing.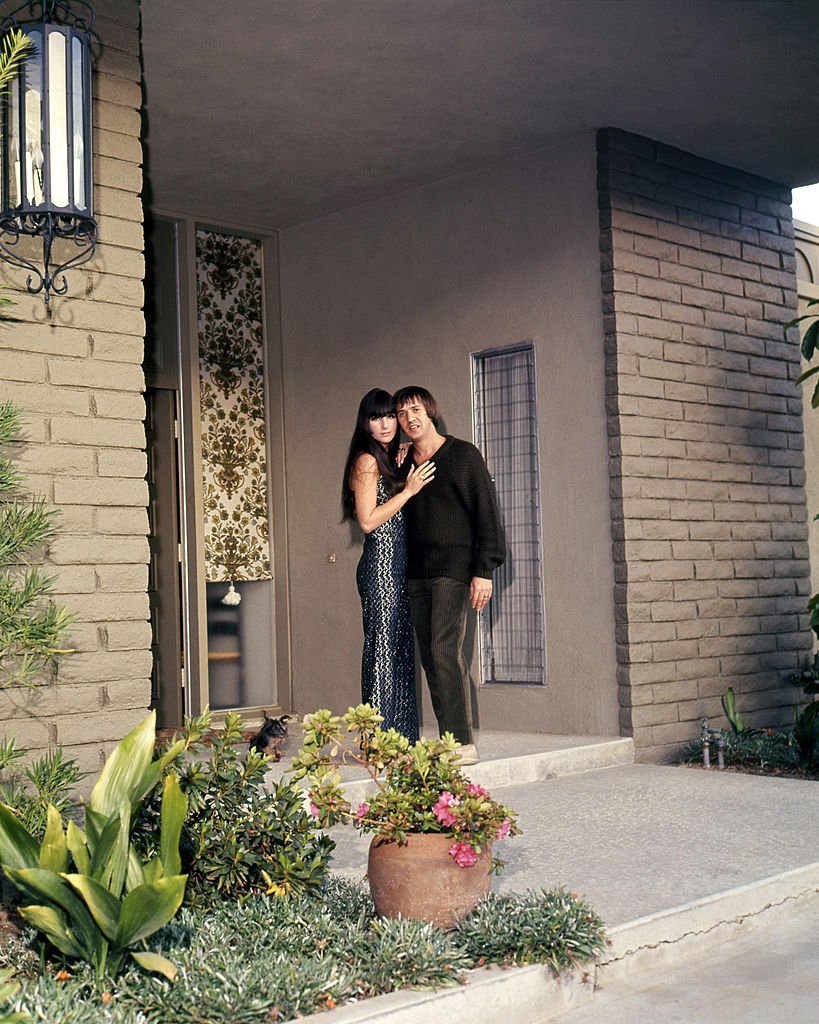 American pop singing duo Sonny & Cher at the entrance to their house, in Encino, California, circa 1968. | Photo: Getty Images
The pair purchased the apartment and moved in a week later. Pictures splattered on the internet showed the duo posing at the entrance of their house and standing side by side for portrait shots.
Not long after they moved in, Cher and Bono's career took a downward spiral, and affording furniture for the mansion was an impossible task. All attempts to sell the house in 1969 proved abortive, and the duo was forced to live a life less befitting of their achievements.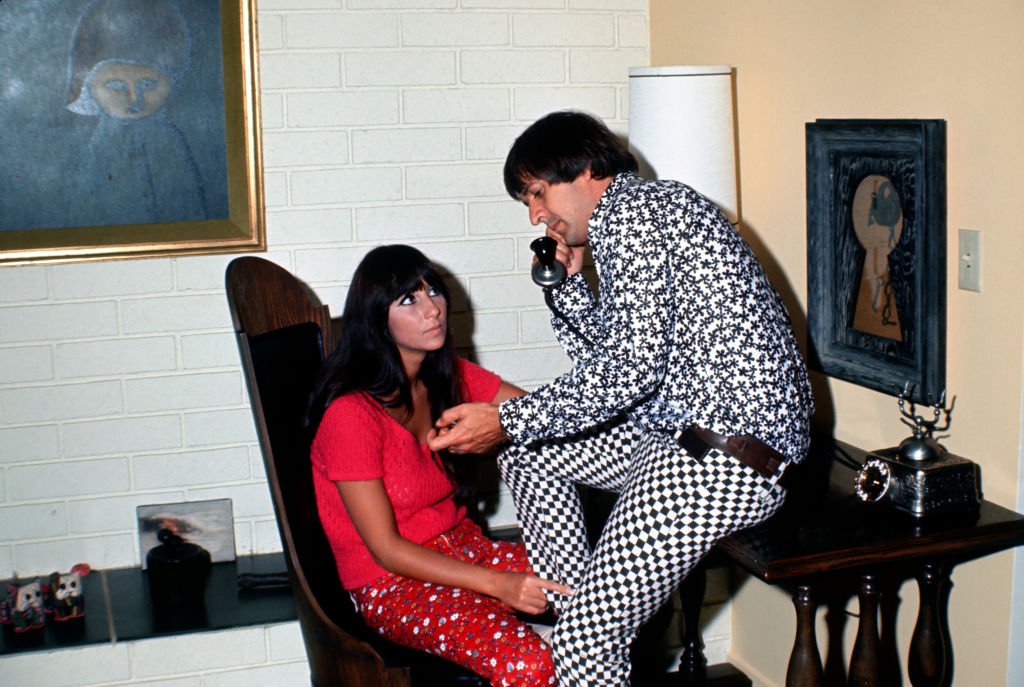 Celebrity couple Sonny Bono & Cher pose for a portrait session at home 1968 in Los Angeles, California. | Photo: Getty Images
CHER AND BONO'S SECOND MANSION
But in 1971, things took a positive turn for Cher and Bono following the debut of their show "The Sonny & Cher Comedy Hour." Their finances soon sprang up, and Curtis came knocking one more time.
This time, he showed the couple another luxury home, which they eventually purchased. The mansion was situated at 141 S. Carolwood Drive in Holmby Hills, California.
Upon seeing the house, Cher recalled telling her husband in 1967 on their first visit to the Holmby Hills Estate that someday, they would live there, but her husband seemed less intrigued.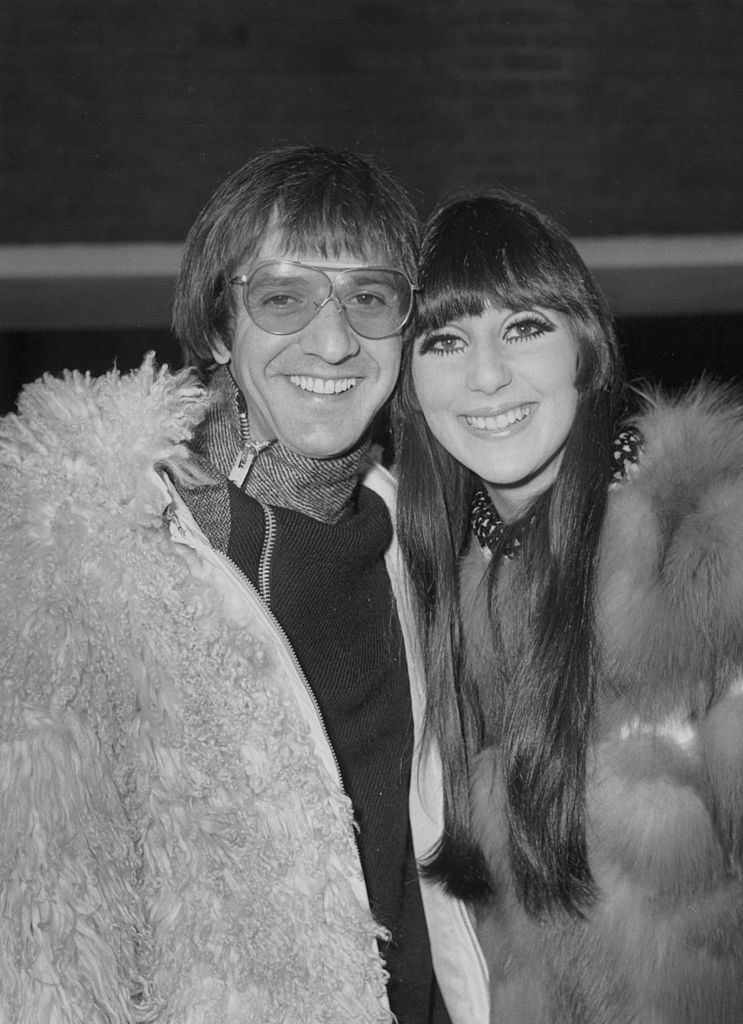 Sonny Bono and Cher at the London Airport in 1967. | Photo: Getty Images
He suggested to Curtis that they had no intentions of moving from their previous home, but he eventually succumbed after Curtis insisted. Cher and Bono bought the mansion at $750,000 in 1974, and in three days, the actress furnished it.
The house built in 1936 was a nine-bedroom home that spanned ten acres from the Playboy mansion and 12,000 square feet from the Italian Revival mansion, both inside Holmby Hills.
It also has an Olympic-sized swimming pool and pool house built by Olympic swimmer and actress Esther Williams, wood moldings, a spiral staircase, crystal chandeliers, and a marble fireplace.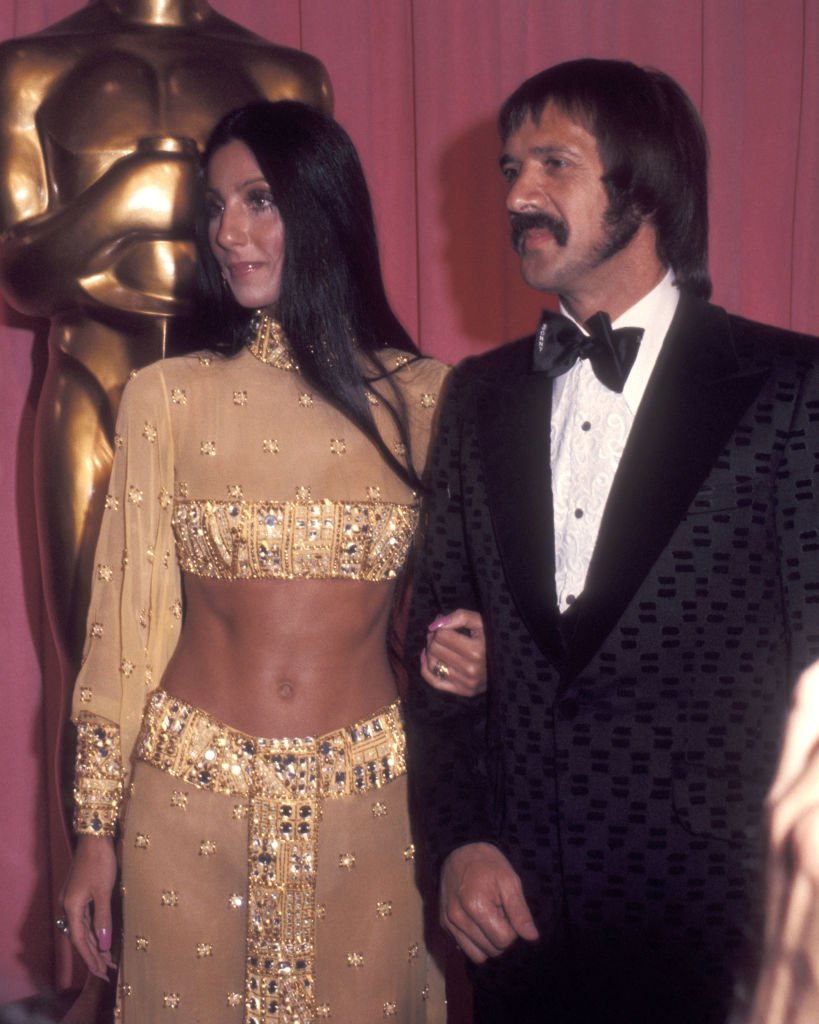 Cher and Sonny Bono at the 45th Annual Academy Awards on March 27, 1973. | Photo: Getty Images
The house was designed by Architect Robert Farquhar and co-founded by Joseph Schenck. Cher and Bono were not the first to have lived in the mansion. Schenck, Superior Oil Founder William Keck, Curtis, and businessman Ghazi Aita have had a taste of the luxury home.
According to a report, the mansion does not only stand out for its design, but it is also among the remarkable houses due to the famed owners and their stories of broken marriages, affairs, dissolution, and predatory capitalism.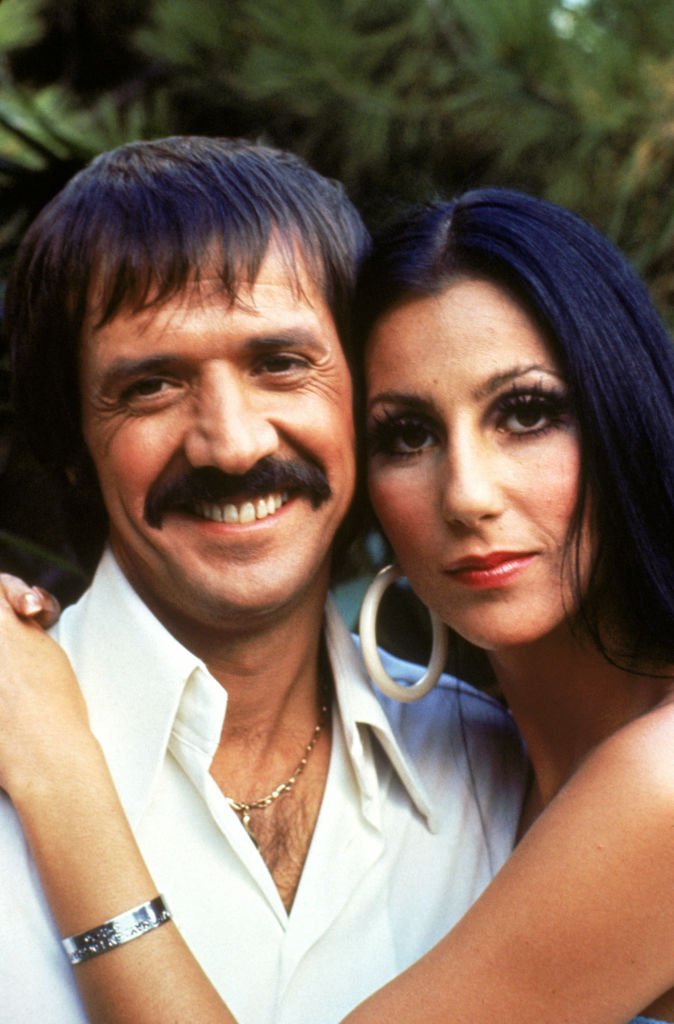 Cher and Sonny Bono pose for a promotional photo for "The Sonny and Cher Show" circa 1968-1970. | Photo: Getty Images
THEIR SPLIT
Although Cher and Bono had purchased their dream house, their love story was short-lived. Their marriage began to fall apart, and in February 1974, Bono filed for separation.
Cher fired back with divorce papers, and in June 1975, their divorce was finalized. Surprisingly, after the pair divorced, they stayed in the home with their daughter Chastity (now son Chaz), Cher's boyfriend, Bill, and Bono's girlfriend, Connie.
Cher said despite their differences, she still considered Bono as family. She loved living with him, and they spent time together, joking and laughing like one big family.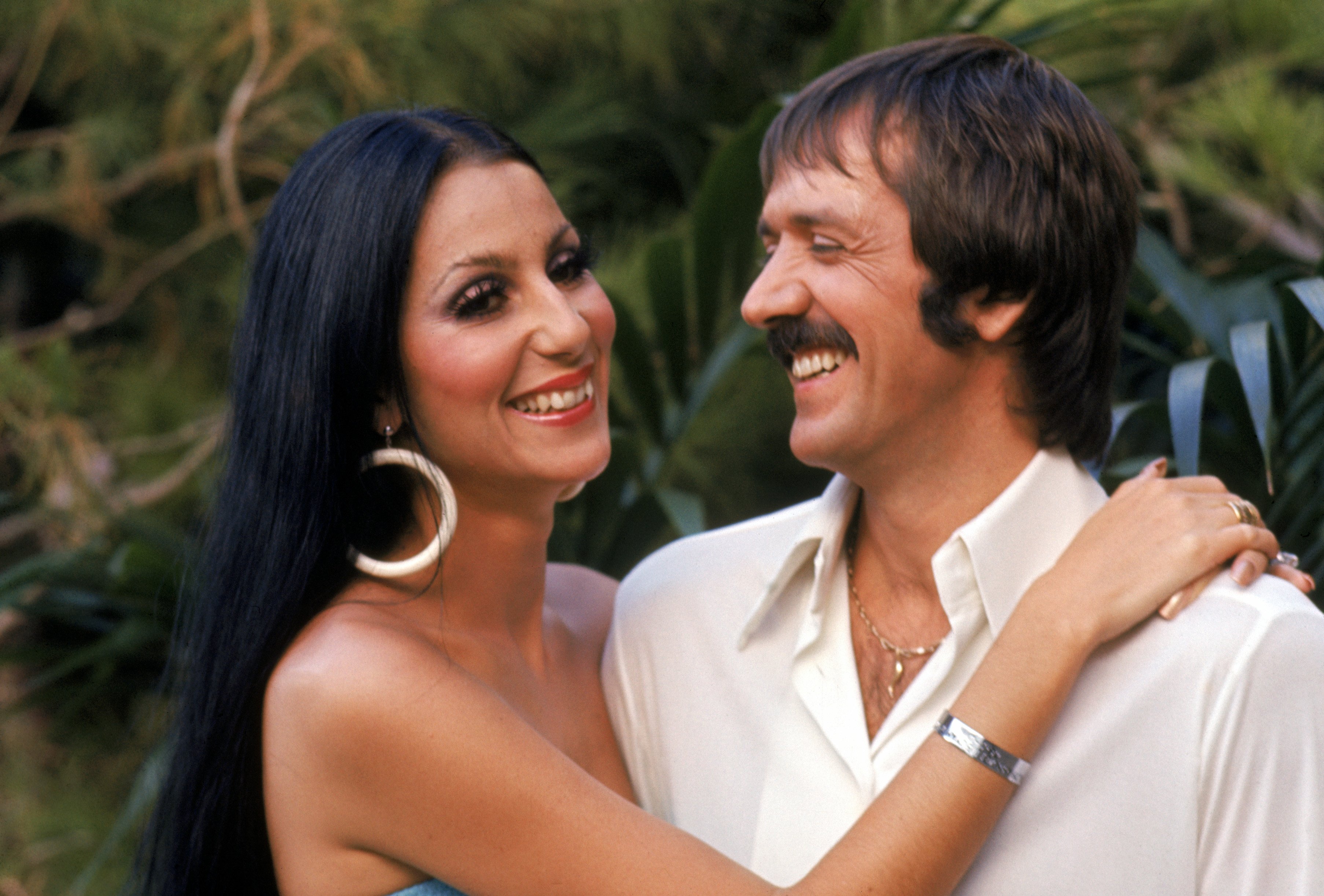 Cher and Sonny Bono pose for a promotional photo for "The Sonny and Cher Show" in 1970. | Photo: Getty Images
WHAT HAPPENED TO THE COUPLE'S LUXURY HOME?
Sadly, Bono died in 1998, and over two decades later, the mansion was put up for sale for $180 million. On December 23, 2020, it was sold in an off-market deal at $88 million.
The purchase of the house by Calch Urban Investment has marked the third priciest residential real estate transaction of 2020, behind the Beverly Hills home of Jeff Bezos and Jeffrey Katzenberg.
Please fill in your e-mail so we can share with you our top stories!