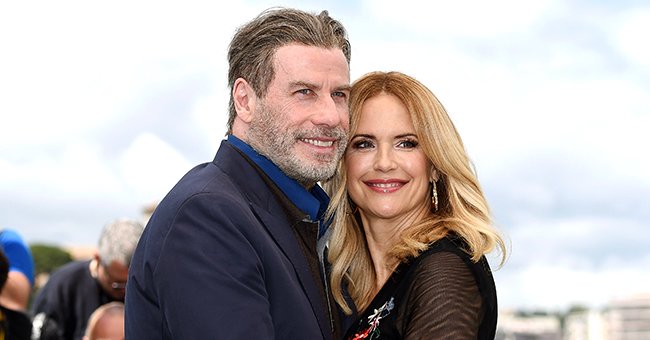 Getty Images | Instagram/John Travolta
Fans React to John Travolta Posing with Son Ben on Halloween 1 Year after Wife Kelly's Death

John Travolta has battled many sad moments in his life. He has lost his loved ones, one after another, and yet, he remains a doting dad to his children Ella and Ben.
John Travolta's heart has always been in acting, and at the age of 16, he quit school to pursue his dream. His winning moments came after he starred as Barbarino in "Welcome Back Kotter."
He then followed up his performances with the successful "Grease" and "Saturday Night Fever." His ability to be adaptable and versatile played a massive role in earning him enviable roles in films such as "Hair Spray" and "Pulp Fiction."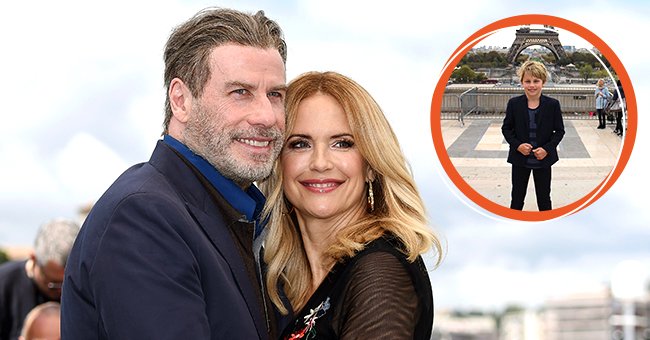 Kelly Preston and John Travolta attend "Rendezvous With John Travolta - Gotti" at Palais des Festivals on May 15, 2018 in Cannes, France. Source: Getty Images Inset: Their son, Ben. | Source: Instagram/John Travolta
The "Face/Off" actor also has many accolades to his name, including several Golden Globes, MTV Movie Awards, and Juno Awards, among others. And yet, his journey to film stardom was never without its challenges.
Despite his success in film, Travolta remains a dedicated father to his son Ben, who he shares with his late wife, Preston. In a recent photo on his Instagram page, Travolta and his son are on the beach, enjoying a beautiful picturesque sunset.
John Travolta at the premiere of "FX's "American Crime Story - The People V. O.J. Simpson" on January 27, 2016 in Westwood, California | Photo: Getty Images
Ben, 10, is barechested while Travolta is rocking a black T-shirt. The two seemed to be enjoying their Halloween as they were all smiley-faced. Travolta captioned the photo, writing:
"Happy Halloween everybody!"
His fans noted how similar the young boy's looks were to his mother's, while others were unsure who he resembled more between his dad and mom.
Others remembered Ben's mother, Preston, and wrote down messages of condolences to the family for losing both a wife and a mother. A fan stated that Preston was looking down on the beautiful photo of the two.
The more sentimental ones sent messages of good wishes, saying they were thinking about the Travolta family and wishing them a happy holiday. Others could not help but wonder how Ben was coping with the loss.
Losing his wife Preston would mark the third of close family Travolta has lost over the years, yet he remains strong for his son and daughter. His first loss was that of his girlfriend, Diana Hyland, when Travolta was only 23.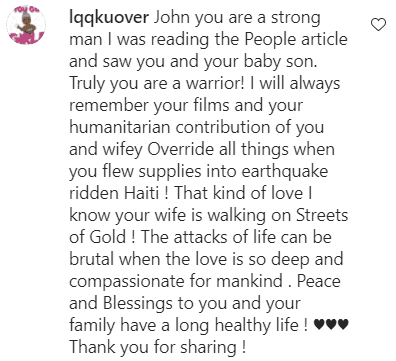 A fan reacts to John Travolta's beach photo with his son Ben | Source: Instagram/John Travolta
LOSING HIS FIRST LOVE
Travolta and Diana Hyland had been cast as mother and son in the 1976 film "The Boy In The Plastic Bubble." But despite their 18-year age difference, Travolta was smitten with the "Burke's Law" actress from the first time he set his eyes on her.
They bonded over their scripts, and a month after meeting, they started dating. For someone who previously thought he would never have a successful relationship, Travolta fell hard in love with the "Smoky" actress.

A fan reacts to the beach photo posted by Travolta on his Instagram | Source: Instagram/ John Travolta
He recalls having more fun with Hyland than he had ever had in his life, but his joy was short-lived when his girlfriend was diagnosed with breast cancer. Two years before she passed on, she underwent a mastectomy. But the disease continued to take a toll on her.
Travolta was with Hyland during her final days and recalled how he felt her breath leave her body. Many decades later, "The Poison Rose" actor has nothing but good memories of the love of his life. He recalls:
"I gave her great joy the last months of her life. I always feel she is with me . I mean, her intentions are. Diana always wanted the world for me in every possible way."

A fan cannot get over how similar Travolta and Ben look | Source: Instagram/John Travolta
MEETING PRESTON AND EXPERIENCING ANOTHER LOSS
Travolta continued working on his films with a heavy heart and possibly thinking he would never fall in love again. But in 1989, the star of love once again shone on him.
When screen testing for the comedy "The Experts," Travolta met the woman who would end up being his wife and the mother of his children, Kelly Preston.

More fans react to the beach selfie : Source: Instagram/John Travolta
Theirs was an instant connection, and in 1991, they got married. At the time, Preston had been two months pregnant with their first baby, Jett.
Fast forward to 2009. The Travolta family had traveled to Grand Bahama Island for a family vacation. Unaware of the tragic blow that was about to hit them, the family was having a good time at their vacation home.
Unfortunately, their good times were cut short when Jett, 16, had a seizure and hit his head on the bathtub. Snatched from their arms at such a young age, Travolta and Preston mourned their baby for years to come, occasionally posting photos in remembrance.
To honor Jett's memories, Travolta created the Jett Travolta Foundation, which helps children with special needs, and has collaborated with other organizations such as Oprah Winfrey Leadership Academy and Simon Wiesenthal Center, among many others.

Another fan reacts to the Instagram beach photo of Travolta and Ben | Source: Instagram/John Travolta
A NEW BEGINNING FOR THE TRAVOLTA'S
Two years after losing their son Jett, the couple was happy to welcome another baby boy, Benjamin, a Hebrew name that means "son of the right hand." Speaking to People Magazine in 2011, Travolta referred to the birth of their son as "nothing less than a miracle."
He opened up about how Ben had renewed the purpose and spirit of their home. He was a new beginning, and the joy he brought to their home remained unmatched, well, until tragedy hit the Travolta household again a few years later.

A fan reacts to the Instagram photo | Source: Instagram/John Travolta
SAYING GOODBYE TO PRESTON
In 2018, Preston was diagnosed with breast cancer. She started with treatment but chose to keep the details away from the public eye.
After a series of treatments at the MD Anderson Cancer Center in Houston, Texas, Preston gave up the fight and waved the world goodbye in her home in Anthony, Florida.
In a tribute remembering his late wife, Travolta thanked everyone who stood by the family during the hard times, as well as the doctors who had tried their best to keep cancer at bay.

More fans reaction about how much Ben resembles his dad | Source: Instagram/John Travolta
In his statement, he said he would be taking time with his children, Ben and Ella, to mourn Preston. And in the days that would follow, Travolta had to brace himself for his young son's questions following his mother's death.
Travolta recalls a challenging statement that his son Ben made following his mom's death. Speaking on the Kevin Hart Show, Travolta said, as reported by CNN Entertainment edition:
"Ben said to me once, 'because mom passed away, I'm afraid you're going too.'"
Travolta says he sat his son down and made him understand that nobody ever knows when their time is near, giving an example of how Jett passed on at 16 and Preston at 57.
He advised his son to take life by the horns and enjoy every moment of it, as there is no telling when one's end is close.
Please fill in your e-mail so we can share with you our top stories!