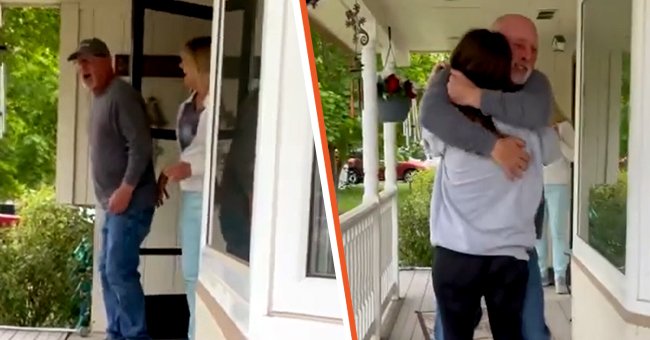 facebook.com/jordyn.nutting
Dad Cries Uncontrollably When Daughter Surprises Him after Almost Three Years Apart
The unconditional love fathers have for their daughters is indescribable. So, it comes as no surprise that one dad's reaction to seeing his baby for the first time in ages was filled with unimaginable emotion.
Twenty-six-year-old Jordyn Rassi hadn't seen dad 59-year-old William Nutting Jr. in the flesh for almost 3 years. Rassi lives in South Bend, Indiana, while her father resides in Spokane Valley, Washington.
However, the distance is not what solely kept them apart. Aside from the dangers that the COVID-19 pandemic poses, this daughter had missed out on hugging her dad since August 2018 because of unanticipated medical payments and finding time away from work.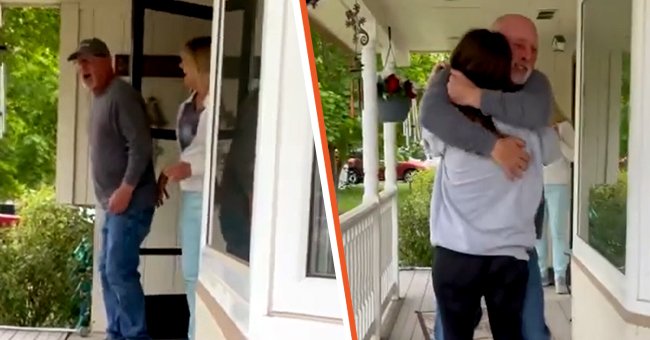 William Nutting Jr. walking onto his porch [left]; William Nutting Jr. hugging his daughter Jordyn Rassi [right]. │Source: facebook.com/jordyn.nutting
TIME FOR A TRIP
Three weeks before Father's Day, she decided to travel down to Nutting Jr. and surprise him with a visit. Although she was looking forward to seeing him, the 26-year-old was highly thrilled to see how he would respond. Rassi stated:
"I was also excited to see his reaction — I know my dad and knew it would be priceless."
This prediction was spot-on as she caught his heartfelt response in a touching clip that she posted on Facebook. The surprise was set for May 22, 2021.
A JOYFUL REUNION
In the video, her father walked onto his front porch, where Rassi was sitting, waiting for him. As soon as he stepped out, the daughter piped:
"This is a nice place you got here old man."
Looking to his left and seeing his little girl for the first time in forever, Nutting Jr. immediately began shouting in glee. He ran straight to his baby, giving her a massive hug with tears in his eyes.
HEARTFELT REACTIONS
The father was so overwhelmed with emotion that he leaned on the porch fence, crying. From there on, every time he spotted her around the house, tears would instantly begin to build as he smiled in disbelief.
This intensity of emotion was echoed in the comment section of the post. Remarks came flooding in about how sweet the father was and what a fantastic moment it was.
You May Also Like: Father Finds Out Daughter Is a Bully, So He Befriends Victim and Gives Her a Makeover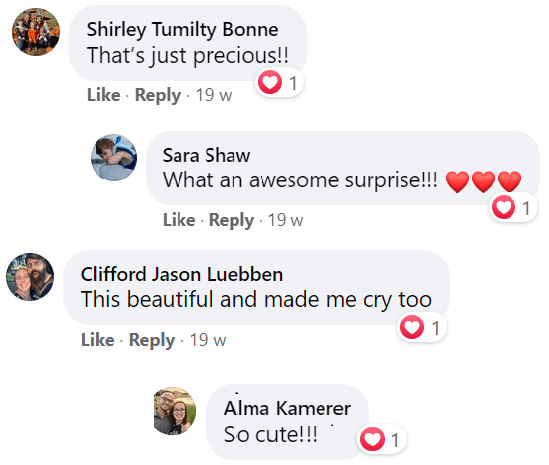 Individual's comments on a Facebook post by Jordyn Rassi. │Source: facebook.com/jordyn.nutting
ONE FINAL DRINK
As Rassi knows, we should make a point of spending time with our parents. This is because, beyond the fact that we love them, we will one day have to visit them, not at their homes, but on their deathbed.
In 2019, a grandson Adam Schemm from Milwaukee, shared a photo of his grandfather's final moments. The picture showed the elderly man enjoying his last beer, celebrating his life with his sons.
From the very day we came into this world, most of our parents ensured that we were well-dressed, fed, and grew up to be kind and strong. As we become adults, we should honor that. How would you define your relationship with your parents?
Please fill in your e-mail so we can share with you our top stories!