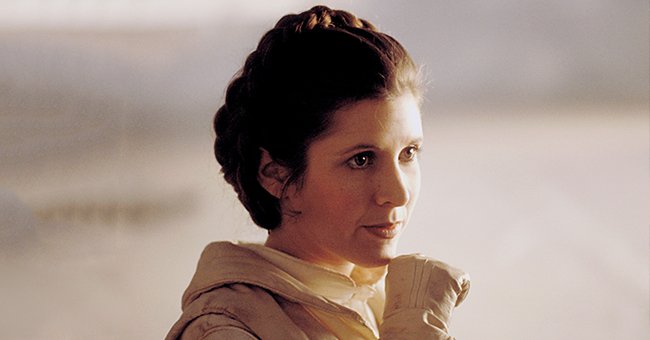 Getty Images
Carrie Fisher Didn't Eat & Exercised More after Pressure to Lose Weight for 'Star Wars'
Carrie Fisher was no exception to the fact that Hollywood holds celebrities at such high standards. The iconic Princess Leia did not escape the pressure to lose weight for her role in "Star Wars."
Carrie Fisher was born to actor parents, making her used to the spotlight ever since she was a little girl. Eddie Fisher and Debbie Reynolds welcomed Carrie on October 21, 1956, and since then, she has been no stranger to the scene her parents were in.
When she was two years old, devastating news struck their family when her mother found out that Eddie had been having an affair. The two separated, and the actor went on to marry Elizabeth Taylor.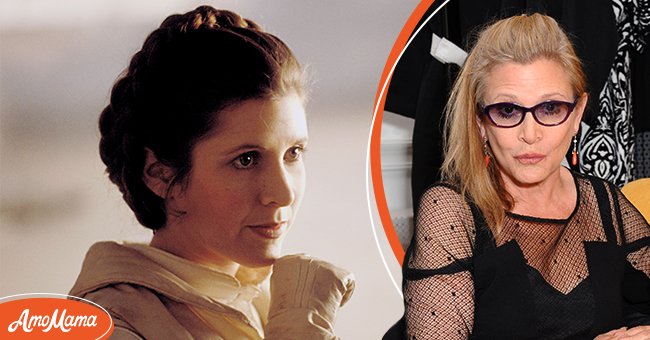 Carrie Fisher on the set of "Star Wars: Episode V - The Empire Strikes Back" directed by Irvin Kershner. (left), Carrie Fisher attends Marina Rinaldi's atelier launch on July 3, 2014 in London, England | Photo: Getty Images
GROWING UP AS SHOWBIZ ROYALTY
Growing up, Fisher looked up to her mother a lot. However, she had some insecurities that sprung from when her father left her mother. She once said:
"I looked at my mother and said, 'wow, she is gorgeous and I don't look like her, therefore I'm not pretty. And my father doesn't visit, I mustn't be pretty because he likes pretty women.'"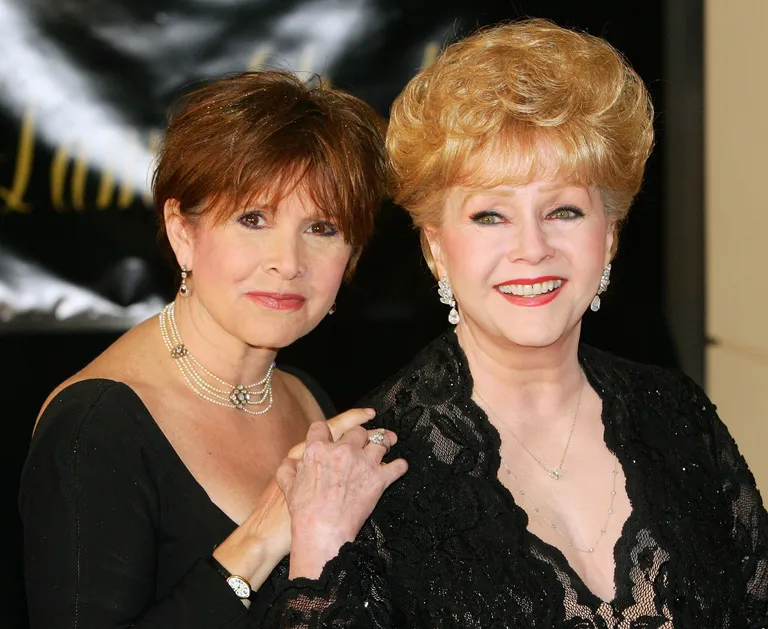 Actress Carrie Fisher and her mother, actress Debbie Reynolds, at Dame Elizabeth Taylor's 75th birthday party at the Ritz-Carlton, Lake Las Vegas on February 27, 2007 | Photo: Getty Images
MAKING A NAME FOR HERSELF
While she and Reynolds lived right next door to one another until their deaths, Fisher would make a name for herself in the industry. At 19, she rose to fame as part of the hit "Star Wars" trilogy.
She competed against well-known Hollywood icons like Meryl Streep, Glenn Close, and Jessica Lange for the role of Princess Leia, but she got the part. It wasn't easy for the actress though, as she almost missed out on the role because of her weight.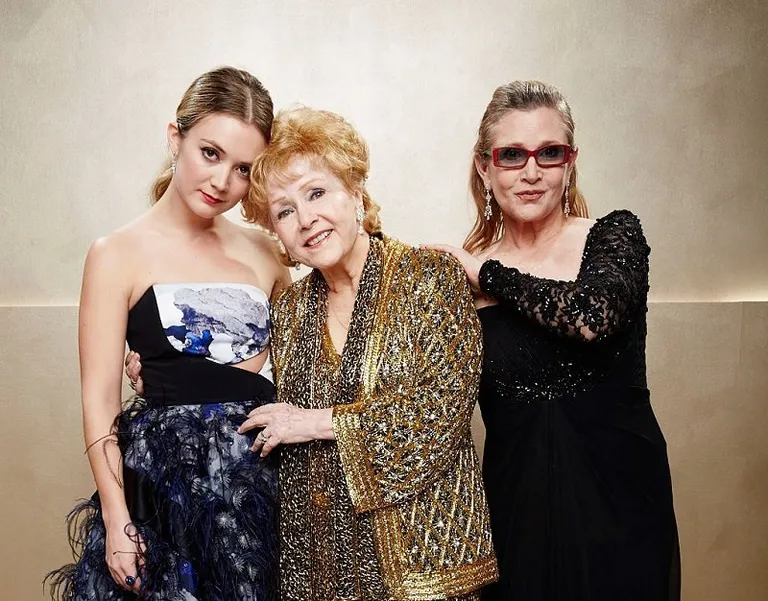 Billie Lourd, Carrie Fisher and Debbie Reynolds on January 25, 2015 in Los Angeles, California | Photo: Getty Images
STRUGGLES OF BEING PRINCESS LEIA
Teenage boys from around the world had posters of Fisher up on their walls for playing Princess Leia in the sci-fi franchise, but not many of them knew at the time that the movie bosses told her to lose weight despite only weighing 105 lbs.
Fisher understood that in show business, only weight and appearance matter. Years later, she was again asked to lose weight for "Star Wars: The Force Awakens."
LOSING WEIGHT FOR "STAR WARS"
Fisher joked that the franchise did not want to hire all of her and instead "only about three-quarters" of her. To prepare for the most recent "Star Wars" adaptations, she did not eat and had to exercise.
Admittedly, Fisher said that she had a more difficult time eating properly than exercising. To her, depriving herself of something is a lot harder than adding an activity, which in this case, was working out.
HOLLYWOOD'S OBSESSION WITH APPEARANCE
Through the years, Fisher noted that Hollywood remained the same in terms of obsessing over appearances. Whenever she lost weight for roles, she did not like that it made her feel good about herself. She added:
"We treat beauty like an accomplishment, and that is insane. Everyone in LA says 'Oh, you look good.' and you listen for them to say you've lost weight. It's never 'How are you?' or 'You seem happy!'"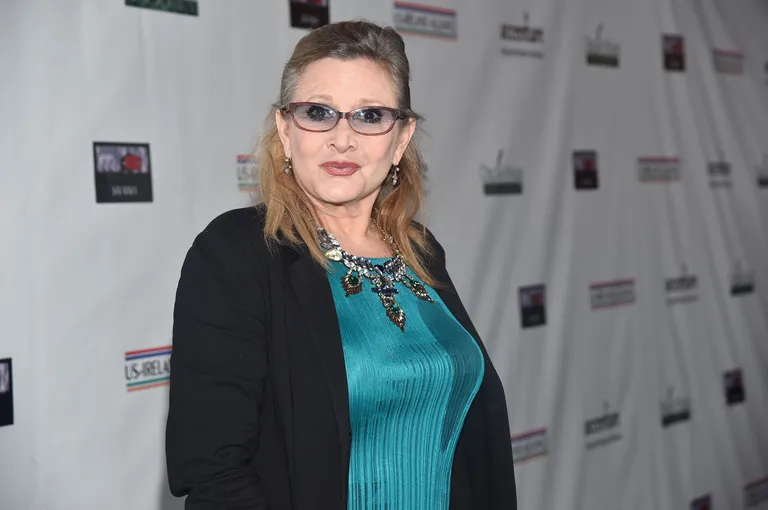 Carrie Fisher at the US-Ireland Aliiance's Oscar Wilde Awards event at J.J. Abrams' Bad Robot on February 19, 2015 | Photo: Getty Images
OTHER CAREER PLANS
Although she grew up with actor parents, Fisher didn't want to become an actress. She wanted to steer clear from that path, as she saw how the industry hurt her mother, especially after her father left their family for Elizabeth Taylor.
However, she could not change her destiny even if she wanted to. She was meant to become a star, starting off in small roles on "Shampoo." It was at 19 that she got her big break as Princess Leia on "Star Wars."
HER OTHER PASSION
Aside from acting, Fisher was also fond of writing. She wrote a total of eight books, one of which, "The Princess Diarist," spoke about her struggles with mental illness and addiction.
After being diagnosed with bipolar disorder, she coped through electroshock therapy, wherein an electric current is applied to the brain. Her struggles with drugs were also no secret, and it's something she discussed openly in her books.
BATTLE WITH DRUG ADDICTION
Aside from her mental health struggles, she also turned to drugs at one point in her life. Her parents contacted Hollywood icon Cary Grant twice to try talking her out of using the drug LSD.
Grant, who had experience with LSD, spoke to Fisher about quitting the drug, but she did not follow his advice. Upon her death, Fisher was found with several drugs in her system.
FISHER'S PERSONAL LIFE
Fisher was only married once, to Paul Simon, for less than a year from August 1983 to July 1984. She gave birth to a daughter, Billie Lourd, with ex-boyfriend Bryan Lourd.
On December 27, 2016, Fisher died at the age of 60. She suffered a heart attack on a flight back to Los Angeles four days prior.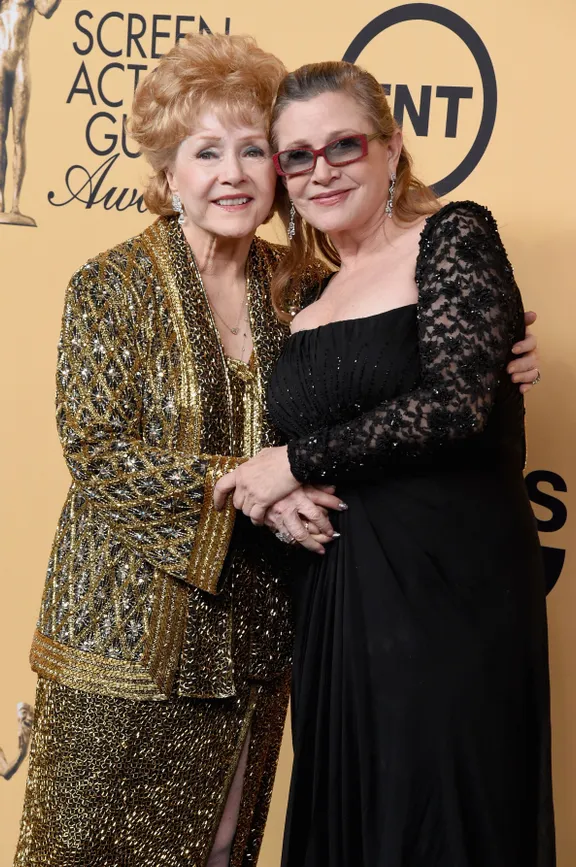 Honoree Debbie Reynolds and actress Carrie Fisher pose in the press room at the 21st Annual Screen Actors Guild Awards at The Shrine Auditorium on January 25, 2015 | Photo: Getty Images
REUNITED WITH HER MOM
After Fisher's death on December 27, her mom, Reynolds, died of a stroke the following day. According to one of her sons, Todd, heartbreak was likely the cause of her death.
Billie wrote a touching tribute to her mother and her iconic character, Princess Leia. There, she shared that she grew up with three parents: her mom, dad, and Princess Leia.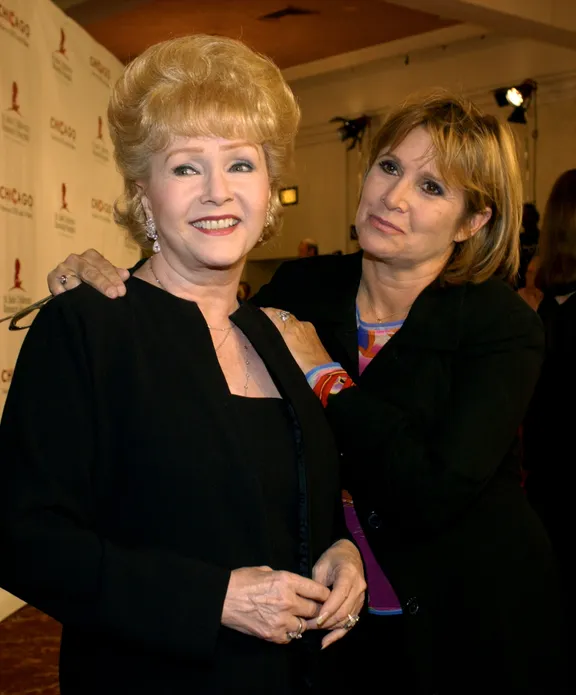 Debbie Reynolds and Carrie Fisher at the 2nd Annual "Runway for Life" celebrity fashion show at the Beverly Hilton August 19, 2003 | Photo: Getty Images
PRINCESS LEIA AS A STEPMOM
Billie shared that Princess Leia was like a stepmom to her, "technically family, but deep down I didn't really like her." At one point, as a child, she could not understand why people loved Leia so much.
Through the years, Billie did not want to have anything to do with Leia. She only wanted to be with her mother, Carrie Fisher.
SEEING IT FOR HERSELF
When Billie was in middle school, she decided to watch the "Star Wars" movies because boys at school would go up to her, saying they fantasized about her mother. Opening up about the experience, she admitted:
"I'd wanted to hate it so I could tell her how lame she was. Like any kid, I didn't want my mom to be 'hot' or 'cool'–she was my mom. I was supposed to be the 'cool,' 'hot"'one–not her!"
UNDERSTANDING THE HYPE
However, growing up, Billie understood why there would never be someone as hot or cool as Princess Leia. When she attended her first Comic-Con with her mother, she saw so many people dressed up like the iconic character.
Seeing the amount of happiness Leia brought to people, she finally understood what the hype was about. She understood that Leia was more than a character; she was a feeling. "She is strength, she is grace, she is wit, she is femininity at its finest," she said.
Now, Billie is happy she grew up with three parents. While Princess Leia was initially her stepmom, she is now proud to announce that the character is her guardian angel, and Billie is her keeper.
Please fill in your e-mail so we can share with you our top stories!