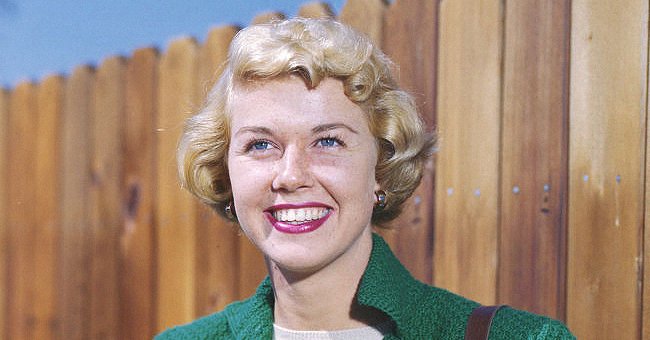 Getty Images
Inside Married Doris Day's Alleged Interracial Relationship with Dodgers Legend Maury Wills
Doris Day, who holds the title of the number one female box-office star, was involved in a secret interracial affair with baseball legend Maury Wills when they were both married; before her death, she denied the allegations.
Doris Day was an actress responsible for putting smiles on the faces of many. She loved her career, worked with class, elegance and was grounded in acting, music, and dance.
Her onscreen credits ranged from romance to comedies and live shows. She displayed an incredible passion by owning the stage and her characters, making it nearly impossible for viewers to remember that Day was playing a role on TV.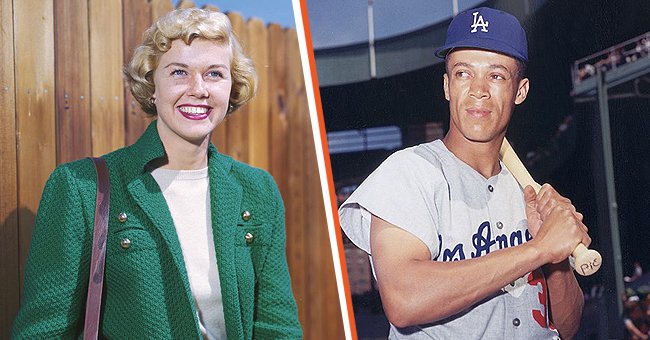 American actress and singer Doris Day, circa 1945.[left] Portrait of Los Angeles Dodgers shortstop Maury Wills wearing his uniform and holding a baseball bat over his shoulder, 1960s.[right] | Photo: Getty Images
The gorgeous actress gained due recognition from the movie industry, racking in awards and nominations. She also had a huge fanbase and enjoyed a successful career.
But apart from her career, she had an intriguing reality plagued by heartbreaks and making headlines in a few controversial news stories, like being involved with another famous figure during her third marriage.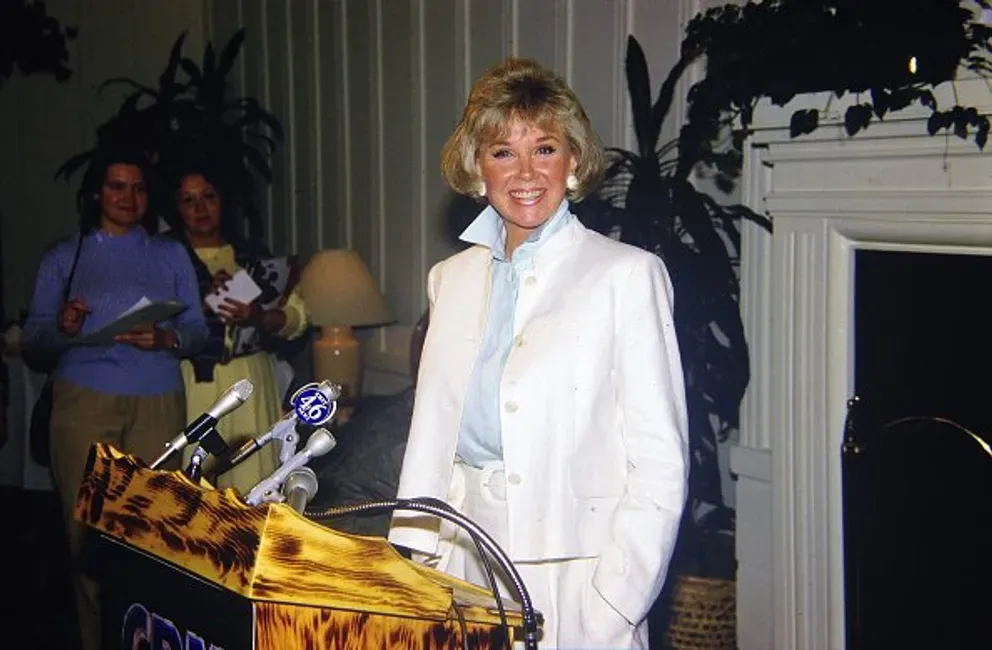 Doris Day at a press conference at the dog friendly hotel she owns in Carmel, California July 16, 1985. | Photo: Getty Images
ALL ABOUT DAY'S INTERRACIAL AFFAIR
Doris Day did not have much luck with men. Although she played the perfect American girl next door onscreen, she did not experience such a thrilling lifestyle in reality.
Rumors had it that the "Pillow Talk" alum was involved with a prominent baseball player called Maury Wills. However, there were several reasons why their secret relationship was frowned upon and tagged as taboo.
Wills was of African-American descent, and having a white lover was controversial to their careers. The lovers were also married at the time. This news rocked the tabloids for some time, and not many have been able to identify its credibility until the athlete's publication.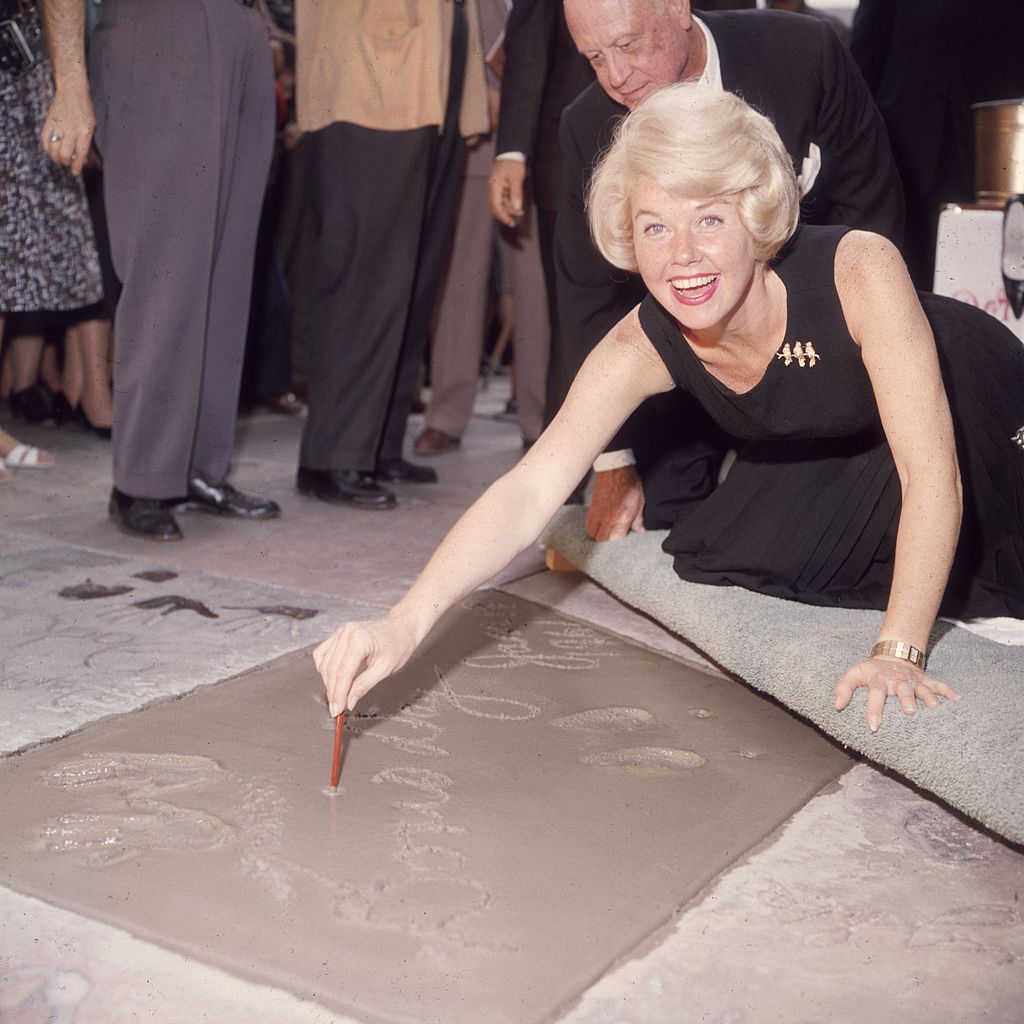 Doris Day signing her name in cement on Hollywood Boulevard, Hollywood, on January 19, 1961 | Photo: Getty Images
In his 1991 book "On The Run," Wills wrote that Day was a lovely woman with whom he was romantically involved. He opined that they met at Dodgers stadium; the actress was a huge fan of his team.
During their romance, the baseball champion was ordered not to reveal anything about their relationship and end things with his mistress because it could jeopardize his team's ratings. They could lose fans—white fans would not accept such complexity.
On the other hand, Day explained through her autobiography that her relationship with Wills was plain. These rumors flew out when the athlete and his wife were believed to be involved in a divorce saga while Day was in a strained relationship with her third husband.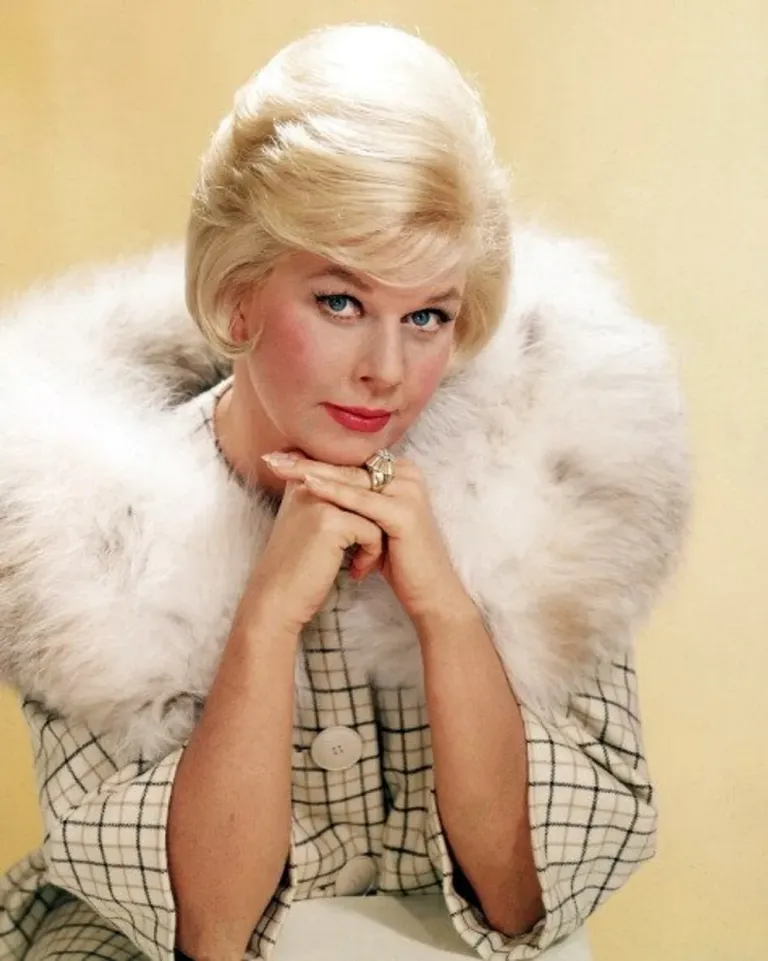 American actress Doris Day in a fur-trimmed coat, circa 1963. | Photo: Getty Images
Still, the actress's version maintained that they were friends who never met alone anywhere. She was crazy about his team and often attended his games, but for Day, that was it.
WHO WAS MAURY WILLS?
Maury Wills was a spectacular athlete full of zeal, passion, and everything responsible for catapulting a baseball player to the forefront of his team. His journey to fame began in the 1950s when he became a part of "The Dodgers" team.
His achievements ranged from leading his team to victory in the Nation League pennant to scoring impressively against strong teams like Chicago White Sox, playing in 14-big League seasons, retiring with a .281 batting average and 2,134 hits.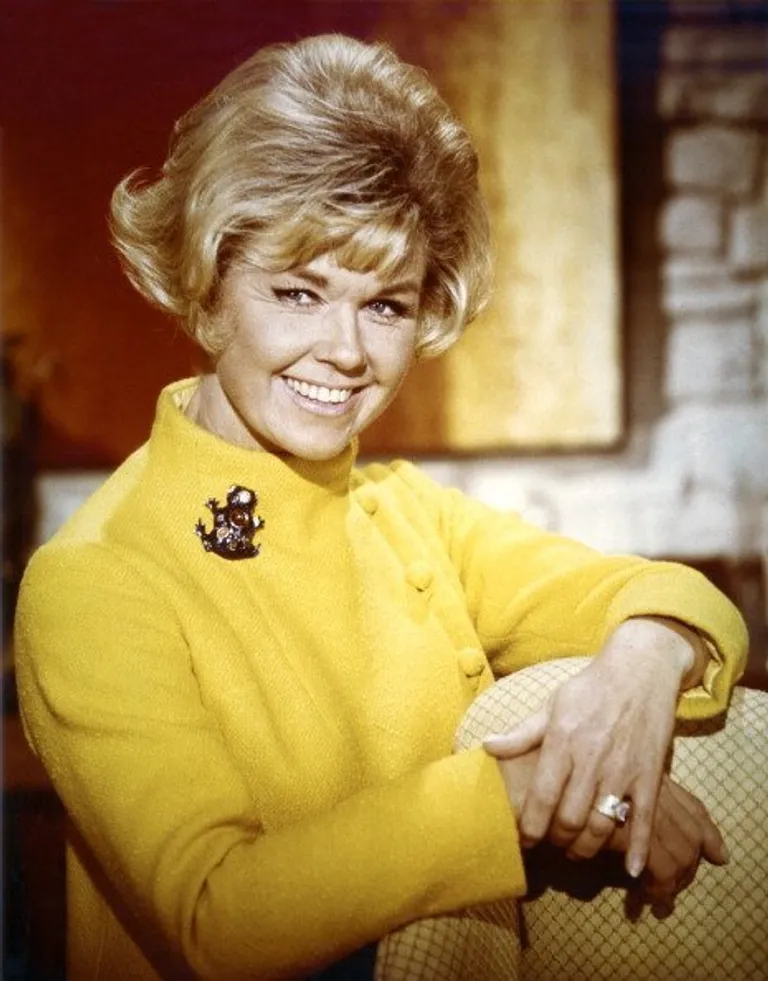 Doris Day, US actress and singer, smiling and wearing a yellow high-neck jacket, with a brooch on the right shoulder, in a studio portrait, circa 1965. | Photo: Getty Images
Wills was born into a large family, including twelve other siblings. They lived in the Anacostia area with their father, who was a machinist, and their mother, an elevator operator.
The young man developed a love for baseball at a young age and was unrelenting in his pursuit to achieve greatness through his skills— an assignment that was completed before his career declined.
During his glory years, he was involved with drugs, addicted to alcohol, and lived a life he later regretted. But thankfully, he was able to undergo therapy successfully.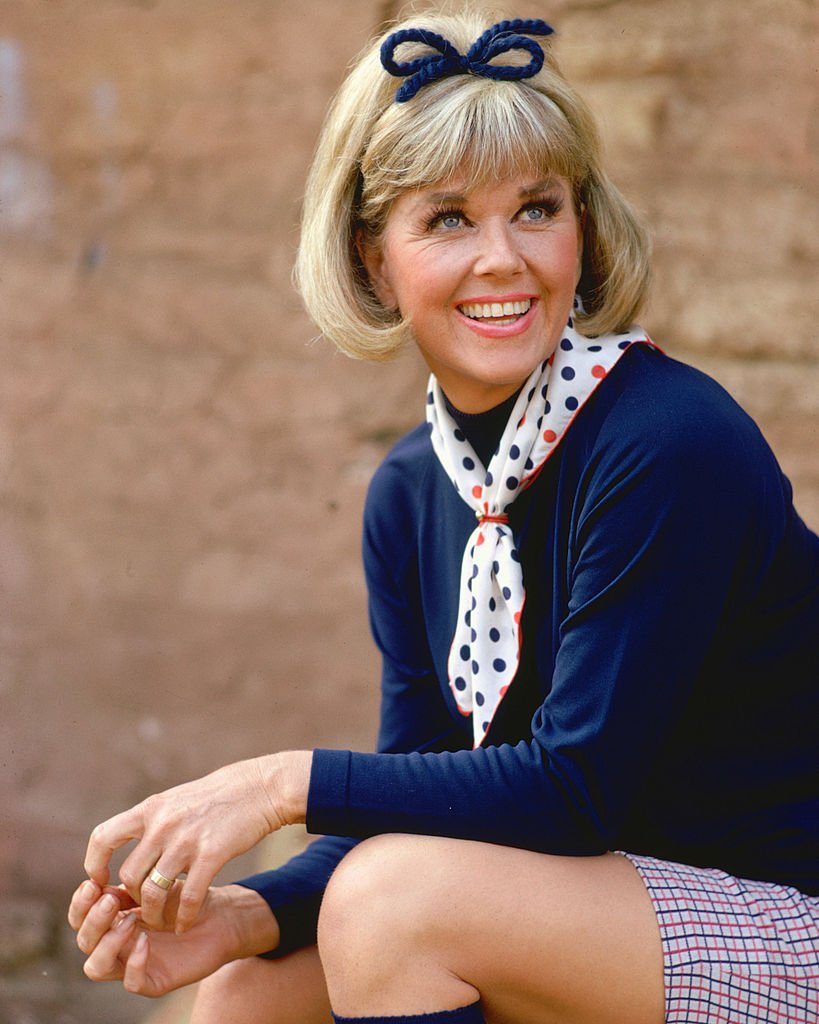 Portrait of Doris Day circa 1965 | Photo: Getty Images
Wills later trained as a baseball instructor and worked as a broadcast analyst for the Fargo-Moorhead RedHawks. His achievements earned him awards and mentions, including being inducted into the Washington, D.C. Sports Hall of Fame.
DAY'S RELATIONSHIP WITH MEN OF COLOR
Wills was not the only black man speculated to have dated Day. The movie star was rumored to have entangled herself with Lakers icon Elgin Baylor and the popular Sly Stone.
However, she disproved these allegations. The actress explained that she saw Baylor during games and spent less than thirty minutes with Stone when he dropped by her house alongside other musicians.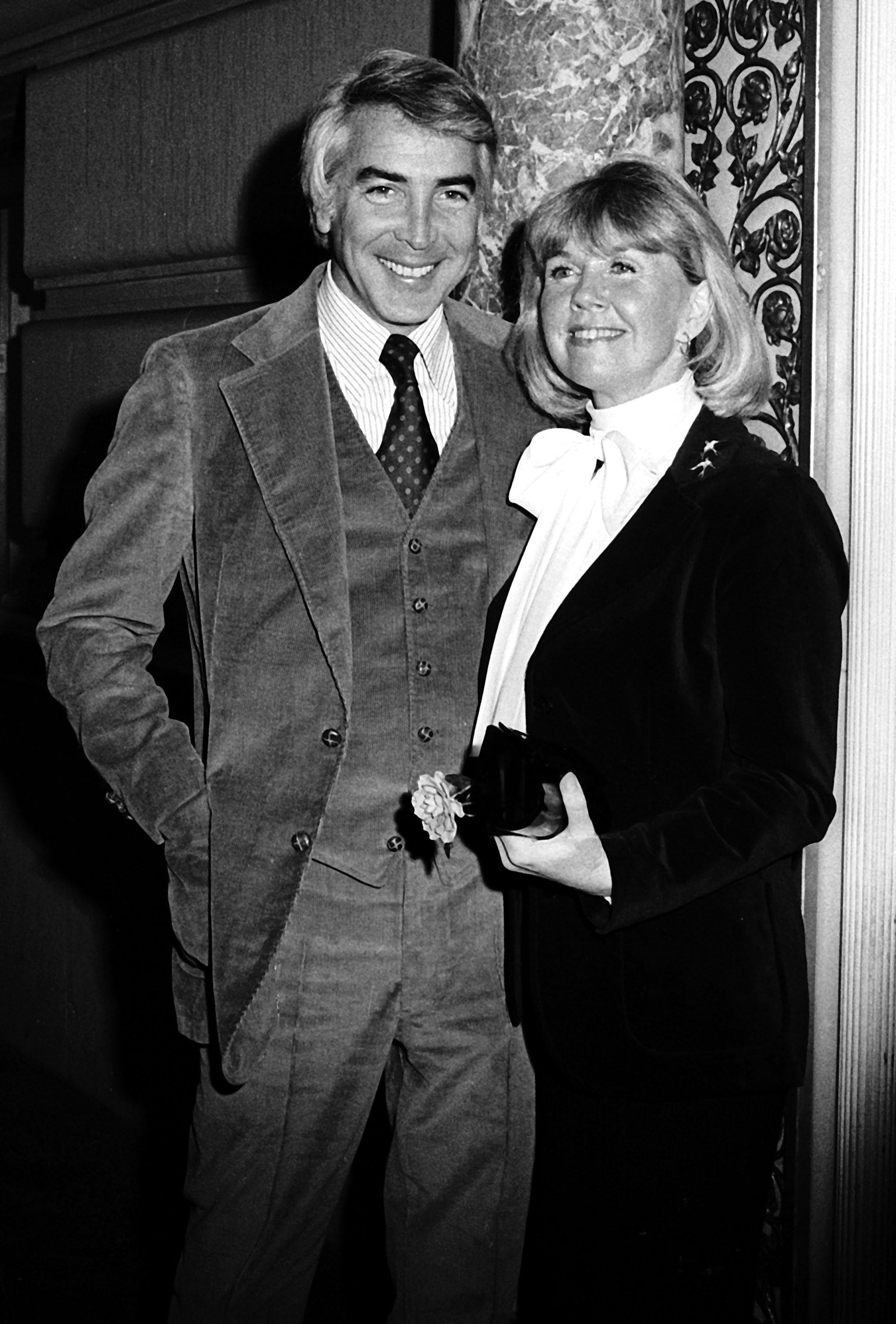 Doris Day and husband Barry Comden at the Pierre Hotel in 1976 | Source: Getty Images
To Day, the media ran stories based on a first glance; they did not take time to investigate, leading them to make assumptions about relationships that never existed.
While her relationship with Baylor and Stone might be under probability, sources prove that she was indeed smitten with Wills—these two had a connection deeper than being a fan of each other's crafts.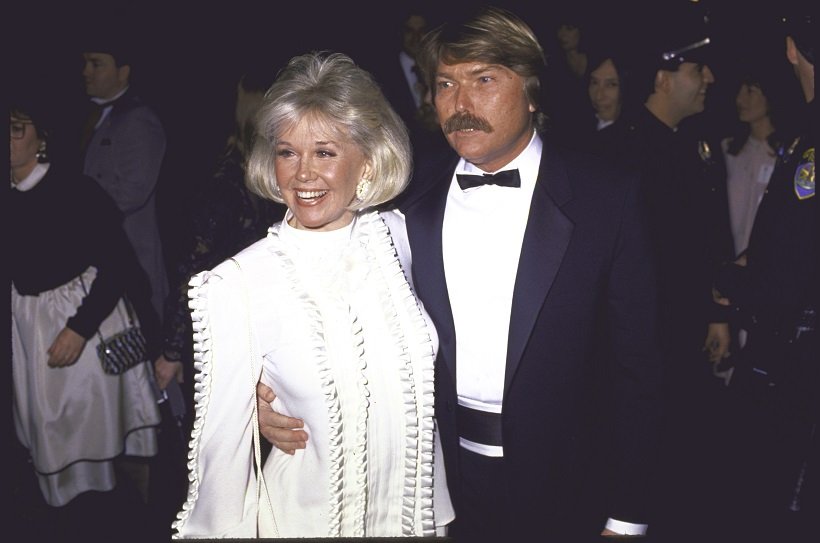 Doris Day and Terry Melcher in the 1970s | Photo: Getty Images
According to a sports columnist known as Jim Murray, Day adored Wills and his talent. She spent money acquiring all sorts of gifts for the man. Their public description of this type of relationship was platonic, but he admitted that it was deeper.
He said: "Wills was the darling of Hollywood, and he was more than that to the screen actress Doris Day. She was smitten by Maury and began lavishing expensive gifts on him like color TV sets. The official word was the friendship was platonic, but, of course, it wasn't."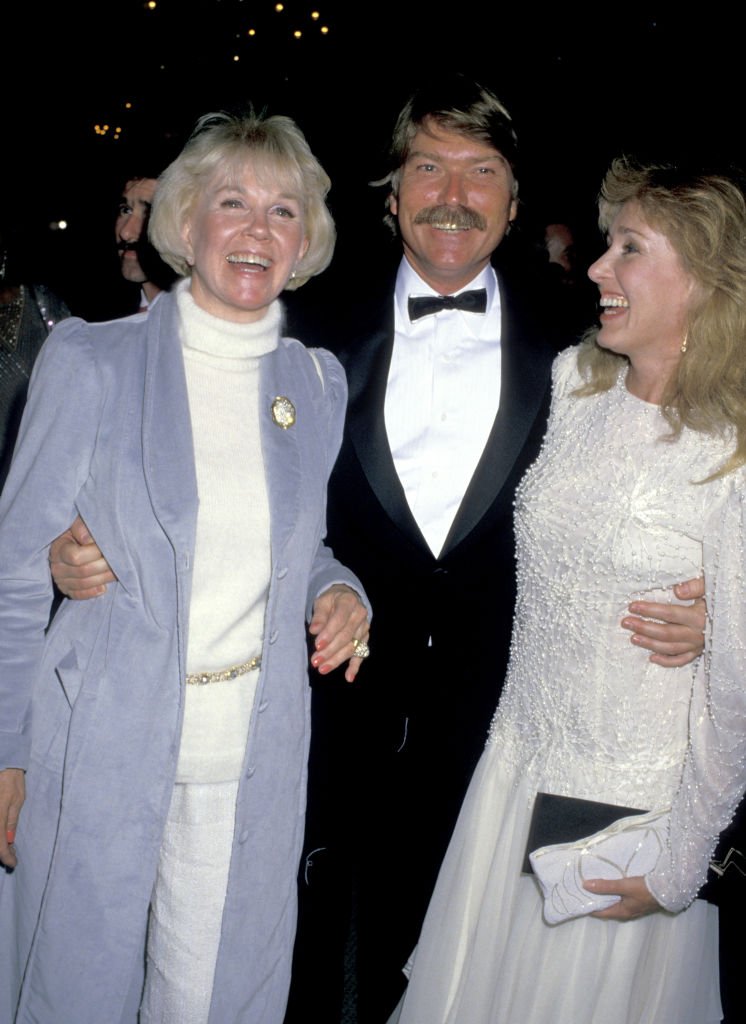 Doris Day, Terry Melcher, and his wife at Hyatt Regency Hotel in Monterey, California in 1988 | Photo: Getty Images
HIDDEN TRUTHS ABOUT DAY'S MARRIAGES
Day never lived a happily-ever-after life with her prince charming —not for long. She was married four times during her lifetime, and despite her undying gorgeousness and talent, she did not enjoy the kind of love she desired.
Her first time in love was at age 16. She admired trombonist Al Jorden who was more than five years her senior. A few years later, they became husband and wife, before adding the title of parents to the mix, when they welcomed their only child, Terry.
However, their relationship was plagued with physical violence, and Jorden was a philanderer. A short time after these two parted, the "Lover Come Back" star became a wife again to George Weidler.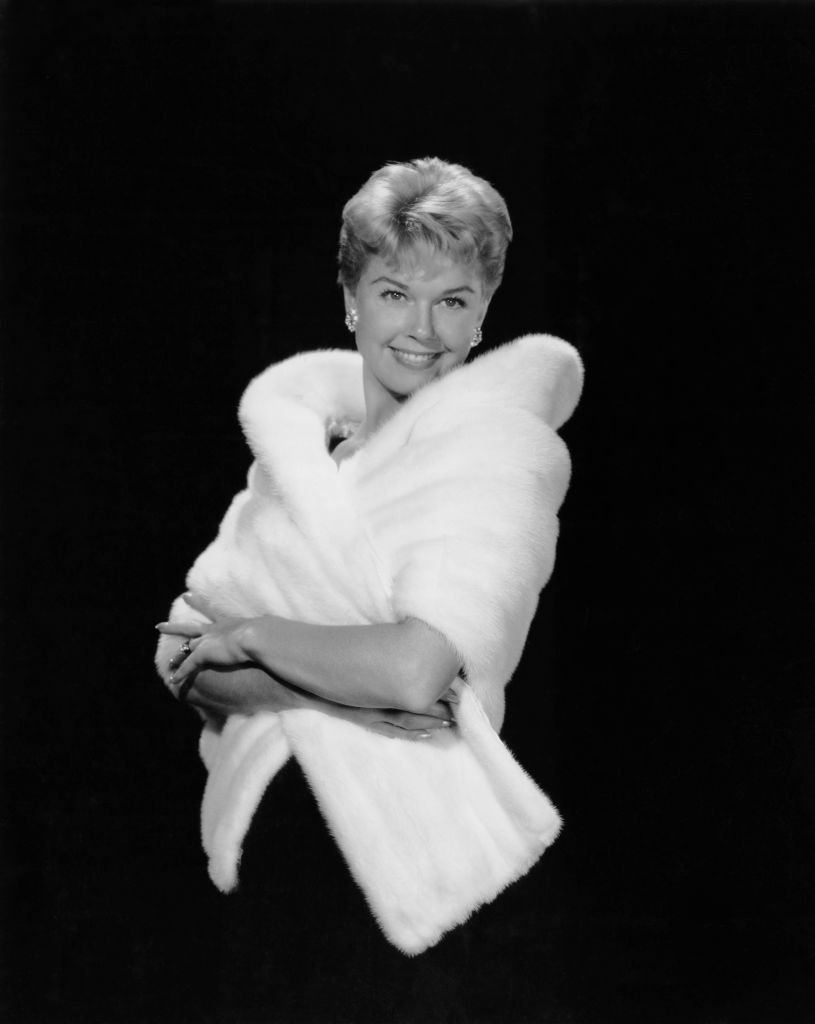 Portrait of Doris Day for the Paramount Pictures film "The Man Who Knew Too Much," circa 1956 | Photo: Getty Images
Weidler shared similar traits with husband number one; he was a chronic cheater who lacked self-confidence. Less than one year after their marriage, he abandoned his wife.
Marty Melcher was Day's third husband, and their marriage lasted for nearly two decades. Surprisingly, it was not because of undying love or tremendous respect, understanding, and all the recipes for a successful marriage.
Rather, it was because Melcher was great at manipulating his celebrity wife. He was a producer and managed her career for years, signing deals and giving advice that eventually plunged her into a life of debt, depression, and anxiety.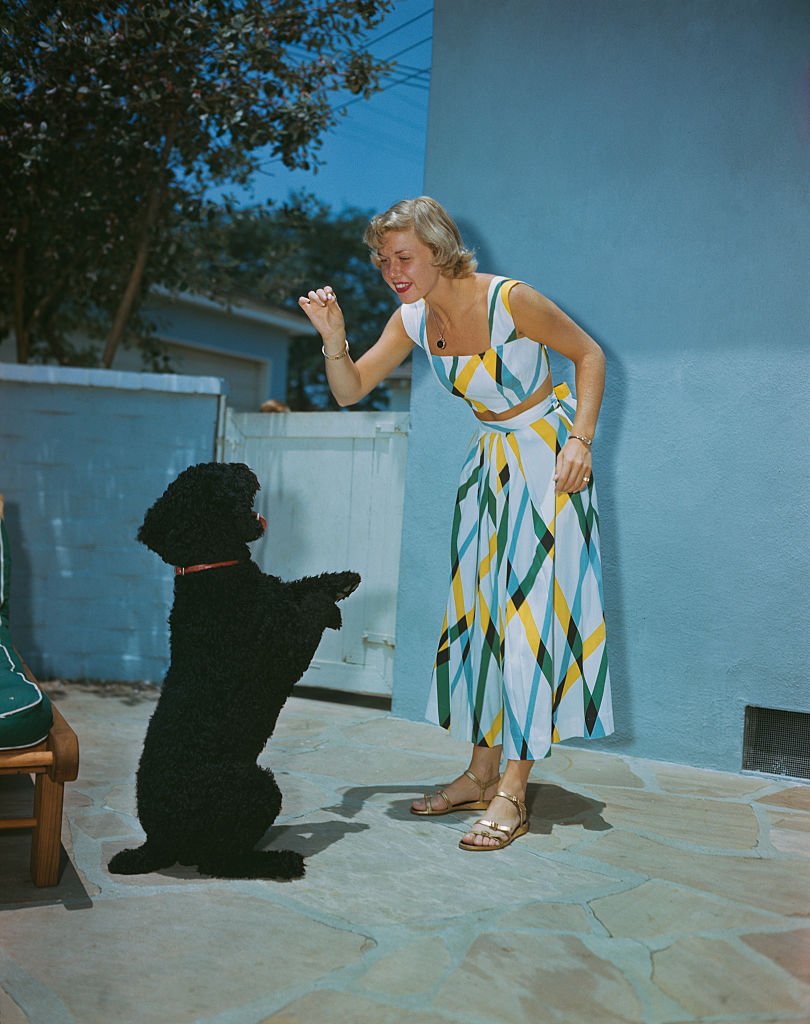 Doris Day playing with a dog, circa 1950 | Photo: Getty Images
Melcher died from a heart attack in 1968, leaving his widow to recuperate from the financial and mental damage he had done to her. Thankfully, with the help of her son, and her unwavering spirit, she was able to bounce back.
Her fourth husband was Barry Comden. She found him interesting because he looked like a former flame and co-star whom she had loved. Their marriage lasted for five years.
Day never had a lover by her side during old age, but she appreciated the efforts of her only child, a few good friends, and her dearest pets.
Please fill in your e-mail so we can share with you our top stories!