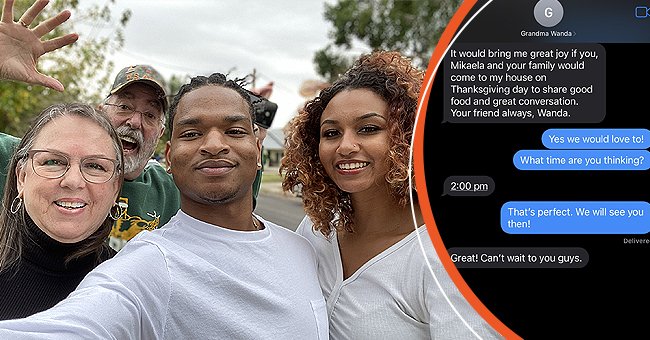 twitter.com/Jamalhinton12
Grandma Continues Tradition with Stranger She Invited to Thanksgiving Thinking He Was Her Grandson

After Wanda Dench sent a message to a stranger, thinking it was her grandson and inviting him for Thanksgiving, the two met up for the Holidays. This year, they are about to celebrate their seventh annual tradition for Thanksgiving.
Six years ago, Arizona native Wanda Dench accidentally messaged the wrong boy, inviting him for Thanksgiving dinner. The text was meant for Dench's grandson, Brandon Burgoyne.
It turned out that Burgoyne had switched his number, and his old digits were given to then-17-year-old Jamal Hinton.
After Dench and Hinton clarified the misunderstanding, the teen joked about still coming over for the holidays, to which Dench replied:
"Of course you can. That's what grandma's do… feed everyone."
An unexpected friendship formed and blossomed, and Hinton got to know Dench and her husband, Lonnie. "It was a reminder that there are still some good people left in this world," Hinton said.
On the other hand, Dench was used to having guests come over and made sure that Hinton felt at home. After meeting for Thanksgiving dinner, the two stayed in touch, thanks to technology.
Sometimes, unexpected encounters with strangers change a person's life. In Juanita's case, however, it turned her sad day around.
The following year, Hinton came over for Thanksgiving again, and it became a tradition. Every year since then, Hinton has shared a snap of the country's most awaited Thanksgiving dinner story.
This year, Hinton and Dench are ready to reunite for Thanksgiving with his girlfriend, Mikaela. Sadly, Dench's husband is no longer around to celebrate with them.
In April 2020, Hinton revealed that Dench and Lonnie contracted COVID-19. Lonnie had it much worse and struggled to survive in the hospital. On April 5, Lonnie passed away due to complications from COVID.
"Wanda told me all the love and support he was receiving put a huge smile on his face, so I thank every single one of you guys for that!" Hinton wrote in an Instagram post after several fans sent heartfelt prayers and support to Dench and Lonnie.
Nevertheless, Dench and Hinton still had Thanksgiving dinner last year and paid tribute to Lonnie by holding his photo during their picture taking.
According to Dench, she grew up in a military household and moved a lot. With her setup, she learned that "Family is more than blood. It's the people you want to be with."
ANOTHER STRANGER MAKES A DIFFERENCE
Sometimes, unexpected encounters with strangers change a person's life. In Juanita's case, however, it turned her sad day around. A post about her encounter with a stranger made rounds online and immediately went viral.
Juanita was crying to a friend in a restaurant as her husband had just passed away. Suddenly, a stranger came forward and gave her a bunch of flowers, without knowing why she was crying. Such a simple gesture made her incredibly happy.
Please fill in your e-mail so we can share with you our top stories!