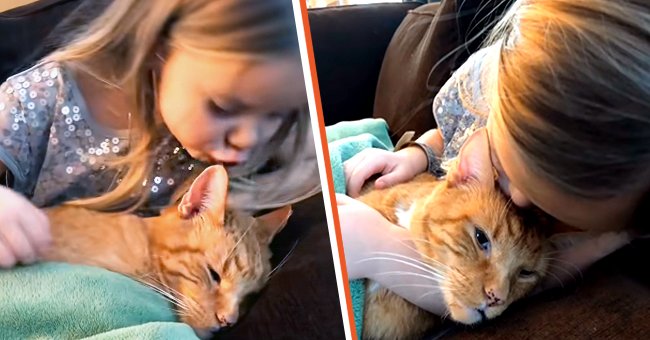 youtube.com/They Are My Sunshine
Girl, 4, Cuddles Her Dying Cat While Singing His Favorite Song One Last Time in Emotional Video

Before the inevitable claws of death snatched their sunshine away, one family made sure to give him a proper goodbye, celebrating their cat's life with a heartbreaking tune.
Beyond her children's beautiful relationship with Bailey, mother Erin Merryn had no idea how much warmth her bright-orange feline would bring to the hearts of the online world.
Merryn first snuck the tabby cat into her college dormitory after she purchased him from the pet store. More than a decade later, her furry friend was still by her side.
A RADIANT PRESENCE
Bailey was an excellent addition to the family, allowing and enjoying the mom's little girls, 2-year-old Hannah and 4-year-old daughter Abigail to play whatever quirky, imaginative games they wanted with him. Merryn expressed:
"They would dress him up in dresses, princess shoes, play makeup on and he didn't care. He just loved these girls."
This author also recollected how he would snuggle on their laps as they sang to him. These beautiful melodies both began Bailey's career and comforted him as he purred his final goodbyes to his family and fans.
A SHOOTING STAR
Bailey's rise to fame began in 2018. Merryn's baby girl Abigail was videotaped singing "You Are My Sunshine" to the cat, enjoying the music.
After it was posted online, the internet fell in love, and suddenly, the tabby was everywhere, as the clip went viral. Sadly, later that year, Bailey found herself in a harrowing situation with kidney failure.
A FADING LIGHT
In a bittersweet gesture caught on video, and as she was passing, Abigail sang the furry angel's favorite song, "You Are My Sunshine," as the cat snuggled on her lap and slowly slipped away. The distraught mother expressed:
"I could not stop crying when he passed. It was one of the worst days of my life, and I have had some pretty terrible life experiences."
Of course, there was a massive response to this video, with individuals sending numerous cards to the girls in hopes they would comfort them.
A TWINKLE IN THE SKY
Although physically absent, this blazing orange cat still lives on in many ways. The conservation of the feline's legacy is for the mom and her daughters. But it is also for the public that fell in love with the tabby.
The cat's Facebook and Instagram pages continue to be updated so that fans can still get a taste of the cat that soothed their souls on a dark day.
Merryn also wrote a book, "No Ordinary Cat," documenting nostalgic and character-defining photos of their pet.
While all of these are beautiful and touching ideas, the most important place where this blazing tabby cat will live on forever is in the hearts of his family.
You May Also Like: Puppy Was Abandoned in an Airport Bathroom with Tearful Note from His Owner
Please fill in your e-mail so we can share with you our top stories!