Youtube.com/60 Minutes Australia, Getty Images
The Sun: Meghan Markle's Dad Calls for Stripping Her Royal Title after She 'Insulted the Queen'
Meghan Markle's father has asked Queen Elizabeth to strip his daughter of her royal title after her latest interview on "The Ellen DeGeneres Show."
Thomas Markle claimed that Meghan allegedly behaved inappropriately during her televised appearance. She had joined the legendary talk show host for an episode of the series finale on November 19, 2021.
Markle took part in a bit where the stars in attendance have to say and do what Ellen DeGeneres tells them to do in front of the audience during the show.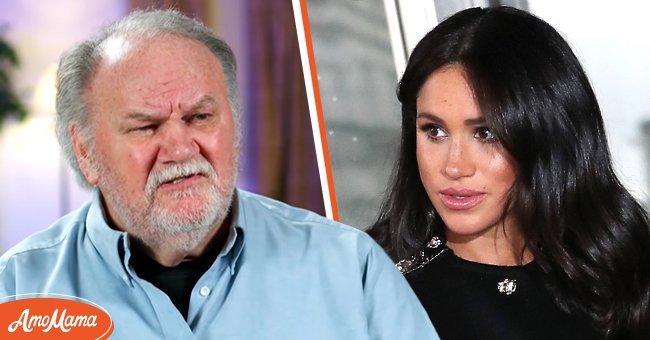 Thomas Markle giving an interview (left), Meghan Markle visits New Zealand House to sign the book of condolence on behalf of the Royal Family on March 19, 2019, in London (right) | Photo: Youtube.com/60 Minutes Australia, Getty Images
ABOUT MEGHAN MARKLE
Meghan Markle first came to the limelight for her role in the legal drama series "Suits." Before that, she had starred in several other series and movies.
While she was waiting for auditions, Meghan worked as a calligrapher, a model, owned a blog, and was one of the briefcase ladies in the game show "Deal or No Deal."
In 2016, she started dating Prince Harry, and their relationship went public a year later. They announced their engagement barely two months after their relationship went public.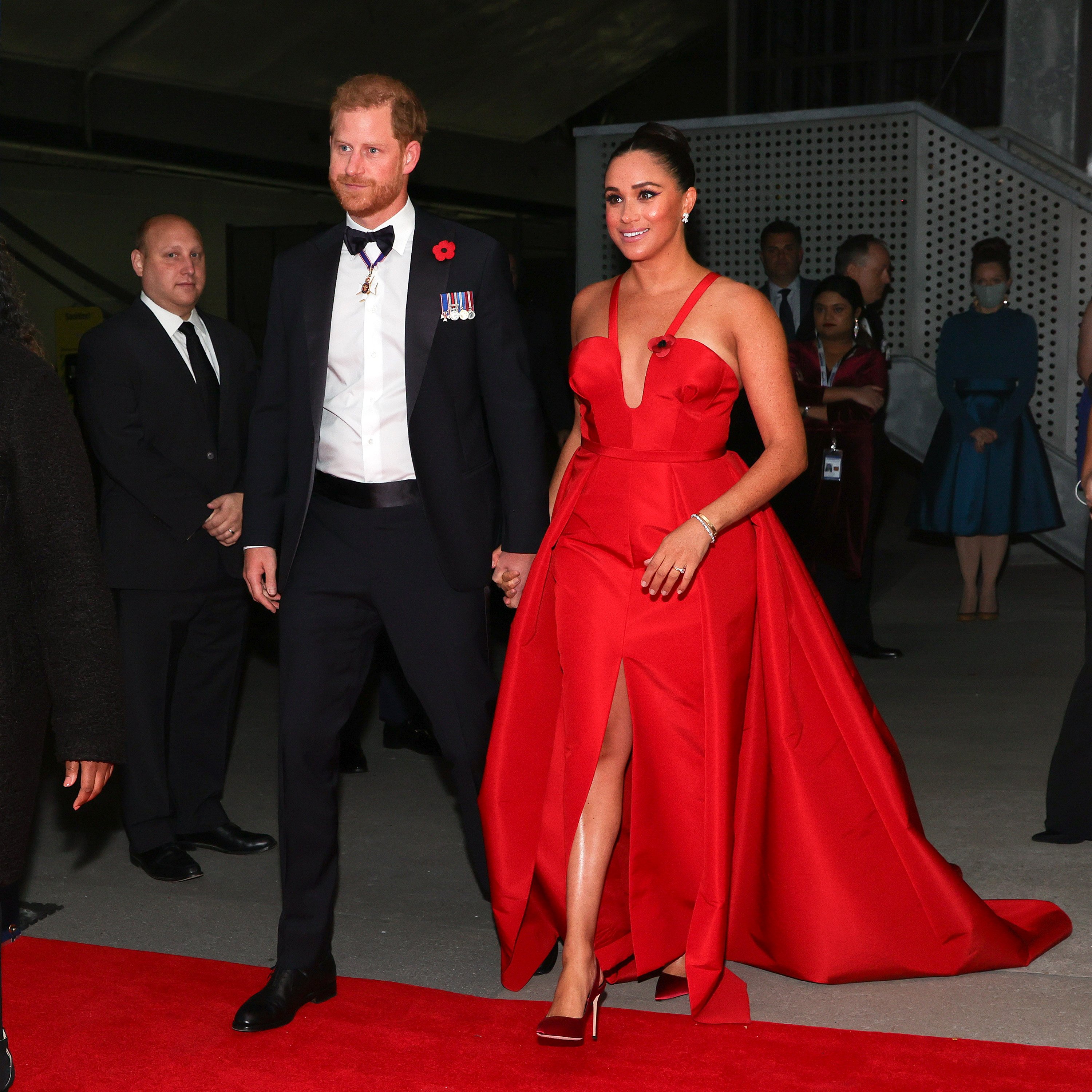 Prince Harry and Meghan at the 2021 Salute To Freedom Gala at Intrepid Sea-Air-Space Museum on November 10, 2021, in New York | Photo: Getty Images
The couple got married at St George's Chapel, Windsor Castle, in a widely televised event On May 19, 2018. They were then given the title of Duke and Duchess of Sussex, among other titles.
On May 6, 2019, they welcomed their son, Archie Mountbatten-Windsor. On March 31, 2020, they withdrew from undertaking official royal engagements.
In June 2020, Meghan and Harry bought an estate in California. On June 4, 2021, the couple welcomed their daughter, Lilibet Mountbatten-Windsor.
MEGHAN AND HER FATHER'S RELATIONSHIP
Meghan's father is a retired former director of photography and lighting. Thomas and Meghan's relationship has not been at its best.
Their relationship worsened dramatically shortly before her marriage to Prince Harry. The turmoil started when her father allegedly received money from the press to stage paparazzi photos before her wedding.
This debacle was followed by him allowing newspapers to publish private correspondence between him and Meghan. With his continuous paid interviews with the press, their relationship further worsened.
In January 2020, he told the press that Meghan was following money instead of royalty. He revealed that he never expected to see her ever again but still hoped for reconciliation.
However, in July 2021, Thomas, who is yet to meet his grandchildren Archie and Lilibet, mentioned that he would petition California courts for rights to see them.
WHAT MEGHAN DID ON ELLEN DEGENERES
Meghan spoke to DeGeneres about when she used to go to the host's show's studios for auditions. She talked about her humble beginnings and the times she would crawl into her car from the trunk because she broke the door's lock.
She also talked about her family and how she's not getting enough sleep because five-month-old Lilibet is cutting teeth and that she would do anything to relieve her pain.
Throughout the show, DeGeneres often referred to Meghan as Duchess of Sussex, at which Meghan giggled. At one point, DeGeneres asked the crowd to repeat the title, which they did.
Meghan also shared how happy she and Harry were at the time. She mentioned that they enjoyed the California weather and revealed they would be staying home for Thanksgiving, meaning she would cook for the upcoming holiday.
Meghan also recalled when she and Harry dressed up and went for a Halloween party in costumes, and no one recognized them. While talking about her book "The Bench," Meghan showed a self-portrait drawing of her as a young girl with curly hair.
She explained that was how she looked when she was obsessed with Andie MacDowell's hair in "Four Weddings and a Funeral." In wanting to look like MacDowell, people told her that she looked more like Krusty the Clown from "The Simpsons."
Her revelations came before she participated in DeGeneres's classic IFB stunt. For the stunt, Meghan went over to vendors outside the studios' market stalls and proceeded to follow every order DeGeneres gave to her.
She was asked to touch her elbow, squat, touch her nose, sing a made-up song wearing leopard-print cat ears, and observe a minute of silent meditation in front of a stall of crystals.
She was also asked to taste very spicy condiments and drink some milk from a bottle, among the pranks that DeGeneres played on her.
THOMAS'S THOUGHTS ABOUT MEGHAN
After the show aired, Thomas said he felt embarrassed by Meghan's behavior on the show. He said,
"She insulted the Queen, the Royal Family, and the British people. She made a complete fool of herself and should lose her title. I love my daughter, but her performance was ridiculous."
He also revealed that he squirmed while watching the show. He believes that Meghan didn't behave in the right way. He also said he was disappointed that Meghan didn't mention him.
Thomas further revealed that Meghan had a lot of help when she started in Hollywood. He said he had gotten her a union card so that she could get work easily.
He also said that her car was in good condition until she let go of it. Thomas added that he "feels sorry" for the Queen because Meghan and Harry are reportedly not going to the UK for Christmas.
He expressed that he thought Harry should go because this might be the last chance he gets to see his grandmother.
Thomas shared that he hopes he and Meghan can patch things up. He said they need to get together as a family even though he is "hurt" to learn about his grandchildren through interviews.
However, he shared he was not surprised that Meghan revealed that Harry settled down well in the US. Thomas elaborated that Harry would suit a job as a newspaper deliveryman because he seemed to like riding his bike.
Thomas recalled that when Meghan made speeches for the UN, she advocated for more men to emulate her father. But he alleges that their relationship went downhill when Meghan met Harry.
Besides Thomas, others believe that Meghan should be stripped of her title. Journalists Carole Malone and Daniel John William Wootton also wondered why she had not given it back.
The journalists believe that the Queen should not allow this to go on. They also believe that Meghan and Harry do not care about the Queen and her reputation.
Please fill in your e-mail so we can share with you our top stories!