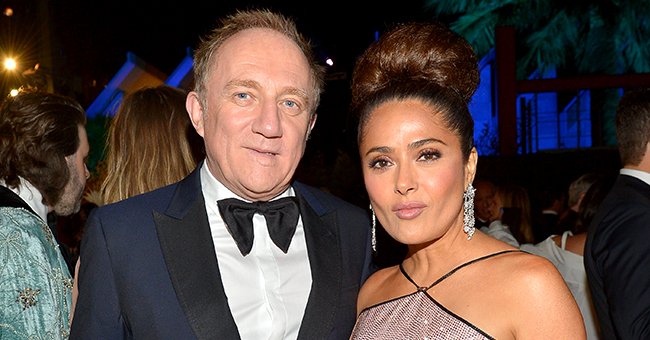 Getty Images
Salma Hayek Was Accused of Marrying Her Husband for Wealth despite Rejecting His Proposal Twice

Salma Hayek was hesitant about getting married at first because of fear. Her husband François-Henri Pinault had to propose to her more than once before she finally said yes, and now, she could not be happier that she did.
Mexican American Actress Salma Hayek appeared on the recent episode of the "Armchair Expert" podcast. She spoke about her upbringing, rise to stardom, and her overall experience doing uncomfortable movie scenes.
The 55-year-old beauty also talked about her marriage to French Billionaire François-Henri Pinault and how their union has made her a better person.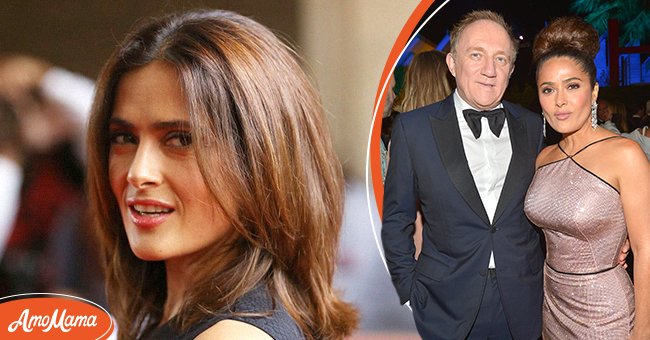 (L) Salma Hayek arrives at the premiere of "Kahlil Gibran's the Prophet" on September 6, 2014 in Toronto, Canada. (R) François-Henri Pinault and Salma Hayek Pinault attend the 2019 LACMA Art + Film Gala at LACMA on November 02, 2019 in Los Angeles, California | Photo: Getty Images
PEOPLE SAY WHATEVER
The host, Actor Dax Shepard broke the ice about their relationship, complimenting Hayek's husband, saying he is fun, friendly, and attractive.
He also revealed that he did not know who he was at first and only knew that Hayek had married a wealthy man. The media had perpetuated that the actress only wed the businessman for his money.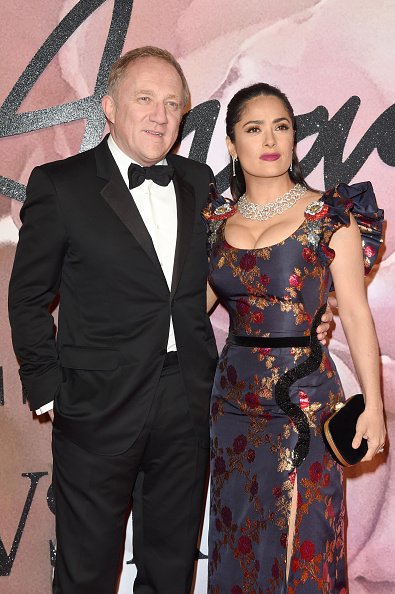 Actress Salma Hayek and husband Francois-Henri Pinault attend The Fashion Awards 2016 on December 5, 2016 in London, United Kingdom | Photo: Getty Images
The film producer responded by saying people cannot tell the type of man she married through photos while explaining how much impact he has had in her life. She shared:
"You know the thing is that in pictures, you cannot begin to guess the magic in him. He's made me become a much better person and grow in such a good, healthy way."
Hayek revealed that people believed it was an arranged marriage when they first tied the knot. She also touched on the rumors that she married Pinault for his fortune.
However, the "Frida" star said such perceptions did not faze her. She noted that people could think whatever they feel like about their relationship:
"Fifteen years together, and we are strong in love. And I don't even get offended, I'm like, 'Yeah whatever.'"
While it seems the couple is in marital bliss, in August 2015, Hayek revealed that she initially rejected Pinault's proposal twice because she was afraid to get married.
CONQUERING THE FEAR
After two years of engagement, they walked down the aisle. She revealed:
"You must overcome fear to feel free and discover your strengths. I was afraid of the dark. And of marriage. And here I am, married."
However, she confessed that she was ashamed to admit how many times he had to ask her to marry him.
SECRET TO A LONG MARRIAGE
Hayek proclaimed Pinault, 59, as the love of her life, and she shared that she adores that he looks after her. She said he is a unique, self-confident man and a feminist who likes strong women and knows how to care for them.
In May 2016, she shared her secret to a long-lasting marriage in a magazine issue with Red. The "Desperado" star said intimacy is not the only thing that keeps a marriage intact:
"Sex is not the key to a happy marriage, but it's a side effect. Although not every day!"
She added that too much of a good thing could ruin things, saying it loses its charm. Hayek further explained it's vital for married couples to maintain their chemistry.
"You have to continue to laugh, explore, have fun with each other, and have romance," she said. It is why she firmly believes a good marriage is full of love and that it is her most significant accomplishment.
THEIR WEDDING
Hayek and Pinault wed on Valentine's Day in 2009 at a courthouse in Paris. Per People, the lovebirds had two weddings. They celebrated their nuptials for the second time in April 2009 in Venice, Italy.
The pair share a 14-year-old daughter named Valentina, whom they welcomed in September 2007. Hayek revealed she had always wanted to have more kids but could not because of her age when she spoke on motherhood.
However, she optimistically explained she beat the odds by having her daughter anyway, praising her body for carrying her baby full term. She added she is blessed with three stepchildren who are all different.
HOW THEY MET
Hayek and Pinault met in spring 2006 at a gala at the Palazzo Grassi in Venice. Other than their meeting, the Ariel Award nominee remains mum about how their romance blossomed.
She told Town & Country: "It's such a romantic, amazing story, but it is mine. I don't want to vulgarize it by making it into a story to make myself interesting."
Hayek and Pinault announced their engagement the same time they announced her pregnancy in March 2007. Pinault was previously married and had two kids from that marriage.
HIS CHILDREN
He has a 23-year-old son named after him and a daughter Mathilde, 20. Pinault also welcomed a child with Supermodel Linda Evangelista, daughter Augustin, 15.
Aside from being a family man, the business tycoon is the CEO and chairman of the French luxury group Kering, the home to Balenciaga, Gucci, and Saint Laurent. His wife even praised him for working hard and being able to maintain a work-life balance.
Hayek said despite having a hard day at work, her love comes home with a big smile on his face, happy to see her and the kids and makes them laugh.
In 2018, Pinault surprised his wife with a secret vow renewal during a tropical getaway in Bora Bora. He managed to trick Hayek into thinking they were going on a couple's spa day.
The "30 Rock" alum took to social media to gush about the surprise ceremony. She joked that her outfit was not for the occasion but deserved a pass because she was told she was going to the spa.
FACTS ABOUT PINAULT
Pinault does not only show love to his beloved spouse but is generous too. He donated a lot of money to the Notre Dame Cathedral restoration efforts.
In April 2019, a fire caused much of the historical landmark to be destroyed and ruined. Pinault pledged over $133 million to the church.
According to Forbes, Pinault comes from a prominent family reportedly worth $34.8 billion. He is also the president of Groupe Artemis, the holding company that controls the assets of the Pinault family.
Please fill in your e-mail so we can share with you our top stories!