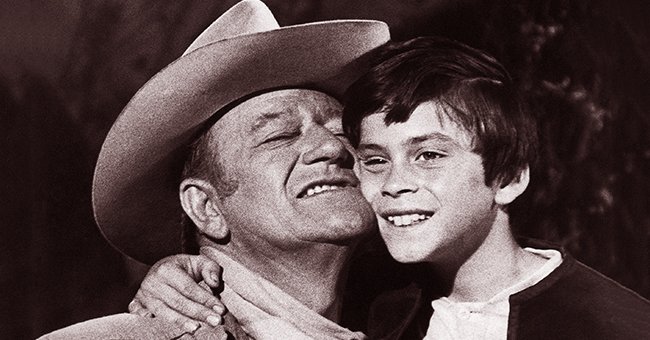 Getty Images
John Wayne Tried to Spend More Time with Son Ethan as He Knew He Wouldn't See Him Grow Up
Despite knowing he was going to die, legendary Actor John Wayne battled his cancer diagnosis bravely. He also tried to spend more time with his son Ethan Wayne, knowing he would not see him grow up.
Legendary American Actor John Wayne was born Marion Robert Morrison on May 26, 1907. He was famous for starring in many films during Hollywood's Golden Age.
He starred in Western and war movies and enjoyed a successful career, starring in 179 film and TV productions. For three decades, John remained one of Hollywood's top actors.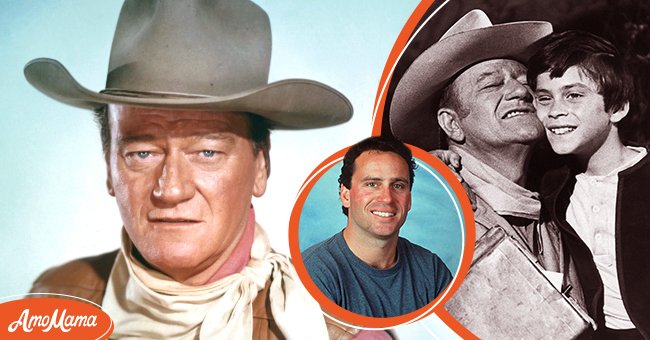 American actor John Wayne in a scene from 'El Dorado' circa 1967. [Left] | Photo of John Wayne's son Ethan. [Center] | Actor John Wayne in a photo with his son, Ethan. [Right] | Photo: Getty Images
Thanks to his incredible exploits, the American Film Institute selected him as one of the greatest male stars of classic American cinema — a truly deserved honor.
Born in Winterset, Iowa, John grew up in Southern California. He might have become a footballer were it not for a bodysurfing accident that caused him to lose a football scholarship to the University of Southern California.
Afterward, he started working for the Fox Film Corporation and appeared in minor roles before nabbing his first leading role in Raoul Walsh's Western "The Big Trail." It was in the film that he earned the name John Wayne.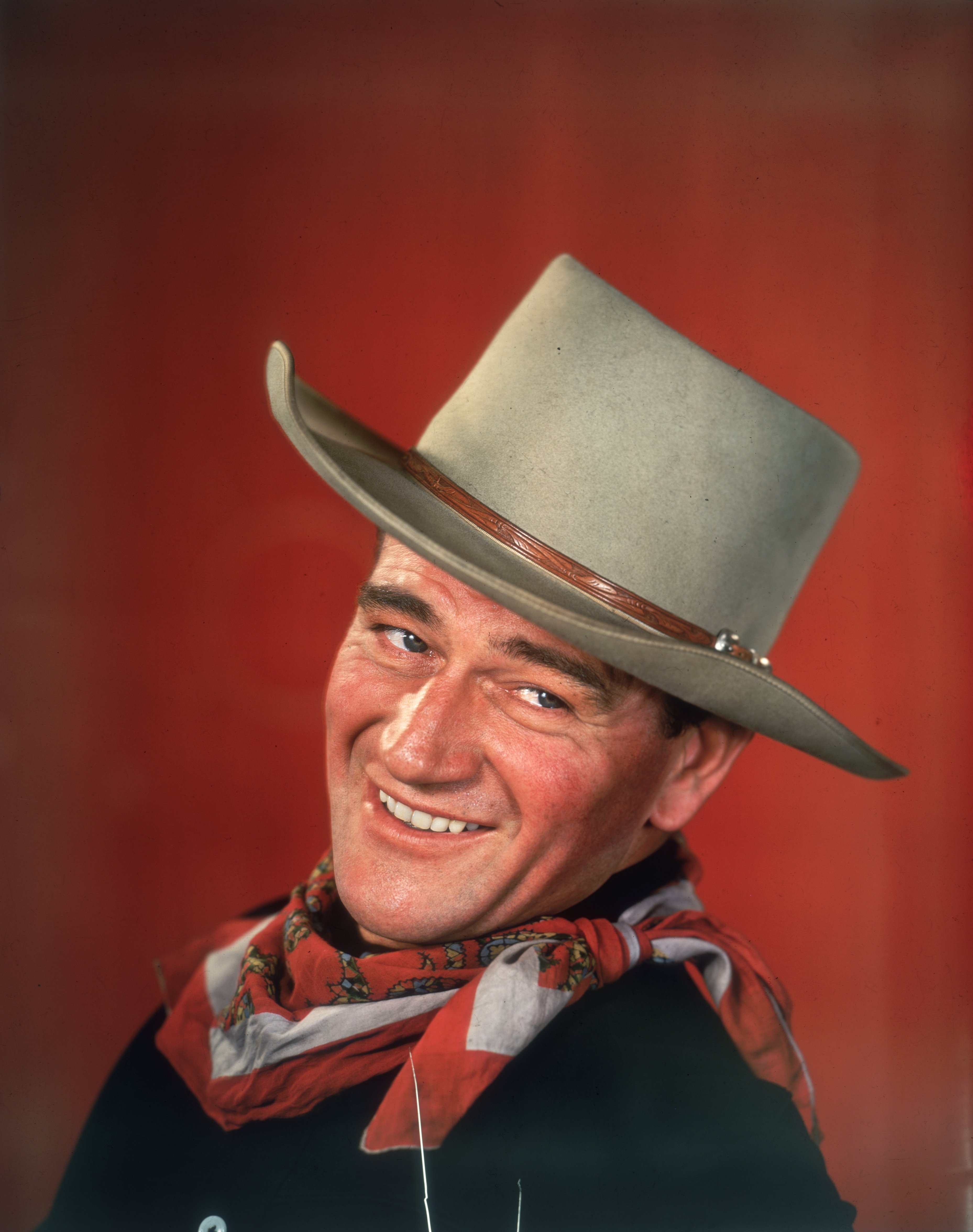 A studio headshot portrait of John Wayne, circa 1955. | Photo: Getty Images
During the 1930s, John played leading roles in multiple Western films but did not become a big-name star. However, after his starring performance in John Ford's 1939 movie, "Stagecoach," he became a mainstream actor.
Some other notable Westerns John starred in include "Red River," "The Searchers," "The Man Who Shot Liberty Valance," and "True Grit," which earned him an Academy Award for Best Actor. He also appeared in "The Quiet Man," "Rio Bravo," and "The Longest Day."
John's final screen performance was in the 1976 film "The Shootist," in which he played an aging gunfighter battling cancer. His last public appearance was at the Oscars ceremony on April 9, 1979.
Two months after that appearance, he died at 72 of stomach cancer on June 11. He was posthumously awarded the Presidential Medal of Freedom, which is the US's highest civilian honor.
Nicknamed Duke, John was a dedicated actor, which helped him rise to the top of his career. He showed his passion for his craft while filming the 1965 movie "The Sons of Katie Elder."
Before John began filming the movie, he received a lung cancer diagnosis. Despite the scary nature of such a diagnosis, the legendary actor was determined not to let it disrupt his career. Hence, he continued filming while treating his cancer.
Dean Martin was John's co-star in the movie and saw how strongly he dealt with the diagnosis while filming. Martin was inspired by John's courage and shared his thoughts about the experience.
He remarked that someone else might have laid around feeling sorry for himself, but John did not know how to be sick and recuperated the hard way.
John also trained Ethan well and ensured he never forgot to do chores around the house.
Besides his career, another thing John loved so much was his family. He was married three times in his lifetime and fathered seven children.
His first wife was Josephine Saenz, with whom he was married from 1933 to 1945. A year after their divorce, he married Esperanza Baur, but they divorced in 1954.
John's third wife was Pilar Pallete, who he married in 1954. She was an avid tennis player and encouraged him to build the John Wayne Tennis Club in Newport Beach, California. The club was later sold and renamed the Palisades Tennis Club.
John's marriage to Pallete was his longest. He separated from her in 1973 but exempted her from his will. Meanwhile, his first wife, Saenz, was bequeathed part of his fortune. John's children are also beneficiaries of his estate worth $6.85 million.
John and Saenz shared four children, Mary Antonia Wayne LaCava, Patrick Wayne, and Melinda Wayne Munoz. John had no children with Baur but shared three more kids, Aissa Wayne, Ethan Wayne, and Marisa Wayne, with Pallete.
Some of John's kids followed his path by venturing into the film and television industry. Ethan starred as John Ethan Wayne in a few films and played the lead role in the '90s update of the "Adam-12" TV series.
Meanwhile, John's granddaughter, Jennifer Wayne, Aissa's daughter, is a member of the country music group "Runaway June."
John enjoyed spending time with his family and especially loved the Christmas season. His family opened up about his love for Christmas in a 2016 interview.
John's daughter, Marisa, said her father loved Christmas, and they had a huge living room, which was so filled with gifts during the yuletide season that one could not walk through it. Also, John loved buying presents for his family and took tree decorating very seriously.
Despite being dead for many years now, John's memory continues to live in the hearts and minds of his family, especially his children, who still reminisce about life in his shadow.
In a 2018 interview with Fox News, Ethan recalled growing up with his father. Ethan is the president of John Wayne Enterprises and director of the John Wayne Foundation.
During the interview, he recalled going to a friend's house. He observed that his friend's family's mailbox only had three mails, which differed so much from his, always filled with thousands of letters. From then on, he realized his father was different.
Ethan explained that even though his father was a huge superstar, he lived a normal life. For example, his dad did not use security or bodyguards and answered the door and telephone himself.
John also trained Ethan well and ensured he never forgot to do chores around the house. Ethan also revealed that his father knew he might be dead by the time he was a young man and was determined to be a hands-on parent. He said:
"I'd be homeschooled down on location in Mexico because he knew he wasn't going to be around for me when I was older, and that he would probably lose me while I was young, teenage man."
Ethan described his dad as a bold, outgoing individual, who was full of life, constantly moving forward, and a great horse rider. He concluded by expressing hope that people would remember John for the artist he was.
Please fill in your e-mail so we can share with you our top stories!