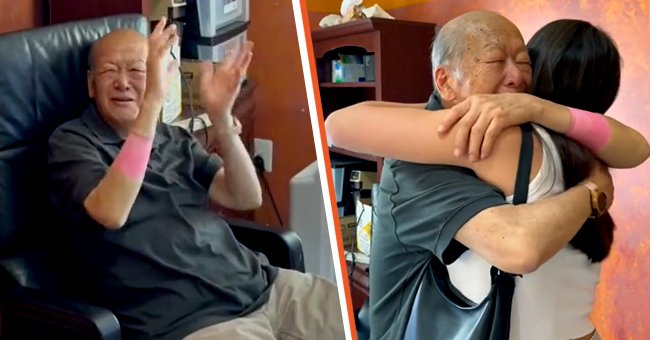 tiktok.com/shannayeh
Dad Is Overjoyed on Noticing Daughter He Had Not Seen for 18 Months Walk through the Door
A young woman hadn't seen her father for over a year, so when she walked into the room, he was overcome with intense emotion and love. The ecstatic dad couldn't believe his eyes.
As we grow older and become more independent, we can sometimes forget to keep in touch with our family. Shanna Yeh was determined not to allow that to happen.
The young woman has been studying as a full-time student at Occidental College in Los Angeles, California. Not only is being a student stressful and time-consuming, but the distance between herself and her dad, who lives in Maryland, is quite significant.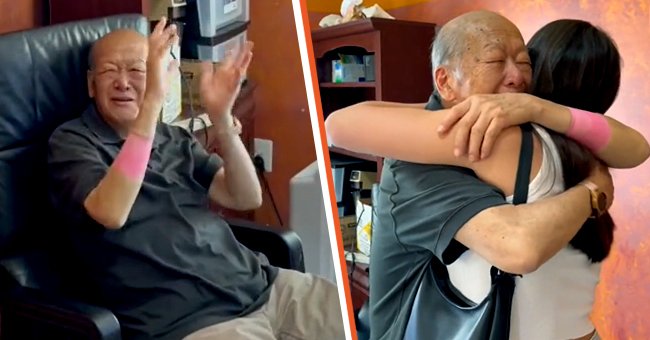 Shanna Yeh's father [left]; Shanna Yeh hugging her father [right]. │Source: tiktok.com/shannayeh
However, after 18 months of not being with him and genuinely missing her dad, she recently took an impulsive flight back home.
Yeh also chose to film her father's reaction to her surprising him on TikTok, sharing the warm moment with the entire world.
"You Are Enough" by Sleeping At Last played in the clip's background as she walked into the room where her dad was sitting on the couch. He appeared utterly overwhelmed when he caught sight of her.
The TikTok user's father looked away and shook his hands as if he couldn't believe his daughter was standing right there in front of him.
Eventually, while looking as if he were on the verge of tears, the astounded dad stood up from his chair and embraced his beautiful child as if he never wanted to let go. The TikToker took to the description, humorously penning:
"He was salty everyone else knew i was coming home expect him [sic]."
The college student's post went completely viral. So far, it has accumulated just over 74,000 likes and around 500 comments.
THE INTERNET FALLS IN LOVE
The comment section was full of individuals who remarked on how cute the interaction was, with many stating that it made them cry. One fellow TikToker wrote:
"Thank you for the wonderful gift of visiting him, honestly, he seems to be getting old, seeing his children is the best thing for him. 🥰 [sic]"
Many netizens also expressed how much the posters' father reminded them of their dad or grandad, saying it made them miss them dearly.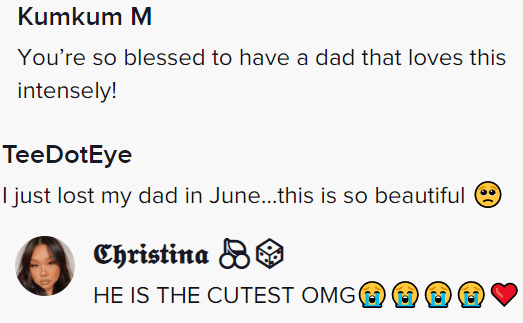 Individual's comments on a TikTok post by Shanna Yeh. │Source: tiktok.com/shannayeh
As we can tell by Yeh's dad's reaction, there is a level of sorrow surrounding not seeing one's child, even if it is just for 18 months. This is why it is unimaginable what pain Greg Allen went through when his daughter went missing for 12 years.
At only four years old little Sabrina Allen was abducted by her mom, who took her to Mexico. She tried to convince her daughter that her father didn't care about them and was abusive.
Allen didn't give up, and after a decade, found his daughter, and the mother was eventually sentenced to prison. Due to the negative whispers via her mom, Sabrina was cautious about her father in the beginning but eventually warmed up to him.
No matter how long the wait or how far the distance may be, the special connection between parents and their children will always remain strong.
Please fill in your e-mail so we can share with you our top stories!