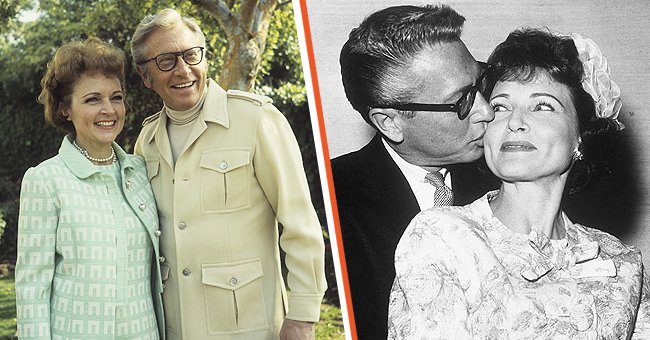 Getty Images
Betty White Rejected Wedding to Allen Ludden until He Sent Her a White Stuffed Bunny & a Card
The best part of Betty White's life came during her marriage to Allen Ludden. Unfortunately, things did not get off to an easy start, and White needed some convincing.
Love is an experience everyone craves, including celebrities, and for some, finding it could take a while. And when love is found, it is hard to let go.
Betty White enjoyed a solid career spanning more than six decades, but she was not so lucky when it came to her love life. It took the actress two failed marriages before she finally found the love of her life.
A picture of Betty White with her husband, Allen Ludden on February 14, 1972 [left ] Allen Ludden, 45, of TV "Password" and "College Bowl" fame embraces his bride, actress Betty White, 41, following their wedding at the Sands Hotel [right] | Photo: Getty Images
White is one of the few living stars of the silver screen period. She was noted for her comedic roles and pleasant personality. As an actress, the 99-year-old has seen Hollywood grow from a significantly small industry to the movie hub of the world.
The movie legend was born on January 17, 1922, in Oak Park, Illinois. White grew up in a humble background as the only child of Horace and Tess White, an electrical engineer and a homemaker.
TWO TRAUMATIZING WEDDINGS
After being married thrice, White said she wished her third marriage was her only one even though she admitted that her two failed marriages were her fault. White believes they failed to work because they were to the wrong men.
Her doomed marriages were to U.S. Army Pilot Dick Barker in 1945 and Hollywood Agent Lane Allen in 1947. In an interview, White described her first two marriages as traumatizing.
She noted that failed relationships made one feel like a failure, which was baggage she had to carry around. Although, on the flip side, it taught her to appreciate the right man when he came calling. In her words,
"They were traumatizing to go through. You really feel like a failure when your marriage doesn't work. But they did make me appreciate it when the perfect one came along."
According to White, in the '40s, couples did not live together until they were married. Consequently, the romance was intense when she met Barker, but she knew little or nothing about his life.
She described the army pilot as charming, and the young couple mapped out plans for their lives and agreed to settle north of Los Angeles. Unfortunately, they had to move in with Barker's parents in their small community.
White described the few months they spent together as traumatic. The "Golden Girls" star is a known animal activist, but while living with Barker, she was often asked to kill a chicken for dinner, which was too difficult for her, so she decided to break things off.
Her second marriage to Lane, a theatrical agent, looked bright and promising at first. According to White, they enjoyed a couple of good years together before everything went south.
Lane had an issue with White's career. He was not comfortable with show business and the spotlight and the demands that came with it. Rather than quit her passion for her man, White walked out of the marriage.
WHO WAS BETTY WHITE'S THIRD HUSBAND?
Allen Ludden was White's biggest and greatest lover, but she regrets the years they did not spend together. Like White, Ludden was a remarkable actor who also enjoyed an amazing career.
Ludden was born Allen Packard Ellsworth on October 5, 1917, in Mineral Point, Wisconsin, United States. He was an actor and producer who appeared in films such as "Password" (1961), "It's a Bird... It's a Plane... It's Superman!", and "Futureworld."
Before his marriage to White, Ludden was married to Margaret Frances McGloin, with whom he shared his three kids, David Ludden, Marthan Ludden, and Sarah Ludden.
Before becoming a famous actor, he served in the U.S. Army as an officer in charge of entertainment in the Pacific theater during WWII. He the Bronze Star Medal and was discharged with the rank of captain in 1946.
MEETING ALLEN
At 39 in 1961, White met Ludden, a widower at the time and a father of three. The duo met when White appeared as a contestant on Ludden's popular game show, "Password," and the actress was in a relationship with someone else.
According to White, her partner realized the chemistry between her and Allen, which she always denied. Ludden and White lived at opposite ends of the country, but they communicated often. The late T.V. star proposed to White, but she constantly turned him down.
Ludden put the ring he presented her with on a chain and wore it around his neck for three months after White turned him down over dinner one night. After rejecting his marriage proposals for a year, the "Mary Tyler Moore Show" star sent a white stuffed bunny in the mail for Christmas.
Gold flower-shaped earrings hung from the toy's ears, along with a note that urged her to say yes. That's what White did exactly that night when she answered his phone call.
In an interview with Piers Morgan, White explained that after two failed marriages, she had become careful. However, Ludden's persistence was something she found charming and heartwarming.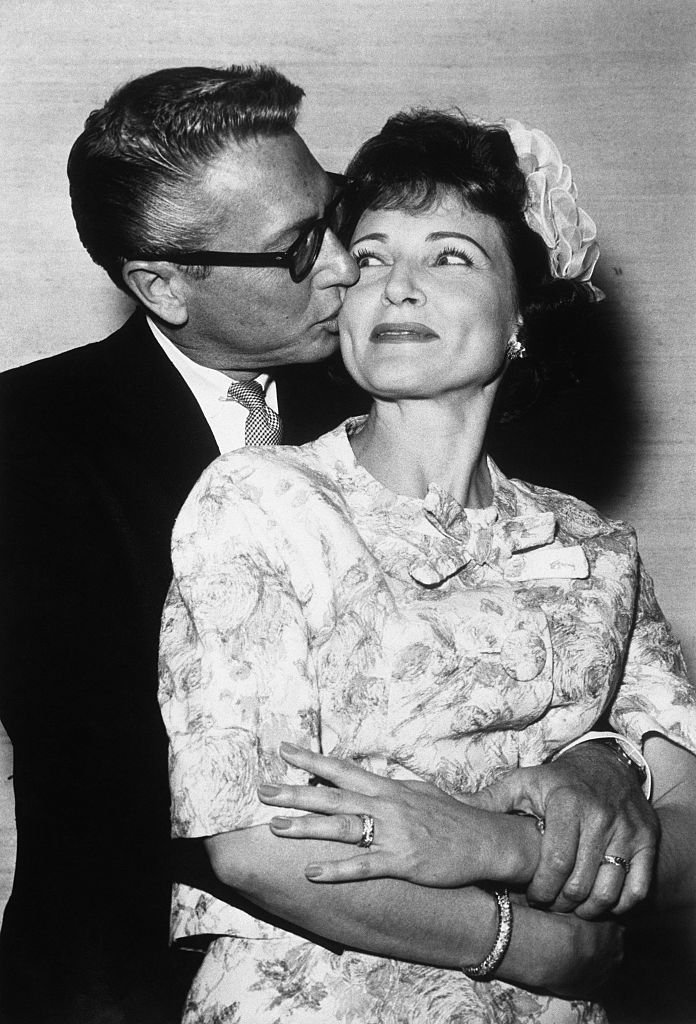 Allen Ludden, 45, of TV "Password" embraces his bride, actress Betty White, 41, following their wedding at the Sands Hotel in Las Vegas, Nevada circa 1963 | Photo: Getty Images
LIFE AFTER WEDDING
Ludden proved to be more lovely than White could imagine. After they had gotten married, he showed her he was a hopeless romantic. He would often call to take her on dates and would plan various treats to blow her mind. These were things she had never experienced before.
THE BIGGEST REGRET
White should have little or no regrets with a career as successful as hers, but that would be far from the truth. The movie icon nurses a deep regret that stems from her marriage to Ludden.
White reportedly regrets wasting over a year in accepting Ludden's proposal. She believed the time would have been put into good use, creating memories rather than staying apart.
WHY BETTY WHITE DOESN'T HAVE KIDS
The best of White's life is caring and being there for her stepkids, who equally love her and are proud of her. Yet, she does not have biological children of her own, and she has no regrets about it.
White revealed in an interview that if she had become pregnant, she would have had to put her total concentration on motherhood and would have had to pick between that and her work. She explained that was a position she never wanted to be in.
Ludden died of stomach cancer in 1981, leaving his bereaved wife with nothing but beautiful memories and his three children to care for after 18 years of bliss.
At his death, White described him as the best, noting that she still misses him. Years after his demise, the actress refused to remarry, explaining that she does not need the rest after experiencing the best.
Please fill in your e-mail so we can share with you our top stories!