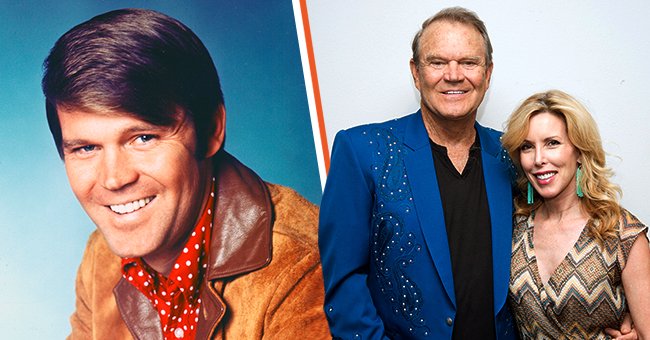 Getty Images
Glen Campbell's Death Sparked Dispute over His Fortune between His Wife and 3 of His 8 Children
Music star Glen Campbell left behind eight children from four different marriages. The rift between him and his three older kids led to their exclusion from his will, which caused an ongoing dispute between his fourth wife and his brood.
Records filed in Davidson Probate Court in Nashville back in November 2017 stated Glen Campbell specifically excluded three of his kids from benefiting from his estate.
The 13-page document, dated September 1, 2006, excludes daughter Kelli and sons Wesley and William from any direct benefit from their father's fortune.
(L) Country Singer Glen Campbell poses for a portrait in February 1969 in Los Angeles, California. (R) Glen Campbell poses backstage with his wife Kim Campbell following his Goodbye Tour performance at Route 66 Casino's Legends Theater on July 29, 2012 in Albuquerque, New Mexico | Photo: Getty Images
ESTATE LEGAL BATTLE
It revealed that the singer was "specifically excluding" the siblings from receiving anything under the will or a related trust. In addition, he appointed his fourth wife, Kim Campbell as his executor.
Glen had three children with the Indiana native. The court filings revealed his five other kids are Debra Cloyd, Ashley, Dillion, Nicklaus, and Shannon Campbell.
The family feud was over what was estimated to be a $50 million or more estate. At the time, the court battle was already in motion, with efforts initiated to have Glen placed in a conservatorship.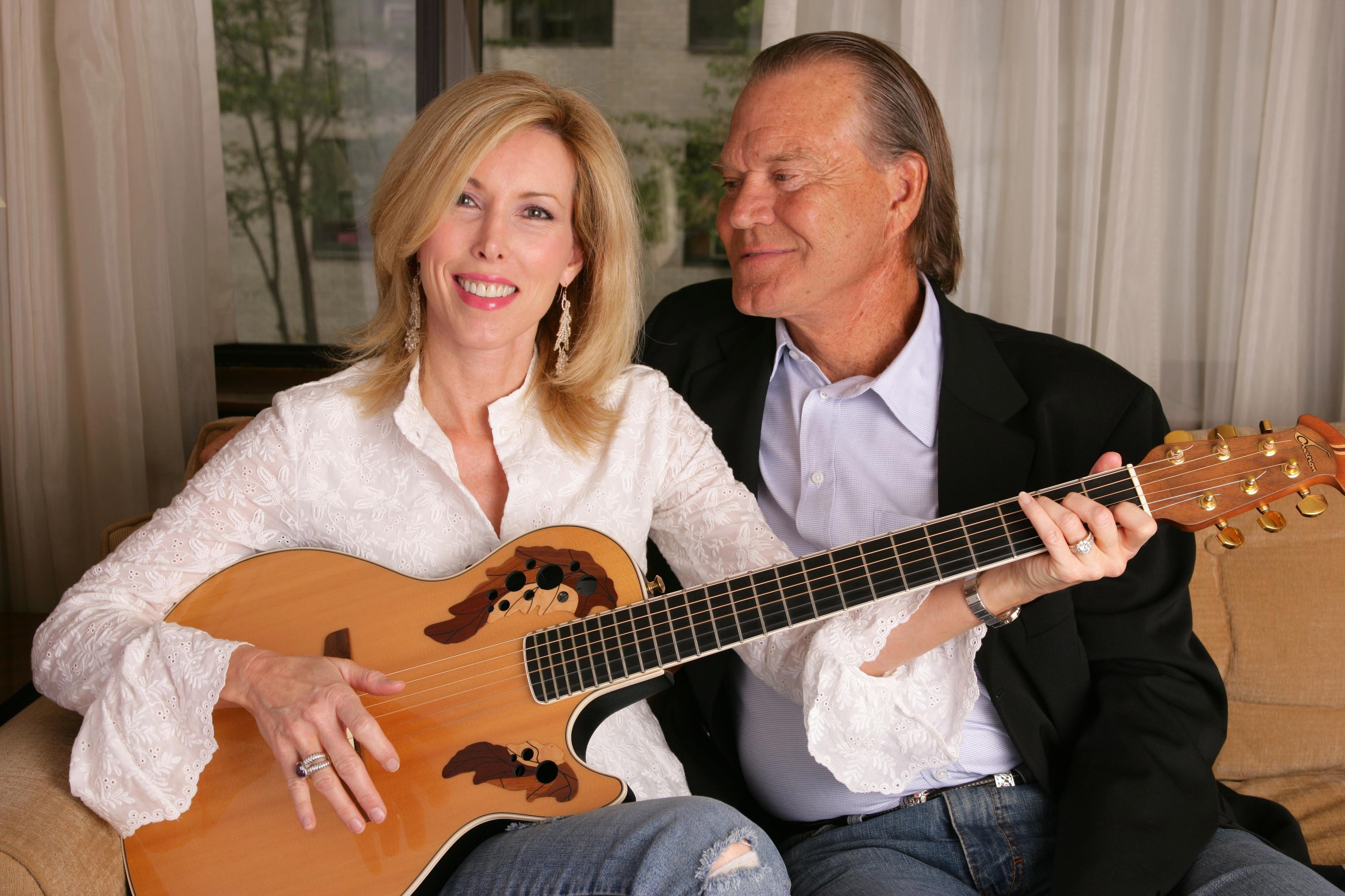 Kim Campbell with husband Glen Campbell during Glen Campbell portrait session at The Regency Hotel in New York, New York | Photo: Getty Images
The will stated that one-half of Kim's legacy would go to the family trust. The petition further noted that while the songwriter did not own any real estate in Nashville, he did possess holdings elsewhere.
The legal battle continued through to July 2018, with his children contesting the validity of the will. A Nashville judge granted them the go-ahead to challenge it due to their father's capacity being in question.
The two wills contested are from September 1, 2006, and January 7, 2007. The 2006 document names Glen's widow Kim and his five other kids as beneficiaries.
Lawyers for his publicist filed in early July that year for additional powers so that he could hire accountants and other experts to aid estimation of assets.
His daughter filed a claim on July 14 to request a complete accounting of a previously undisclosed bank account owned by Kim. The account had been once a joint account.
The filing revealed that all royalty and related payments were deposited into that account. Then in May 2018, Kim relocated under the assumption that she wanted to protect the inheritance.
In May, she filed to invoke a Tennessee law that guarantees a widow a certain percentage of her husband's estate if he dies without a valid will in place. Kim's filing included a 40 percent share of his estate and a year's support allowance.
Interestingly, in April 2018, Glen's net worth lost its value. After it was estimated to be $50 million, court documents revealed the estate was instead worth just $410,221.
With that said, his most considerable portion was a 50 percent state in the AZPB Limited Partnership. The amount excluded his income from future royalties of Glen's songs. Other court filings revealed the guitarist's fortune included a stake in Arizona Diamondbacks.
However, it all came to an end in November 2018 when the kids ended their efforts to challenge their father's will but did not reveal why.
After that, Glen's wife of 34 years released a statement through her attorneys saying the contest of will came as a shock to her but was pleased that she could put it all behind her.
GLEN'S PASSING & CAREER
The actor died in the final stages of Alzheimer's disease on August 8, 2017, at 81. Glen first got diagnosed with the condition in August 2011. As a country icon, he was best known for hits such as "Rhinestone Cowboy, "Wichita Lineman," and "By the Time I Get to Phoenix."
Glen began his musical career as a songwriter and a sideman in the 1960s. The television host's career spanned five decades, during which he was a mainstay on radio stations between the 1960s and the 1970s.
He released more than 70 albums over his 50-year career. The star sold 45 million albums and recorded 12 gold, four platinum, and one double-platinum album.
Glen achieved massive success on both country and pop charts in the late decade, with hits like "Gentle on My Mind. He was inducted into the Country Music Hall of Fame in 2005 and earned a Grammy Lifetime Achievement Award in 2012.
The Tennessee native was also known for his acting roles in the films "X-Men: Phoenix" (2019), "Shindig!" (1964), and 1969's "True Grit."
WIVES & KIDS
Glen was born on April 22, 1936, in Billstown, Arkansas, as Glen Travis Campbell. He had been married four times, firstly to Diane Kirk from 1955 to 1959, and they shared two children.
He later married Billie Jean Nunley from 1959 to 1976, and the former couple had three children within their marriage: Kane, Kelli, and Travis.
Glen then moved on to Sarah Barg, whom he wed in 1976 but later divorced in 1980. The exes only welcomed one child together. He and Kim tied the knot in 1982 and were together until his death. Within their union, the duo had three kids.
Some of Glen's children followed in his footsteps, pursuing careers in music. He had five sons and three daughters, as per Rolling Stone. He and Kim welcomed their son Cal in 1983, then had their daughters Shannon in 1985 and Ashley in 1988.
Cal and Shannon both have their bands and play locally in Los Angeles and Phoenix. In August 2017, Heavy.com reported that 34-year-old Ashley attended Pepperdine University in Malibu, California, as a Theatre major.
Glen's eldest children are also thriving. His oldest daughter Debbie whom he shares with his first wife, Kirk, is also a singer. The 65-year-old also wrote a book called "Life With My Father, Glen Campbell."
His other sons banded together with their sister Debbie, and his one other son, Dillon, is also an artist. His website reportedly states:
"They say the best art and creative expression stems from trauma."
Unlike the rest of his siblings, Dillon explored a different musical style known for its emotional depth, distinct lyricism, and melodies.
He was mainly inspired by Paul Simon, David Bowie, and Interpol. His message states that "no matter how dark it gets, there is a light at the end of the tunnel which never goes out."
Please fill in your e-mail so we can share with you our top stories!
The information in this article is not intended or implied to be a substitute for professional medical advice, diagnosis or treatment. All content, including text, and images contained on news.AmoMama.com, or available through news.AmoMama.com is for general information purposes only. news.AmoMama.com does not take responsibility for any action taken as a result of reading this article. Before undertaking any course of treatment please consult with your healthcare provider.