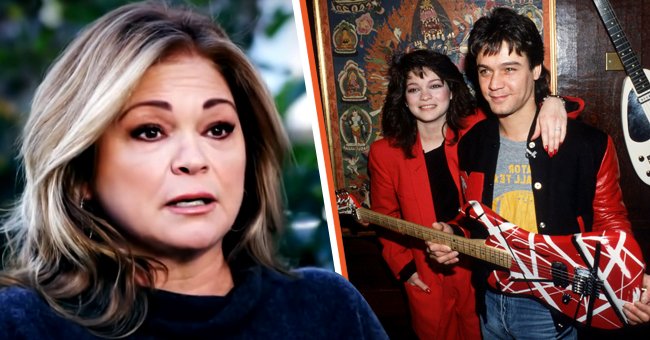 Getty Images | YouTube/TODAY
Eddie Van Halen Died in Valerie Bertinelli's Arms in 2020 While She Was Married to Another Man
Rock icon Eddie Van Halen maintained a great relationship with his former wife until his death, even though they remarried. Their bond was so strong that when he took his last breath in 2020, Valerie Bertinelli, his ex-wife, was the last person he saw.
Eddie Van Halen was a legendary rock star and guitar player in a notable rock band who passed away at age 65. Before his death, he suffered many illnesses, including pneumonia, bone marrow disorder, myelodysplastic syndrome, lung and skin cancer.
The first woman he married was Valerie Bertinelli. When she met him, Bertinelli was not new to fame; she had a few TV credits to her name, including playing the good girl, Barbara Cooper, on "One Day at a Time."
Although the duo had a perfect love story from the start, it deteriorated. Eventually, they divorced but remained in contact with the actress present at his deathbed.
THE GENESIS OF HALEN AND BERTINELLI'S RELATIONSHIP
Van Halen and Bertinelli enjoyed each other's company, and soon, their friendship blossomed into a fairytale romance. They were involved in a brief courtship and were committed to being together forever — they began planning their wedding less than four months after dating.
However, when things seemed perfect, and Van Halen seemed ready to begin a unique journey with Bertinelli, a woman came forward with paternity allegations, claiming that the rock star had fathered her child.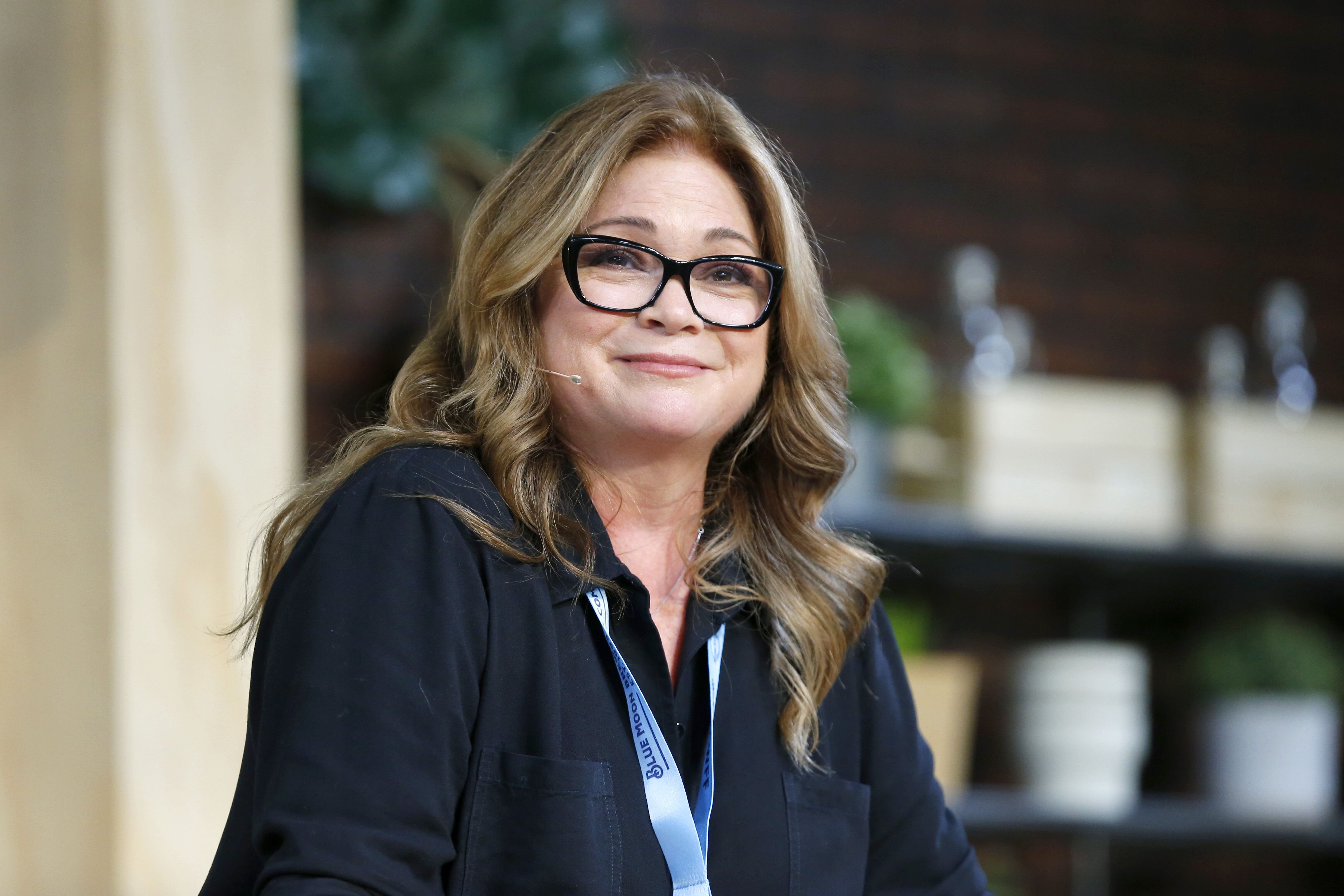 Chef Valerie Bertinelli during a presentation at the Grand Tasting presented by ShopRite at The IKEA Kitchen on October 12, 2019 | Photo: Getty Images
In the end, the artist had a DNA test that proved the child was not his. The result went a long way in shielding his love life from ridicule, and the young, happy stars carried on with their romance, eventually tying the knot.
BERTINELLI WAS EMOTIONAL ON HER WEDDING DAY
Many guests, including family, friends, and loved ones, graced the memorable event with their presence. Everything appeared perfect, including the adorably dressed couple and a beautiful atmosphere that exuded love and genuine support.
Nothing went wrong until a few minutes after the wedding ceremony ended. After consuming unfavorable substances, Van Halen became intoxicated and threw up in the toilet.
By his side was his beautiful bride, who was still dressed in her elegant wedding dress. According to an insider, she held his head backward, providing all the support needed, but she looked hurt and could not hide her pain.
Bertinelli's tears poured down her face as she comforted the groom. The available guests who had waited for a fun-filled reception party were sent home after hearing that the event had been called off.
WHEN IT ALL CAME CRASHING
After their 1981 wedding, their relationship metamorphosed from a fairytale romance into a zero-connection marriage. The couple became consumed by the desire to further their careers and had little or no time to bond.
Additionally, Van Halen lived an eccentric lifestyle, engaged in partying and drug usage, making it challenging for them to iron things out. Beyond the drug addiction and self-dependency, was unfaithfulness and the pair fell short in respect to their marital vows.
DIVORCED, AS FRIENDS, NOT FOES
Their marriage lasted from 1981 until 2001, during which they welcomed their son, Wolfgang. The divorce commenced in the early 2000s, but it was not until 2007 that it was finally over.
Despite their marital status, the pair remained friends and concentrated on their son. They continued to advance their careers and put in the time and other resources to look after their only child.
LIFE AFTER THEIR DIVORCE
The singer and actress maintained a close connection and were cordial while sharing their parental duties.
In 2009, when Van Halen set on a new path, to become a husband again to Jane Liszewski, he made their son his best man and invited the actress, who honored the invite.
Two years later, when Bertinelli decided to marry Tom Vitale, she reached out to her ex-husband, who attended with his wife.
Throughout their relationship as former partners, these two exhibited real love by showing up through the ups and downs. When Van Halen was diagnosed with cancer and getting treatment, his ex-wife often showed up to offer some cheer and make sure he was comfortable.
HOW HALEN DIED IN THE COMPANY OF HIS EX-WIFE
In 2020 before the Christmas holidays, Halen took his last breath surrounded by the ones he loved; his wife, ex-wife, and their only child, Wolfgang.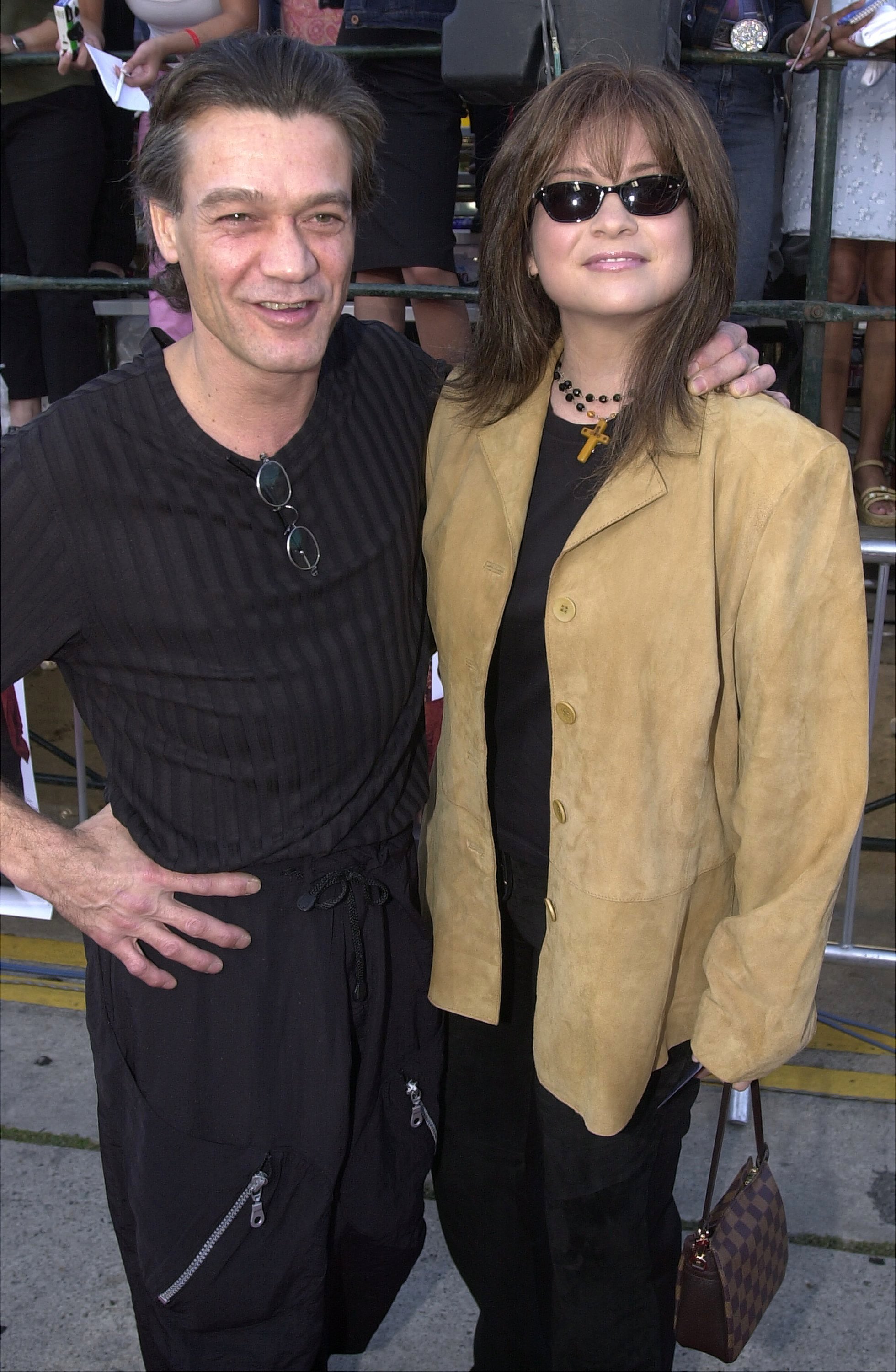 Eddie Van Halen and Valerie Bertinelli attend the film premiere of Colombia Pictures'' "America''s Sweethearts" July 17, 2001. | Photo: Getty Images
After Van Halen's passing, Bertinelli shared a soul-stirring message alongside a black and white throwback snap of their years as a couple with their then-toddler son. The caption read:
"40 years ago, my life changed forever when I met you. You gave me the one true light in my life, our son, Wolfgang."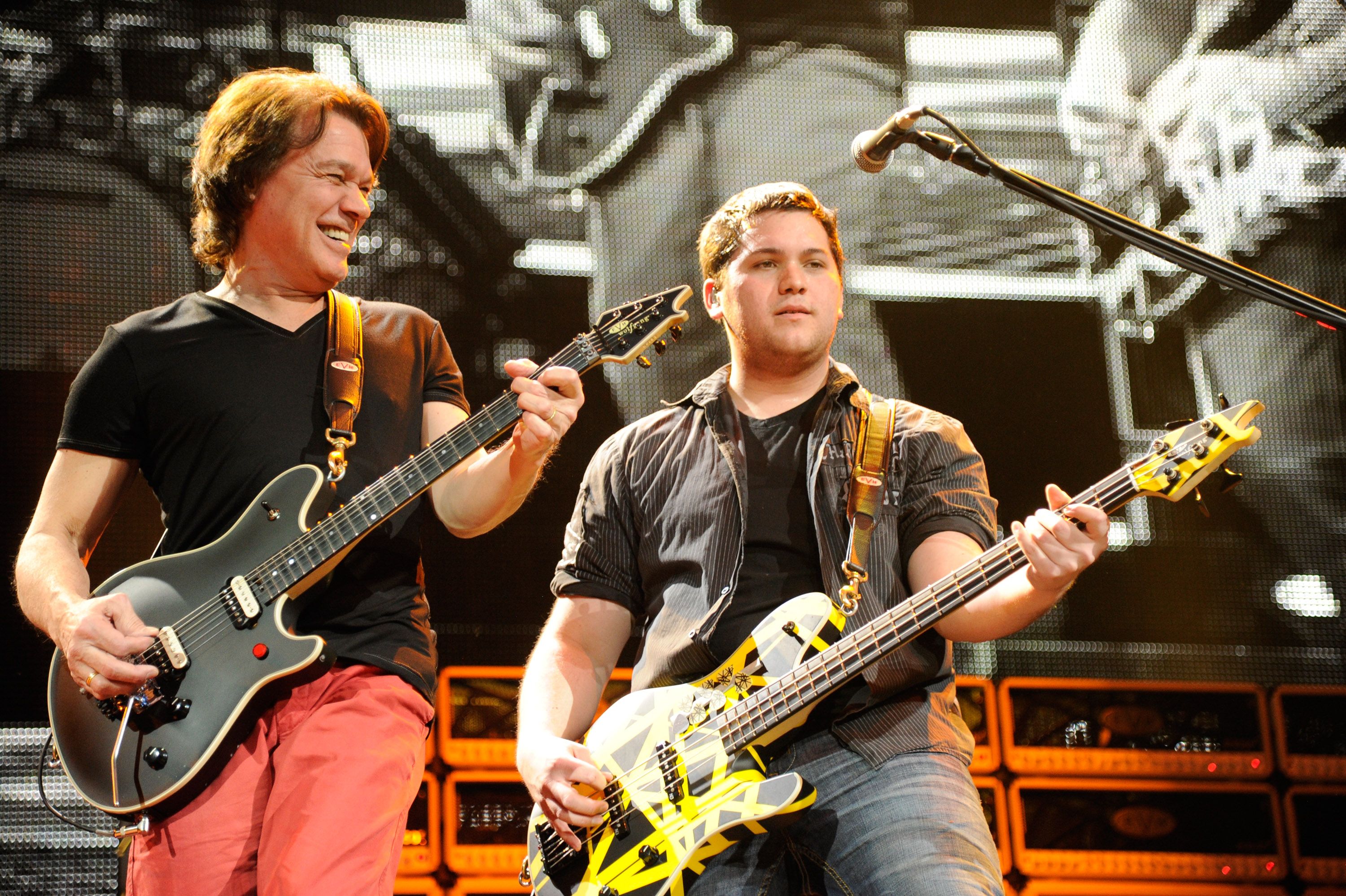 Eddie Van Halen and Wolfgang Van Halen of Van Halen perform during "A Different Kind of Truth" tour at Madison Square Garden on February 28, 2012| Photo: Getty Images.
The mother of one further praised her former husband for having a positive demeanor during his battle with cancer before adding: "I'm so grateful Wolfie and I were able to hold you in your last moments. I will see you in our next life, my love."
Since his passing, Bertinelli has been open about the hurt she still feels inside. In April, she explained that it was tough to accept that Halen was gone, and she sometimes forgot he was dead.
While the actress misses her deceased ex-husband, she's also grateful for having their son around. These days, mother and son spend time in each other's company, sharing and making new memories.
WHAT'S NEXT FOR BERTINELLI?
Bertinelli shocked the world last month when she filed for legal separation from her husband of ten years, Tom Vitale.
The mother of one who married Vitale after six years of dating and a one-year engagement cited irreconcilable differences as the reason for the lawsuit filed.
It is not sure whether the estranged couple will divorce. There has been no comment from either side on the situation.
Either way, fans would agree that Bertinelli does not like being involved in long-term feuds with a former partner and hope they work things out.
Please fill in your e-mail so we can share with you our top stories!