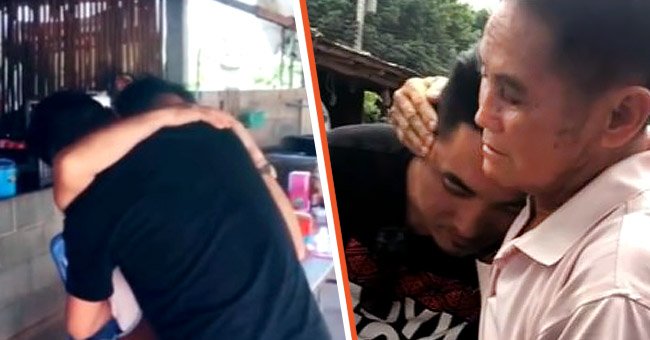 tiktok.com/silveryoungfam
Man Reunites with Dad He Thought Dead for 33 Years after a Sibling Messaged Him
After being apart for three decades, a long-lost father and son duo was reunited. The reunion came to be after the man's half-sister contacted him on Facebook, sharing an edited photo of him alongside someone who looked just like him.
Reunion stories are bound to leave one in a whirlpool of emotions, and the one we're about to share is no different. This is the heart-touching tale of a father and son who were torn apart 33 years ago and brought together by a twist of fate.
Silver Young, from Fresno, California, last heard from his father when he was a baby at Ban Vinai Refugee Camp in Thailand. It was also the same place where he was born in 1981.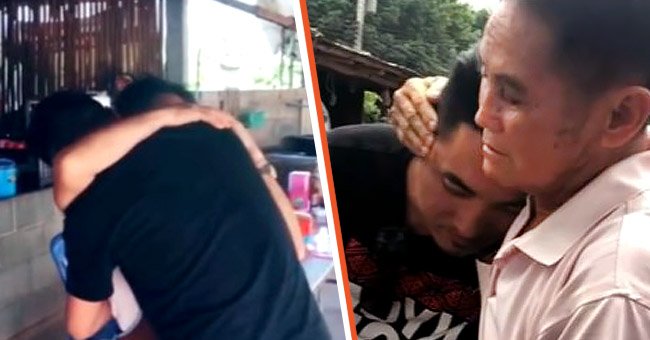 [Left] Young hugging his birth father, Pana. [Right] Pana affectionately holds his long-lost son in a warm embrace. | Photo: tiktok.com/silveryoungfam
LOSING CONNECTION
Young's parents fled to the camp when war broke out in Laos. His father, Pana Saelee, was a soldier, and he fought alongside the American CIA and General Vang Pao.
By the time the family had settled in the camp, 60-year-old Pana was called back into the service. Resultantly, he went back to Laos to help more people escape the country safely.
Days turned into weeks, weeks into months, and months into years, but there was no word from Pana. Eventually, the family believed him dead in the war, and Young's mother moved with him and his two sisters to the U.S. in 1987.
FALLING APART
While Young's mom had decided to move to the U.S. to provide a better life for her children, she didn't know that her husband was still alive. A year later, Pana returned to the refugee camp, but his family was gone.
Young, who had several questions in his head before the reunion, forgot everything the moment he saw his father.
On the other hand, Young and his family had grown accustomed to their new life and didn't expect to hear about Pana.
AN UNEXPECTED DISCOVERY
Surprisingly enough, Young, born Cher Peek Lee, received a friend request on Facebook in 2013. It was accompanied by a message, which read:
"Hello big brother. Hi cher peek lee. I am your sister Kao Sheng Lee. I'm your sister from Thailand. Please approve my friend request (sic)."
Initially, Young decided to ignore the message, thinking it was a scammer. He kept receiving messages from the same account for three years, including birthday wishes, but he never replied.
THE SHOCKING PHOTOGRAPH
However, one day, he received an edited photo of himself alongside another man who looked like him. The resemblance was too much to ignore and immediately raised questions in his mind.
Young then decided to respond and found out that the person reaching out to him on Facebook was none other than his half-sister, Naticha Saelee, who lived in Phayao, Thailand.
Naticha told him that his father was alive. Young also discovered that his father had remarried and started a new life. Together, the two siblings planned the perfect reunion in Phu Sang in Thailand on April 16, 2018.
THE REUNION
Young, who had several questions in his head before the reunion, forgot everything the moment he saw his father. He captured the heartwarming moments and shared them on TikTok in 2021. In one of his videos, he said:
"But as soon as he held me in his arms, none of those questions mattered. I just want to rebuild what we have left. Time waits for nobody."
We're glad Young reunited with his biological father after three decades, and we hope the father and son duo get to create many memories together.
Please fill in your e-mail so we can share with you our top stories!