Getty Images
Tim Mcgraw Is a Proud Father of 3 Daughters Who Spread Their Talents in Acting and Singing
Tim McGraw and Faith Hill are two very successful Country music artists. They are also married to each other and parents to three beautiful daughters. Meet Gracie, Maggie, and Audrey.
Country music brought the couple success and fame, as Hill has sold over 40 million albums worldwide, while McGraw has sold over 80 million records.
McGraw and Hill met in 1996 and kicked off a whirlwind romance that resulted in their wedding later the same year.
Since then, Hill and McGraw welcomed three wonderful daughters, their pride and joy. Meet the famous couple's three daughters and see what they are up to. Also, discover their family's holiday traditions.
GRACIE MCGRAW
Tim and Hill became parents for the first time on May 5, 1997, after welcoming their daughter Gracie McGraw. Gracie attended New York University.
The 25-year-old has shown an interest in following her parents' musical path. She fronted an all-female group known as Tingo and performed "Here Tonight" with her dad at the Bridgestone Arena in Nashville in 2015.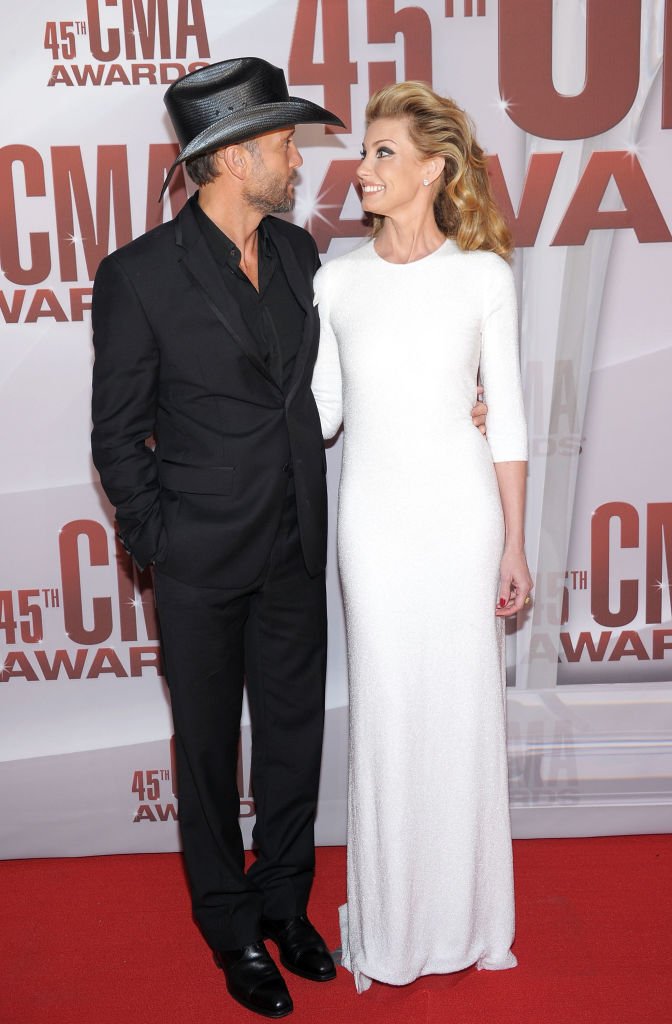 Tim McGraw and Faith Hill on the red carpet of the 45th annual CMA Awards, 2011, Nashville, Tennessee. | Photo: Getty Images
Many fans took videos of the father-daughter duo's performance, and they generated millions of views on YouTube and made rounds on daytime TV shows.
Besides singing, Gracie is also interested in acting. She has not made her television or film debut but describes herself as an actor on her Instagram bio. Gracie shares a close bond with her famous parents, which was on display when she celebrated her 23rd birthday.
Tim shared a gorgeous selfie of Gracie to mark the celebration and wished her a happy birthday. He described her as the sweetest, kindest heart in the world and added:
"So beautiful inside and out. She's always there for her friends. Always there for her family....And always there with a big smile and a boisterous laugh. We love her so much."
Hill also posted a heartwarming tribute to Gracie on her Instagram page. She shared a rare throwback photo of Gracie as a little child. She captioned the post:
"When you wake up on the day your oldest daughter has just turned 23 years old, and you find this photo that shows just how fast time flies. I don't have the words... This photo just brought me to tears."
Hill also wrote that seeing Gracie's photo from many years back made her emotional. She added a second photo of Gracie, which she described as one of her favorites.
Gracie enjoys having fun and usually shares photos of her fun time with her fans on social media. In August, she shared a sexy snap of herself sunbathing.
In the picture, Gracie, a proponent of body positivity for women, wore a low-cut black string swimsuit with high-waisted blue and green patterned bottoms and posed on a huge pool float.
MAGGIE ELIZABETH MCGRAW
Tim and Hill's second daughter is Maggie Elizabeth McGraw, who they welcomed on August 12, 1998. Maggie loves giving back and has volunteered for several social works.
In 2016, she joined Tim at the 2016 Invictus Games. Also, she spent most of her time amid the COVID-19 pandemic volunteering for "Feed the Frontlines," a nonprofit organization.
Tim spoke about Maggie's passion for volunteering during an appearance on Ellen DeGeneres's talk show last year. He said she was doing a great job volunteering for "Feed the Frontlines" and added that he was proud of her.
Besides being a generous person, Maggie is an intelligent individual. She graduated from Stanford University in June 2020, and her famous dad celebrated the accomplishment.
Tim shared some of Maggie's graduation day pictures on his Instagram page and wrote that they were incredibly proud of her in the post's caption. He wrote:
"She graduated from her Masters program at Stanford University this weekend and what a celebration!!!"
The proud dad also lauded his daughter's work ethic, fierce family love, and passion for making the world a better place.
Meanwhile, Hill celebrated Maggie's graduation by sharing a rare throwback video of them singing in a car. In her post's caption, the proud mom congratulated her daughter and friends.
AUDREY CAROLINE MCGRAW
Audrey Caroline McGraw is Tim and Hill's youngest daughter. They welcomed her on December 6, 2001. Unfortunately, she was born eight weeks premature and had to stay in the hospital until the day before Christmas Eve.
Audrey graduated from high school in June 2020 and is a New York City College student. She is also an up-and-coming model and is a model for fashion brand Tory Burch.
Besides modeling, Audrey is also interested in acting and made her acting debut in August when she appeared in her dad's music video for "7500 OBO," a song he released in 2020.
McGraw gushed about his youngest daughter's accomplishment by saying he could not be more pleased that she played the lead role in his music video.
THE MCGRAW FAMILY HOLIDAY TRADITION
The McGraws are a happy bunch and love spending time together. The Christmas holiday season brings family members under one roof. For them, it is a perfect season to exhibit their numerous family traditions.
Over the years, they had developed many Christmas rituals or traditions, starting from when the girls were little kids. Hill shared some of those family traditions and stories with Good House Keeping in a 2017 interview.
One of their family traditions includes reading the Bible story and the poem "Twas the Night Before Christmas." They also celebrate Audrey's birthday every year by decorating the Christmas Tree on December 6.
They also include Christmas carolers on the piano during decorations and leave a gift for Santa's hardworking sleigh pullers, which in turn leaves them with a little silver sleigh bell.
Given the enormous success Tim and Hill have enjoyed and their numerous accomplishments, one might have thought the famous couple would struggle to raise their kids.
However, the musicians found the perfect balance between their successful careers and their family. Despite their busy schedules, they remained dedicated to their kids, and now their beautiful daughters are the biggest beneficiaries.
Please fill in your e-mail so we can share with you our top stories!