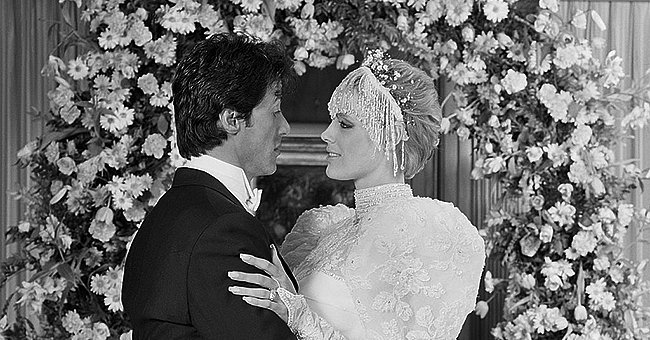 Getty Images
Brigitte Nielsen Said Stallone 'Begged' Her to Marry Him Though Their Marriage Was 'That Bad'
Danish actress Brigitte Nielsen received a lot of backlash for her marriage to Sylvester Stallone as people believed she only married him for money. According to Nielsen, that was far from the truth because the actor was the one who begged her to marry him.
Brigitte Nielsen is a former model born in Denmark on July 15, 1963. When she was sixteen, she left her family behind to pursue a modeling career.
Nielsen has since worked with top fashion designers, including Gianni Versace, Giorgio Armani, Gianfranco Ferre, and spent her time between Milan, Paris, New York, and Berlin.
EARLY HOLLYWOOD CAREER & ROMANCE
In 1983, she married musician Kasper Winding and later, they welcomed their son Julian, but in the same period, Nielsen starred on "Red Sonja" in 1985. She then left her husband and son for her acting career.
Nielsen's career began to gain prominence after co-starring alongside Arnold Schwarzenegger that same year and starred in "Rocky IV" with her future spouse Stallone.
Nielsen has four failed marriages, one of which was to Sylvester Stallone, whom she met in the summer of 1985 during her movie promotion "Red Sonja."
American actor Sylvester Stallone and Brigitte Nielsen attend a ceremony where he was presented with the 'Man of the Year' award by the Hasty Pudding Theatricals group at Harvard University on February 18, 1986 in Cambridge, Massachusetts | Photo: Getty Images
MARRIAGE TO STALLONE – SCANDAL & CONTROVERSY
Things quickly took off for the now-former couple because, after six months, they tied the knot in Malibu following their brief romance. But their marriage caused much controversy with reports that Nielsen had married Stallone for money and was even cheating on him.
Moreover, the screenwriter had left his wife Sasha Czack for her. Nielsen was only 22 years old at the time, and there was a 17-year-old age gap between the two.
Apart from being labeled a gold digger, the singer got publicly accused of using the "Rocky" star to elevate her acting career. In addition, amid all the speculations, Nielsen and Stallone's union ended after two years in 1987, and they had no kids together.
CLEARING UP THE SPECULATIONS
When it eventually came to an end, the media was quick to maintain that the rumors were ultimately true. After more than two decades of silence, Nielsen finally told her side of the story.
In an interview with Oprah Winfrey, the "Love Strange" star defended herself and provided clarification about the accusations leveled against her:
"The biggest misconception, while I was with Sylvester, was the fact that everybody thought I married him because of money. They didn't understand that he begged me to marry. He begged me!"
THOUGHTS ON BEING MARRIED TO EACH OTHER
Nielsen admitted at the time; she felt the marriage proposal was rushed. "If I were to go back in time, I shouldn't have married him, and he shouldn't have married me," Nielsen expressed.
She also admitted that she was not innocent in their breakup, adding that she might have caused Stallone some pain. In an interview with Larry King, Nielsen revealed Stallone was her celebrity childhood crush.
At the same time, she divulged that marrying him was a mistake while calling him a horrible husband. Concerning the worst advice she has ever received, Nielsen said: "To marry Stallone."
When asked if their union was that bad, the 58-year-old said yes, it was. As for how Stallone viewed their time together, the director revealed that he had an out-of-body experience when he wed Nielsen.
He admitted to having a temporary form of insanity during their relationship. Stallone said that to his now-wife former model Jennifer Flavin when they caught footage of his former lover when she appeared on the reality show "Celebrity Rehab with Dr. Drew" in 2008 for alcohol addiction.
When Flavia questioned him about marrying Nielsen, Stallone shared he was not thinking while rounding up to a wholesome conclusion saying:
"It was an out-of-body experience. I've concluded that love is a temporary form of insanity, and we should cut each other some slack."
NIELSEN'S CAREER TOOK A HARD KNOCK
Moreso, following the "Cobra" co-stars' divorce, Nielsen's career suffered heavily because of their separation, and because she was accused of using him, the rumors further dented it:
"When I left Sylvester, all doors closed on me. No one wanted to touch me, and I was basically blacklisted, so I was forced to go back to Europe."
REUNITING WITH STALLONE ON SET
While back home, she managed to get her foot off the ground again, and Nielsen credited being multilingual for getting her far in her career. She can speak four languages, including Danish, English, German, and Italian. Nielsen has since elevated her career has been recognized for her hard work.
In 2018, she and Stallone reunited for the movie "Creed II," and she shared how emotional the entire experience was for her while admitting:
"My heart was beating very fast."
BIG PREGNANCY NEWS!
It was 32 years later after she and the 75-year-old starred alongside each other but added there was no drama between them. Instead, Nielsen said the chance to work with the New York native again was terrific.
"We're two professionals, and we kept it that way. He stayed in the American corner, and I stayed in the Russian corner. We were on opposite sides, but it was pleasant," she said.
Nielsen was nervous about filming the movie because she was seven months pregnant and had kept it a secret from the cast and crew.
She revealed how nervous she was and hid her baby bump with an ivory suit. Although the mom of five initially managed to conceal her pregnancy, she could no longer hide her growing baby bump when she returned to set three weeks later.
With the help of director Steven Caple Jr., she managed to pull off the big announcement and revealed everyone else was happy about the exciting news.
After more than ten years of trying to have a baby via in-vitro fertilization, Nielsen stunned the world when she gave birth at age 54 to a baby girl named Frida. She welcomed her baby daughter with her fifth husband, Italian model Mattia Dessi, 43.
Please fill in your e-mail so we can share with you our top stories!