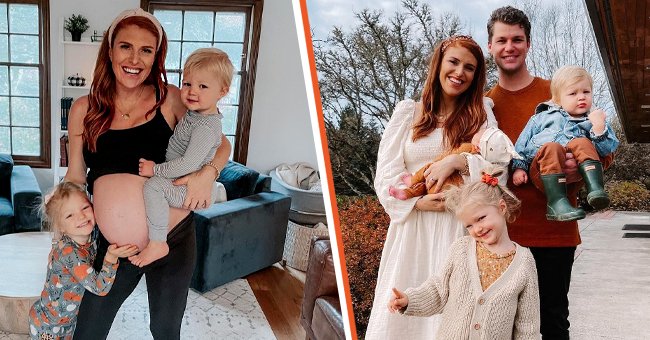 instagram.com/audreyroloff
Audrey Roloff Celebrates 1-Month Milestone of 3rd Baby Who She Once Said Was Worth the Postpartum Pain
Reality TV star Audrey Roloff, who came clean about the real side of motherhood, shared the first-month milestone of her third child, Radley, and admitted he was worth the postpartum pain.
Former "Little People Big World" personalities Jeremy and Audrey Roloff welcomed their third child, Radley Knight Roloff, in November, after announcing they were expecting in July 2021.
Two days after Radley's birth, his proud mother took to Instagram to share their family welcomed a baby boy on November 8. Audrey revealed Radley was born en caul and told fans she would share details of her birth story soon.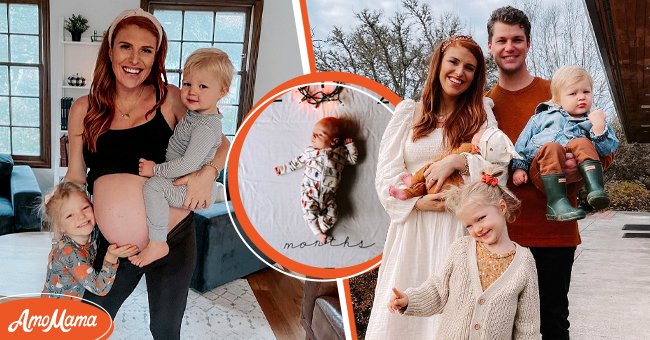 Audery Roloff, while pregnant, posed with her two children, Ember and Bode [Left] Jeremy and Audrey Roloff with their three children [Right]. The Roloff's youngest child, Radley, posed of his one month update [Center] | Photo: Instagram/Audreyroloff
Audrey has been open and honest with the real side of motherhood and shared insight into her medical and postpartum complications and life on her Instagram account.
After Radley's arrival, the mother of three revealed her breast had "gotten severe engorgement" within 24 hours of each of her children's births and that her milk "comes in a furry and is like molasses."
Audrey also struggled with recurring mastitis postpartum, an infection of the breast tissue. Later she shared that the mastitis could be related to her children being born tongue-tied, a condition she has.
Besides making breastfeeding for mom and baby difficult, tongue ties are associated with other issues such as speech congestion and dental problems. She and Jeremy's oldest daughter, Ember, and little Radley had the condition.
Both children had a laser procedure done to correct the tongue-tie. Audrey admitted the procedure was straightforward and took 30 seconds to complete. However, the worst part was the various exercises they had to do afterward to prevent the tie from growing back.
Despite Audrey's struggles to bring her children to the world, it has all been worth it. After sharing insight into her postpartum struggles, Audrey shared a video of her new baby sleeping and wrote, "he makes all the after-birth pains worth it."
The family recently celebrated Radley's first-month milestone. Audrey shared an adorable Christmas-themed picture of Radley lying in the middle of a circle of numbers (1 -12), with one circled with a string of Christmas lights.
Audrey gushed about her youngest child in the caption and wrote that he brought a sense of harmony to the family. She also shared that his name means "red meadow or meadow of reeds."
Audrey and Jeremy welcomed three children together after they married in 2014. Oldest, Ember was born in 2017, three years later, their son, Bode, was born, and the following year they welcomed their youngest.
Please fill in your e-mail so we can share with you our top stories!