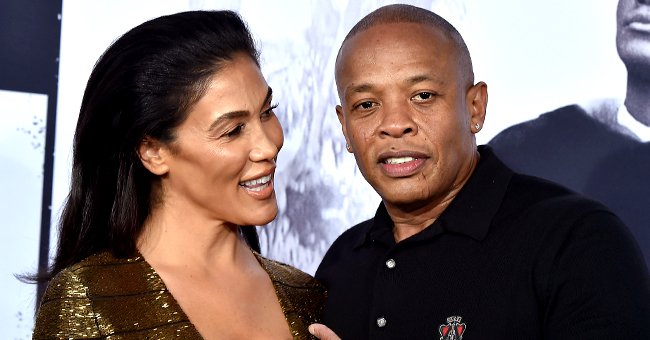 Getty images | Instagram.com/therealbreyonprescott
Dr. Dre Throws Divorce Party Following $1billion Legal Battle Involving His 3 Alleged Mistresses with Ex Nicole Young
Hip hop mogul Dr. Dre seems to have finalized his nasty and long-dragging divorce from his wife of 25 years, Nicole Young. He celebrated with a party.
Andre Romelle Young, known worldwide as Dr. Dre, and his wife, Nicole Young, have been battling a nasty divorce since Nicole filed the papers in June 2020.
Breyon Prescott announced Dre's finalized divorce on an Instagram post. The photo featured Dre sitting in a chair with a bouquet of balloons, alluding to his now-divorced status.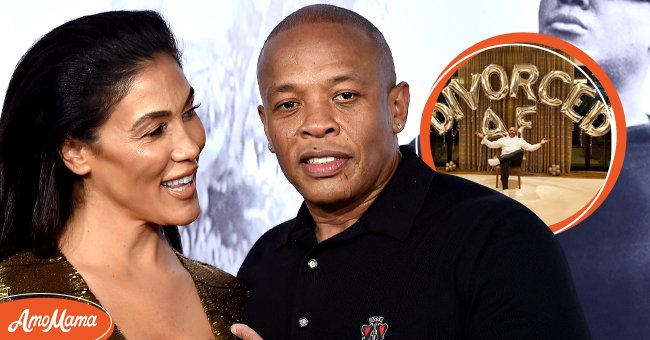 Dr. Dre (R) and wife Nicole Young attend the premiere of "Straight Outta Compton" at Microsoft Theater on August 10, 2015 in Los Angeles, California. | Photo: Getty Images Inset: Dr. Dre celebrates his divorce | Photo: Instagram/ Breyon Prescott
Prescott celebrated his friend's single status with a champagne bottle emoji and a "congrats." The rapper has, however, not spoken up about the situation himself.
The couple married in 1996 and have two kids, Truice, 24, and Truly, 20. According to the divorce papers filed by Nicole, she claimed that the "What's The Difference" hitmaker threw her out of their home last April.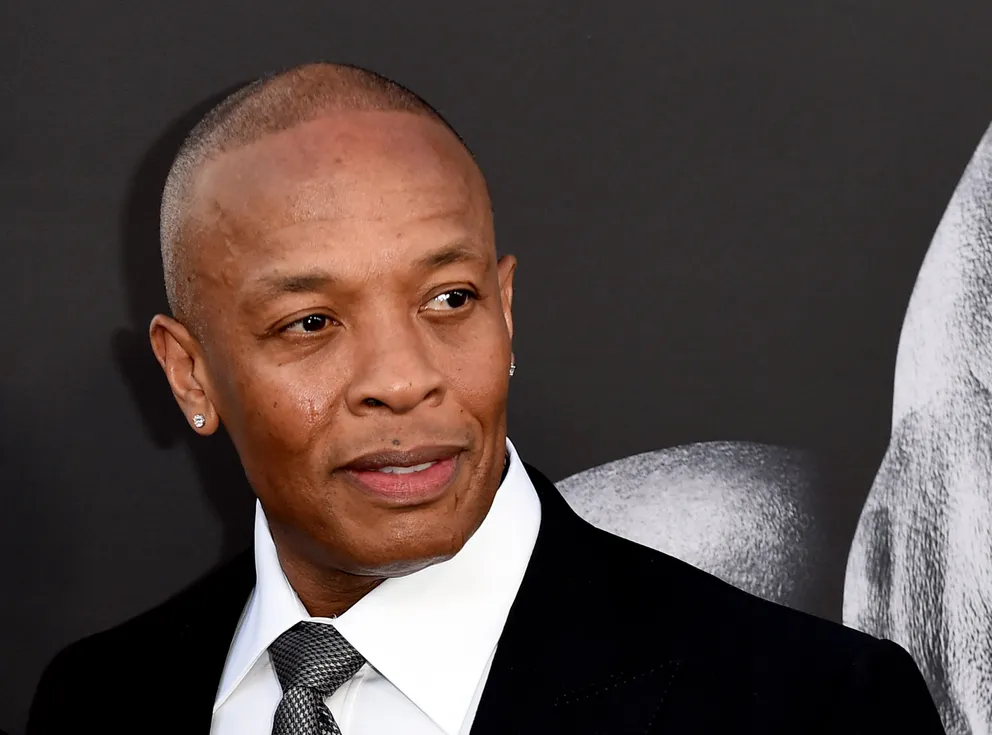 Dr. Dre attends the premiere of "The Defiant Ones" at Paramount Theatre on June 22, 2017| Photo: Getty Images
She accused him of asking her to get out of their home after an alcohol-induced brutal rage. Among other allegations presented in court were accusations of abuse during their long marriage, which Dre vehemently denied.
The legal battle over their $1 billion fortune was fraught right from the start as they fought over the validity of the prenup agreement. Dre is adamant that the agreement still holds water, while Nicole wants it declared invalid.
According to the legal documents obtained by TMZ, Nicole says just before their marriage, she felt pressured into signing the prenup but went ahead and signed them anyway.
Two years after they wed, Dre tore up the agreements, saying he felt ashamed to have made her sign the papers. She said that since Dre tore the multiple documents, there was an understanding that the agreement had become null and void.
Sources close to Dre disputed the claims saying that the rapper did not tear the agreement, nor did he express shame over the prenup. They say Nicole had a clear choice on whether or not to sign the papers.
Nicole has demanded to know if Dre had any children out of wedlock during their marriage. She has also named Dre's alleged mistresses, Crystal Rogers, Kili Anderson, and Jillian Speer, forcing them to testify in court.
However, the three want nothing to do with the ongoing case and have hired a lawyer, Kris LeFan, to help them fight any efforts by Nicole to subpoena them into becoming witnesses. They say they do not have any helpful information about the prenup agreement row.
Dre has reportedly agreed to pay spousal support and all of his soon-to-be ex-wife's expenses, but Nicole is after a much bigger target and claims that the rapper amassed most of his fortune after they wed.
Please fill in your e-mail so we can share with you our top stories!