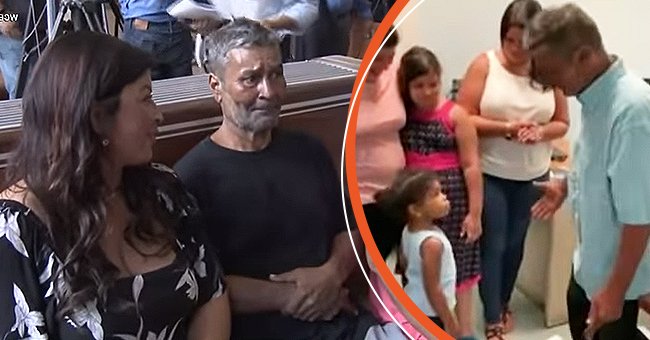 youtube.com/Inside Edition
Homeless Man Reunites with Daughters after Not Seeing Them for 24 Years: 'I'm in Heaven'
A homeless man had not seen his grown-up daughters for more than two decades, and recently, he made a move to search for his missing family, and their reunion was a special family moment.
The last time Jose Lopez saw his daughters was 24 years ago; Kristy Viviani was 17, and his younger daughter, Angela, was ten at the time, and since then, the family has been divided and has had little contact over the years.
He separated from his wife sometime in the '90s and moved to Florida with his mom. Years later, he reconnected with his family on the phone, but he withdrew himself from their lives after suffering a stroke and some financial misfortunes.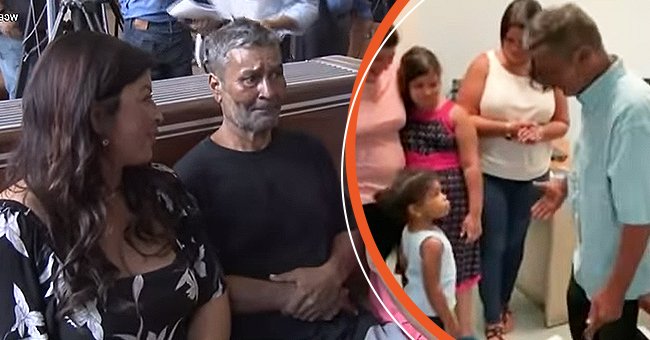 Jose Lopez reuniting with his daughters after two decades | Photo: youtube.com/Inside Edition
The 61-year-old decided to find his children and forge a relationship with them in 2019. So he took his Social Security funds and made the trip to New Jersey, hoping to see his kids somehow.
Lopez was then spotted by a New Jersey Transit police officer who observed him at the Secaucus Junction Station. The officer linked Lopez with crisis outreach officer Sean Pfeifer after the bewildered father admitted that he needed help.
Pfeifer made it his priority to help Lopez reconnect with his family. He called several of Lopez's family members, and one of his daughters, Angela Viviani, thought the whole idea of a reunion was a scam.
When Lopez finally got hold of his daughters, Pfeifer made sure to help him clean up and look presentable for the big day, which has been shared several times on social media, racking up likes and comments.
The moment was shared on the official Twitter feed of the New Jersey Transit Station along with the caption, "Jose Lopez not only got to hug his daughters, he met his grandkids for the first time! Lopez was given a shave and a haircut, plus new clothes for the big reunion moment."
His kids have each expressed their emotions about seeing their father for the first time in ages. Kristy said she recognized his face the moment she saw him and described the moment as very nerve-wracking.
Pfeifer, who helped make the reunion a success, was overwhelmed by emotion as he witnessed the family reuniting and sharing a lovely moment. However, he revealed that he shed tears as the whole situation unfolded.
For Lopez, he described the feeling as being in heaven. He said, "I'm thinking I'm in heaven. I've got my two best girls." First, he met his children and made a new friend who has been of great help to him in such a short time.
According to Pfeifer, not all homeless people are open to receiving help from strangers, and he was glad Lopez was receptive to his help. He noted that the event had been the highlight of his career.
Lopez is now getting professional help for his mental health, although he reportedly refused to talk about how he became homeless. Nevertheless, his daughters are already looking forward to family time.
Please fill in your e-mail so we can share with you our top stories!