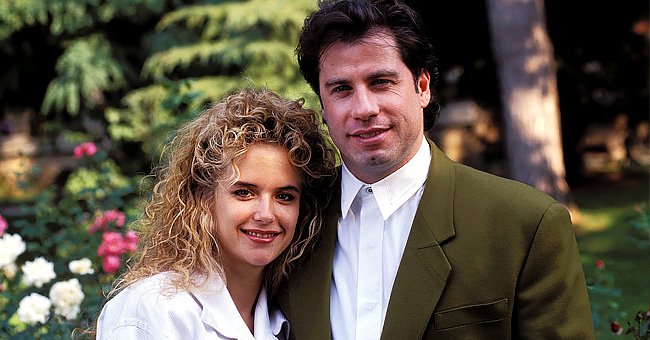 Getty Images
Inside John Travolta's Luxury Mansion Where His Late Wife Kelly Preston Spent Her Last Years
John Travolta's Luxurious mansion has it all. The actor lives in his exorbitant home with his family, where they have made some incredible memories over the years. Here is a look at all that's in his Florida home.
Aside from being famous for starring in blockbuster films and being the recipient of numerous awards, American actor John Travolta is well-known for his luxurious Florida estate. Being wealthy means possessing whatever money can buy, and Travolta has done just that.
Sitting on more than 19.5 acres, the Florida estate has it all, including a magnificent interior and its own airport. Scroll down to explore Travolta's exorbitant estate.
INSIDE TRAVOLTA'S FLORIDA ESTATE
The "Grease" actor and his wife, actress, and model Kelly Preston reportedly contributed $3.5 million to purchase their famous mansion. The couple moved into their luxurious home in the late 1990s, and they remained there with their family making countless memories in the years that passed.
The residence boasts five bedrooms, five-and-a-half bathrooms, spacious living areas, a deluxe backyard fitted with a pool, and multiple balcony patios. Travolta resides in the midcentury house with his two kids, Ella and Ben.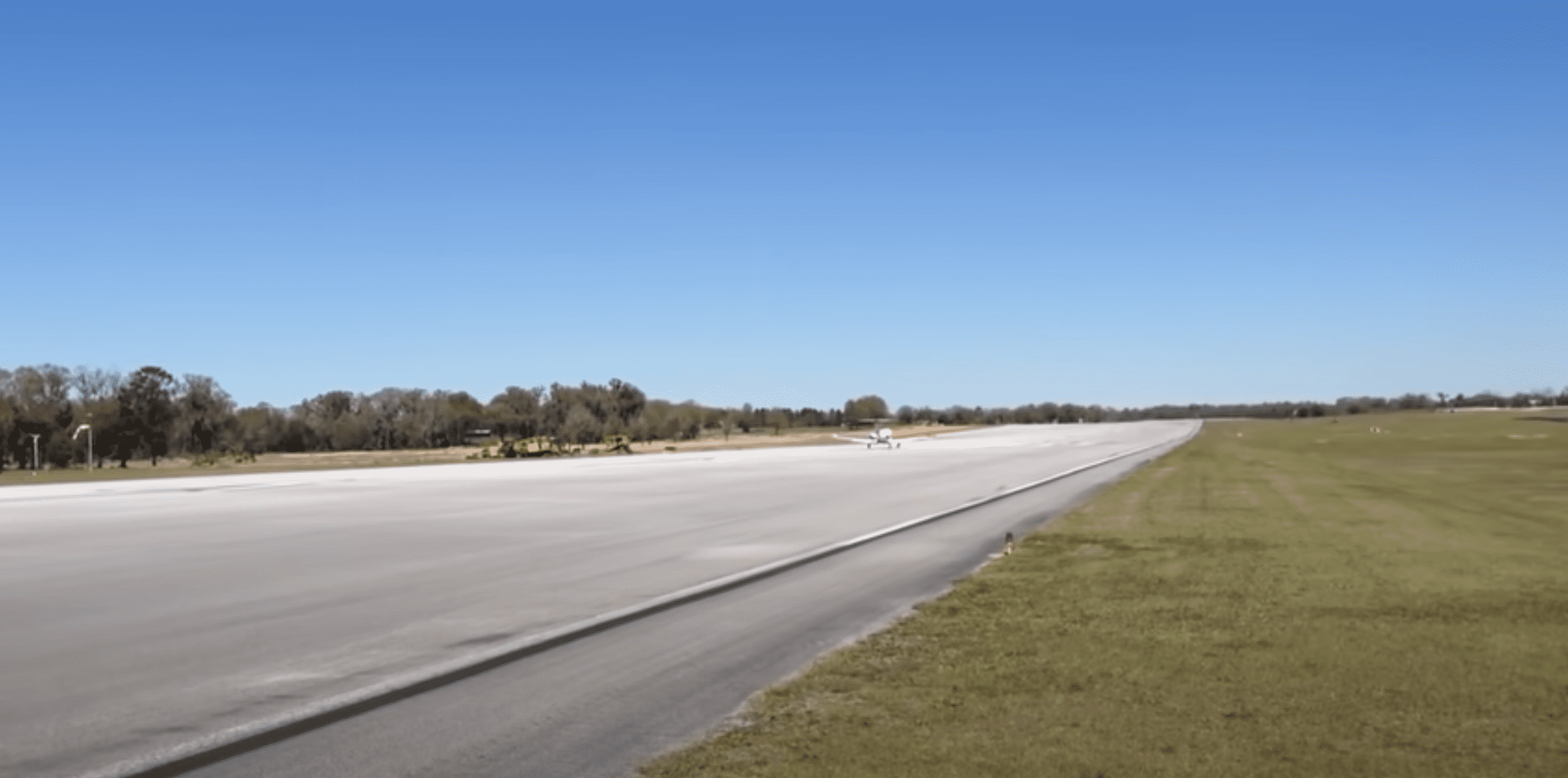 Inside John Travolta with Kelly Preston's luxurious mansion. | Photo: YouTube.com/Therichest
Considering the mansion has lots of beautiful sights for relaxation, it's no surprise Travolta has more than one area where he loves spending his time. And, one of his favorite locations in the home is the backyard, where he serenaded his beloved wife, who died in July 2020.
Apart from the backyard, Travolta is most likely to be spotted in the mansion's aviation section. Travolta notably made his home a convenient place to explore his love for flight. Being a trained pilot, the 67-year-old actor has an extensive collection of jets.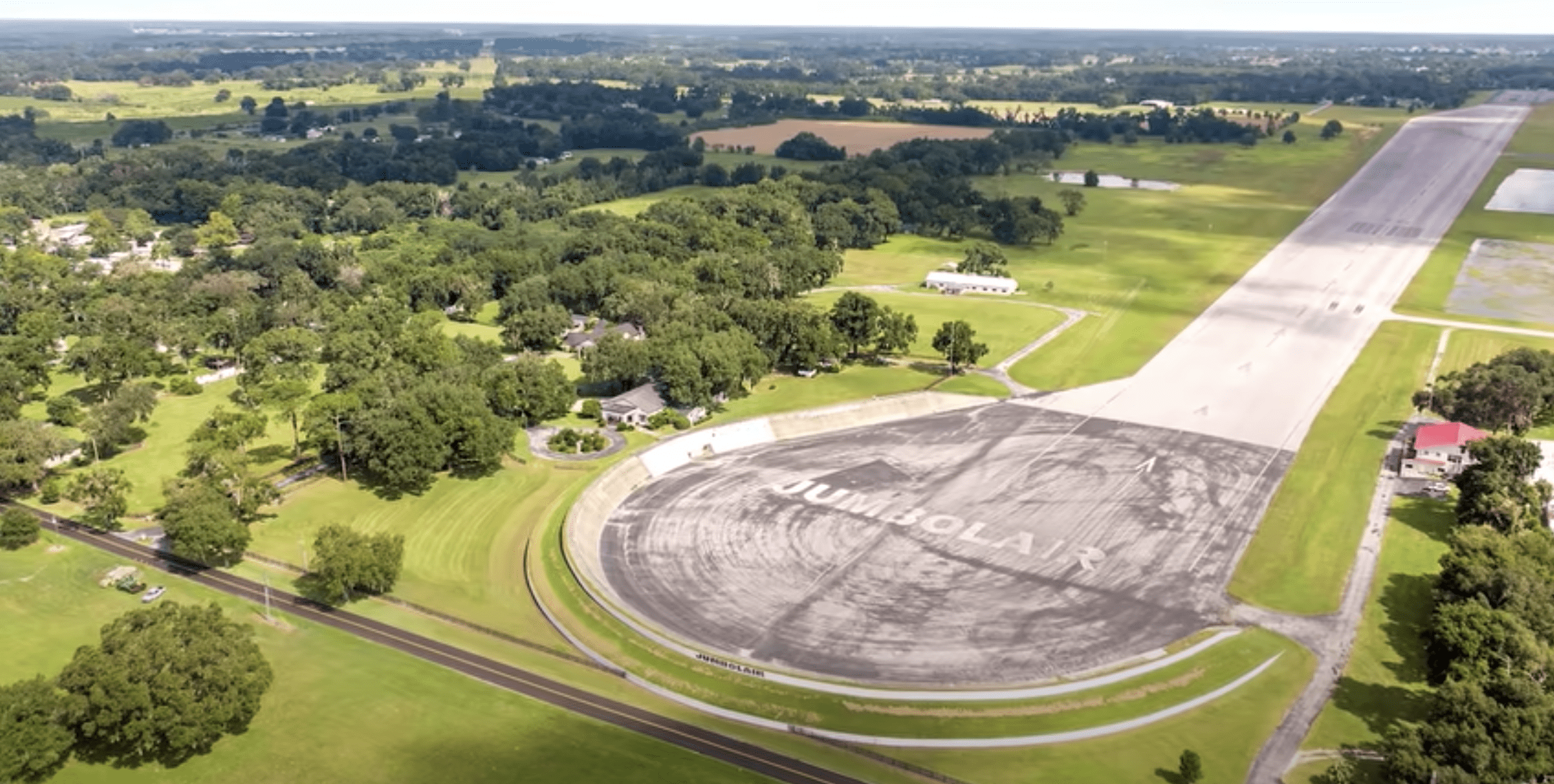 Inside John Travolta with Kelly Preston's luxurious mansion. | Photo: YouTube.com/Therichest
TRAVOLTA'S PRIVATE AIRPORT
The Hollywood icon went all out in creating his private airport, and a YouTube documentary explores the full detail of his aviation area. The airport is located at the estate of Jumbolair airport, seven miles northeast of Ocala, Florida, United States.
Travolta has a runway 7550 feet long, making it the longest private runway in America. In the 1980s, the land was owned by socialite and equestrian Muriel Vanderbilt and later Arthur Jones, who began the aviation project.
According to the documentary, the Golden Globe winner had been looking for a place to accommodate his planes for eight years before he and his wife finally purchased the 9.5 acres, which is worth about $5.2 million in recent times.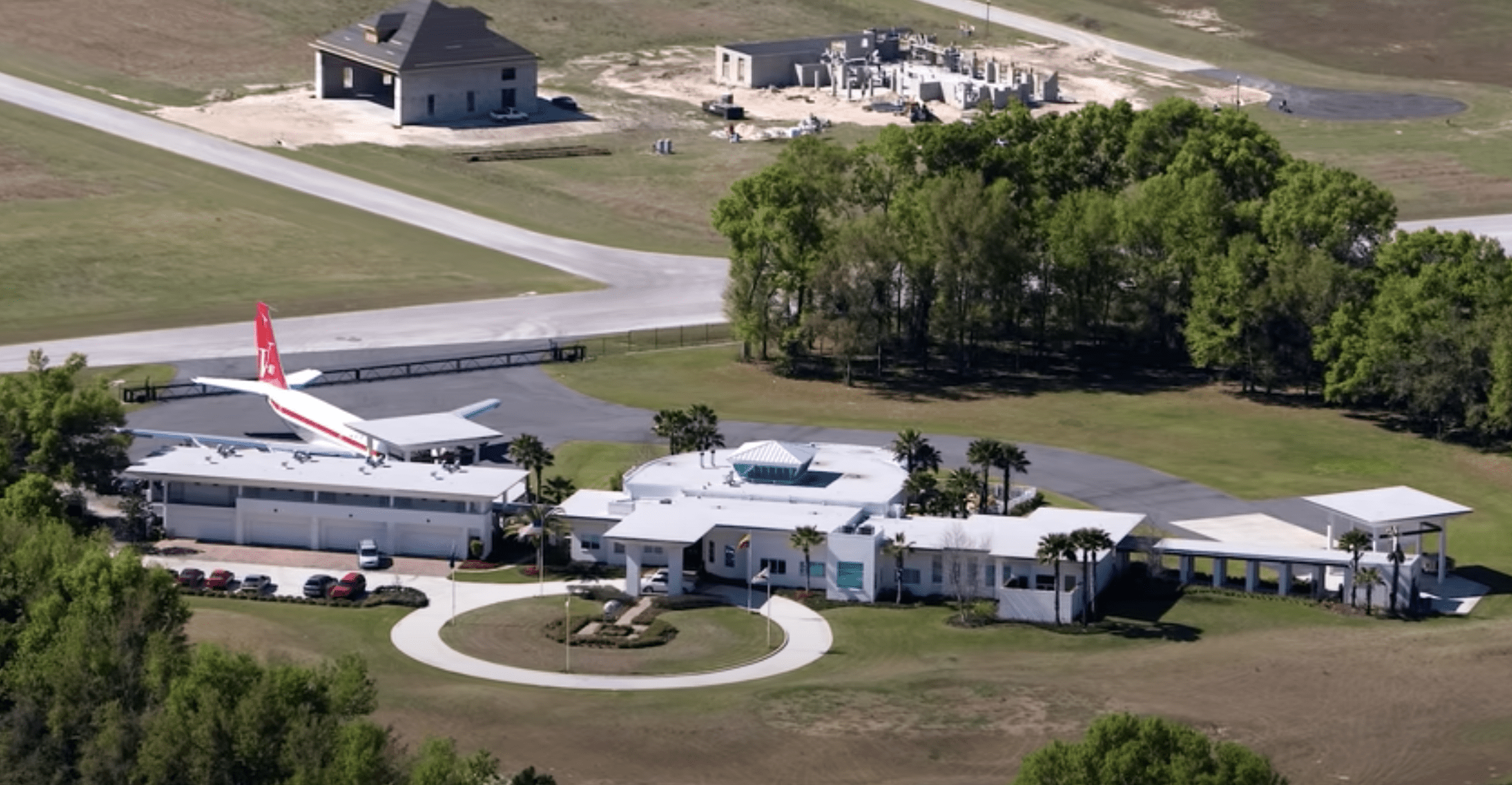 Inside John Travolta with Kelly Preston's luxurious mansion. | Photo: YouTube.com/Therichest
After purchasing the land, the couple started building an 8900 square-foot mansion. Travolta had the taxiway extended to his front door. The taxiway also split into two roads, both of which lead to different parking bases for planes.
The estate structure is built to allow views of his planes from any room. The YouTube clip also revealed that Travolta's late wife once mentioned that the actor had always dreamt of having planes in the front yard for easy access whenever he wanted to fly.
However, aside from an amazing aviation area, the Florida mansion also boasts curved window walls which define the room overlooking the tarmac.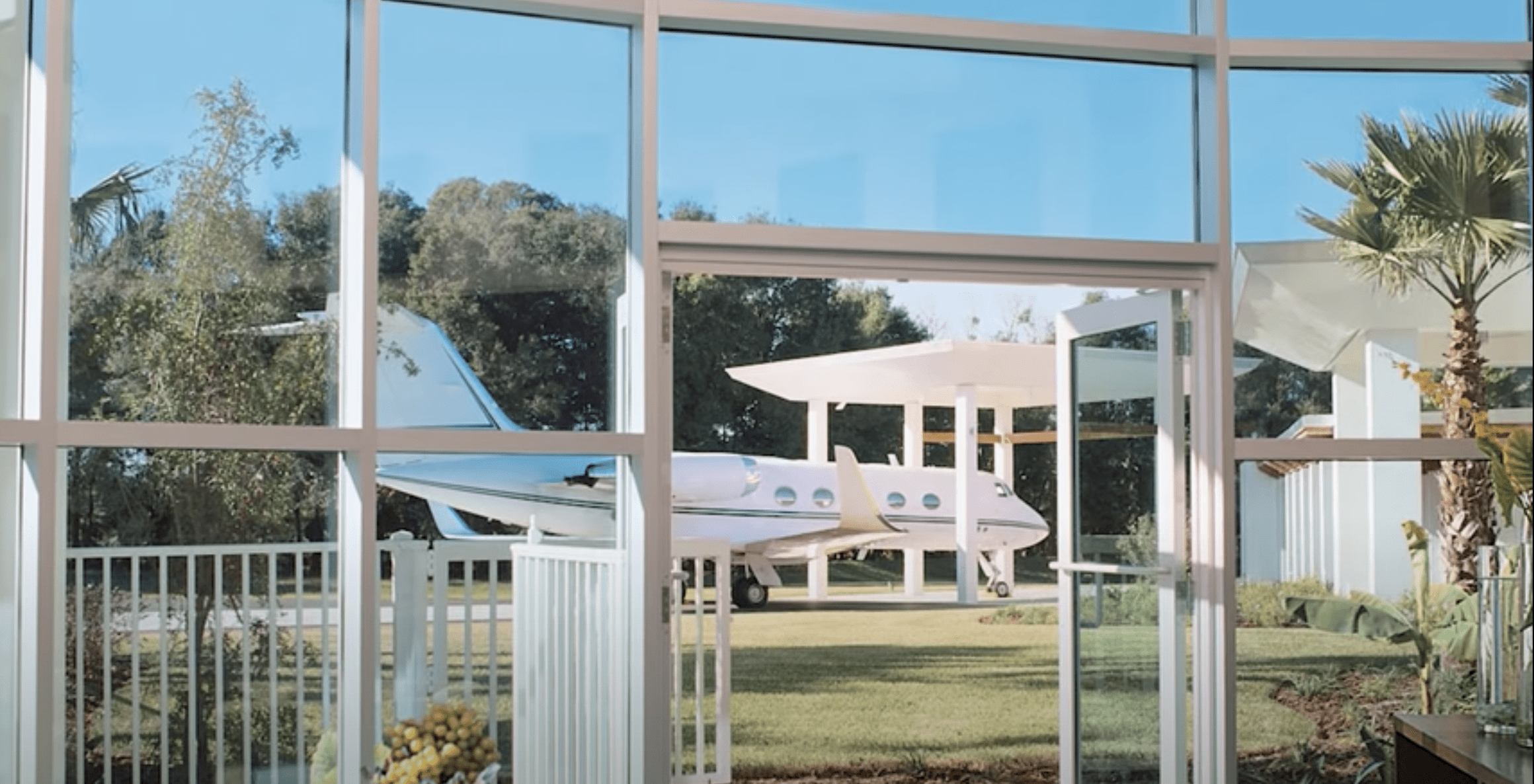 Inside John Travolta with Kelly Preston's luxurious mansion. | Photo: YouTube.com/Therichest
A 1967 work by Alexander Centre sits above the mantlepiece, and a mural in the dining room was also copied from a 1937 advertisement making the area look more spectacular. Travolta once said the mansion is "an overbuilt home."
With walls thicker than necessary and more metals than needed. However, with a house with more than enough items and land, Travolta made sure to make lots of memories with his family, and below is a full gallery of their time in the mansion.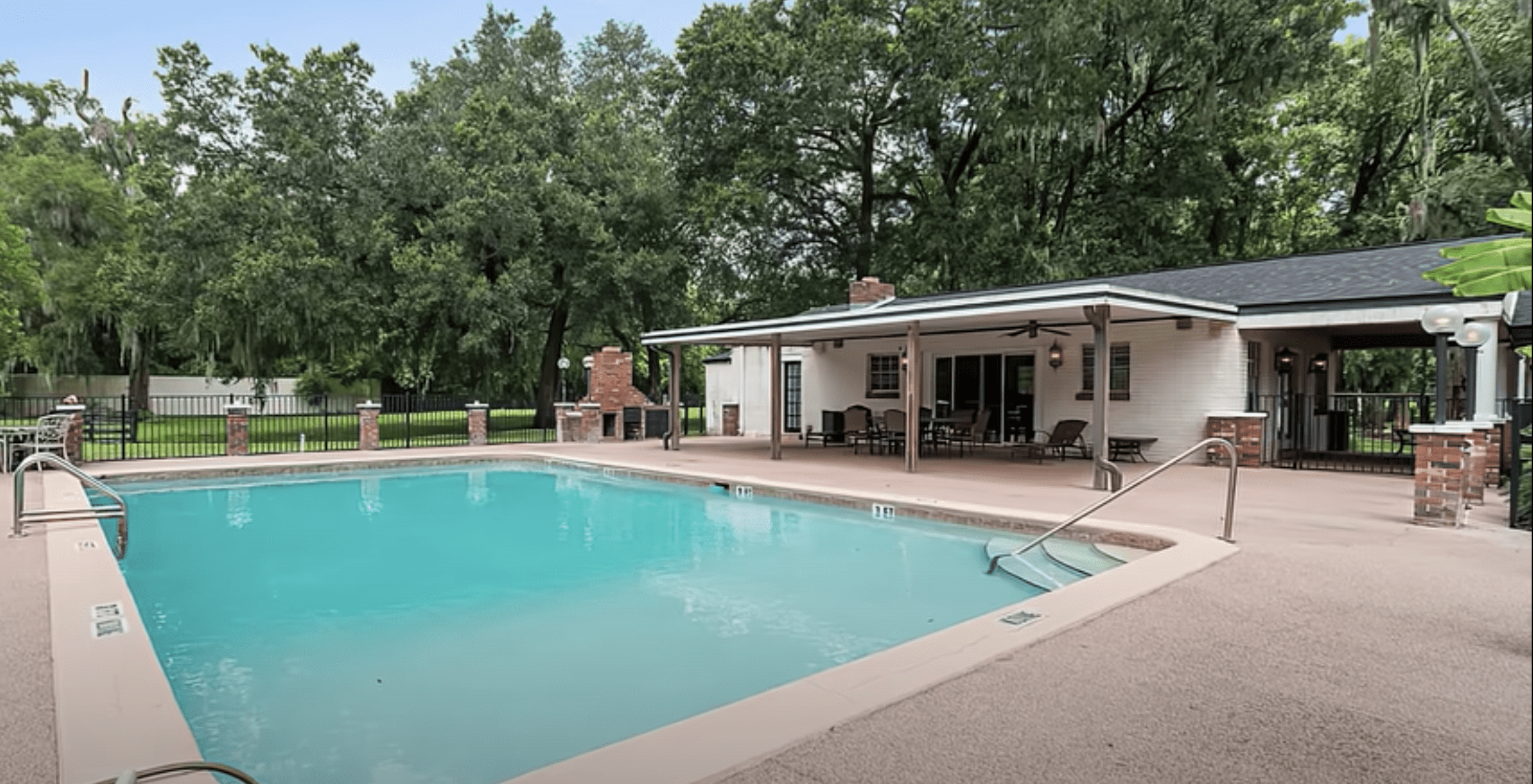 Inside John Travolta with Kelly Preston's luxurious mansion. | Photo: YouTube.com/Therichest
MEMORIES AT THE FLORIDA MANSION
An Instagram post shows a Tik Tok video of the "Staying Alive" actor and his son Ben dancing in their million-dollar mansion. The doting dad captioned the post:
"Yesterday's pre-birthday dance with Ben. Swipe up on my story for more of Ben's Tik Tok video. Update: Ben's Tik Tok username is now ben-Travolta."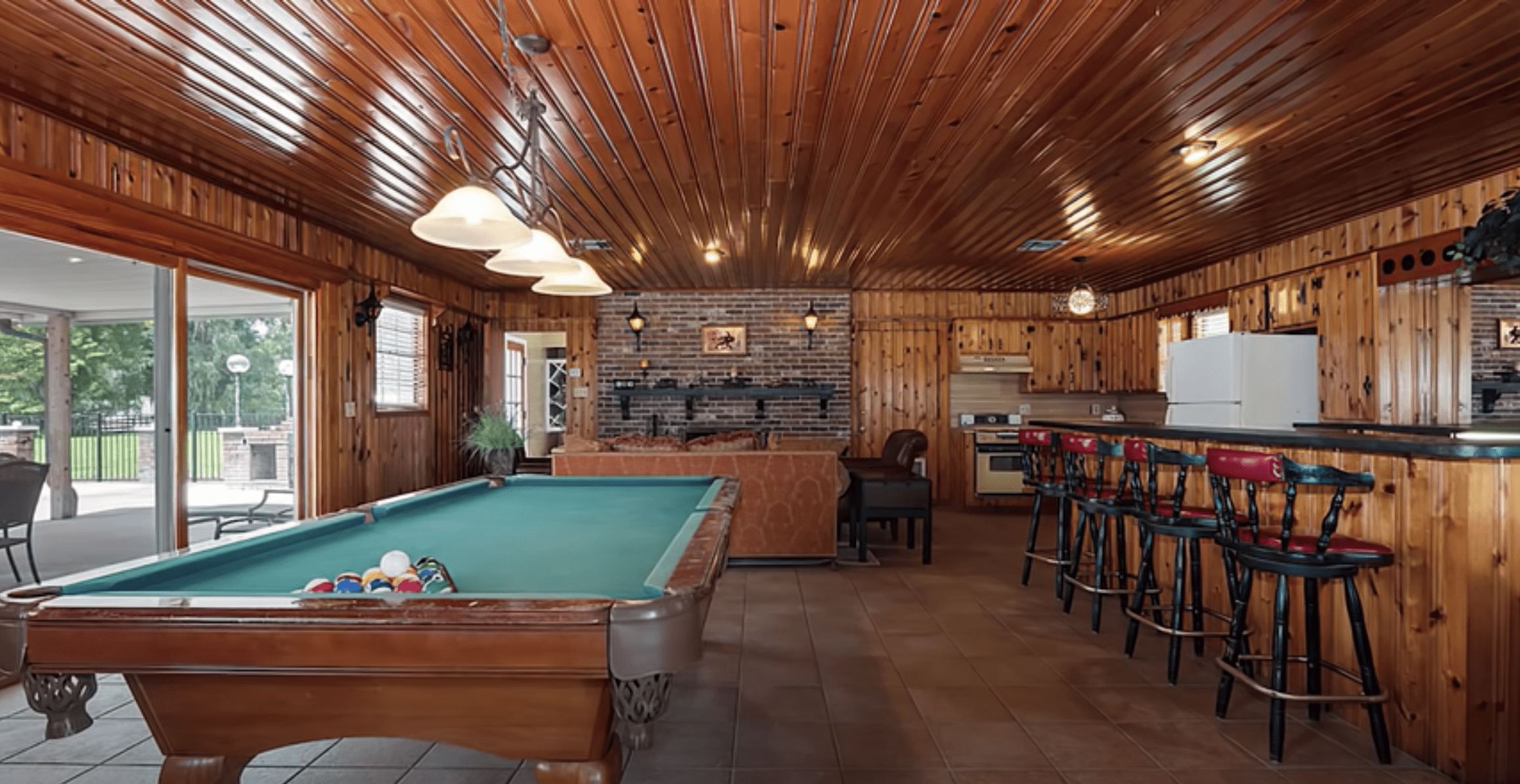 Inside John Travolta with Kelly Preston's luxurious mansion. | Photo: YouTube.com/Therichest
The actor, 67, also took to Instagram on January 21, posting a photo of him and his pet dog. The photo, which attracted many likes and comments, the Florida mansion's magnificent interior could be seen in the background.
Travolta also shared a photo of him and his daughter Ella on his Instagram page as they celebrated the new year. The snap featured the father and daughter in dark ensembles holding cocktails and standing in a part of their home filled with polished brown doors.
He also uploaded a photo from a family lunch on September 5, 2020. As always, the Instagram share attracted many lovely comments from his 3.7M followers.
In a different post, Travolta blessed fans with the view of one of his planes. In his caption, the actor wrote that he and Ben had a fun weekend playing a game of extreme hide and seek.
A hilarious video of Ben eating cookies is also on the actor's Instagram page. Little Ben could be seen complaining about being fed too many cookies in the video.
A different video features Ben riding a hoverboard in a luxurious corridor designed with varying art frames on the wall. Travolta indicated that the overboard was Ben's favorite gift in the caption.
The "Grease" actor and his family have sure made beautiful memories in their home. But sadly, the family has also experienced some tragic moments, including the death of Travolta's son Jett and his wife Preston, who battled cancer for two years before losing the battle.
TRAVOLTA AND PRESTON
Travolta and Preston display what could be described as true love throughout their 29 years of marriage. The two Hollywood stars met at a scene test for the 1989 comedy "The Experts." Preston was still married to actor Kevin Gage at the time.
After her divorce from Gage and several other relationships, Preston and Travolta finally began dating, and in 1991 the "Staying Alive" actor proposed. On September 5, 1991, they married while already pregnant with their first son, Jett.
They had their second child, daughter Ella Bleu on April 3, 2000, and the couple continued enjoying their wedded bliss. For the entirety of their nuptials, Travolta and Preston have supported each other's careers and contributed greatly to building their beautiful home.
But, in 2009, the couple's happy home was filled with grief when Jett died after suffering a seizure during a family vacation in the Bahamas. He was 16 years old.
Although it took a while to get over their loss, their family was filled with love again when they had another son Benjamin two years later. Sadly the tragic moments weren't over.
Travolta and his home experienced another dark moment when Preston died of breast cancer in 2020. Travolta confirmed her death on social media with a post where he thanked everyone who helped Preston during her battle with the disease.
AFTER PRESTON'S DEATH
After the actress's painful passing, Ella also paid tribute to her with a post on social media. The grieving daughter wrote about Preston's beautiful personality and how she made her life "so beautiful."
In the post, Ella showed how much she loved her mother. Travolta has also been doing an incredible job parenting the kids without Preston.
Once speaking with Kevin Hart during an August 2021 episode of the actor's talk show "Hart to Heart," the "Pulp Fiction" alum opened up about the conversation he had with his son while discussing death. Travolta said:
"He said to me once, 'Because mom passed away, I'm afraid you're going to."
But Travolta explained how death and life worked to the boy, who was evidently scared of losing another parent. According to the 67-year-old actor, he made his son understand that no one knew when they would die.
Please fill in your e-mail so we can share with you our top stories!