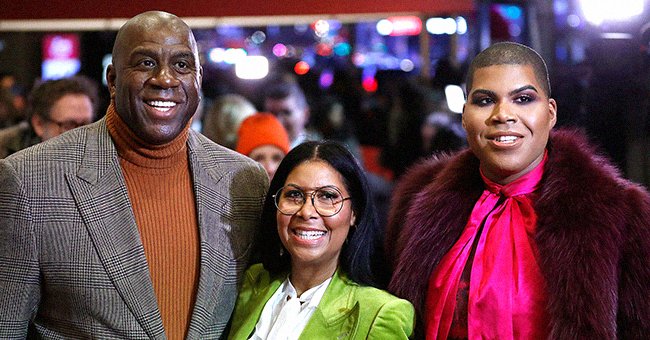 Getty images | Instagram/EJ Johnson
EJ Johnson Looks Glamorous in Sparkling Dress & Knee-High Heeled Boots at the 'With Love' Premiere
EJ Johnson turned heads at the premiere of "With Love" at the Neuehouse in Hollywood. While many others showcased their glamorous fashion sense at the event, EJ's outfit stood out.
TV personality EJ Johnson made quite the impression when he appeared at the event in a sparkling dress, a matching sleeved robe, and black high heel boots.
He completed the ensemble with a diamond necklace and a made-up face. The socialite seemed to be having a wonderful time at the event that hosted other stars such as George Lopez, Lea Thompson, and Carolina Gutierrez.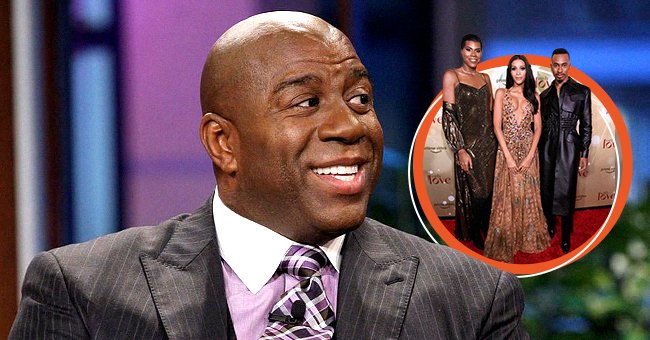 Left: Former professional basketball player Magic Johnson | Photo: Getty Images Inset: EJ Johnson with friends at the premiere of "With Love" | Photo: Instagram/EJ Johnson
The 29-year-old is known to transcend gender norms and says as a child, and he could not understand why a particular gender was limited to doing certain things that the other gender couldn't. He wondered:
"Why can't a boy wear a skirt, but girls can wear pants?"
When he got older and went to college in New York, he met people who did not subscribe to gender limitations. He saw boys that would wear dresses and skirts and carry purses and thought it was the coolest thing in the world.
Intrigued by the different perceptions of fashion, he started on a freedom journey of experimenting with fashion and make-up. Today, he uses make-up and fashion to express his personality.
COMING OUT TO MAGIC
For EJ, coming out to his NBA Hall of Famer dad, Magic Johnson, was no easy task. EJ and his mother Cookie Johnson opened up about it on a 2016 episode of Jada Pinkett Smith's Facebook Watch series, "Red Table Talk."
Speaking to Smith, Cookie admitted that she had always known her son was different from an early age. She said EJ loved her dresses, shoes, and purses and would always pick up flowers during basketball practice.
But when EJ opened up about his sexuality to his five-time NBA champ father, it did not go down well. Cookie says the conversation was "tough."
Cookie tried talking to him, but he said nothing. After EJ had left for college, Johnson seemed to come to terms with his son's sexual orientation. When EJ returned home, he says Johnson picked him up for dinner.
EJ says his dad hugged him so hard he thought he'd break his back. It was at that moment that EJ knew they would be alright. His relationship with his dad has never been better, and the proud parents are happy that their son is living his best life.
However, the reality star, known for his appearance on the reality TV show "Rich Kids of Beverly Hills," was outed as gay by TMZ.
Please fill in your e-mail so we can share with you our top stories!