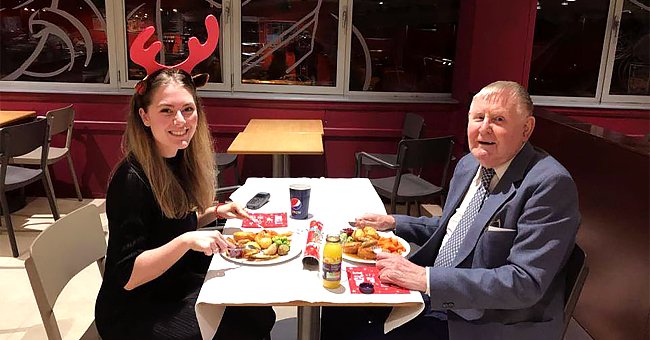 Facebook.com/expertisehomecare
Woman Asks Elderly Man on His First Date in 55 Years upon Realizing He'll Spend Christmas Alone
It is always terrible to be alone on Christmas. One old man had no family to spend the festive season of 2017 with and no plans, except to heat a frozen ready meal for one. That is until an angel came along.
A retired Edwin Holmes used to be a decorator and painter. After getting rid of his house, he moved to sheltered housing in Leeds, U.K.
Holmes' wife died around five decades ago while his child and grandchildren live on the other side of the globe in Australia, leaving him isolated and no relatives around.
A LIKEABLE PATRON
A then 22-year-old Sainsbury's worker, Ellie Walker, found out that the then 86-year-old would be spending the holidays alone. As he was a regular shopper that she had grown fond of, this discovery toucher her. She said:
"He is without a shadow of a doubt, my favorite customer."
Holmes had become a regular at the supermarket, where he would strike up conversations with the staff consistently. Walker chose to take action and asked her number one customer to join her on a dinner date.
AN OLD-FASHIONED ROMANTIC
Of course, he said yes. However, after decades of not having been on a dinner date, he was beyond nervous. Therefore, Holmes made sure to reach into his old school romantic roots. The widower expressed:
"As for the suit, it was my first date for about 55 years, and I got the flowers because I wasn't going to go empty-handed."
Walker said that when the elderly man came to the date in a suit with flowers in hand and dressed in a suit, it made her cry, realizing just how much the dinner meant to him.
TO NEW CONNECTIONS
The grandfather was deeply pleased with the night out with Walker, saying that he enjoyed the surprise. In his own words, the then 86-year-old stated:
"The dinner made me very happy as it was unexpected and I had very pleasant company."
This festive meal isn't where it ended, with the two spending time with each other afterward. The good friends enjoy chatting over coffee regularly, the supermarket employee claimed.
COMPANIONS FOR LIFE
Although unlikely and unexpected friends, these types of surprising relationships tend to be the greatest and most rewarding. Hopefully, the cute duo has since continued their coffee tradition.
Somewhere out there in a cafe, their laughter may be emanating over a cup of caffeine — both of them embodying the fact that connection can be found in the most surprising of places.
You May Also Like: Boy Doesn't Ask Santa for His Own Gift, Requests a New Heart for His Mom Instead
Please fill in your e-mail so we can share with you our top stories!