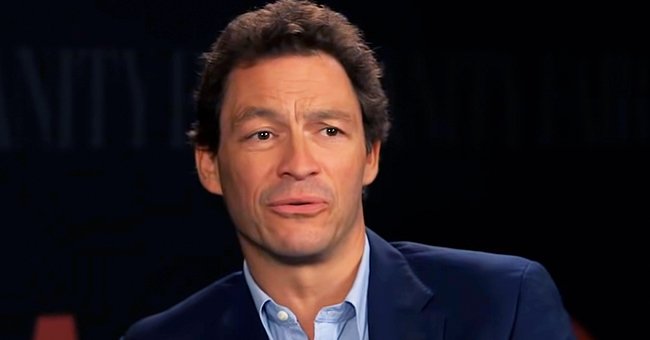 Youtube.com/Vanity Fair | Youtube.com/Architectural Digest | Getty Images
Dominic West's Public Affair Did Not Stop Him from Being 'Very Much Still Together' with Wife of 10 Years
Actor Dominic West seemingly had an affair with an acting co-star while still married to his wife, Catherine FitzGerald. The affair included pictures of West kissing his co-star!
DOMINIC'S AFFAIR
In October 2020, Daily Mail reported how Dominic West was spotted while passionately kissing Lily James on October 12, 2020. At the time, the pair were seemingly having a romantic break in Rome.
The two co-stars were dining al fresco when the incident occurred. Most shocking about the public display of affection was that West was still married to his wife, Catherine FitzGerald!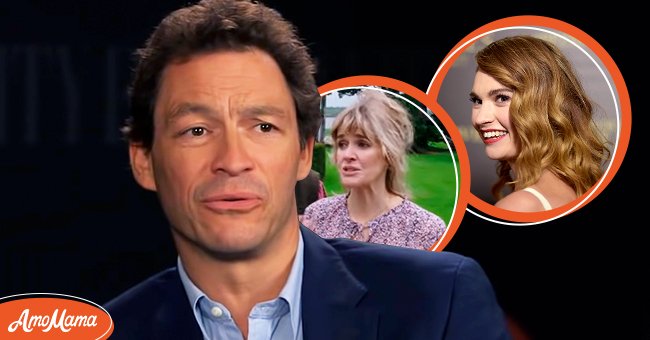 Dominic West speaking to Vanity Fair on September 8, 2014, his wife, Catherine FitzGerald on Architectural Digest on December 20, 2018, and Lily James at the premiere of "Pride And Prejudice And Zombies" on January 21, 2016, in Los Angeles, California | Photos: YouTube/Vanity Fair & YouTube/Architectural Digest & Jason Kempin/Getty Images
As if that wasn't enough, West and the much younger "Mamma Mia! Here We Go Again" star were also seen cuddling up during the outing. Another photo showed them taking a ride on an electric scooter while site-seeing.
"The Affair" actor and James also hugged and walked together. West and his Irish landscape designer and aristocrat wife have been married since June 2010, and when he was seen with James, no news of a split had been mentioned.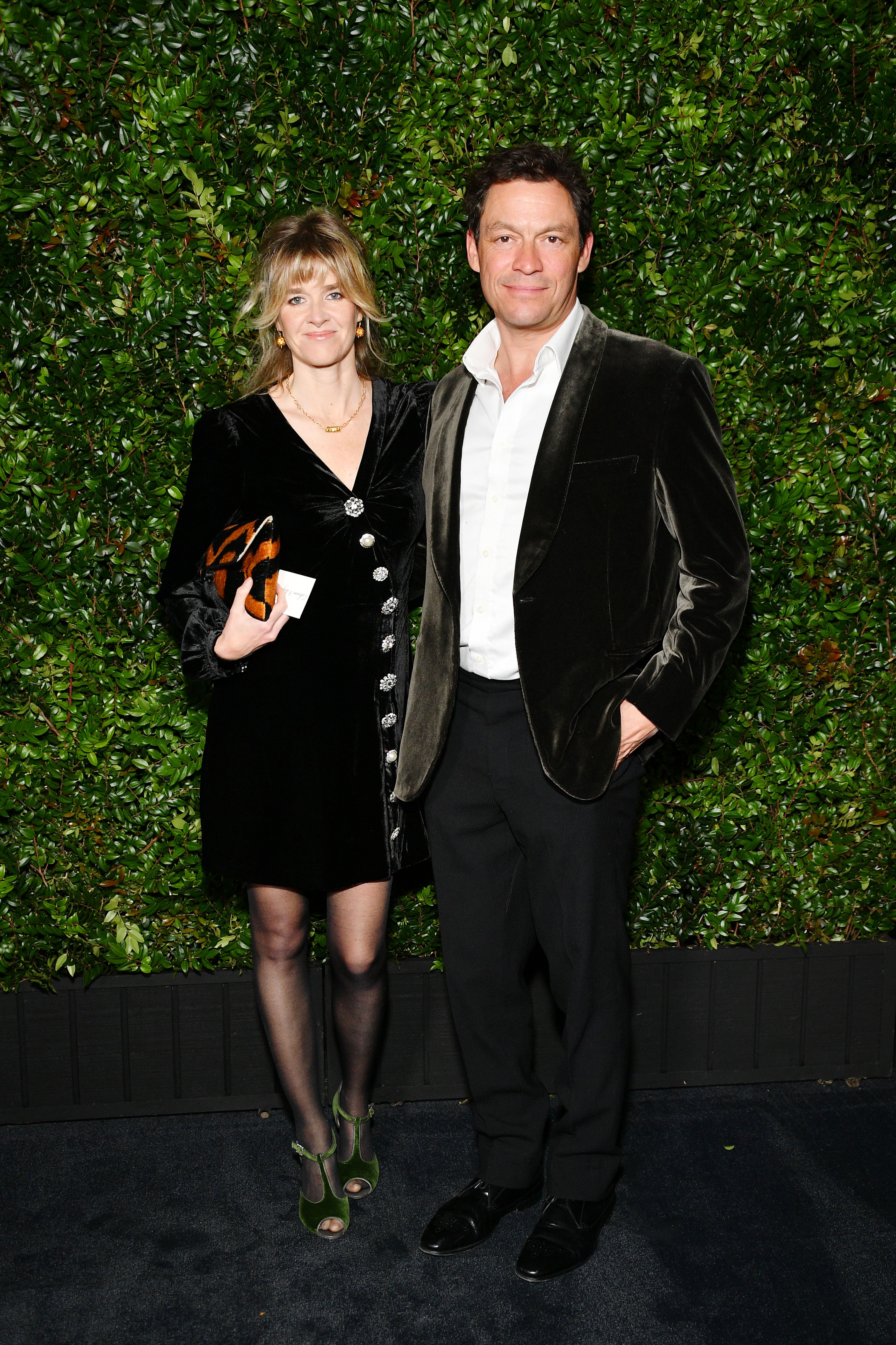 Catherine FitzGerald and Dominic West at Chanel and Charles Finch Pre-Oscar Awards Dinner in Beverly Hills, California on February 23, 2019 | Photo: Dia Dipasupil/WireImage/Getty Images
GOING RINGLESS & KIDS
The publication also noted how West wasn't wearing his wedding ring during his outing with James. With his wife, the actor shares children, daughter Dora, sons Senan and Francis, and another daughter Christabel.
Besides the star's four children with FitzGerald, West has one older daughter from another relationship. With his ex-girlfriend, Polly Astor, the actor shares Martha in her early twenties.
LILY'S TAKE ON THE AFFAIR
In May 2021, James was interviewed by the Guardian, and one of the topics that came up was the affair she had with West. The "Downton Abbey" actress avoided the topic by stating to the interviewer:
"Ach, I'm not really willing to talk about that. There is a lot to say, but not now, I'm afraid."
When she was spotted with West, James was co-starring with him in "Pursuit of Love." The film, where James plays Linda Radlett, is a BBC adaptation of Nancy Mitford's 1945 novel "The Pursuit of Love."
James told Us Weekly that she was "horrified" when the scandalous photos surfaced. A source from the publication revealed in October 2020 that the scandal had strained "War & Peace" actress and West's personal and working relationship.
FLIRTING ON SET
The insider alleged that the actor and James had spent a lot of time together while working on set. The source explained the pair had been quite flirtatious while at work.
They claimed West appeared not to be hiding the fact that he was attracted to his co-star. The insider said people just assumed the actor had some sort of open relationship because of the way he was carrying on with James.
LILY'S PAST BOYFRIENDS
Besides West, in the past, James has been linked to other stars like Chris Evans after she separated from "The Crown's" Matt Smith. She and Smith started dating in 2014 and ended their relationship in December 2019.
Rumors of her dating Evans began in July 2020 when the "Yesterday" actress was seen leaving a private club in London's Mayfair neighborhood with the actor. James and the Marvel star shared a cab home.
The duo was spotted together again in a local park a few days later. They appeared pretty cozy as they enjoyed each other's company and some ice cream cones.
THE BEGINNING OF THE RELATIONSHIP
In May 2021, the Irish Independent interviewed FitzGerald, who revealed she'd met West during their time at Trinity College Dublin. She said she'd felt "instant attraction" in their first meeting.
The landscape designer shared how they had "a wonderful love affair" at the beginning of their relationship. They spent time touring Dublin, reading poetry to each other, and exploring back streets and pubs in the area.
However, FitzGerald left him by the end of that summer, and he never let her forget it. She noted that she could've settled with him then forever but felt it wouldn't have been good for either of them.
REKINDLING THE RELATIONSHIP
West went to live in the US while shooting "The Wire." During that time, he had Martha before rekindling the relationship he'd started with FitzGerald, then-32 and ready to start a family, and this time the timing was right for both of them.
CURRENT OUTLOOK ON MARRIAGE
The aristocrat also found it lovely that she and the actor had shared history from their earlier days. Speaking to The Irish Independent about her marriage to West, FitzGerald confessed:
"It's had its ups and downs of course, like everybody, but we are totally devoted to each other and to our full, vibrant family life together."
However, she noted that she and West were devoted to one another and had a fulfilling family life. FitzGerald didn't really address her husband's cheating scandal but stood by him regardless.
A UNITED FRONT
On October 13, 2020, the day after the scandal broke, West and his wife posed together outside their Wiltshire, England, home for photographers. The couple presented a united and happy front to the media.
An Us Weekly source claimed [Dominic] West and [Catherine] FitzGerald were putting up a united front for the sake of their family.
FitzGerald and West also handed the press a note which revealed that their marriage was still strong and that they were happy together before thanking them for their attendance. It all seemed like an act with the couple showing off their home.
The designer and the actor also hugged and kissed in front of the press during the coverage. They continued showing off how their relationship was still on track later that same year.
STILL TOGETHER
In December 2020, West and FitzGerald posed for a Christmas card photo two months after the James scandal broke. The image included the couple's smiling four children.
The picture was taken at Glin Castle, a historic Irish Castle that belonged to FitzGerald's family for generations. An Us Weekly source claimed West and FitzGerald were putting up a united front for the sake of their family.
Please fill in your e-mail so we can share with you our top stories!